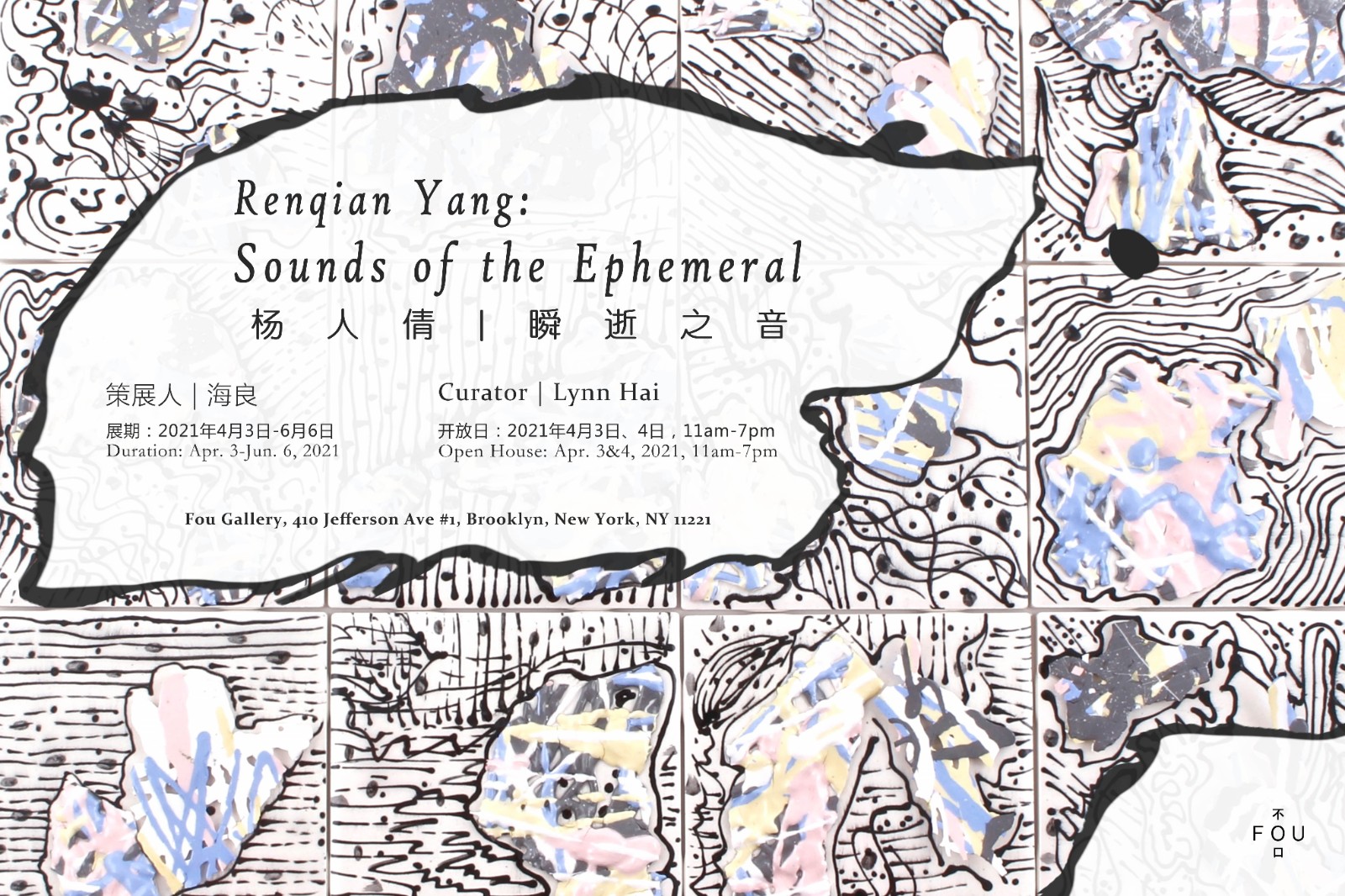 This exhibition presents Renqian Yang's ceramic sculptures, wall installations and paintings since 2020. Attempting to touch commonly-shared basic feelings by working on the material ceramic as the medium and colors as the method, Yang has continuously studied and explored human's subtle emotions, sentimental moments and fleeting inspirations in our everyday lives, and let them stay and flow from her hands, then grow into grotesque blossoms or sprawls.
Yang has long been interested in binaries. Her signature works express the sense of freeness and fluidity through a hard and brittle material — ceramic. In her creation, she wanders through opposite extremes of things and sparks new scintillation by juxtaposing, combining or counterposing contrasts of things. The representations of her works always appear to be a state that is flowing, sprawling, spreading and diffusing.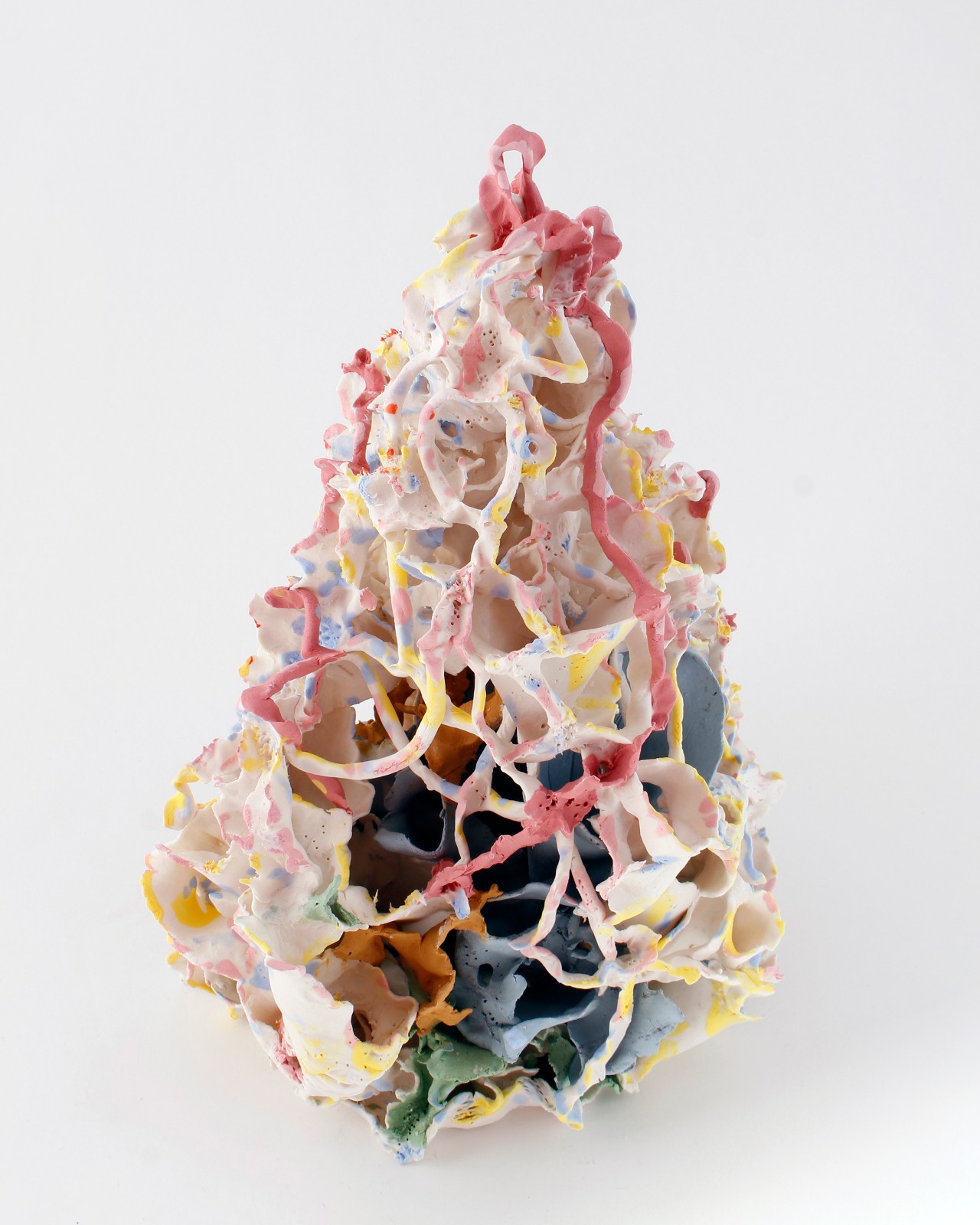 Renqian Yang, Sonder, 2021. Colored porcelain paper clay with glaze, 16 x 11 x 10 inches. ©Renqian Yang, courtesy of Fou Gallery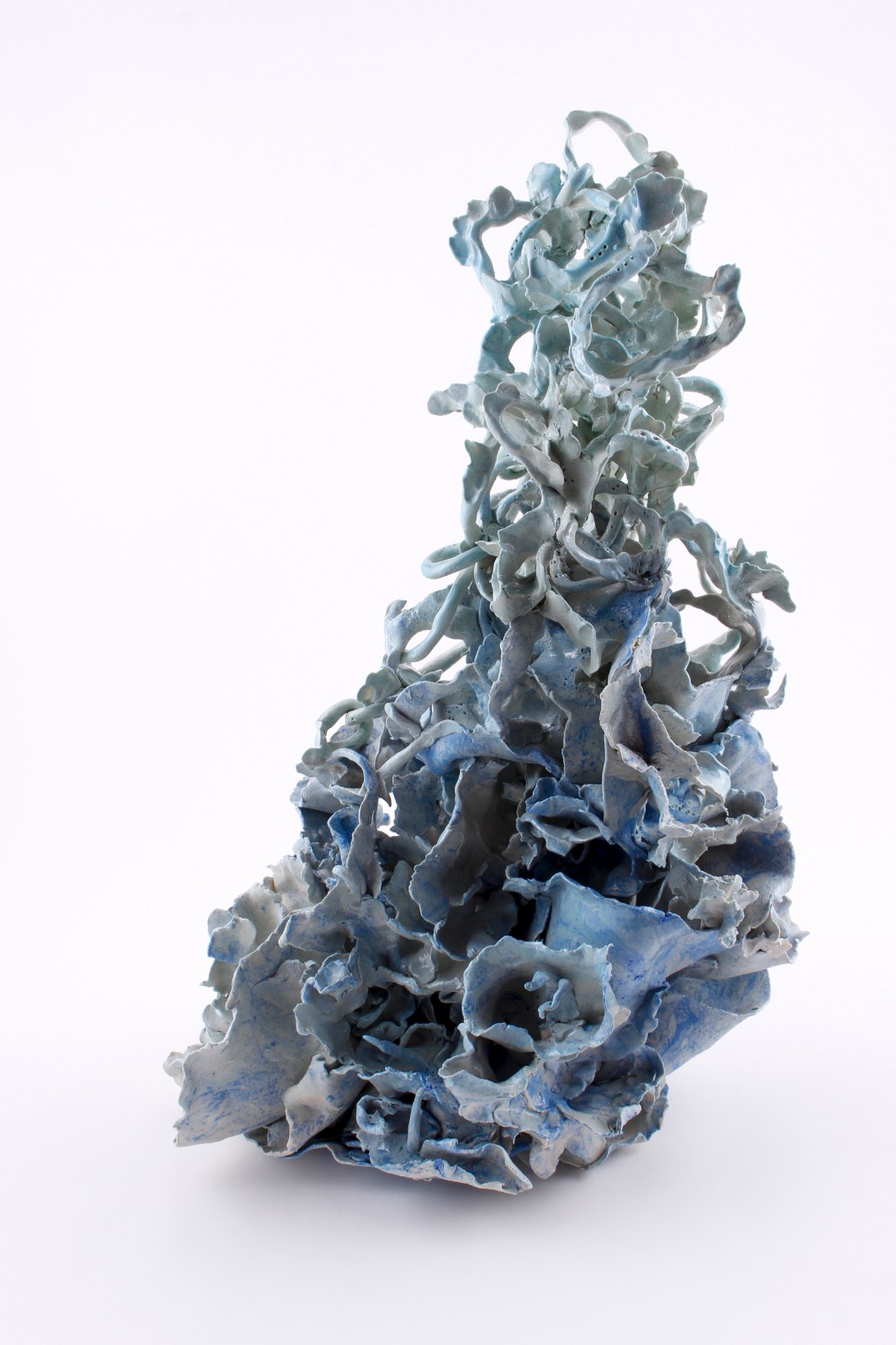 Renqian Yang, Morii, 2021. Colored porcelain paper clay with glaze, 19 x 8.5 x 12.75 inches. ©Renqian Yang, courtesy of Fou Gallery
It is Renqian Yang's specific enthusiasm in her latests eries of works to discover and capture subtle and undefined emotions that are subjectively intimate but collectively comprehensible. Sonder and Morii are two of her latest ceramic sculptures created in 2021. These two words are included in The Dictionary of Obscure Sorrows, a project with a website and YouTube channel, created by John Koenig, that coins and defines neologisms for emotions that do not have a descriptive term. Sonder means the realization that each random passerby is living a life as vivid and complex as your own, although those epic stories are completely invisible to you; Morii means the desire to capture a fleeting experience. Compared to Yang's past sculptures, the new series has more hollows and ambiguous structures in form, and more variations and gradients in color. The developed topological relationship of the form and the complex languages of color in the sculptures are just grown from Yang's direct actions following her sensations when she's kneading, bending and stretching the uniquely-made paper clay, which will later become ceramic after several steps of glazing and firing. Recently, six other works from this series were invited to be exhibited at the Northern Kentucky University Art Museum in Rivers Connect: The Unstoppable Force of Contemporary Ceramic Art during the National Council on Education for the Ceramic Arts.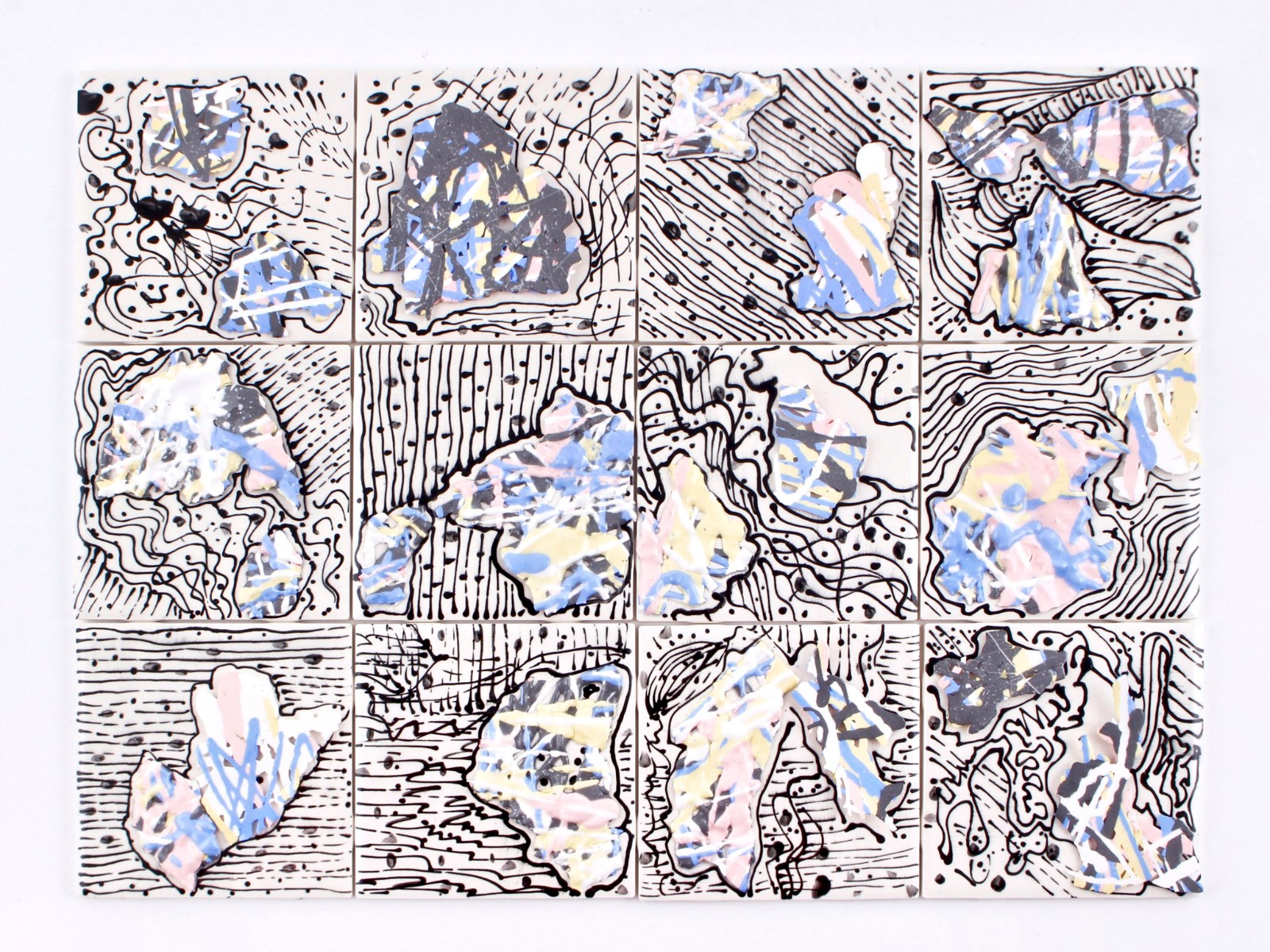 Renqian Yang, Klexos, 2021. Colored porcelain paper clay with glaze, 12 Tiles, 4 x 4 inches each. ©Renqian Yang, courtesy of Fou Gallery
The wall installation, Consciousness utopia, which consists of 63 single ceramic sculpture pieces, is also a revolutionary work that reflects Yang's obsession in presenting emotions. The flexible layout and unlimited ways of combinations of this work requires processes of recreating it when it's formally set up and presented. In this way, it's a time-and-space-specific work decided by the environment, the vibe, the conditions, and the artist's state and mood every different time. Clusters of soft-looking wrinkled ceramic pieces with delicately-applied colors in multiple kinds create a frozen porous flow which doesn't have a fixed appearance, even though it's made of a most rigid and unchangeable material — the ceramic.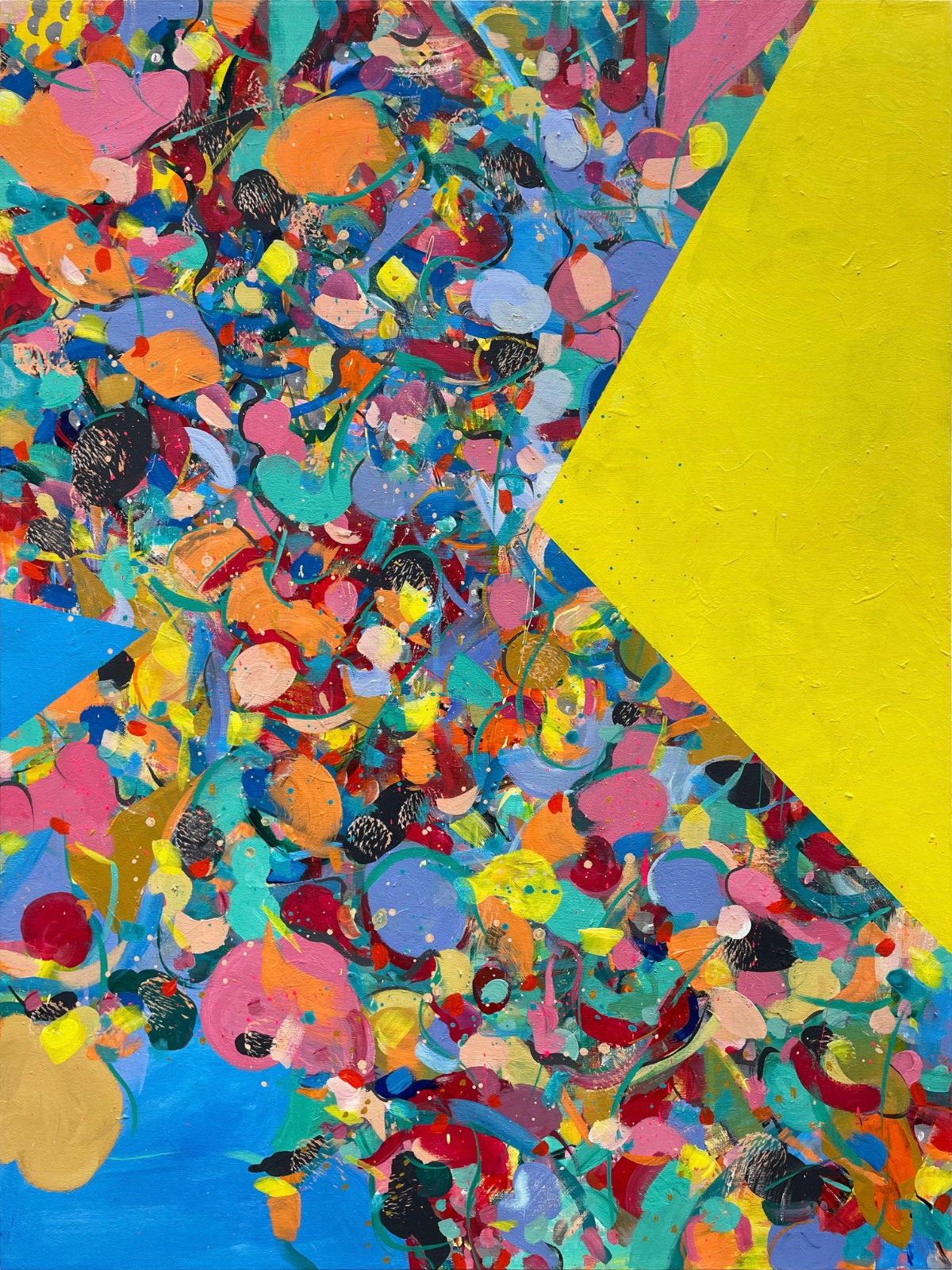 Renqian Yang, Radiant Splendor, 2021. Acrylic on canvas, 30 x 40 inches. ©Renqian Yang, courtesy of Fou Gallery
In addition, Renqian Yang's art practice extends to painting. On a canvas, her experiments of colors are more audacious and unshackled. Her paintings show signs of influences from abstract expressionism and its related styles, standing as a reflection of her individual psyche tapping into universal senses. With a busy composition and dizzying color strokes, her latest large-scale painting Radiant Splendor shows two spontaneous inclinations that can be found in most of her works: an emphasis on dynamic, energetic gesture, in contrast to a reflective, cerebral focus on open fields of color. Renqian Yang's creation is an apposite visual representation of American artist and art historian William C. Seitz's statement on abstract expressionism: "...it values the organism over the static whole, becoming over being, expression overperfection, vitality over finish, fluctuation over repose, feeling over formulation, the unknown over the known, the veiled over the clear, the individual over society and the inner over the outer."
---
About the artist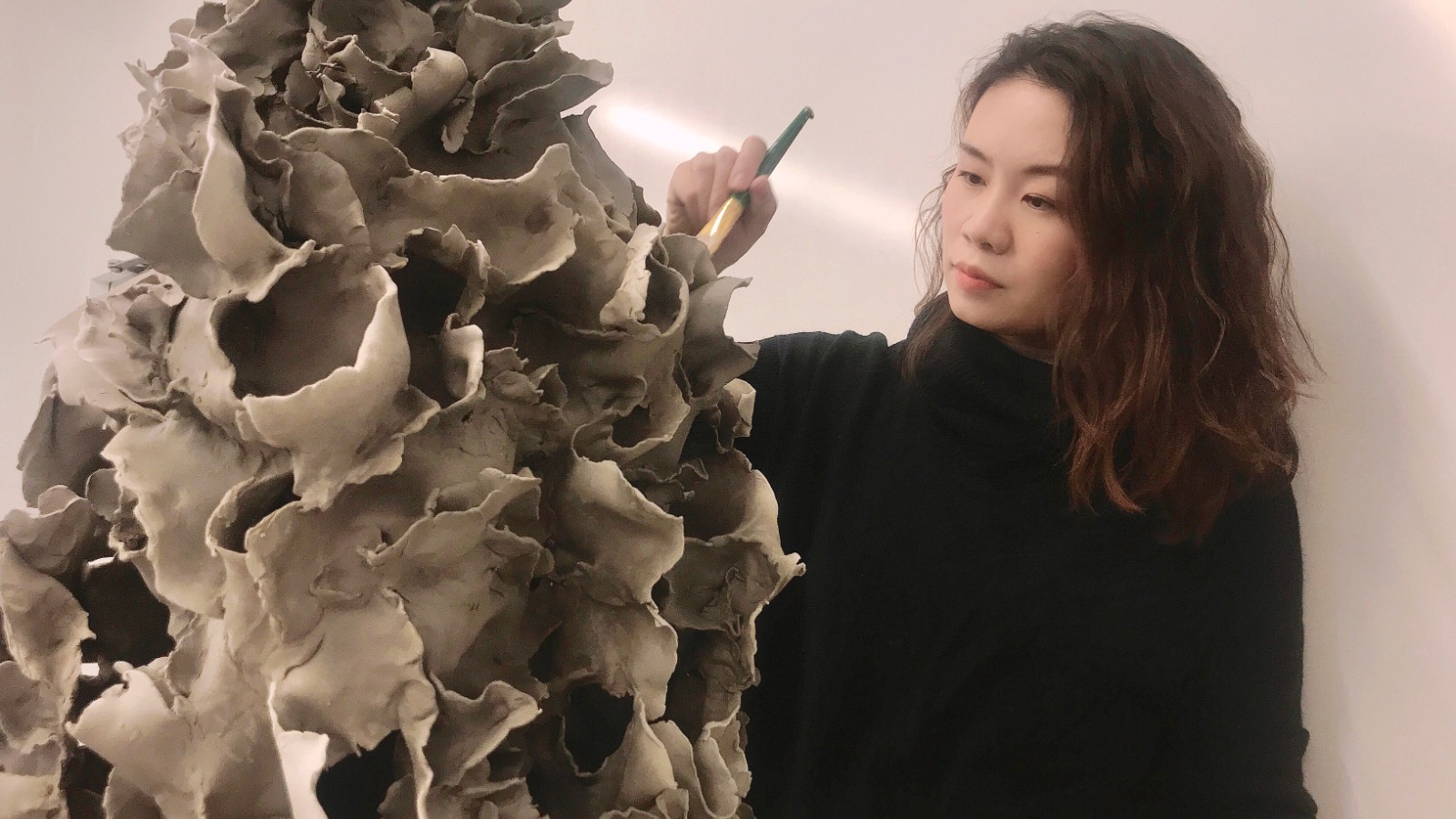 Renqian Yang(b.1987, Xiangtan, Hunan Province, China), earned her B.F.A. in Ceramics from the Sichuan Fine Arts Institute, Chongqing in 2009 and her M.F.A. in Ceramics from Syracuse University in 2014. Currently, she lives and works in Oswego, New York as an artist and Assistant Professor at the State University of New York at Oswego. Yang's work has continued to exhibit in the U.S. and China. Her recent exhibitions include: International KOGEI Award in Toyama 2020 Exhibition, Prefectural Museum of Art and Design, Toyama, Japan (2021); As part of the NCECA conference, Rivers Connect: Unstoppable Forces in Contemporary Ceramics, Northern Kentucky University Art Gallery (2021); Renqian Yang, Cayuga Museum of History and Art, Auburn, New York (2019); Renqian Yang: Construct Deconstruction, Taoxichuan Ceramic Art Avenue Art Gallery, Jingdezhen, China (2018). In January 2017, she had her first solo exhibition in New York at Fou Gallery. She served as a residency artist at Craigardan (2018), Jingdezhen International Studio (2018), and the Watershed Center for the Ceramic Arts (2017).
Recently, Her work received an Honorable Mentionat the Riverfront: 2020 exhibition at the Delaware Contemporary,U.S.A. (2020).
---
About the curator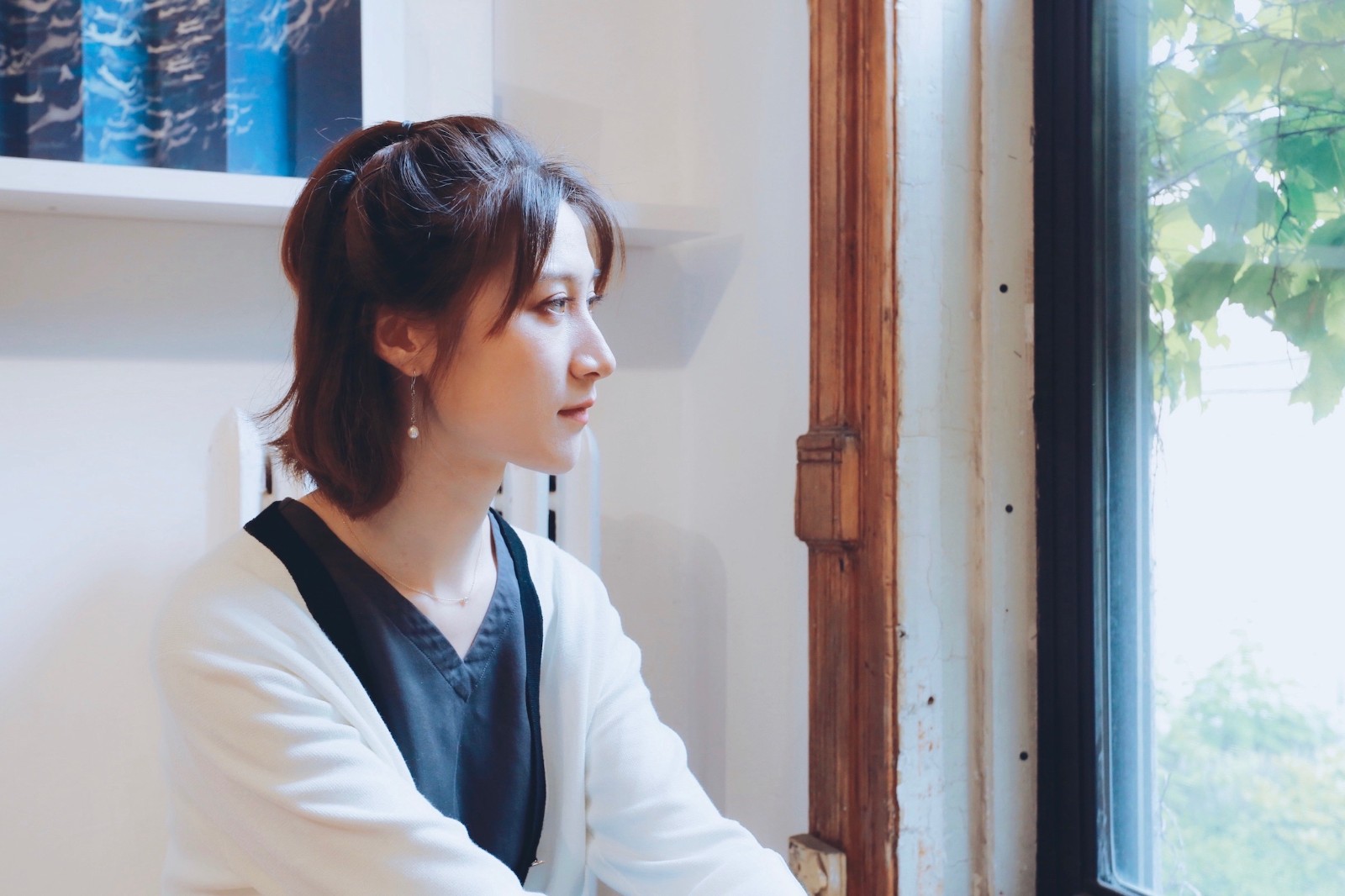 Lynn (Liang) Hai
After graduating from Architectural Association (London), Hai gained her Master's in Design Studies from the Graduate School of Design at Harvard University (Boston). While being active as a curator and art writer in New York, she is a partner and the Art Director at Fou Gallery. Her curation and design includes: Chen Dongfan: Long Past Dawn, Pirates and Poets Whistle in the Dark (Fou Gallery, New York, 2020); Michael Eade: Past is Present is Future (Fou Gallery, New York, 2019); Dwelling At the Present Chinese Contemporary Interior Design Exhibition and Forum (Harvard Club, New York, 2019); Flow Fields - Confluence in Urban Picnic (Matedero, Madrid, 2013) and Flow Fields - Dilution in 2013 Lisbon Triennale (Sinel de Cordes Palace, Lisbon, 2013) et al. Her writings are published on art periodicals including ArtChina, CAFA ART INFO, Tussle Magazine and ArtPulse et al.
---
About the exhibition

Dates: April 3rd–June 6th, 2021
Open House: April 3rd–4th, 11am–7pm, by appointment
Curator: Lynn Hai
Location: Fou Gallery, 410 Jefferson Ave #1, Brooklyn, New York, NY 11221
Courtesy of the artist and Fou Gallery, for further information please visit https://www.fougallery.com/.