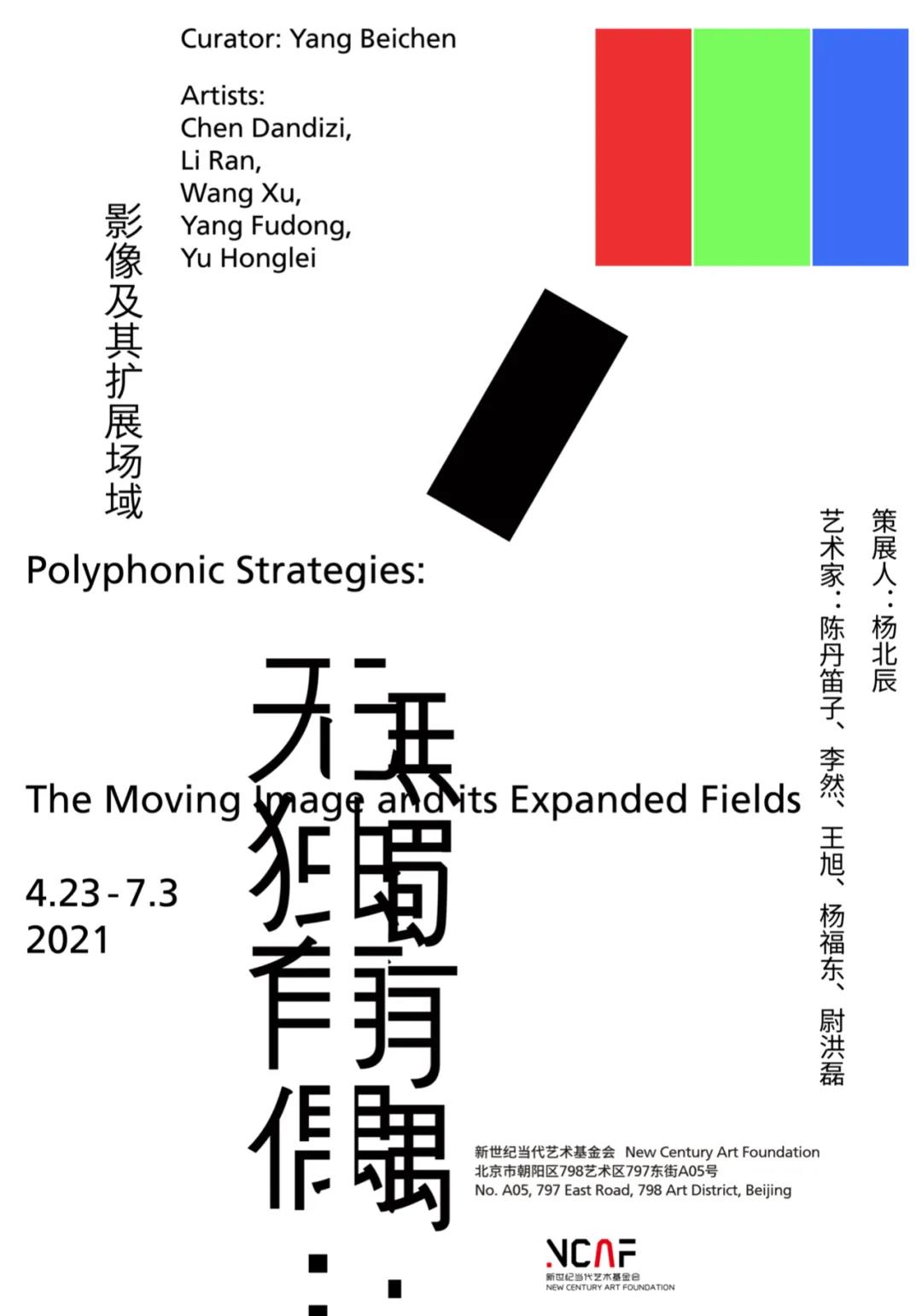 "Polyphonic Strategies" is grounds on the "hypothesis" that the art of moving image is a point of departure for the artists in this exhibition. In Rosalind Krauss's iteration of the "expanded field," sculpture in the postmodern context has achieved a "reversal" on the "periphery" of the field. Thus, it emerged from the shadow of modernism to become a medium that can "integrate" all other elements, which transcends media boundaries. This conclusion, enforced by the "post-medium" theory Krauss later proposed, further established the legitimacy of the artist's cross-media practice. While in that process, the moving-image, a "new media" of the time, was receptive to such impact. Hence, is there a possibility of exploring the expanded field based on video art in the present? In this exhibition, we will examine this hypothesis through the works of five artists. In their practices, the relationship between the moving-image and other media has always been a subtle and intimate one, involving various external forms, materials, and processing methods, pointing to complex ontological entanglements within the medium. Of course, "Polyphonic Strategies" does not attempt to verify this argument but rather provide a new perspective on the artist's specific work and the efforts behind inter-media logic.
---
About the curator
Dr. YANG Beichen is a curator/scholar of film and contemporary art. He is currently a member of the Thought Council at the Fondazione Prada(Milan, Venice), also a guest researcher at the New Century Art Foundation (Beijing, Shanghai) and contributing editor of Artforum China. He lectures on film and media studies at The Central Academy of Drama (Beijing), with research interests on the theory of Moving Image, Media Archaeology, Technology&Ecology, and New Materialism. His curatorial practices corresponds with his multidisciplinary academic approaches, including "New Metallurgists" (Julia Stoschek Collection, Düsseldorf), "Earthbound Cosmology" (Qiao Space, Shanghai), "Anti-Projection"(NCAF, Beijing), "Micro-Era" (Nationalgalerie, Berlin), "Embodied Mirror"(NCAF, Beijing). His recent projects include co-curating the Guangzhou Image Triennial 2021 (Guangdong Museum of Art, Guangzhou) and as a researcher at large participating in the exhibition project "Socialist Realism" of V-A-C Foundation (Moscow). He has contributed critical essays for the catalogues of the artists such as CAO Fei, Laure Prouvost, Omer Fast and HO Tzu Nyen, etc.. His academic monograph Film as Archive will be published soon.
---
About the artists
Chen Dandizi
(b.1990). She graduated from the oil painting department of Guangzhou Academy of Fine Arts in 2015. Dandizi's works are characterized by a symbiosis of media: Her use of video, installation, photography, and literature form integral parts required to illuminate intimate, short-lived moments in time, and human emotion. Her works explore the perception and experience of encounters with reoccurring phenomena of the natural and artificial world. Dandizi's art explores central themes such as self-knowledge and observation of her lived environment. Revealing the fleeting nature of hidden connections between a unique moment and emotion is at the heart of her creative process.
Her recently solo exhibition includes: Tropical Room (Hua International, Beijing, China, 2020); A Severe Hangover (Canton Gallery, Guangzhou, China, 2018). Selected Group Exhibitions: A Long Hello——The Eighth Huayu Youth Award Finalist Exhibition 2020 (UCCA Center for Contemporary Art, Beijing, China, 2020); Under the Sign of Saturn (ShanghART M50, Shanghai, China, 2020); The South is Not an Island (OCAT Shenzhen, Shenzhen, China, 2020); Touching Feeling (Hua International, Beijing, China, 2020); Materializing Memory: Contemporary Video Art From China (University Art Gallery Frick Fine Arts Building University of Pittsburgh, America, 2019); Story:Born After The '85 New Wave Generation Y of Contemporary Chinese Art, (Beijing Contemporary Art Expo, Beijing,China, 2019); Inner Scapes (Galleria continua, Beijing, China, 2018); Crush (Para Site, Hong Kong, China, 2018); Chinese Video Artists Festival (Mexico national culture Digital Center and Museum of Arts of Querétaro, Mexico, 2017); Fleeting Memories & Written Notes, (Capsule Shanghai, Shanghai, China, 2016); Mere Existence (Canton Gallery, Guangzhou, China, 2016). Finalist of The Eighth Huayu Youth Award.
Li Ran
Born in Hubei in 1986, graduated from the oil painting department of Sichuan Academy of Fine Arts in 2009. He moved from Beijing to Shanghai in 2018. His work involves multiple media such as video, performance, painting, installation and writing, etc. In recent years, he embarked on a journey surveying the antagonist roles in theatre, stage art, make-up design, the production of imported films and espionage films since 1950s in China. The artist often writes images through collections of photo documents, character scenes, and dubbed monologues. Meanwhile, he also expands the more complex and personalized time and space of this writing in painting, sound, and installation.
Li Ran has exhibited at the Center Pompidou, Pairs; basis door actuele kunst (BAK), Utrecht; Huas der Kulturen der Welt (HKW), Berlin; Contemporary Arts Museum Houston (CAMH), Houston; Musée d'art contemporain de Montréal, Montreal; The Museum of Moscow, Moscow; Centre d'Art Contemporain Genève, Geneva; CCA Wattis Institute for Contemporary Arts, San Francisco; NTU Center For Contemporary Art Singapore (CCA), Singapore; Museum of Contemporary Art and Design (MCAD), Manila; HOW Museum, Shanghai, Sifang Museum, Nanjing; OCT Contemporary Art Terminal (OCAT), Shenzhen, Shanghai and Xi'an; Ullens Center for Contemporary Art (UCCA), Beijing; CAFA Museum (CAFAM), Beijing; and other venues, He has held solo exhibition at OCT Contemporary Art Terminal (OCAT), Xi'an (2015); His single-channel video work also screening in Institute of Contemporary Arts (ICA), London; The Jewish Museum, New York and other venues; His works have also been featured in Montreal Biennale (2014), Biennale Of Moving Images 2014 (2014 In Geneva), 4th Moscow International Biennale for Young Art (2014), 2nd CAFAM Biennial (2014), 4th "Former West" Project (2013, In Berlin), 9th Gwangju Biennial (2012), 7th Shenzhen Sculpture Biennale (2012). He won the "Best Artist Award" at the 2014 Moscow International Youth Art Biennial and was nominated for the "Future Generation
Award" by the Pinchuk Arts Center in 2017.
Wang Xu
Wang Xu (b. 1986, Dalian, China) works predominantly in sculpture and video installation. For Wang, sculpture occupies an ambiguous space between objects, experience, and social practice, mediated by time and personal memories.
Wang's shows include Overtime Gift, 47 Canal, New York (2019); Garden of Seasons, Vincent Price Art Museum, Monterey Park City (2018); Shanghai Project, Shanghai Himalayas Museum, Shanghai (2017); A Frame Apart, Queens International 2016 Short Film Program, Queens Museum, New York (2016); In Response: Repetition and Difference, Jewish Museum, New York (2015); and Under Foundations, Sculpture Center, Long Island City, New York (2015) etc. Wang holds a BFA from Central Academy of Fine Arts in Beijing and an MFA from Columbia University in New York.
Yang Fudong
Yang Fudong was born in Beijing in 1971, and now lives and works in Shanghai. He graduated from the Department of Oil Painting, China Academy of Art in Hangzhou. He is among the most influential Chinese artists today. Yang has started to create video works since late 1990s. His works form a unique cultural visual interpretation through multiple cultural perspectives interlaced with experiences of space and time with photograph, film and installation. They are all characterized by multi-perspectives, exploring the structures and forms of identities in myths, personal memories and life experiences.
Yang Fudong has participated in prestigious international art exhibitions including Su Zhou Museum (2019); Solomon R. Guggenheim Museum (2017); Foundation Louis Vuitton, Paris, France (2016); The Metropolitan Museum of Art (2013); Tate Liverpool (2007); Tate Modern (2004); Centre Pompidou (2003). His works also included in La Biennale de Lyon (2013); Sharjah Biennial 11 (2013); 17th Biennale of Sydney (2010); 52nd International Art Exhibition Venice Biennale (2007); The 5th AsiaPacific Triennial (2006); FACT Liverpool Biennial (2004); 50th International Art Exhibition Venice Biennale (2003); Documenta 11 (2002); 4th Shanghai Biennale (2002); 7th International Istanbul Biennial (2001) etc.
He had solo-shows at most acclaimed institutions and galleries, such as Dawn Breaking, Long Museum (West Bund), Shanghai (2018); Moving Mountains, Shanghai Center of Photography, Shanghai (2016); Twin Tracks: Yang Fudong Solo Exhibition, Yuz Museum, Shanghai (2015); The Light That I Feel, SALT outdoor video installation, Sandhornoya, Norway (2014); Yang Fudong: Estranged Paradise, Works 1993-2013, The Kunsthalle Zurich, Switzerland (2013); Quote Out of Context, Solo Exhibition of Yang Fudong, OCT Contemporary Art Terminal, Shanghai (2012); One Half of August, Yang Fudong Solo Exhibition, Parasol Unit Foundation for Contemporary Art, London, U.K. (2011); Yang Fudong: Seven Intellectuals in a Bamboo Forest and Other Stories, National Museum of Contemporary Art, Athens, Greece (2010); Dawn Mist, Separation Faith, Yang Fudong's Solo Exhibition, Zendai Museum of Modern Art, Shanghai (2009); Yang Fudong: the General's Smile, Hara Museum, Tokyo, Japan (2008); Yang Fudong: Don't worry, it will be better..., Kunsthalle, Wien, Austria (2005) ; Yang Fudong, Castello di Rivoli Museo d'arte contemporanea, Torino, Italy (2005); Five Films, The Renaissance Society, Chicago, U.S.A (2004) etc.
Yu Honglei
Yu Honglei (b. 1984) lives and works in Beijing. Yu Honglei draws upon wide visual vernacular from visual cultures of Chinese urban landscapes and poetic moments in his personal narratives. Yu Honglei keenly observes the translation, transposition and circulation of images, by weaving through the physical and the digital realm of image production. In his interest in plasticity of cultural knowledge and aesthetics, what arises is a constellation of hermeneutic and polysemic output, executed through highly personal artistic discourse.
Yu Honglei's work has been shown internationally at UCCA, Beijing (solo; 2019); Antenna Space, Shanghai (solo; 2019) K11 Atelier, Hong Kong (2019); Powerlong Musem, Shanghai (2019); Hudson Valley MOCA, Peekskill (2019); Belgrade Biennial (2018); Daimler Contemporary, Berlin (2017); Carl Kostyál, London, (solo; 2017); Fondazione Baruchello, Rome (2017); chi K11 Art Museum, Shanghai (2017); ZKM Center for art and media, Karlsruhe, Germany (2017); Long March Space, Beijing, China (2017);; Upstream Gallery, Amsterdam (2016); Museo Pino Pascali, Polignano (2016); Telescope, Beijing (solo; 2015); Spring Workshop, Hong Kong (2015); Rubell Family Collection, San Antonio Museum of Art, Texas (2015); Minsheng Art Museum, Shanghai (2015); Magician Space, Beijing (solo; 2013).
---
About the exhibition

Dates: 2021.4.23-2021.7.3
Curator: Yang Beichen
Artists: Chen Dandizi, Li Ran, Wang Xu, Yang Fudong, Yu Honglei
Opening Hours: Tue.-Sat. 11:00-17:00
Add: New Century Art Foundation, No. A05, 797 East Road, 798 Art District, Beijing
Courtesy of New Century Art Foundation, for further information please visit http://www.ncartfoundation.org/.