I deeply believe that we may find common ground when we review the pursuit of modern art after we have studied ancient art in depth. We may realize that the difference between the search for modern art and ours is not significant, and can find necessary enlightenment from there. So one, ten, or even a hundred sketches that lay emphasis on content, feelings and spirit will show up. The essence of inheritance of tradition lies in searching for the real spirit of the national art, which is most significant. The tradition will then return.
—Regeneration, Yuan Yunsheng, 1982
Platform China Contemporary Art Institute announced the opening of "Regeneration—Solo Exhibition of Yuan Yunsheng" on April 17. It is the second large scale solo show of Yuan Yunsheng presented by Platform China, which features representative works by Yuan in different periods from the end of 1970s. The exhibition will remain on view till June 6.
Preface
By Lu Mingjun
In the history of Chinese contemporary art, Yuan Yunsheng is undoubtedly an exception among exceptions. In 1979, the violent volatility caused by the mural at Beijing Capital Airport "Water-splashing Festival—Hymn of Life"pushed Yuan Yunsheng into the face of the storm of public opinion. Since then, this incident and the name "Yuan Yunsheng" have become a symbol of an era. Up till now, the mural at Beijing Capital Airport is still a historical halo over Yuan Yunsheng's head, and even conceals the style of the work itself and the motivation and conditions behind its generation. It once made Yuan Yunsheng's practice in art and even his lifelong constant artistic goal "fade".

Yuan Yunsheng, Draft of Water-splashing Festival—Hymn of Life, gouache on paper, 33.9×198.6cm, 1979
Although the incident created history and recreated Yuan Yunsheng, Yuan Yunsheng had no intention to create incidents, aimed to reach a spirit that transcends time and space and create a new outlook on history. Therefore, he did not care about the eternal halo given to him by the work of "Water-splashing Festival", not to mention it being crudely labelled. In 1982, Yuan Yunsheng, who returned from an investigation and creation of paintings based on life in northwest China, he wrote The Regeneration with "righteous indignation". The article pointed out that, "under the impact of Western modern art, we should build self-confidence from the spirit of national art and retrieve the lost tradition." Such an artistic viewpoint obviously followed the wave of "nationalization of oil painting" since the 1950s, which was influenced by his master Dong Xiwen, which could even be traced back to the proposition of "nationalization" in the "art revolution". But in fact, the proposal of such a viewpoint was against the trend at the time. At this time, whether or not to "nationalize oil painting" once again aroused controversy. Yuan Yunsheng was not opposed to "nationalization". In a sense, he himself was a practitioner of "nationalization", but he did not see any point in this slogan. He deemed that "a painter learns from national culture" which was a form of self-consciousness, and beyond dispute. And the call for "nationalization", if any, was not a superficial copy or tout, but a spiritual inheritance and abandonment. Because only when art reaches a certain spiritual height can the difference between ancient and modern art, Chinese and Western art be completely resolved, and a true self-confidence be built.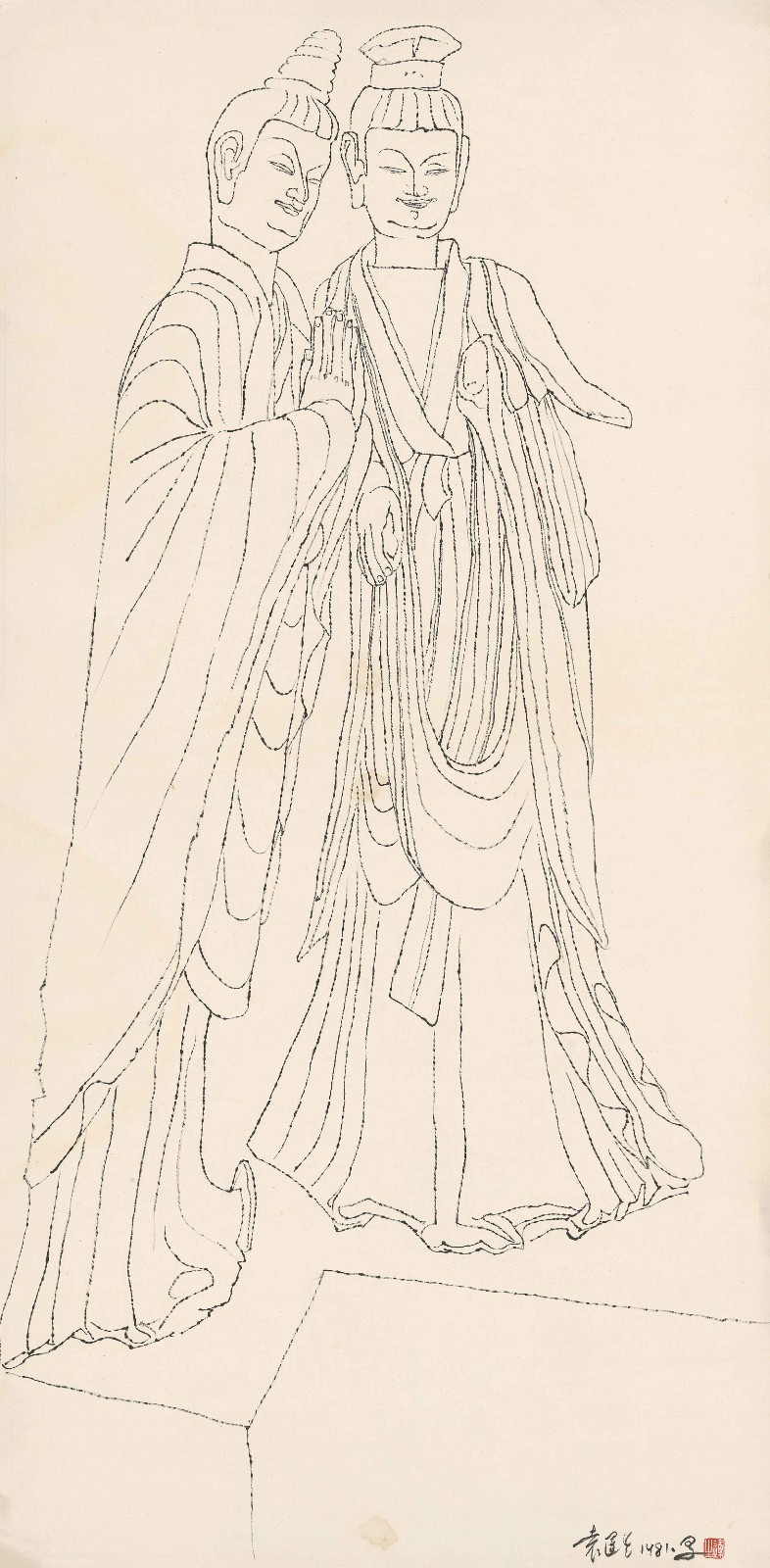 Yuan Yunsheng, Line Drawing of Maiji Mountain Double Buddha Statues, 138.5x69.5cm, Ink on Xuan paper, 1981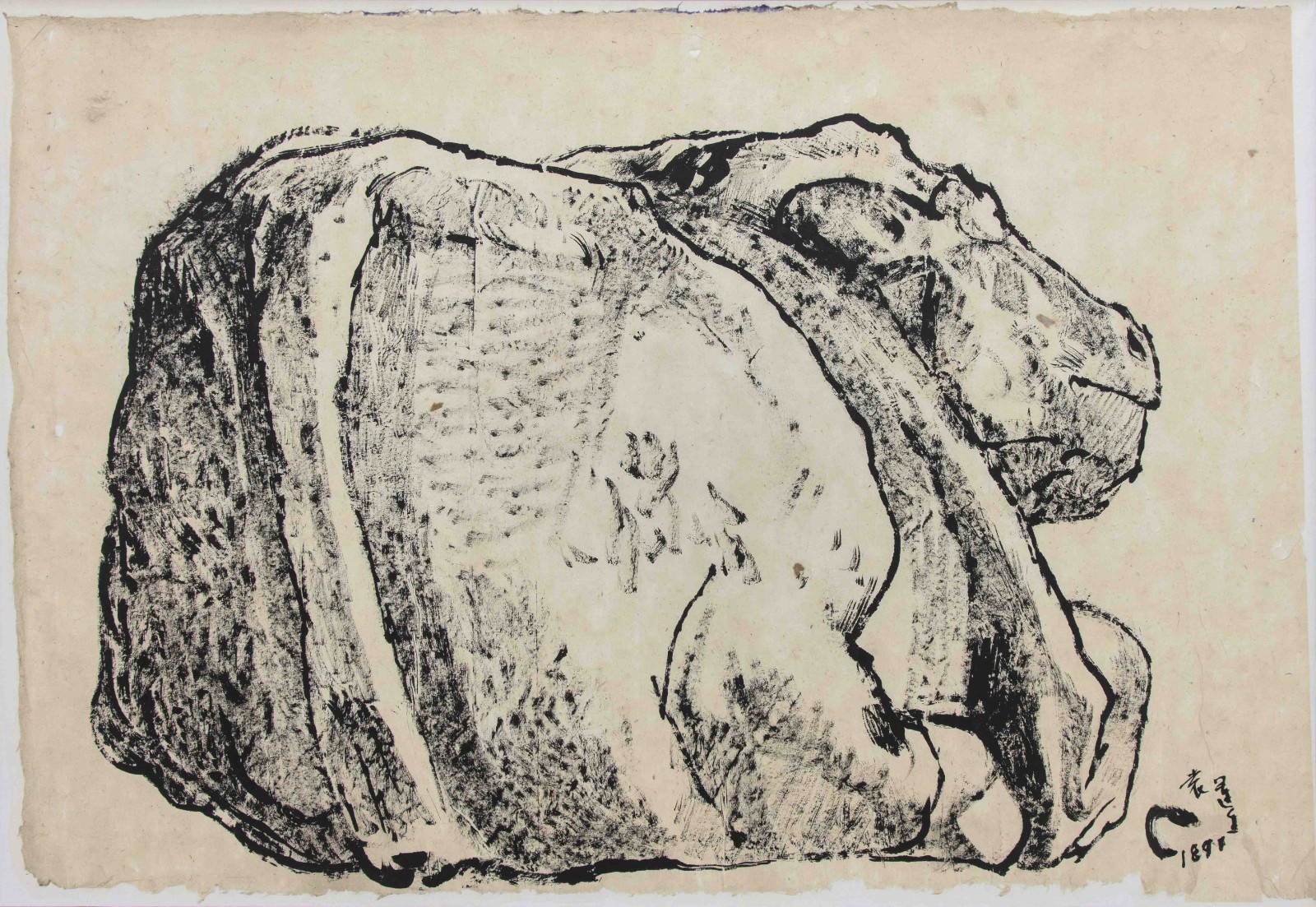 Yuan Yunsheng, Side Sketch of Stone Cow in Huo Qubing's Tomb, Ink on paper, 65x93.5cm 1981
"More often than not, the mediocrity of a modern artist is manifested in that although he recognizes the importance of 'modernity', he fails to see the beauty of folk art. He only appreciates the ingenuity of a new-style tape recorder, but cannot see the possible stronger modernity in a piece of folk paper-cutting of northern Shaanxi," quoted from "Is Oil Painting to be Nationalized", an article written by Yuan Yunsheng before he went abroad. The passage partially represents his understanding of "nationalization". It was also based on the understanding that he felt the same strong artistic power in front of the works of Western modern art masters such as Picasso and Pollock after arriving in the United States. As everyone knows, no matter if it is Picasso or Pollock, they are actually deeply rooted in their own history and reality, and both refer to folk art. Perhaps this made Yuan Yunsheng feel much at home. However, instead of making him feel inferior, it gave him more confidence. At that time, what really conquered Yuan Yunsheng was not Picasso or Pollock; instead, it was the spirit of the Han and Tang dynasties and the Wei-Jin style that he had always longed for, which made him more convinced of his own judgment and choice. During his stay in the United States, he created a large number of paintings from real life and sketches. What these works convey was not so much a desire to explore and understand foreign cultures, as the Chinese national spirit he found in foreign cultures, which he constantly bore in mind.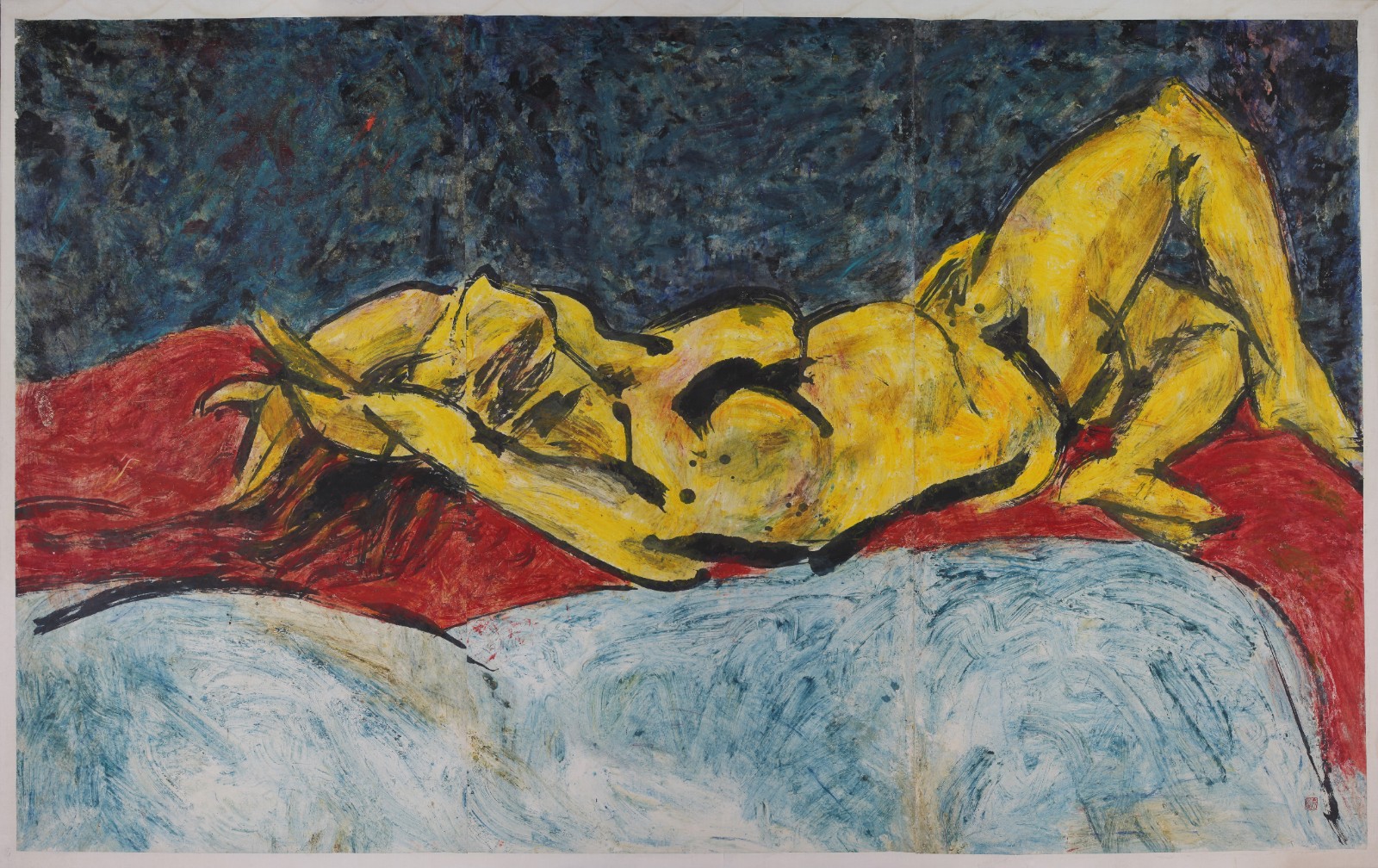 Yuan Yunsheng, Free and Unfettered, Pigment, egg tempera, Chinese ink, Japanese handmade vellum, 151x249cm, 1992
As he had not lived in China for a number of years, even though Yuan Yunsheng had missed the vigorous movement of "1985 New Wave Fine Arts" and China 89 Modern Art Exhibition, his pursuit of "tolerance, boldness and courage" and the "Regeneration" constantly born in his mind all coincided with each other—even foreshadowed—the passion of life of the great soul, as Li Xianting urged in the late 1980s, "perplexed by endless puzzles—the interweaving of hope and despair, the contradiction between the ideal and reality, the conflict between tradition and future, and the pain, anxiety, hesitation and all sorts of sorrow in the cultural reflections over and over again". The only difference is that the latter depends on the foundation of value behind the work, and for Yuan Yunsheng, the work (form) itself is the energy and soul. After being invited back to China in 1996, he did not enter into any circles, and was always absent from the various radical artistic activities and exhibition experiments that were resurrected at that time. It is the same to this day. But he does not feel any regret, because this is obviously not his aim, and even runs counter to his artistic ideas and pursuit. Of course, such a stubborn persistence and unruly character is also doomed so that it is difficult for him to gain real recognition from the system.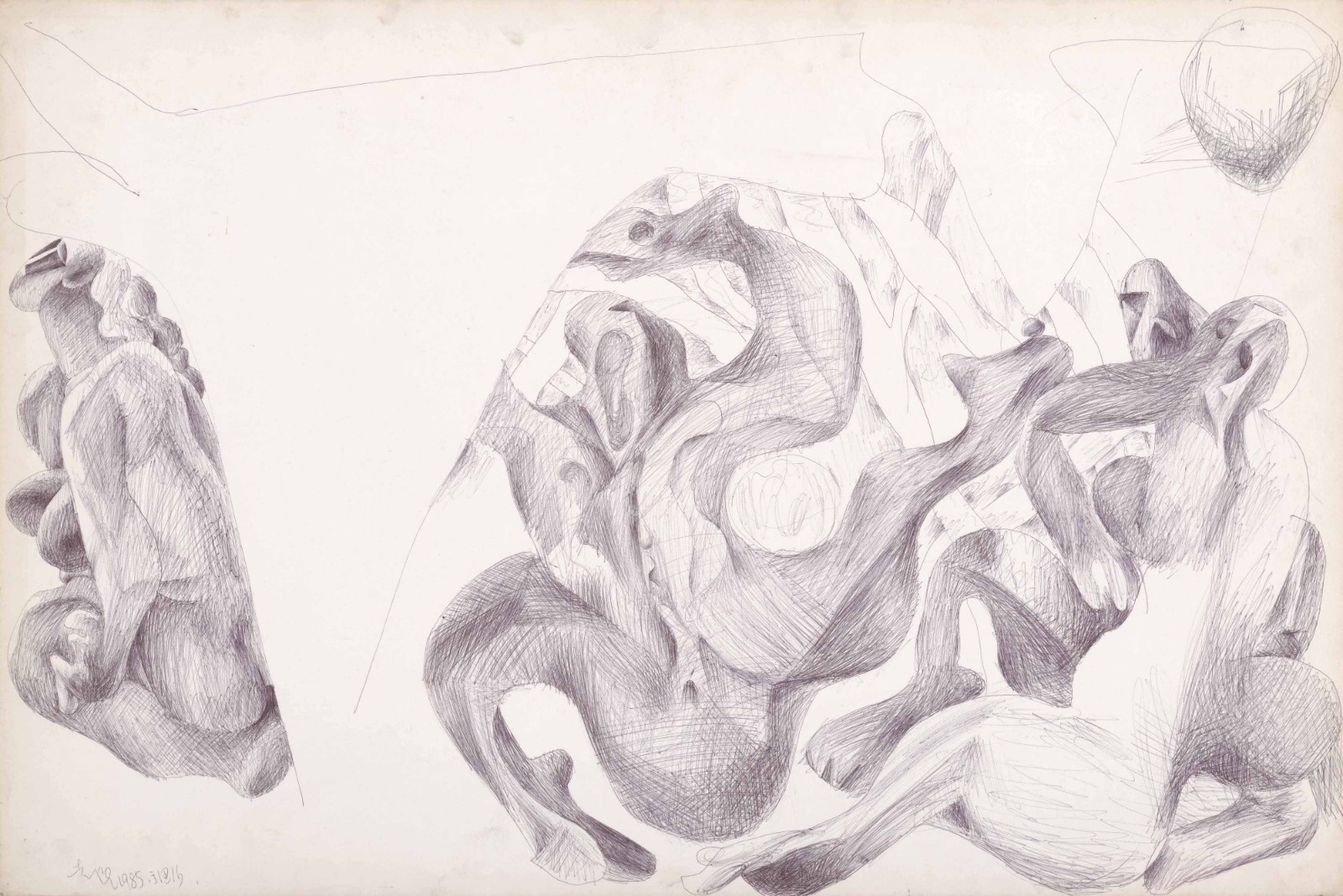 Yuan Yunsheng, Inside and Outside of Vommunity, Pen on cardboard, 51x76cm, 1985 in New York
From a momentary "wave rider" to an "abandoned" "lone ranger", Yuan Yunsheng has become accustomed to walking alone on the edge. Therefore, what he cares about is never the trivialities such as the people and things around him, but the style and spirit that is always inaccessible but is also the scarcest in contemporary art.
Reconsideration of REGENERATION
Born in Nantong in 1937, Yuan Yunsheng, was admitted to the Oil Painting Department of the Central Academy of Fine Arts ("CAFA") in 1955, with Mr. Dong Xiwen as his master. In 1957, he was classified as right wing and was sent to Shuangqiao Village for reform through labor. Two years later, he went back to prepare his graduation work, and completed the "Memory of the Water Village". After graduation, he went to northeast China quietly, and worked in the Changchun Workers' Cultural Palace for sixteen years. In 1978, he was invited to go to Yunnan, where he had created paintings from life for eight months. At Yunnan, the flourishing vitality of Yunnan greatly aroused his life passion that had been repressed for a long time. And he created a large quantity of sketches on landscapes and outline drawings of figures. Just as stated by Mr. Zhang Ding, "he brought back a collection of outline drawings, which were all sketches of life, including figures and landscape. He loves life and treats life quite sincerely; he is passionate and is proficient in basis painting skills. Once encountering life, his lines gush out from underground like spring water, overflow, wind and twist. His outline drawings inherit the spirit of Chinese line drawing but get released from the traditional program, which are both Chinese and modern." During this period, he had already made the traditional properties of modern modeling of lines fully converge, and left rich materials for the creation of the mural "Water-splashing Festival – Hymn of Life". In October 1979, Mr. Yuan was invited to create the mural "Water-splashing Festival – Hymn of Life" at Beijing Capital Airport. It is an epoch-making work and a sign of the times. The strong collision with the past incurred a huge shock—there was no work in the history of contemporary art that caused such a tsunami-like discussion like this. History was divided by such shock: the first section of history was a history when life was bound and suppressed; the second section was a history when life got rid of the ropes and started to pursue its desires. This is a hallmark event in the contemporary painting history of China. This widely known mural at Beijing Capital Airport is a beginning: it is not only a beginning of a new art type, but also a symbol of desire for the inception of a new social. (Wang Min'an, From cleanness to power, 2019)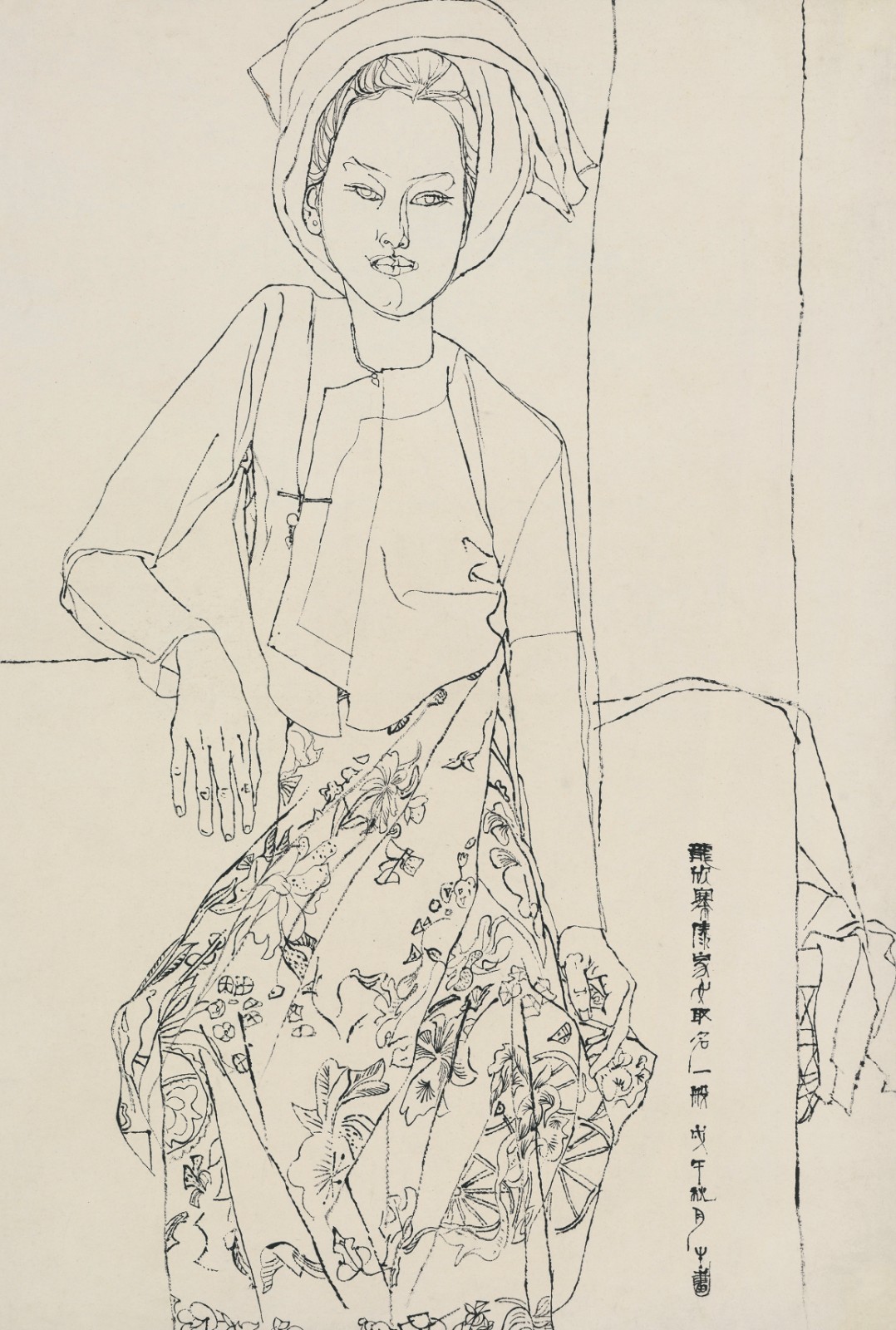 Yuan Yunsheng, Portrait of the Dai Girl Yiban, Ink on Xuan paper, 68x95cm, Autumn of 1978
In 1980, Yuan Yunsheng taught in the CAFA and created the Mural Department. During that time, he frequently went to Dunhuang, Maiji Mountain, the tomb of Huo Qubing, among other places for an investigation and created many paintings from real life. In these investigations and creations of paintings from life, he deeply felt the necessity for re-understanding of traditional modeling art, and summarized his experience in the article Regeneration written by him in 1982. This passage made a big splash in the cultural and art fields at that time, which also laid the foundation for his future life-long artistic view. In the article, he underscored that "Under the impact of Western modern art, we should build self-confidence with the spirit of national art and retrieve the lost tradition." The article was composed by Yuan Yunsheng before he left China. It consisted of words from the bottom of his heart after a three-month investigation of Chinese traditional culture in northwest China, and clarified his artistic proposition," only the understanding of tradition needs our reflection. How much has been left of the high achievements that had been realized in the research on the modeling of Chinese art before Tang and Song dynasties? Isn't it a tragedy that the great past has become so strange to us? We may find a common ground when we review the pursuit of modern art after we have really studied the ancient art, and can get necessary enlightenment from there. The essence of the inheritance of tradition lies in searching for the real spirit of national art, that is, the spirit, boldness, courage, high confidence and the great, free and progressive spirit of ancient times. That article is my reflection on the northwest trip and I call for that as we must build enough confidence within the spirit of national art".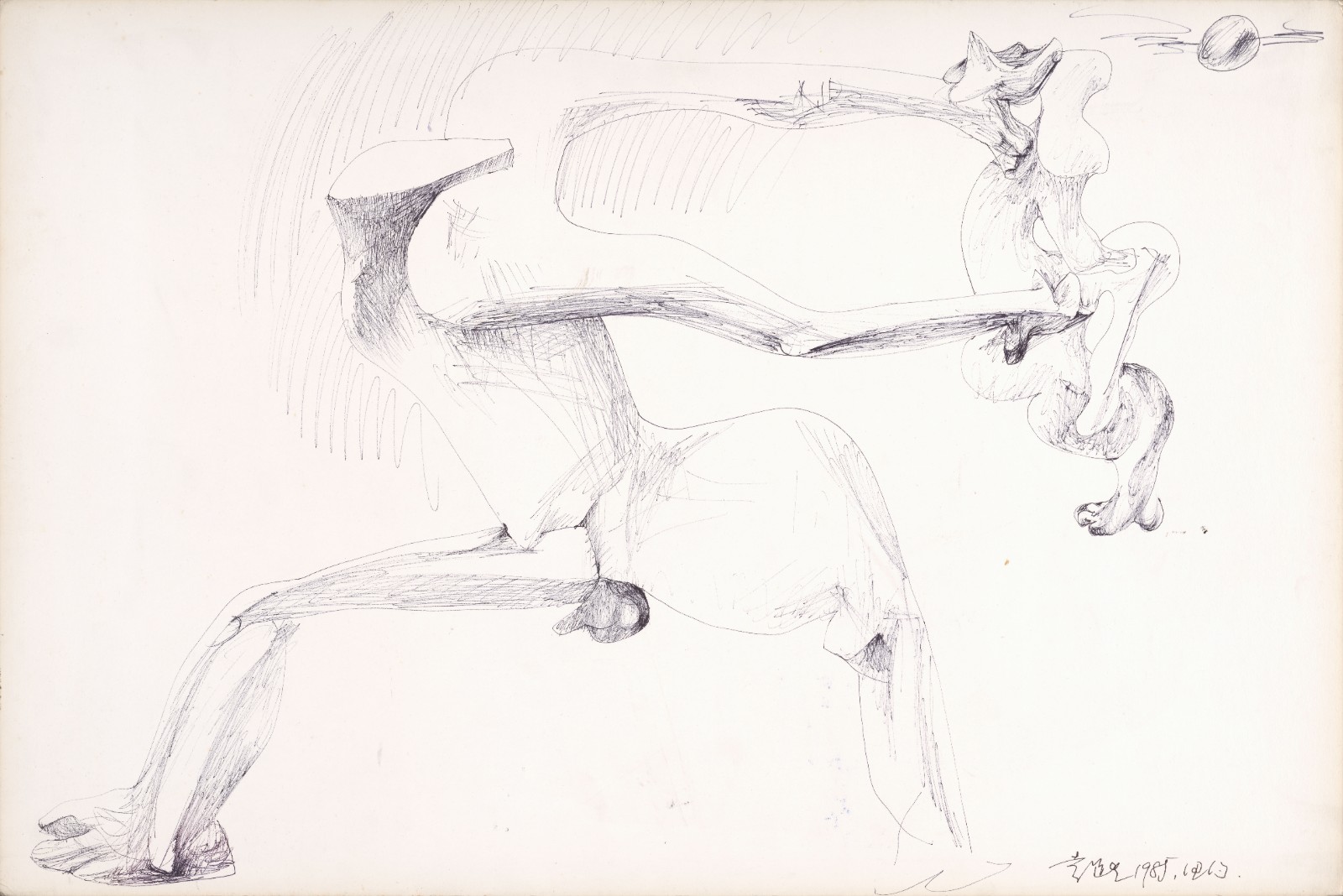 Yuan Yunsheng, The Flying Man, 51x76cm, Pen on cardboard, 1985

Yuan Yunsheng, Metamorphosis-everlasting, Silk tapestry, 210x1100cm, 1986
In August 1982, invited by several universities as a visiting artist, Yuan Yunsheng went to the United States for a visit. In the US, his artistic ideas were almost mature and he had a clear understanding of the differences between Chinese and Western artistic forms and ideas. In 1984, he worked as a visiting artist at Harvard University, but his thinking turned immediately back to the current status and prospect of Chinese art. The things he saw and heard in the US raised his awareness of history, which made his re-understanding and return to his own history a certainty. —"As an artist, if you can realize your situation clearly, you will have a strong consciousness, or even your ideal in cultural renaissance will be rekindled. At that time, it's a good opportunity to sort out yourself and make decisions, especially in the aspect of painting. So long as you decide not to imitate others, hope will come as you will reap what you sow. We cannot simply put it as taking advantage of other's difficulties, but the road of self-reliance is what the era requires. No matter if it is for the world or China, opportunity is there." (Artistic Experience, Yuan Yunsheng, 2000)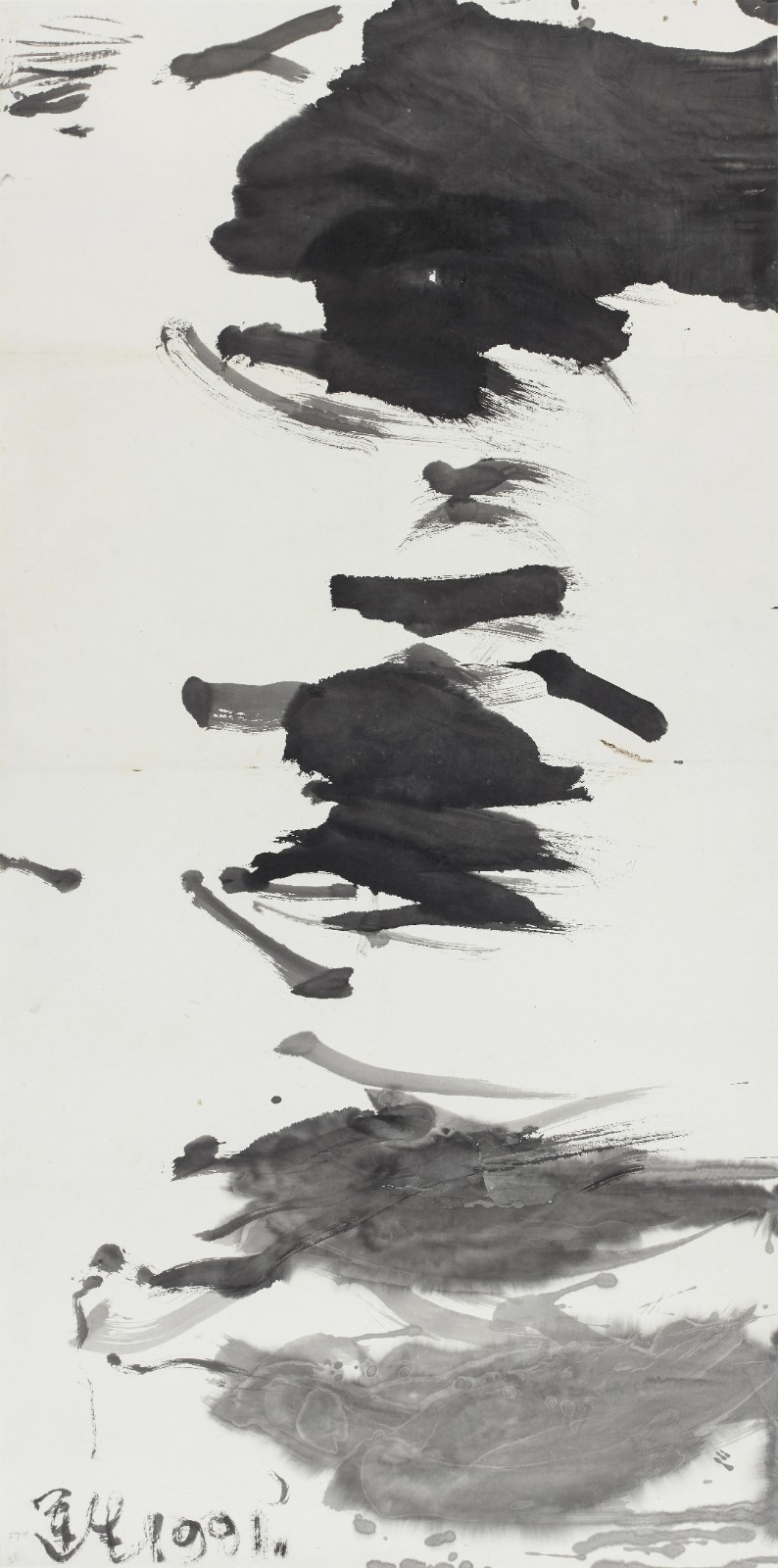 Yuan Yunsheng, Looking West, Ink on paper, 136x70cm, 1991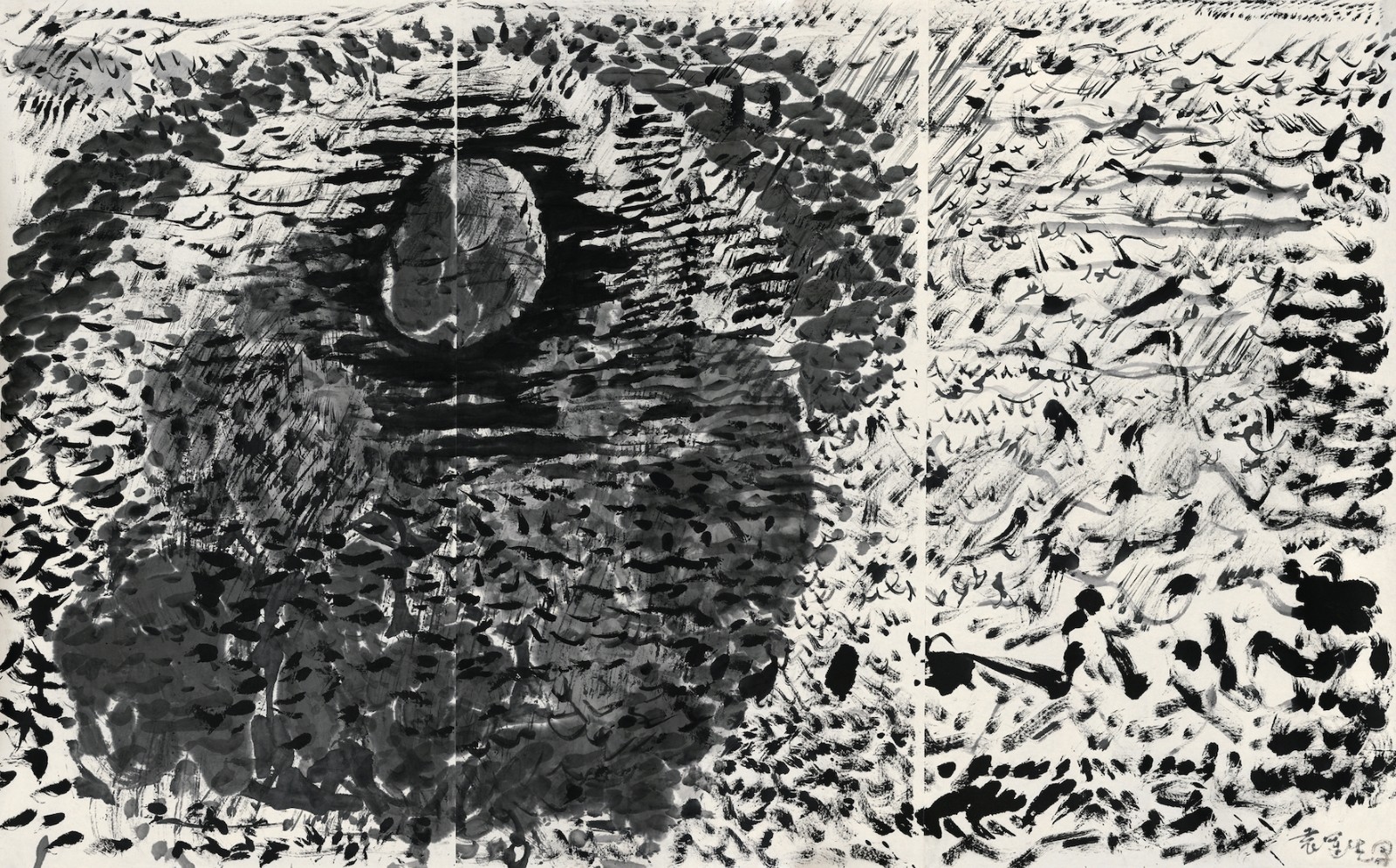 Yuan Yunsheng, The Origin of Taoism, Ink on paper, 150×250cm, 1991
In September 1996, upon an invitation by Jin Shangyi, Yuan Yunsheng returned to the CAFA to teach. In the totally westernized teaching system of the Academy, he put forward a re-understanding of tradition, a modernity was generated from tradition. Forty years after the publication of the article Regeneration, in the topic of "regeneration", this exhibition again reviewed the deep ploughing and practice in art of Mr. Yuan Yunsheng over a number of years. His proposition of regression of tradition does not separate ourselves nor abandon the world, or disconnect, graft or borrow. His proposition is to inherit and carry forward the modernity of tradition based on tradition without any breaking point. He fulfills his artistic view in his lifelong artistic practice. The artistic practice of Yuan Yunsheng has important value as a coordinate of cultural history. This exhibition also expresses our infinite respect for his artistic belief and life-long artistic practice.
---
About the exhibition
Academic Adviser: Lu Mingjun
Duration: 2021.04.17 - 2021.06.06
Venue: Platform China Contemporary Art Institute
Address: D07 Main 2nd Street, 798 Art District, Beijing
Courtesy of the artist and Platform China Contemporary Art Institute.