On April 24, 2021, "Space Fantasy: The New Generation of Chinese Installation Art" officially commenced at MOCA Yinchuan. The exhibition focuses on the developments of installation art in China and it also looks forward to a new generation of installation art with a positive while also aggressive attitude.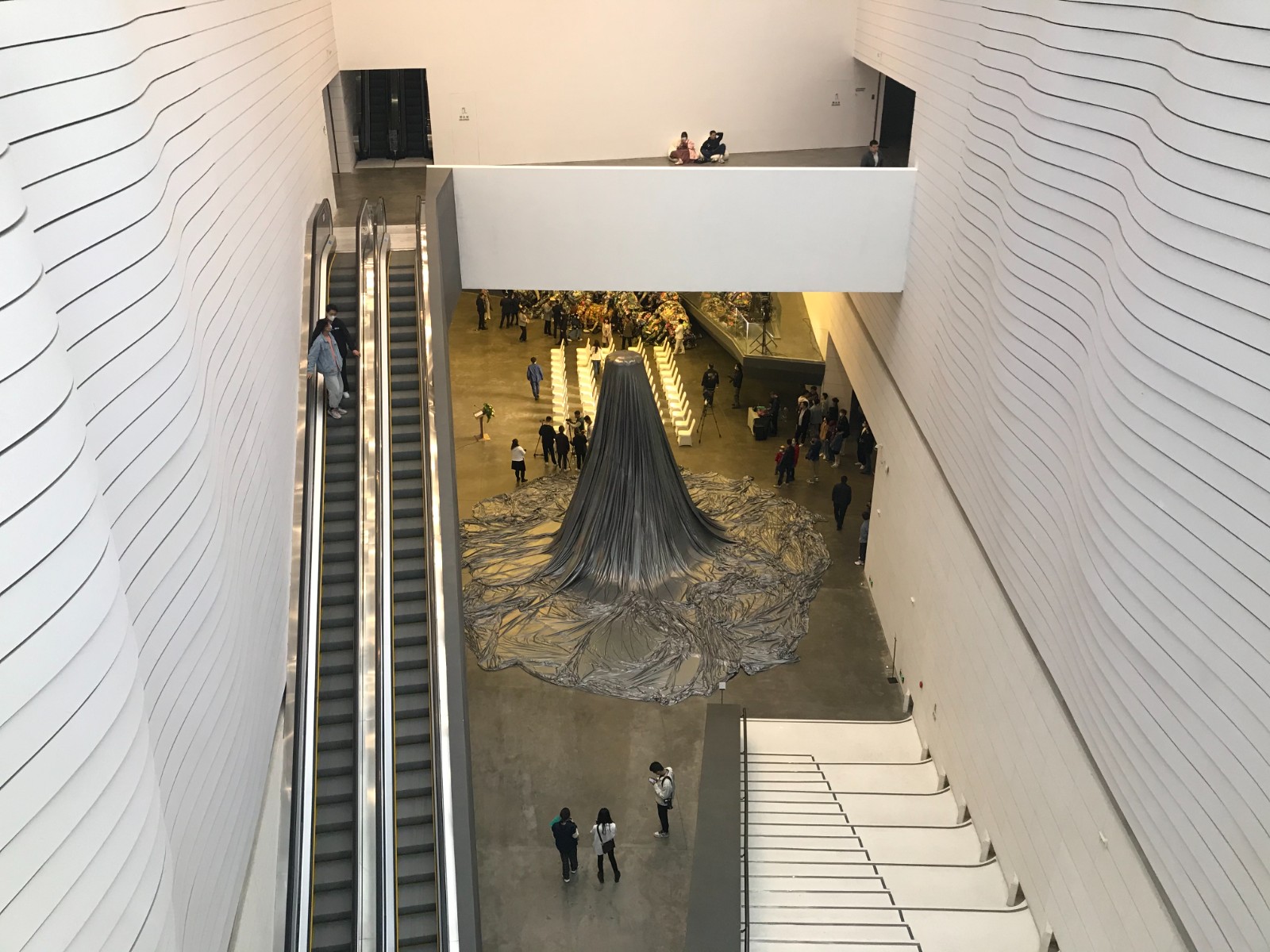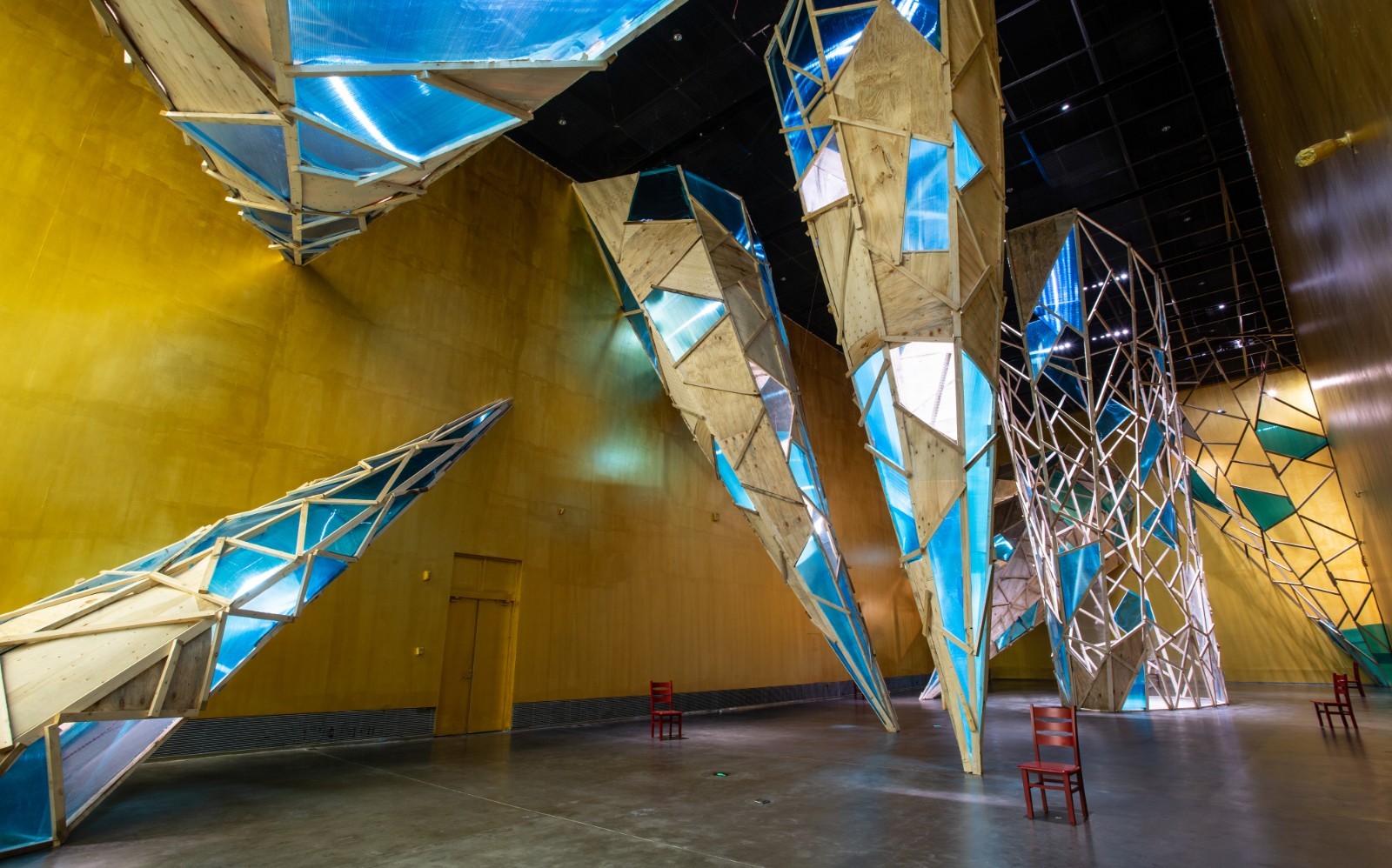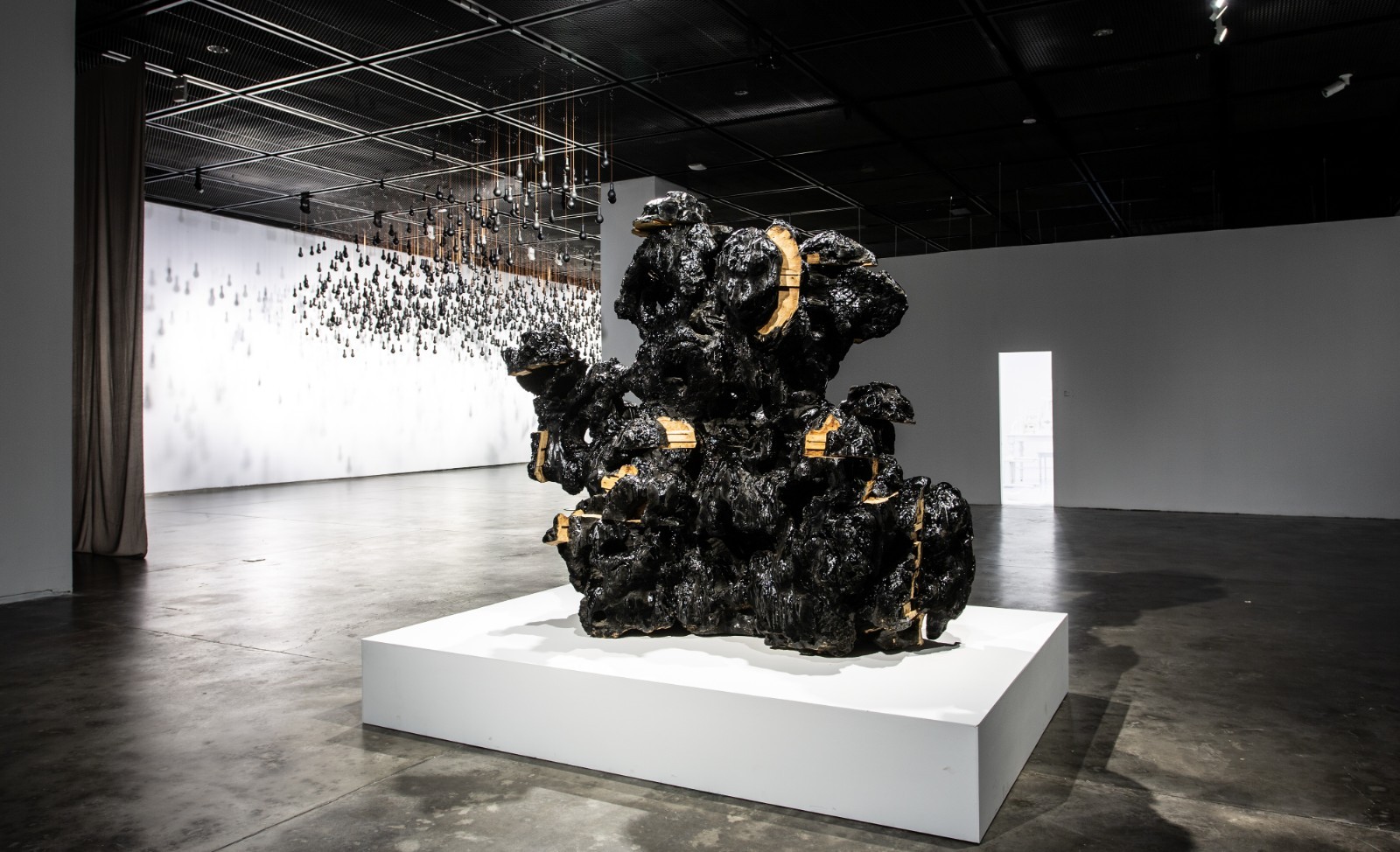 Exhibition View of "Space Fantasy: The New Generation of Chinese Installation Art"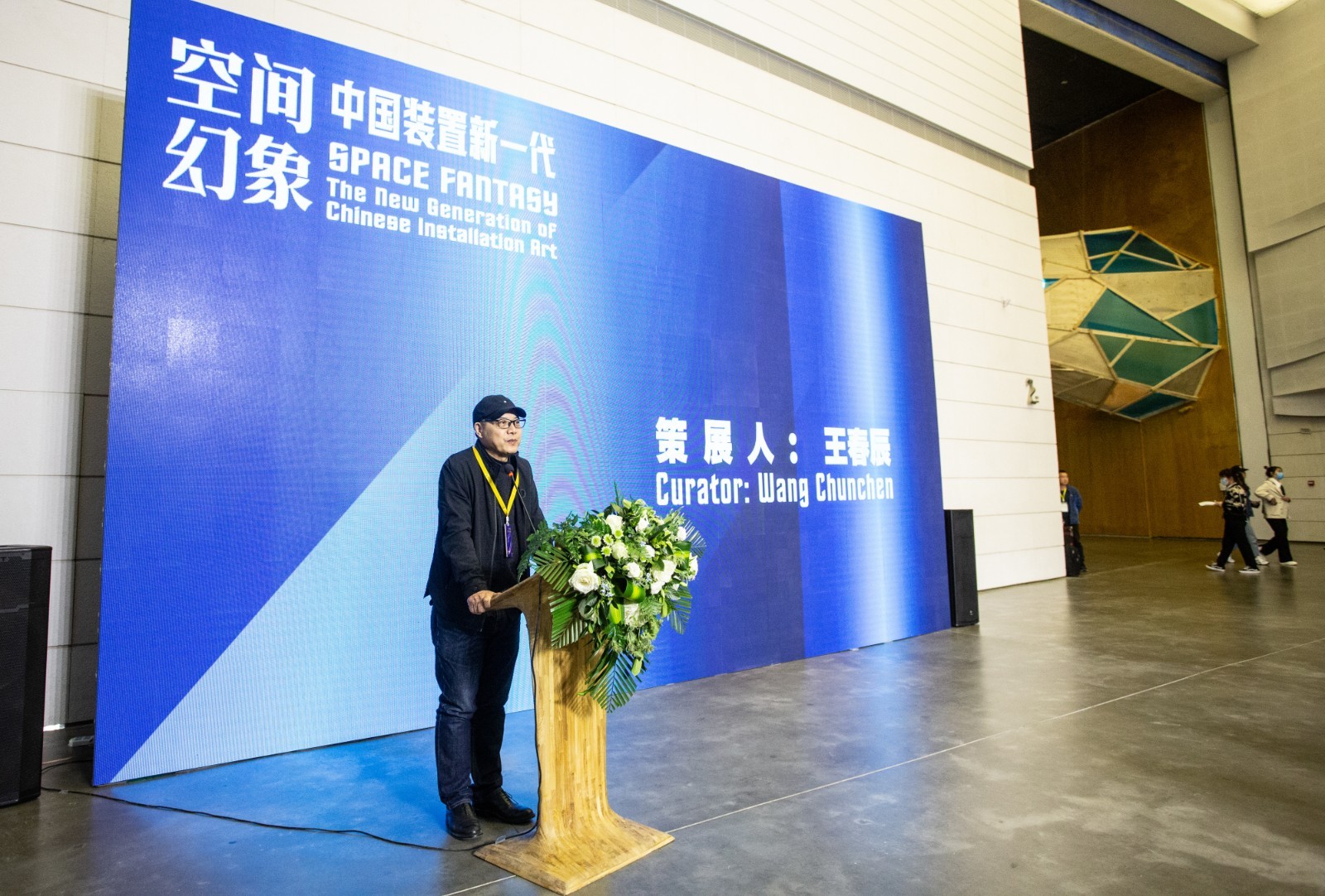 Curator Wang Chunchen interpreted works onsite.
I. A New Generation of Installation Art "Occupied" the Museum
The process in which Installation Art was accepted in China was virtually synchronized with the occurrence and development of Chinese installation art. In less than half a century, installation art has set up "a new category" in China and it has become mature as one of the most important creative "options" of artists.
"Space Fantasy: The New Generation of Chinese Installation Art" is a brand new attempt to promote the development of Chinese installation art. In the interview, Wang Chunchen, the Curator for the exhibition mentioned that one of the visions for curating this exhibition and holding an academic seminar, was to discuss the current expression of concepts and languages in installation art by sorting out and researching these works in the current situation in China. This will further promote the creative practices and public acceptance of installation art in China.
British scholar Claire Bishop concludes that the characteristics of contemporary installation art as "the dream scene", which is a "heightened perception" "stimulating a sense of whole-heartedness" and an "activated spectacular scene." [1] She summarizes the developments and changes of installation art in a poetic and perceptual expression and also confirms the same characteristics as domestic installation art. The features of installation art jointly constituted by space, material and concept is also reflected in the works showcased in this exhibition. Artists who participate in the exhibition include Chen Tianzhuo, Cao Yu, Li Qiang, Li Wei, Li Linlin, Mao Tongqiang, Meng Baishen, Wu Ningya and Zhang Dan. These nine artists "occupy" the huge exhibition space of MOCA Yinchuan with their diversified and visually striking installations.
II. Constructing "Illusions": Space, Materials and Concepts
Visitors can glimpse the two large-scale installations in the atrium of B1 Gallery after they enter the bright gallery on the first floor. These two installations are entrenched thus raising a challenge between vision and concept for the audience.
Since the 1980s, installation art began to have authentic characteristics integrated with space. People began to regard installation art as "an artwork that cannot only be viewed individually, but it also sometimes presents a complete collection or environment." [2] The relationship between installation art and exhibition space is not one-dimensional, they affect each other, and they jointly influence the psychological feelings of the audience. Li Linlin's "Crazy Evolution", Cao Yu's "Mount Fuji", and Wu Ningya's art project "The Centipede Project: Touching Mars", all reflect the spatial attributes of installation art.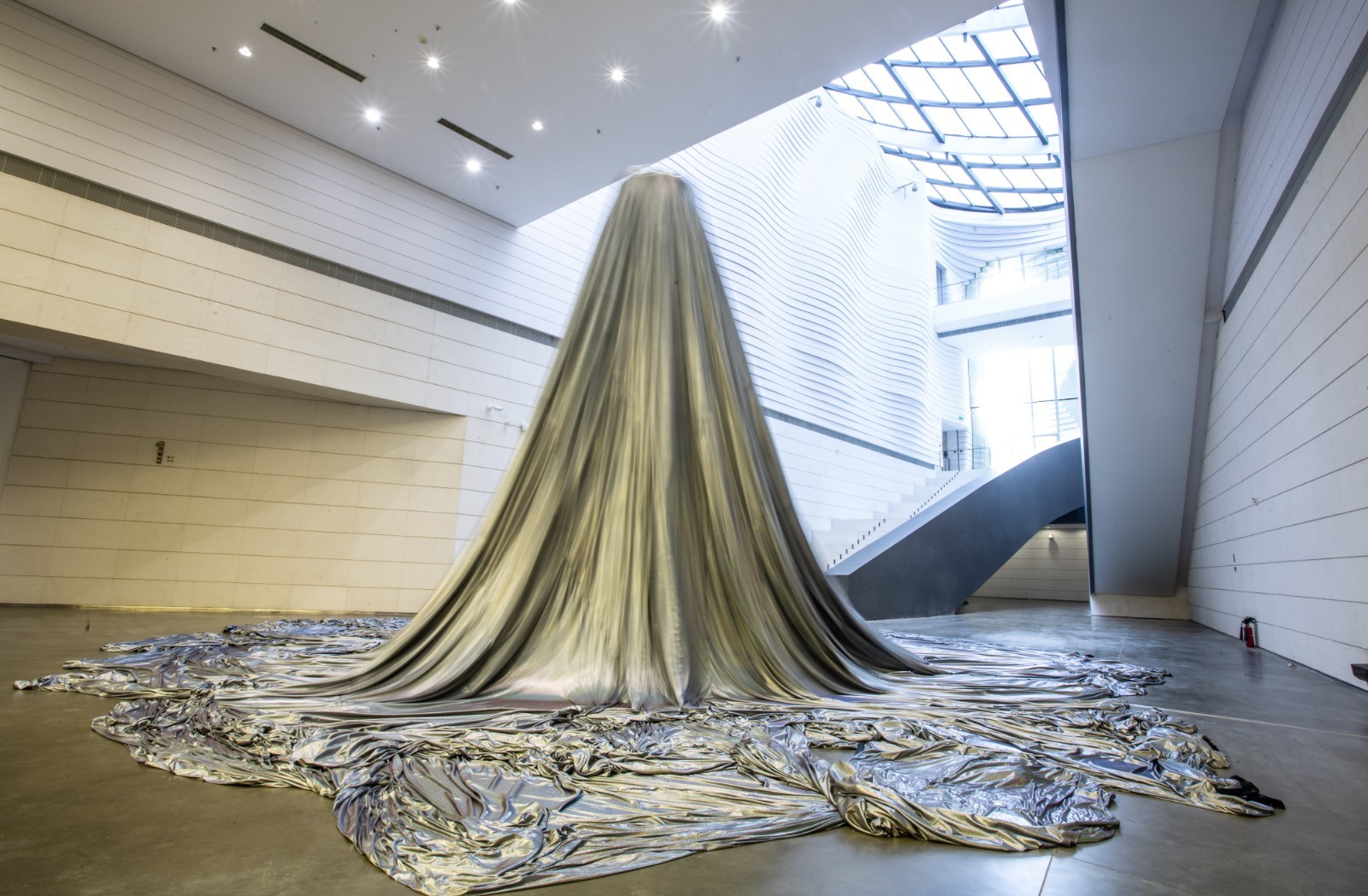 "Mount Fuji", Cao Yu, dynamic installation, cloth, 600cm, 2021
Shiny and industrial materials constitute the dynamic installation "Mount Fuji", which stands in the gallery space, framed by mechanized shaking and occupy a proportion of the space, giving the spectator a strange, grotesque and slightly oppressive psychological feeling. During the creative period of Wu Ningya's project "The Centipede Project: Touching Mars", Wu conducted a summary of the fashion evolution of the clothes he bought over the last 20 years, and collected 2,600 sets of clothes and 831 pairs of shoes as the basic element of this large-scale installation. His inspiration was directly from his experience in contemporary life, especially in consumer life. The daily ready-made products constitute a giant centipede-like installation showing a lifelike evolution, a reflective "trajectory of consumption."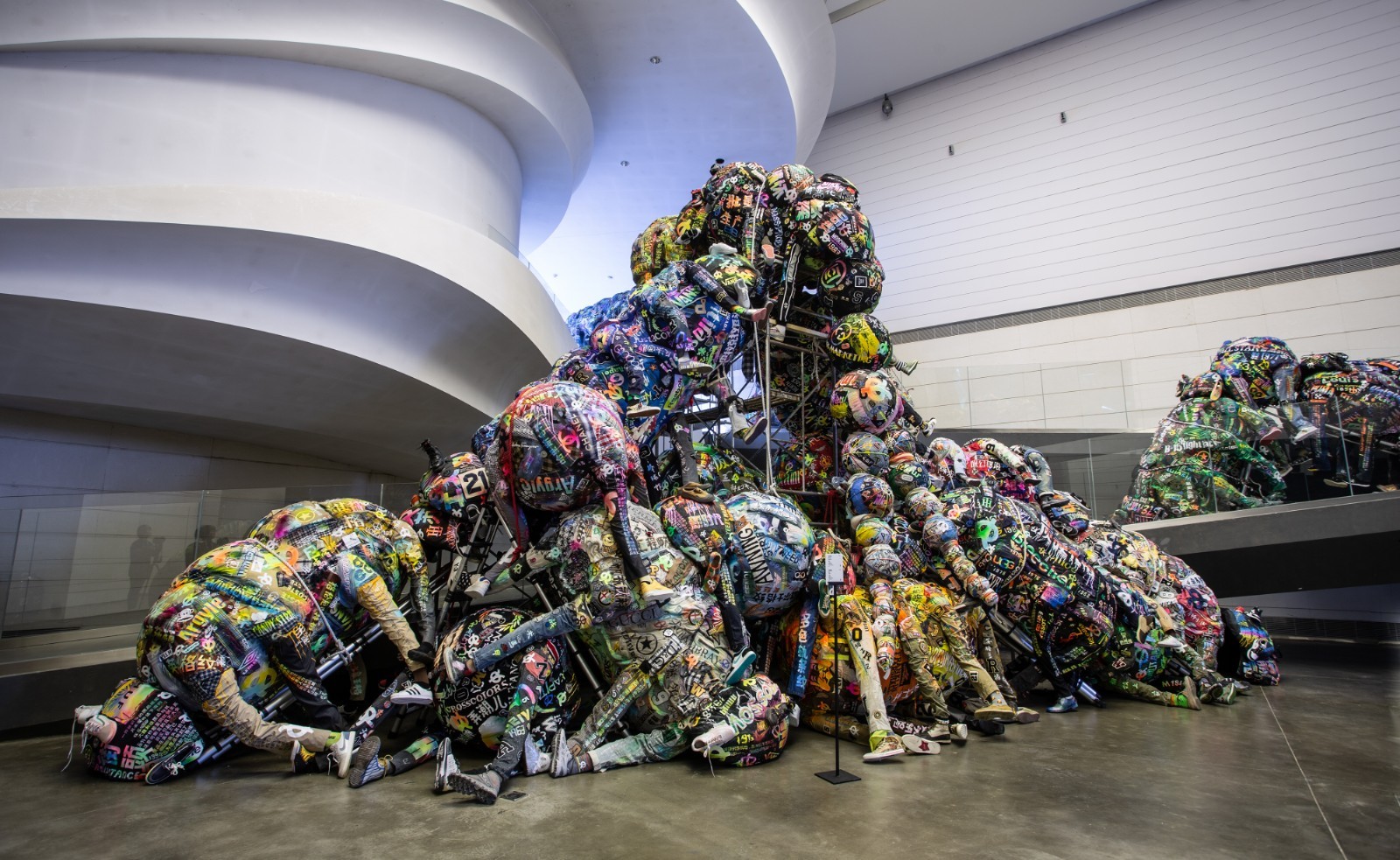 "The Centipede Project: Touching Mars", Wu Ningya, old clothes, shoes, size variable, 2020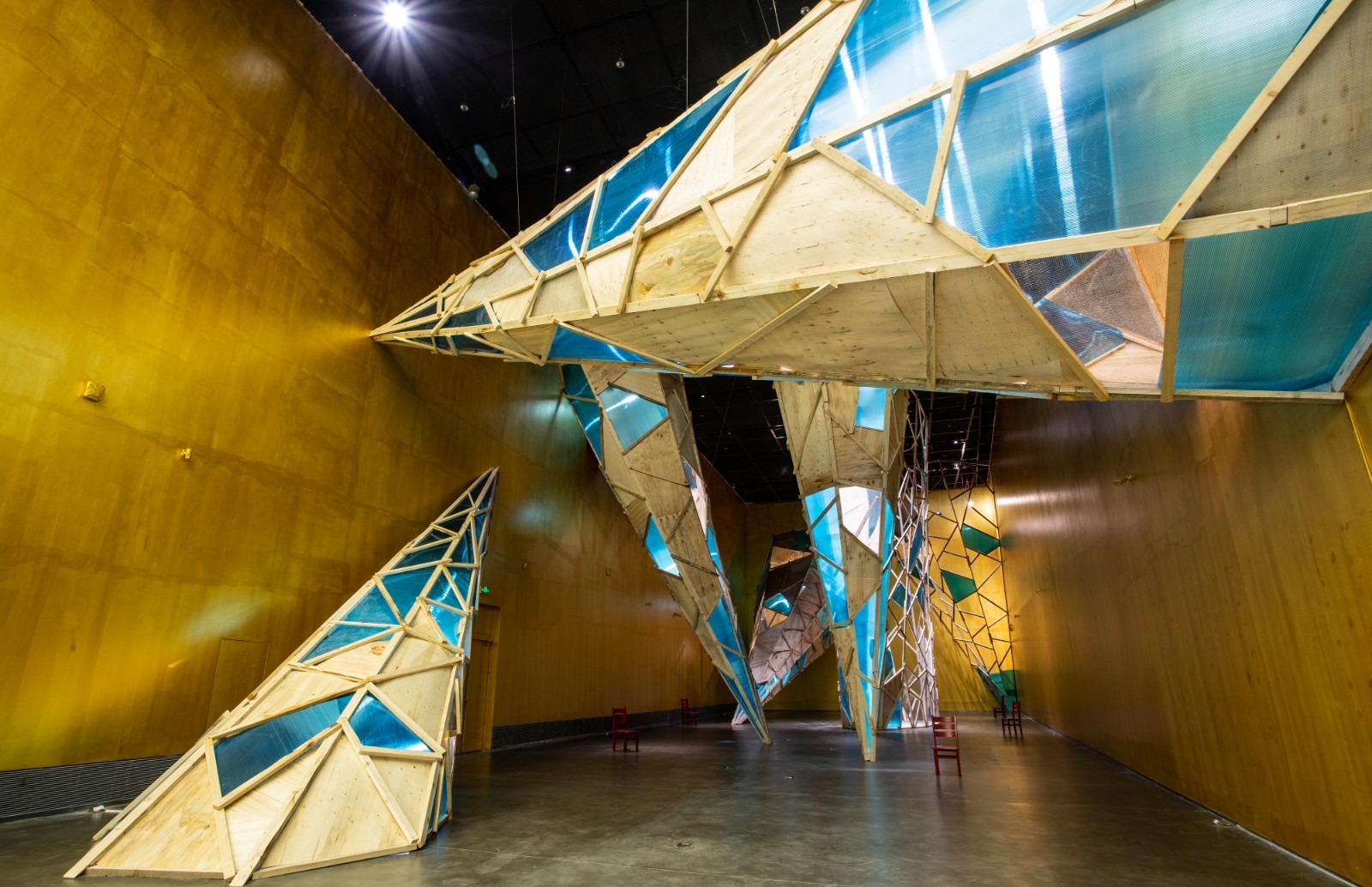 "Crazy Evolution", Li Linlin, wood, lighting board, lamp, barbed wire, etc., size variable, 2020
"Installation art occupies space, and it carries out unlimited transformation and appropriation of space." [3] In the interview, the curator Wang Chunchen also mentioned that after "The Centipede Project: Touching Mars" entered MOCA Yinchuan,Wu and Wang adjusted the work to the characteristics of this space, and finally it reached a spatial state that matches the concept conveyed by the work.
In addition to spatial elements, the exhibition also focuses on the breakthrough in the use of materials in Chinese installation art. Concepts are attached to materials, and the freedom of choice in installation art materials is so broad that it has almost reached the level of omnipotence.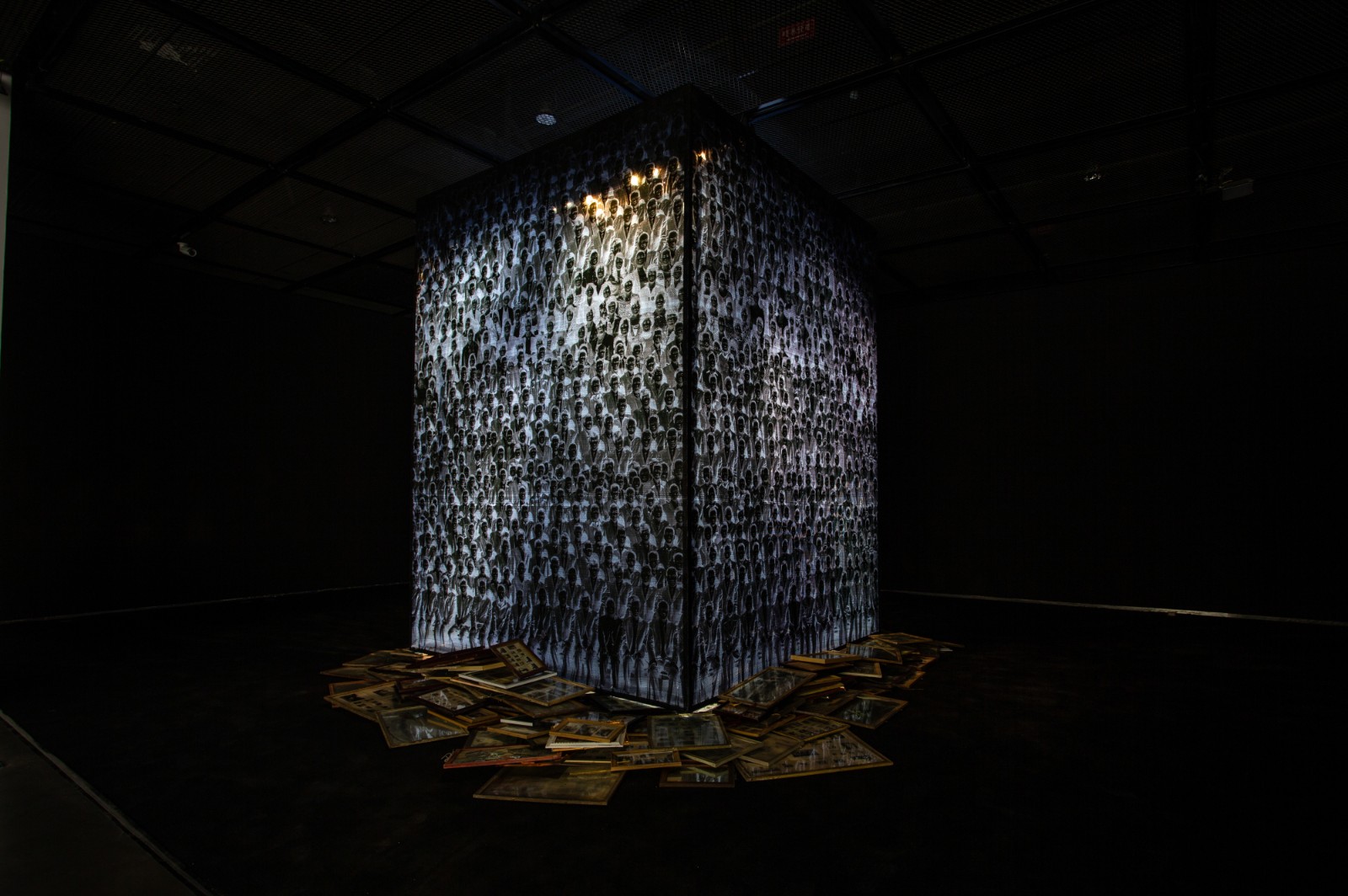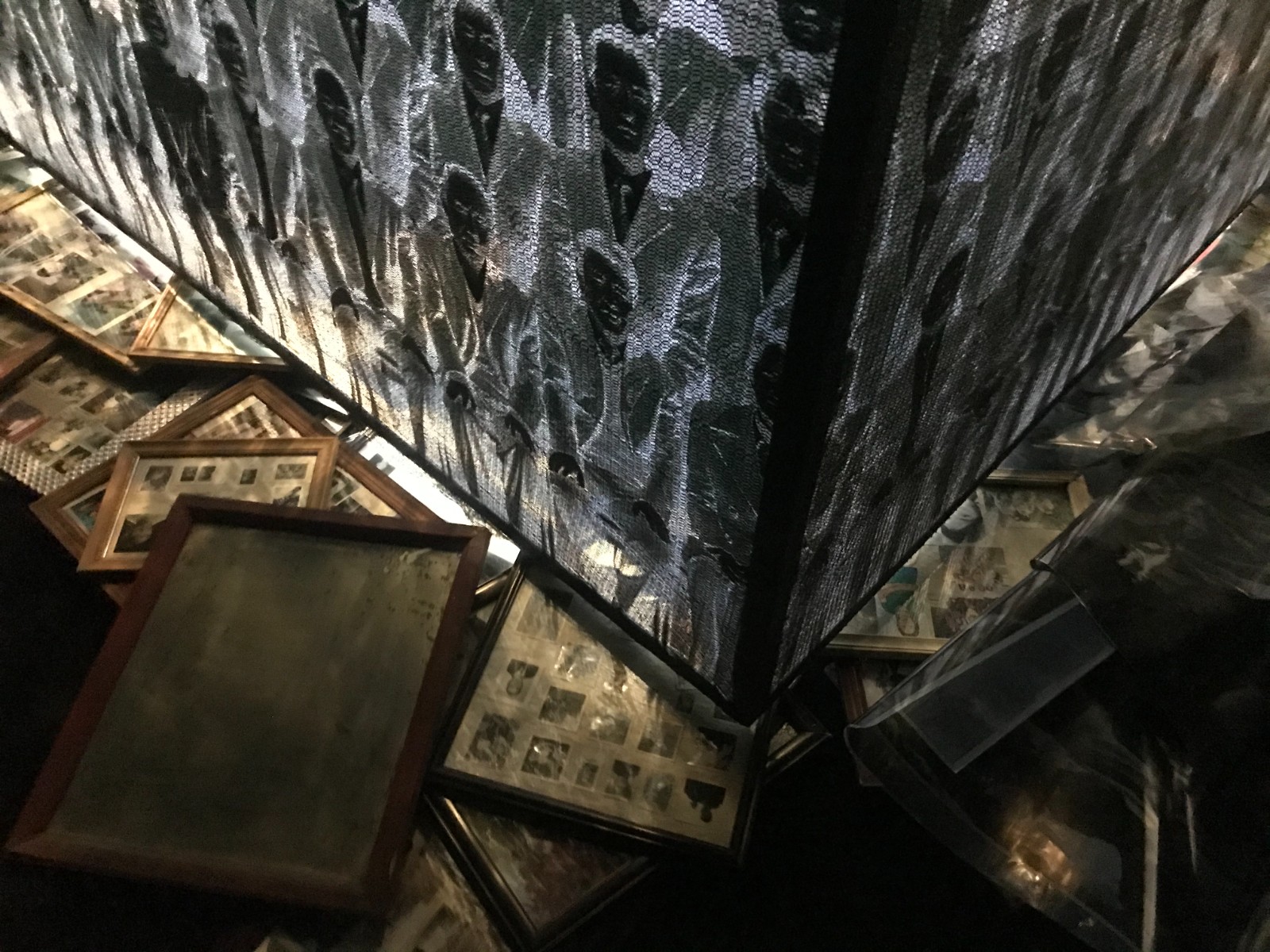 "Identifying Negative Films", Mao Tongqiang, materials, film, wood, glass, pictures, 4 meters high and 3 meters wide × 3 meters, 2020
With old photos and discarded negative films, Mao Tongqiang's "Identifying Negative Films" combines these materials containing individual memories and even memories of the epoch, personal narrative and grand narrative, small family and "big family", current and historical materials to form the emotional charm, conceptual tension, and a sense of history and depth.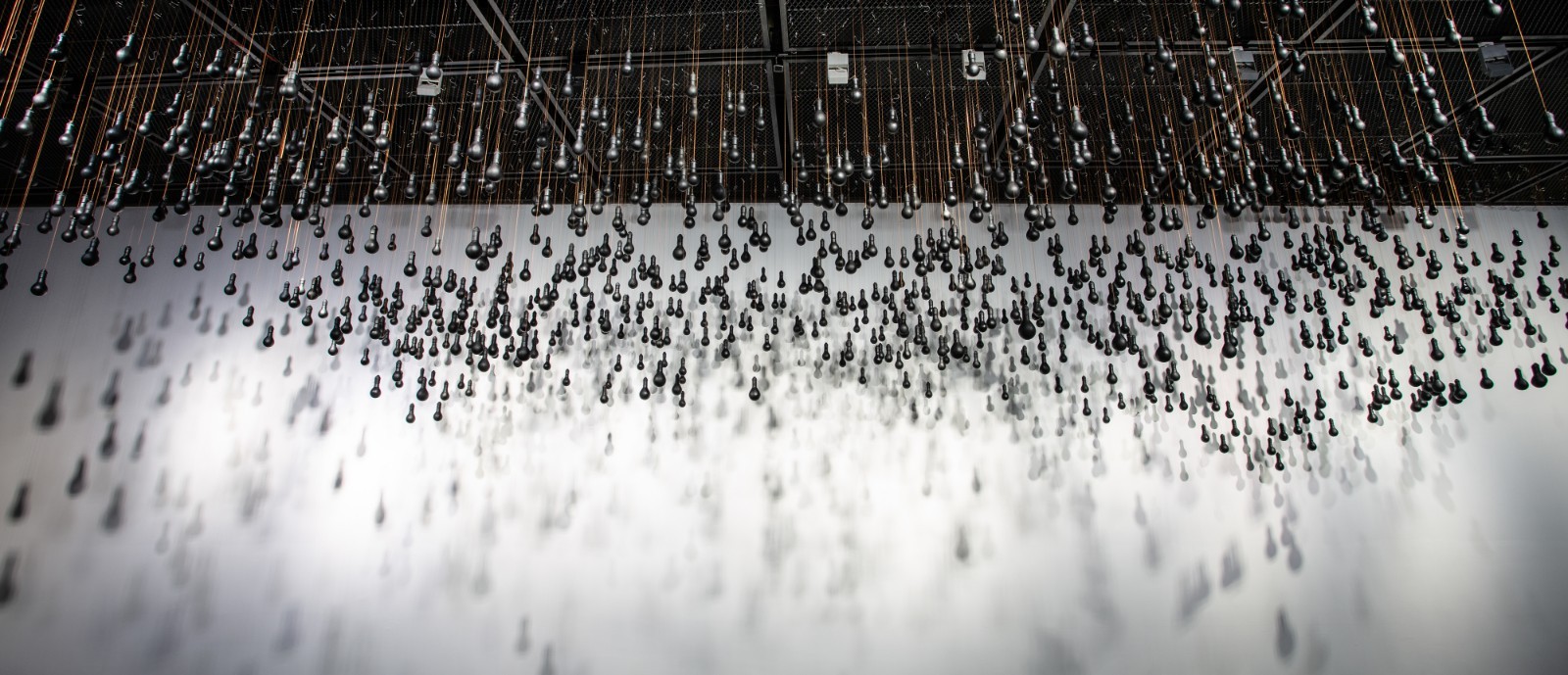 "Ink Lamp", Meng Baishen, traditional Huizhou lampblack ink, old-fashioned incandescent lamp, variable size, 2013-2020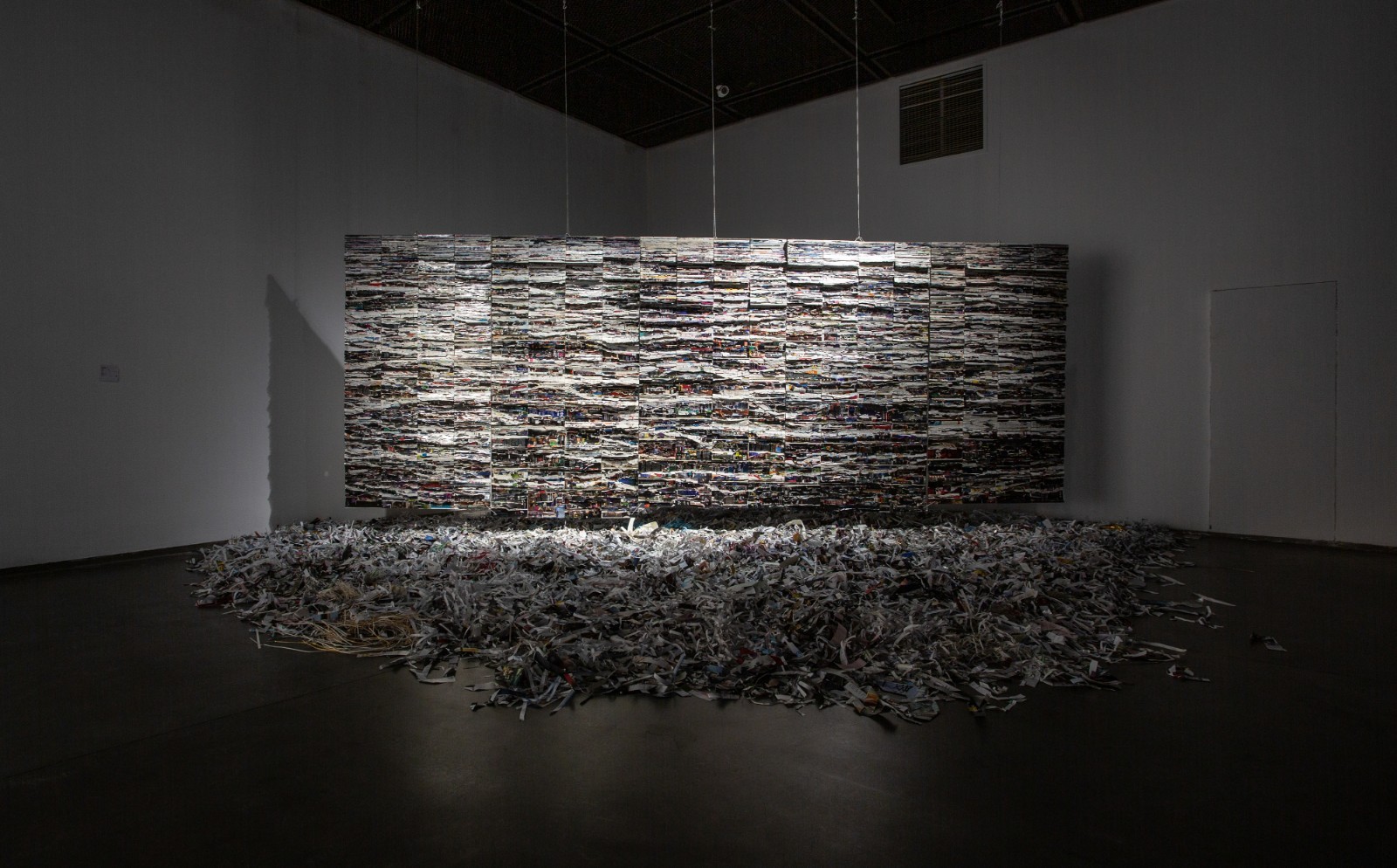 "The Danube", Li Qiang, magazines, books, 550× 215cm, 2017
"Where are you from?", Li Wei, wooden tables and chairs, building blocks, size variable, 2020
In the work "Ink Lamp", Meng Baishen uses Huizhou ink to make light bulbs, which are hung up and down in the exhibition hall, casting shadows like ink marks on the wall. "Ink Lamp" has a reserved space for the audience to intervene in. Another work has been reserved for intervention which is Li Qiang's work "The Danube", a "magazine wall" composed of discarded magazines and scraps of paper, using ready-made "magazines" (also once the mainstream vehicle of popular culture) which were common in China, tries to arouse people's thinking about cultural changes, traditional media and new media.
Discussing the boundaries of installation art always requires courage, but it is undeniable that installation art is extremely powerful in expressing the artist's concept. This unique attribute comes from the artist's active choice of ready-made materials. With the development of technology in recent years, installation art has gradually shown a trend for "pan-materialization" in which technologies such as new media art and new materials tend to merge.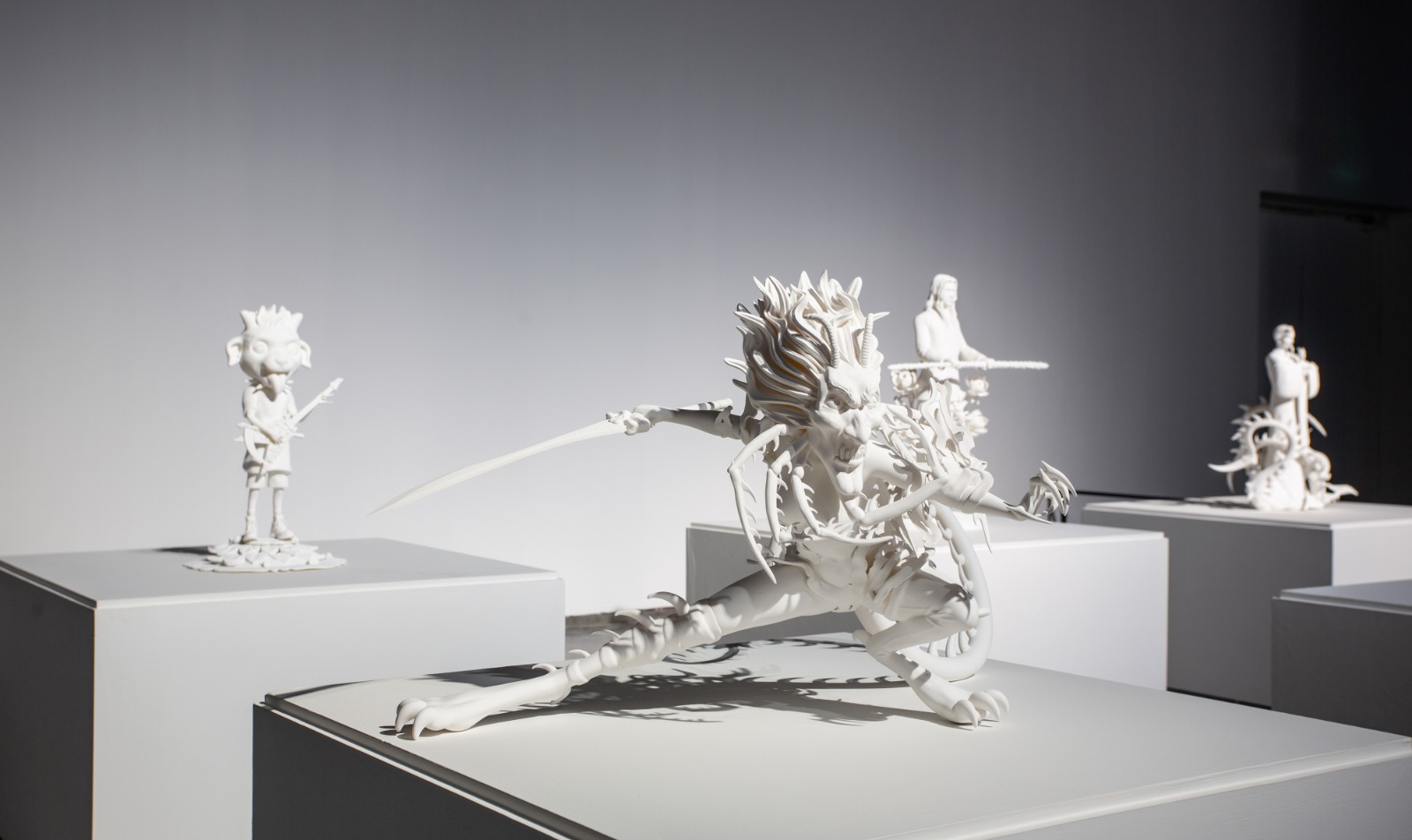 "New Moon Scimitar" series, Chen Tianzhuo, photosensitive resin 3D printing, spray paint, 2020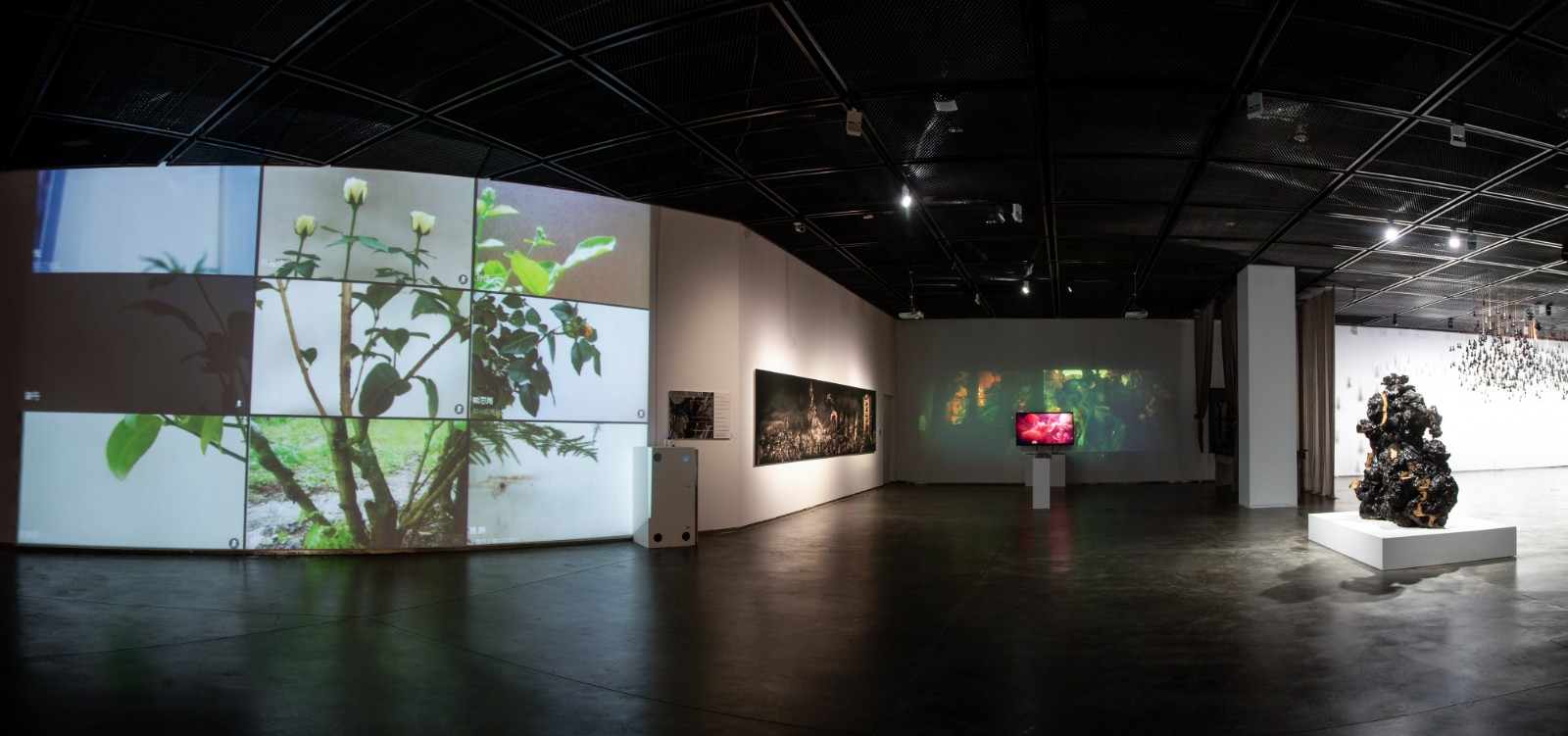 "The Tree of China", Zhang Pan, mixed media installation video, 400×400cm, 2020
For installation art that relies on materials for a conceptual expression, the selected materials contain the concepts conveyed by artists, or just like the concept that Wang Duanting put forward in the seminar on the opening day of the exhibition—materials are concepts. Whether a concept that a work that conveys is unified with the selection of materials, has also become an important reference factor for judging whether the installation art is authentic and effective.
III. How to Portray the Boundaries of Installation Art?
As an important supplement to this exhibition, MOCA Yinchuan held a seminar with the theme of "Space Fantasy: The New Generation of Chinese Installation Art" . The guests of the seminar consisted of famous artists, writers, media, and critics. In addition to the discussion on the exhibition, five honored guests including Wang Duanting, art critic and scholar of Western Art history research; Zhao Yan, Associate Professor of China Central Academy of Fine Arts, Editor of "World Art"; writer and art critic Zhou Wanjing; art critic and curator Ai Leier; art critic and curator Duan Jun, all extended their discussion on the topic of " Installation Art in China."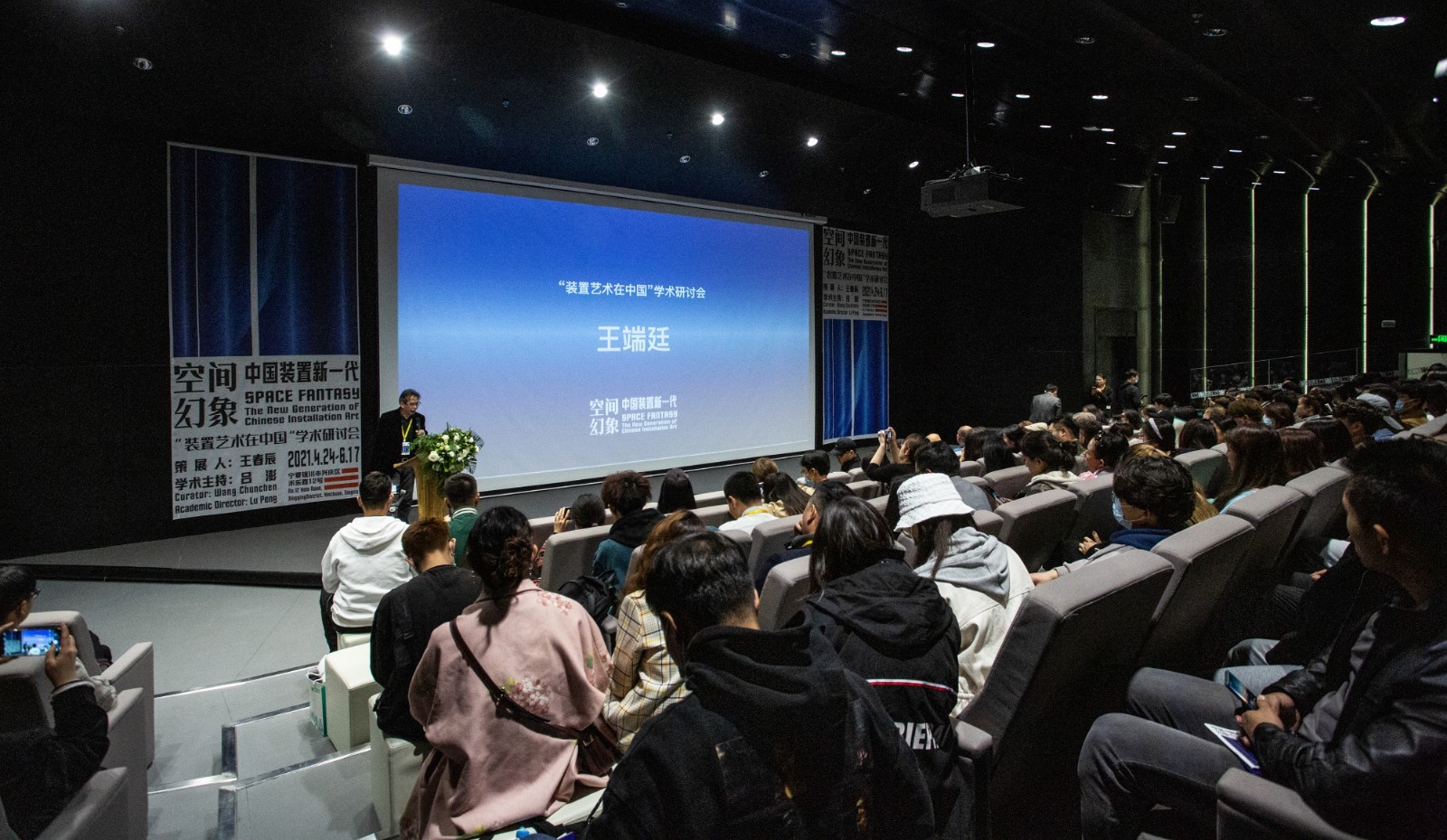 Wang Duanting delivered a keynote speech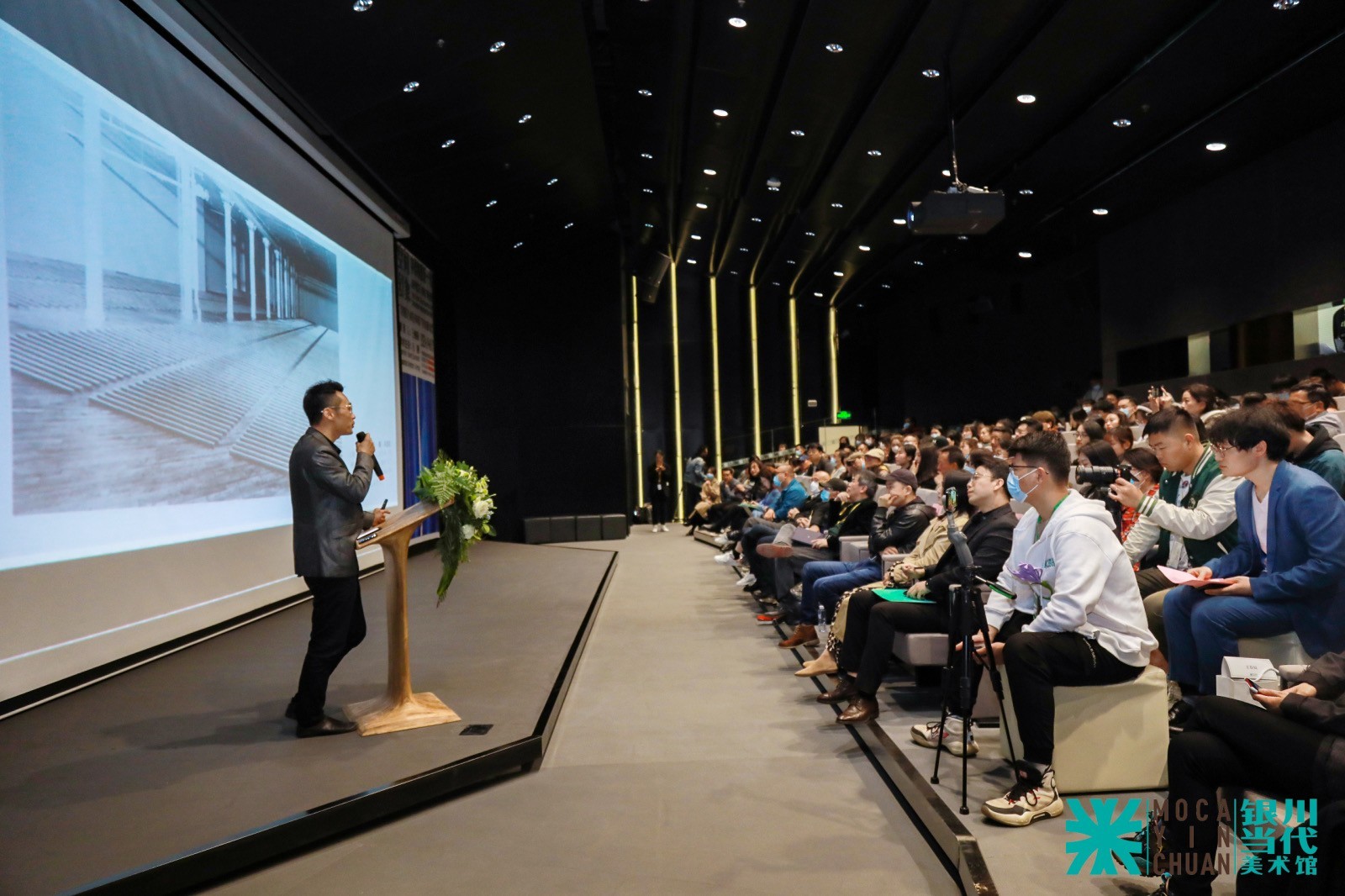 Art critic and curator Duan Jun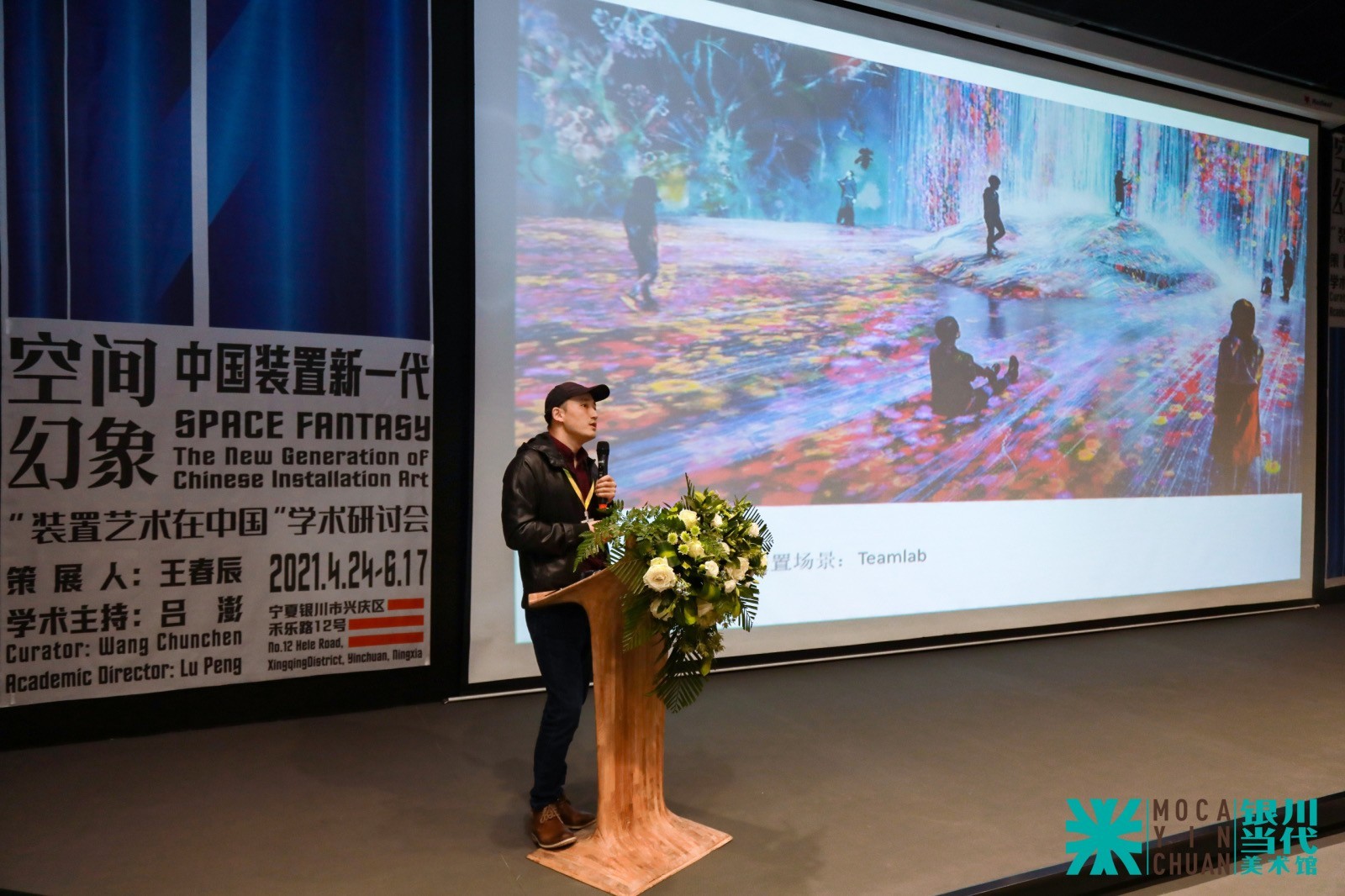 Zhao Yan, Associate Professor of Central Academy of Fine Arts, Editor of "World Art"
Art critic and curator Ai Leier
The academic host of the seminar Wang Chunchen tried to summarize the discussion with the five honored guests. In his opinion, the question of whether installations are actually art has been successfully resolved. The legality of installation art is related to the system. What is certain is that installation art is about the present, so if you want to understand installation art, you don't need to go back to the depth of history to get a permission. This also reflects a certain core characteristic of installation art, it should be a larger and more open field.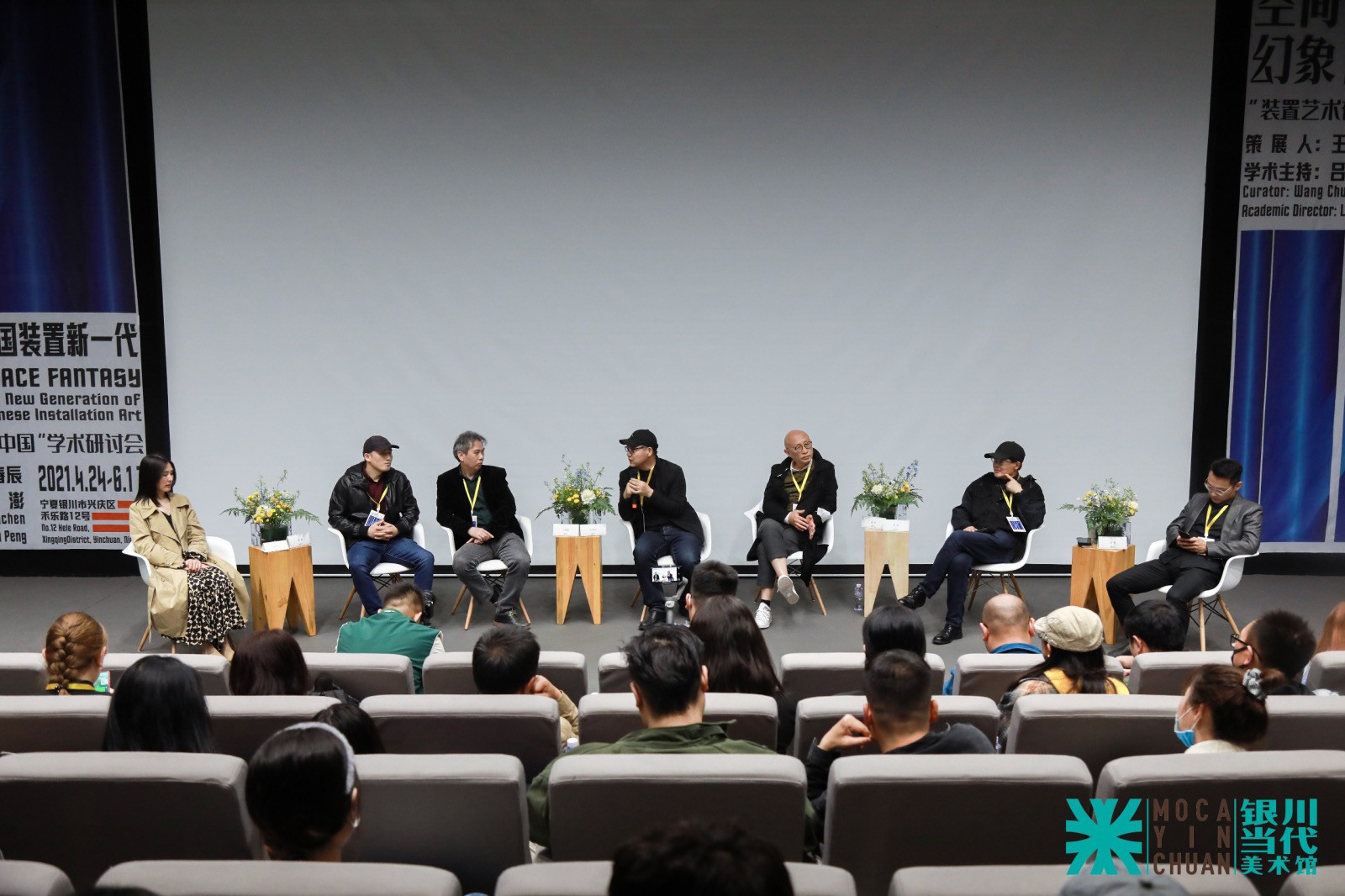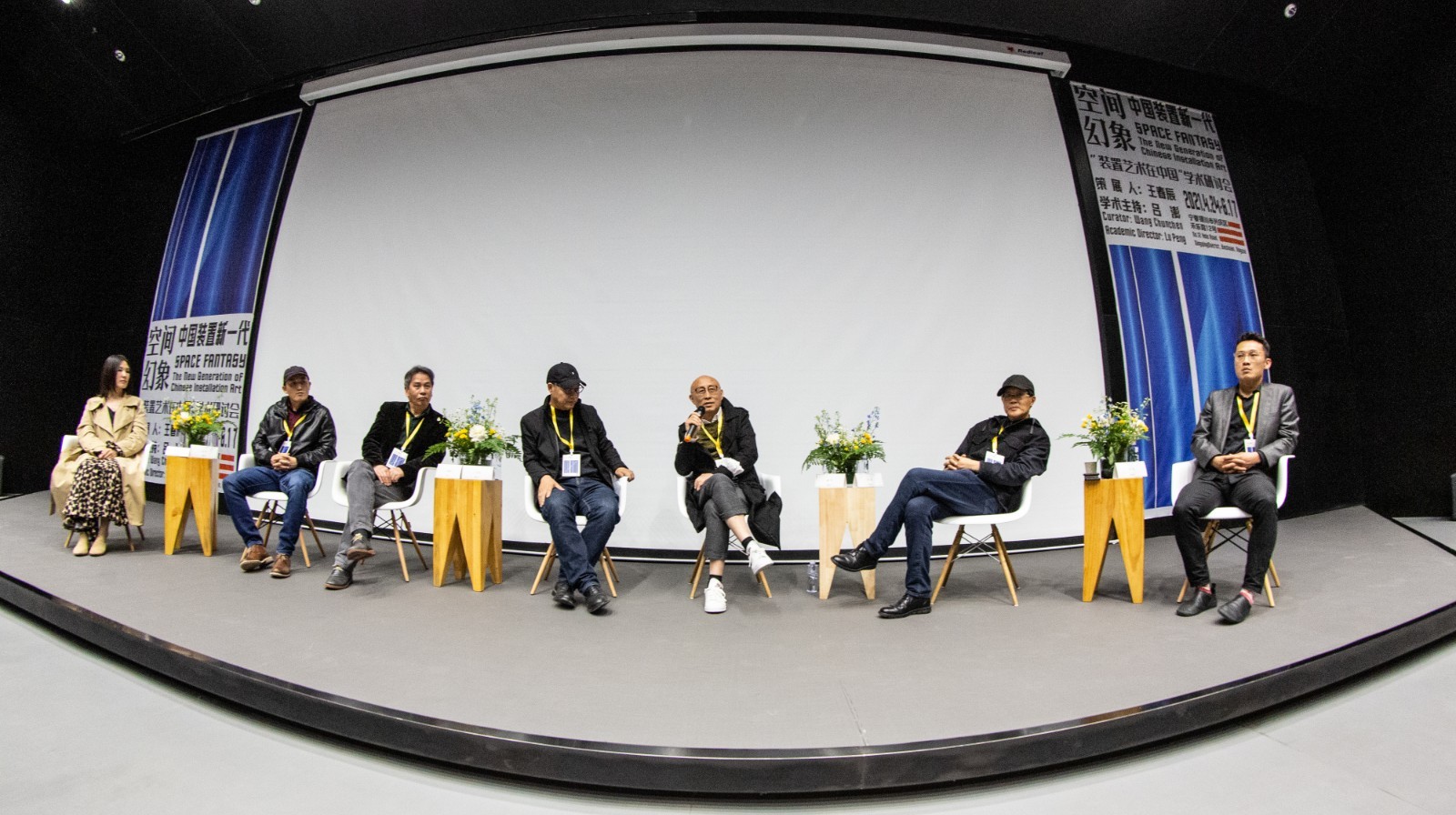 View of the Seminar
"Space Fantasy: The New Generation of Chinese Installation Art" is based on the latest observations in the category of installation art. It focuses on the current living conditions of installation art in China and starts to discuss the different manifestations and concepts it currently presents. "The New Generation" does not only refer to the exhibition's vision for the real-time development of installation art, but it also includes expectations and prospects for the future. At present, installation art is still a category of art that people can come into contact with. Concepts and thoughts, space, perception and emotions, as well as current visual experience and cultural resources are fully integrated. Or, in other words, the above characteristics are probably a certain "tradition" that has grown and continued since the birth of installation art.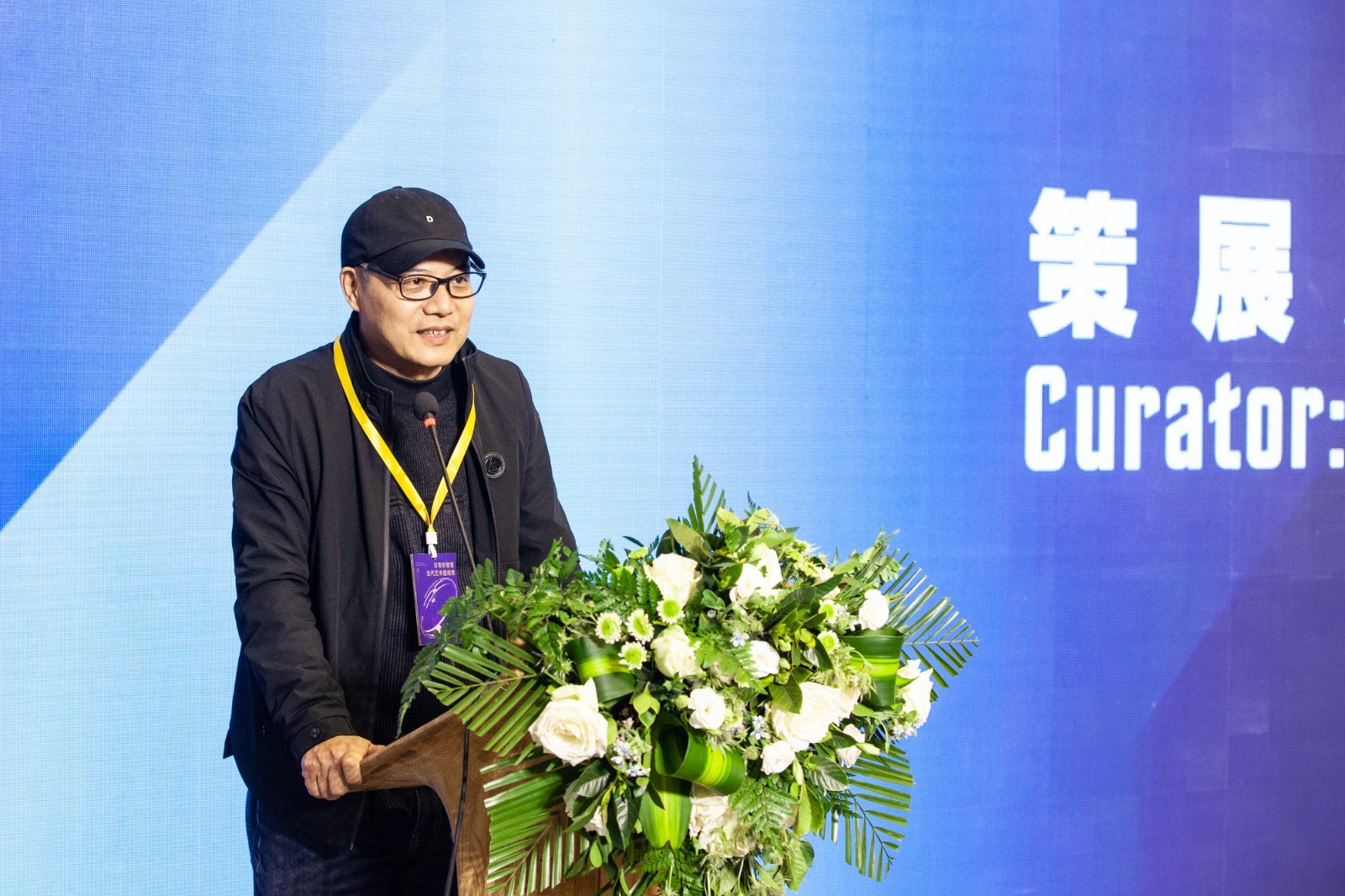 Wang Chunchen, Curator, Art critic, Professor of the Central Academy of Fine Arts, Doctoral Supervisor, Deputy Director of CAFA Art Museum, and Curator of "Space Fantasy: The New Generation of Chinese Installation Art"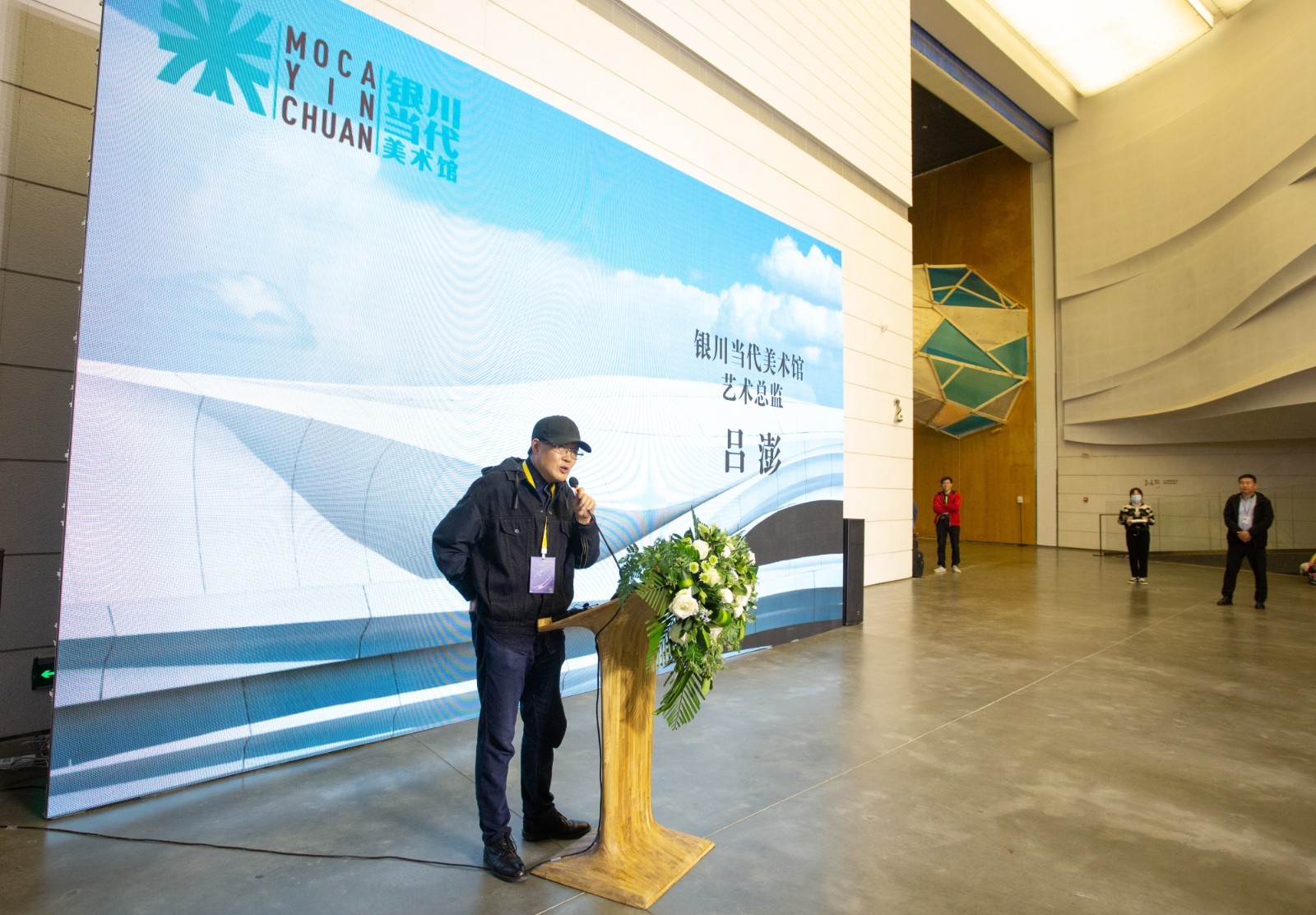 Lu Peng, Artistic Director of MOCA Yinchuan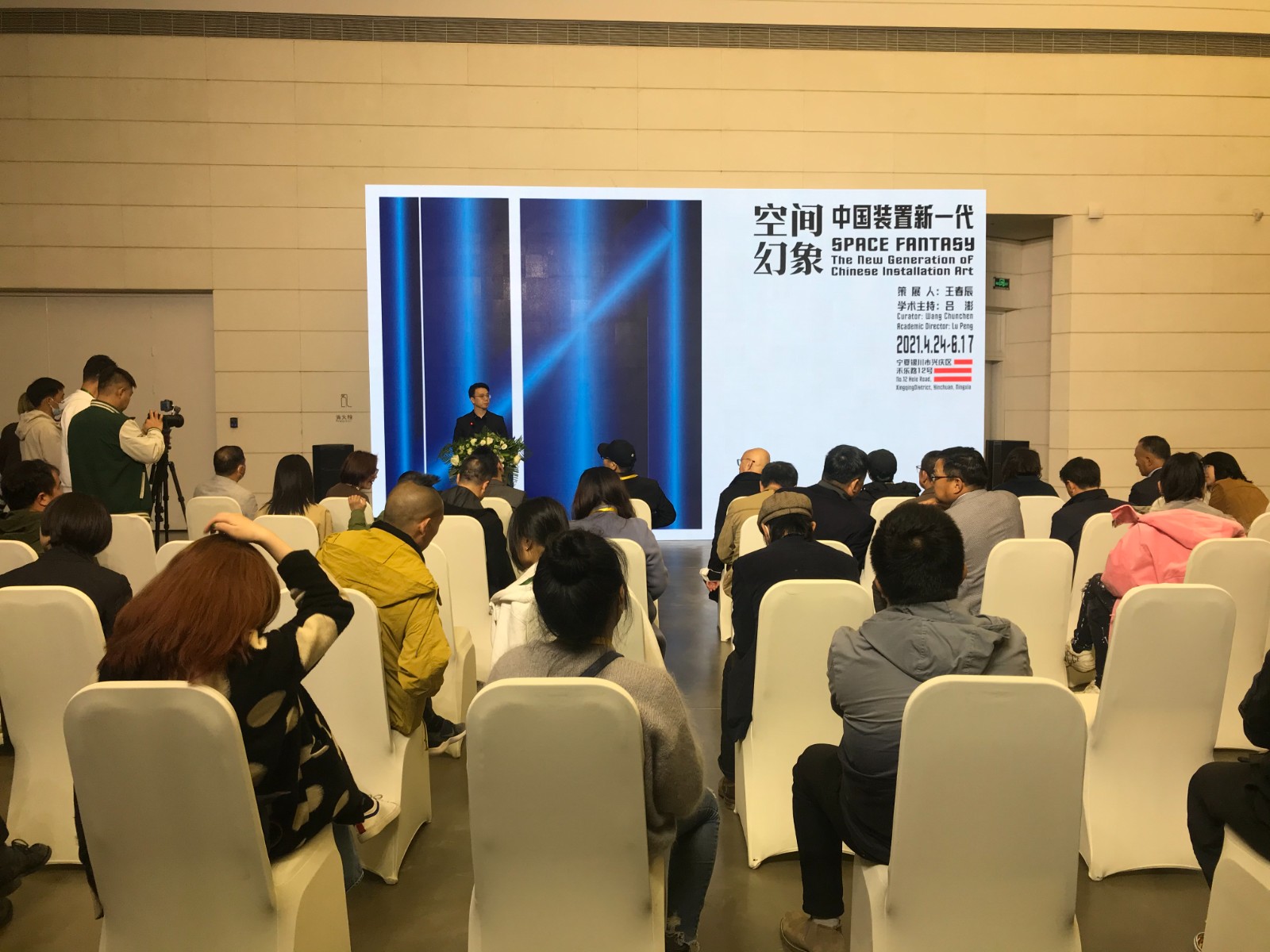 The Opening Ceremony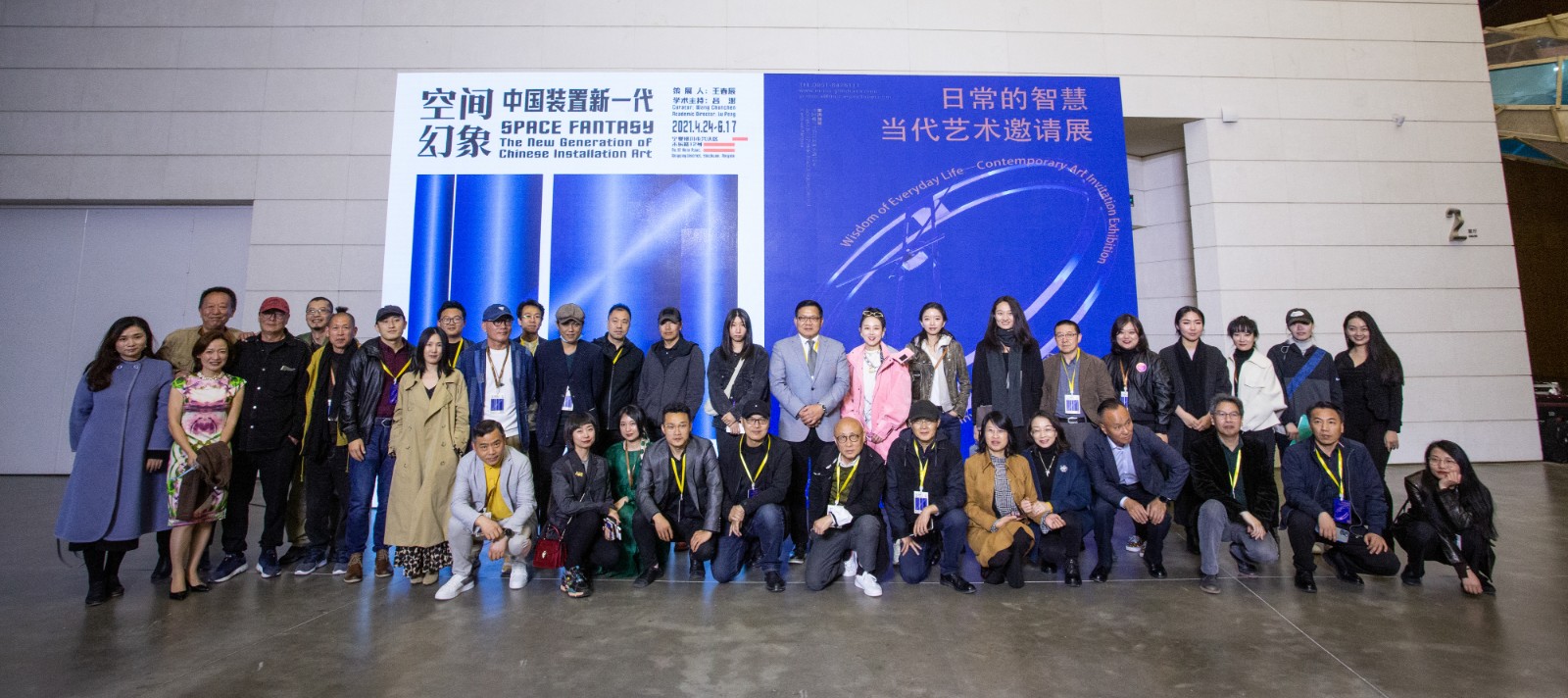 Group Photo of Honored Guests at the Opening Ceremony
Notes:
[1] From the text on "Space Fantasy: The New Generation of Chinese Installation Art", Bishop, Claire. Installation Art: A Critical History. New York: Routledge, 2005.
[2] Daozi, Genealogy of Postmodernism. Chongqing: Chongqing Publishing House, 2007; p 393
[3] From the Preface for "Space Fantasy: The New Generation of Chinese Installation Art"
Text by Mengxi, edited and translated by Sue/CAFA ART INFO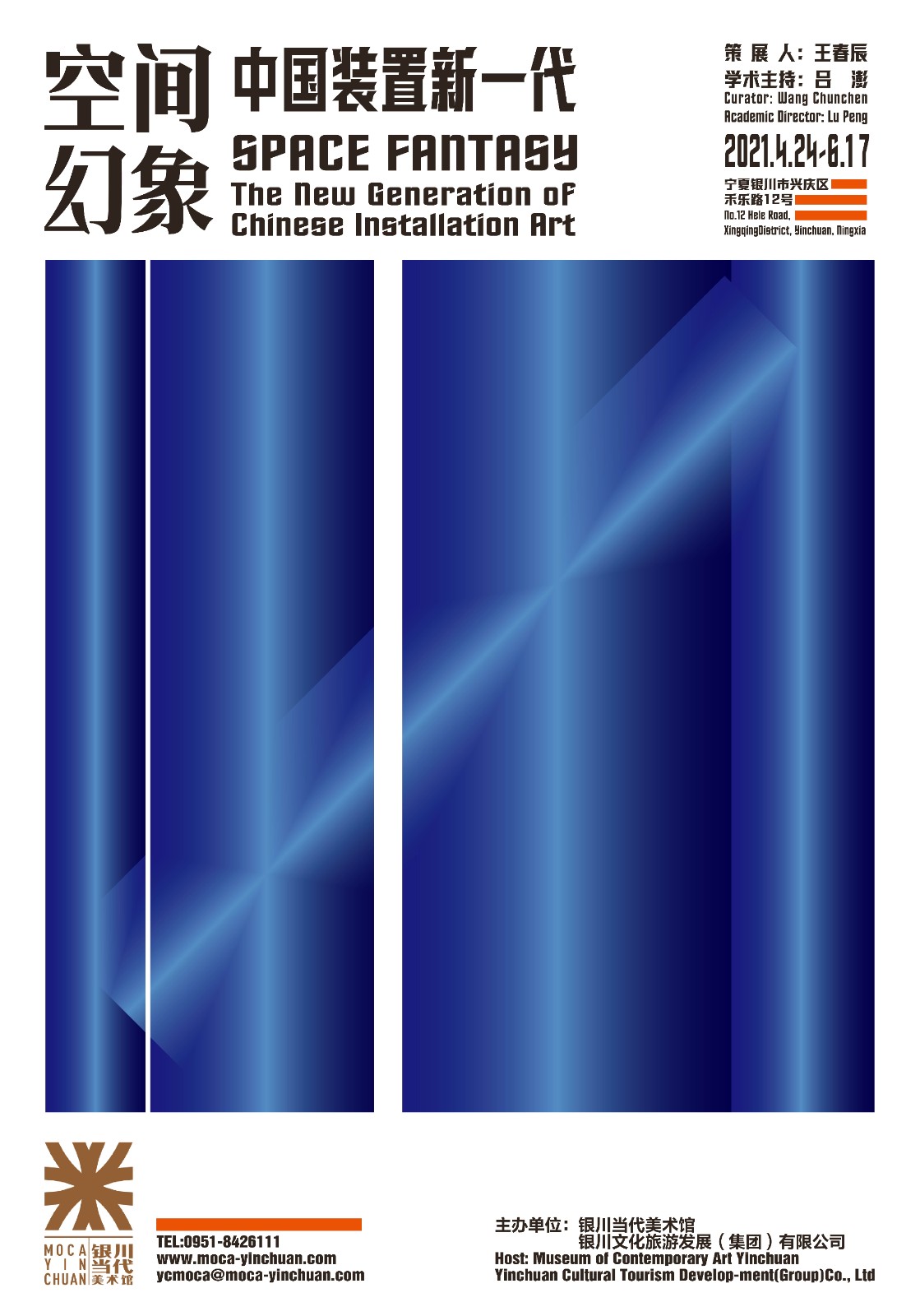 About the exhibition
"Space Fantasy: The New Generation of Chinese Installation Art"
Duration: April 24, 2021-June 17, 2021
Venue: MOCA Yinchuan, Hall 1, 2 and the atrium
Curator: Wang Chunchen
Academic Host: Lu Peng
Participating artists: Chen Tianzhuo, Cao Yu, Li Qiang, Li Wei, Li Linlin, Mao Tongqiang, Meng Baishen, Wu Ningya, Zhang Dan