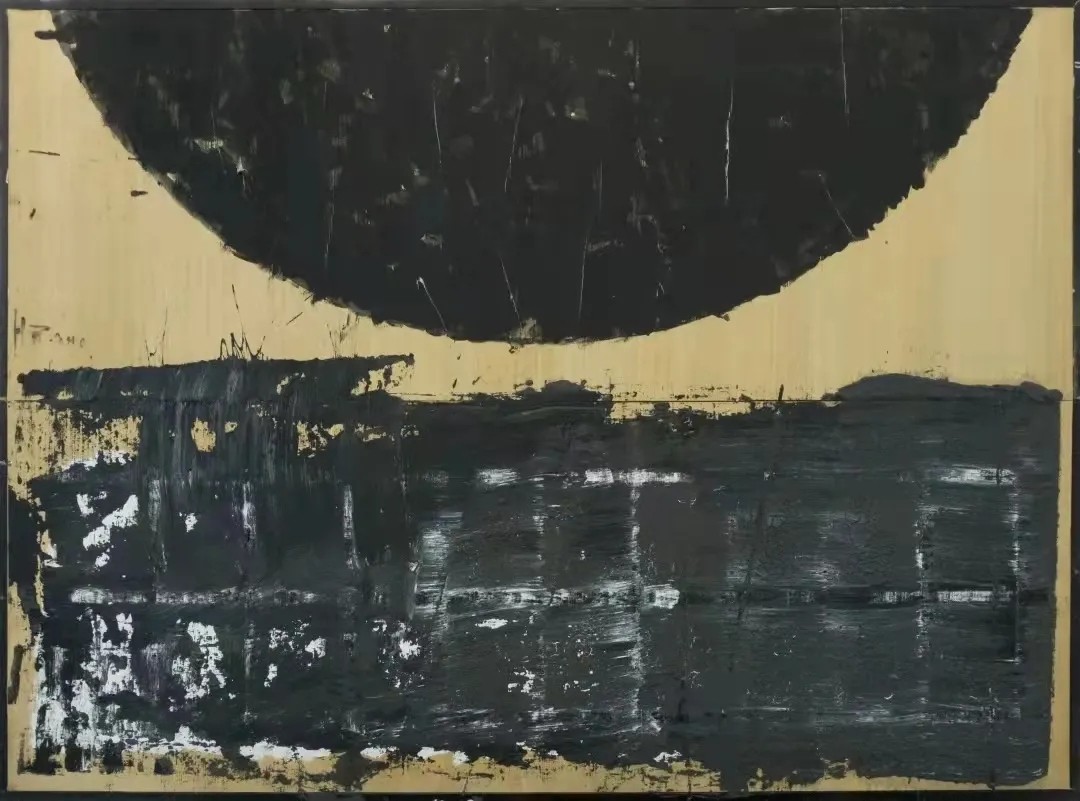 Huang Rui, Black Half-moon, 2020, acrylic paint, Japanese screen, 172.5 x 128 cm.
As an artist and organizer, Huang Rui has been at the forefront of Chinese contemporary art since the late 1970s. This exhibition, his largest solo show in more than a decade, is a survey of his work in abstraction from the very beginning of his artistic career to today. Huang Rui began exploring abstract painting in 1978. The following year he co-initiated the "Stars Art Exhibition," in which he also presented several of his abstract works, the first time since the founding of the People's Republic that abstract art was openly exhibited. In the early 1980s, the artist relocated to Japan, where he would reside for fifteen years. During this time, he continued his previous experiments with spatial abstraction in the "Space Structure" series, while his creative interests expanded to include Chan Buddhist culture and other classical objects of study. Huang Rui's abstract art draws upon a sustained investigation of Eastern aesthetics and thought, beginning with his research into the Tao Te Ching and Book of Changes in 1983. The eight trigrams of the Book of Changes represent transition and change, and this notion of transformation is at the core of his work. His UCCA exhibition is a systematic examination of key threads in his art, including the abstract language and Eastern thought that have informed his practice for decades. It comprises dozens of artworks, both paintings and sculptures, including the first showing of the 2020 painting series "One Line – No Line" and focused presentations of "The Way of Ink" series, "Zen Space" series, and other early works. The exhibition is curated by UCCA Director Philip Tinari with UCCA Assistant Curator Neil Zhang.
About Artist
Huang Rui (b. 1952, Beijing, lives and works in Beijing) was a founding member of the groundbreaking Chinese avant-garde art group The Stars. In the 1980s, his practice centered on painting, and in the 1990s he began to explore more diverse and experimental art-making techniques, including installation, performance art, photography, and prints. His major solo exhibitions include "Animal Time: 1204-2009" (Coudenberg Museum, Brussels, 2009); "Chinese History in Animal Time" (Museo delle Mura, Rome 2009); "Huang Rui: The Stars' Times 1977-1984" (He Xiangning Art Museum, Shenzhen, 2007); "Chai-Na/China" (Les Rencontres d'Arles Photography Festival, 2007); and "Huang Rui Exhibition" (Osaka Contemporary Art Center, 1990). Select group exhibitions include "Art and China after 1989: Theater of the World" (Solomon R. Guggenheim Museum, New York, 2017); "CHINA 8" (various venues, Germany, 2015); the Venice Biennale (2013); and the "Stars Art Exhibition" (east garden of the National Art Gallery, Beijing, 1979).
About the exhibition
Dates: 2021.9.25 - 2021.12.19
Venue: UCCA Beijing
Address: 798, No. 4 Jiuxianqiao Street, Beijing
Courtesy of the Artist and UCCA Center for Contemporary Art.