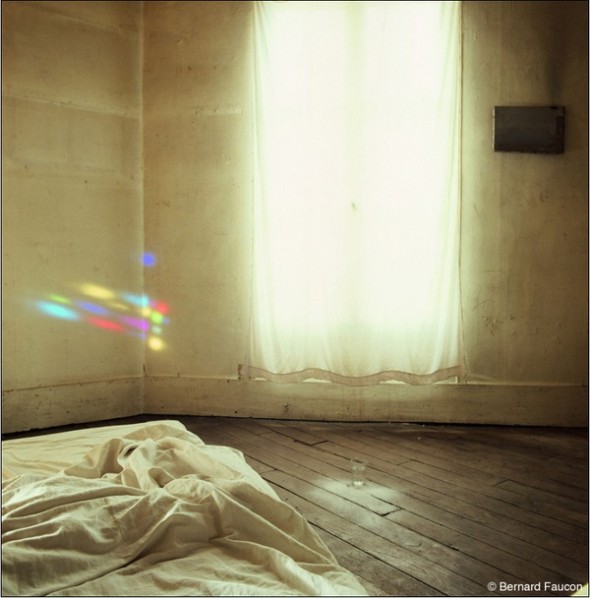 Entitled "True Fiction", Bernard Faucon's solo Exhibition is going to be presented by Yuan Space from June 2nd through to September 15th, 2012. It is the first solo show of this French conceptual photographer in China and also the first independent exhibition held by Meta Space after its inauguration. It will bring about nearly 60 photographs to the Chinese audience. Ms. Myriam Kryger, senior curator of French Cultural Projects and Mr. Gu Zheng, renowned critic of photography serve as the curators of this exhibition.
Featuring four of the most important series of Bernard Faucon's work namely "Summer Camp", "The Possible Evolution of Time", "The Rooms of Love" and "Golden Rooms", it presents saturated colours and exquisite contrasts which characterize Faucon's art and his style, spartan yet radiant with color with a dreamy quality. An exhibition that will dazzle those who see it!
[gallery link="file" orderby="title"]
Bernard Faucon
Born in 1950, Bernard Faucon is both a photographer and a writer. Following his studies in philosophy and theology, Bernard Faucon became one of the first artists to explore the universe of photographic stages.
His work on photographic materials is presented this year by the Yuan space. It is a collection of his two major works 'Les Grandes Vacances' ('Summer Holidays' – 1977-1981), and 'Les Chambres d'Amour' ('Rooms of Love' – 1987-1989). It is this power to freeze, to dwell in light, the perfection of a moment that led Bernard Faucon to use models for the photographic series "Les Grandes Vacances". 'Les Chambres d'Amour' represents the alchemy of both burnt and empty. These pieces are colourful ones, natural and pure, which find themselves in a sort of voluptuousness of absence, a lust of white.
Bernard Faucon has held over 350 solo exhibitions worldwide since 1977, mainly in Western Europe, USA, Japan and Korea. He is an artist creating new waves, some kind of pillar of art, and he influenced more than a generation of photographers in China and abroad.
Yuan Space
Yuan Space is a non-governmental and not-for-profit art space dedicated to promoting art in all its forms to the public. Thanks to a strong network of artists, galleries, collectors and art bodies around the world, Yuan Space enables all those who are passionate about art to have an authentic experience and also introduces talented young artists to the public.
About the Exhibition
Exhibition Dates: June 2nd-September 15th, 2012, 11:00-17:00(Only by Appointment, Sunday/Monday Closed)
Venue: Yuan Space, 20/F, Tower B Jiaming Center, No.27 Dongsanhuan Beilu,Chaoyang District, Beijing.
Tel: +86-10-5775 5070
E-mail: info@yuanspace.cninfo@yuanspace.cn
Information Courtesy of 2012 Croisements Festival .
Image Courtesy of Bernard Faucon and Yuan Space.