Ma Qingyun
Art is the medium through which artists convey their life experiences, their personal interpretation of life and existence. Life is individual while existence is social, thus outstanding art is a creative expression relevant to both of them by artists. I have been shown deep solicitude for the works of Chinese artists as well as contemporary art, especially their representations in the international context. Diplomacy, economics, circumstances and wars have provided Chinese artists with a broad social context and the ways they choose as their deliberate point of personal existence determine artists' opportunities or predicaments.
-- Ma Qingyun Commented on Han Jinbao's Exhibition
February 16th, 2011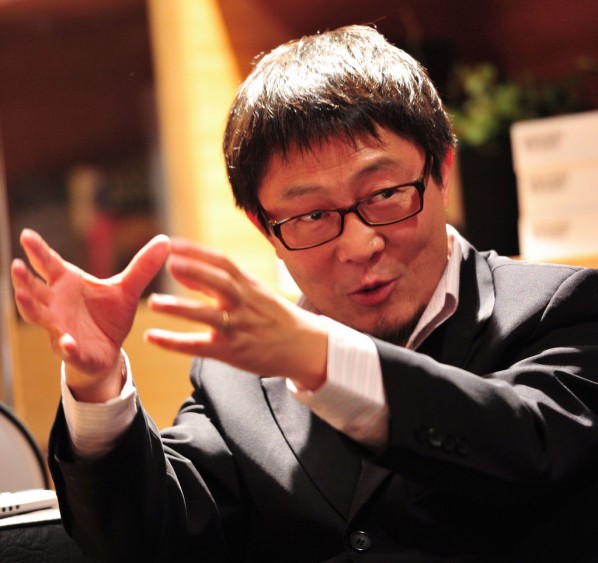 Ma Qingyun was born in 1965 in Xi'an, China. He obtained his Bachelor of Architecture degree from Tsinghua University and his Master of Architecture degree from the University of Pennsylvania. He has served as a visiting professor and critic at renowned institutions such as Harvard University, Columbia University, and the University of Pennsylvania in the United States; and ETH Zurich, the Berlage Institute, and Berlin Technical University in Europe. He started his own architectural practice, MADA s.p.a.m., in New York in 1996, and moved his office to China in 1999. In the past 11 years, he has led the design team to yield substantial design results and complete a vast range of projects making MADA s.p.a.m. a global architecture firm, exemplifying Chinese contemporary design and practical ability. The company's works have been successively exhibited in the Venice Biennale in 2002, Pompidou Art Center in 2003, European Art Year in 2004 and 2005, and Greece Petro in 2006, among others. MADA s.p.a.m. has entered in many international competitions and has won many special honors.
He has also been awarded titles including Architecture Vanguard and New Trends Representative of Architecture in Europe and Asia. He has become a representative of the Beijing Olympic Games Bidding Committee and worked as the Urban Planning Representative Expert to take part in the bid of 2008 Beijing Olympic Games. In 2006, Ma was appointed as the Dean of the School of Architecture at the University of Southern California, becoming the first Chinese dean of a foreign university. In that same year, he founded American Academy of China, which received high political and economic attention in 2007. He was invited by the Shenzhen government to be the chief curator of the 2007 Shenzhen and Hong Kong Bi-city Biennale on Urbanism and Architecture. Since 2009, Ma has been working as the architecture design consultant for urban development for the city of Los Angeles, and in 2010 was invited by Disney Headquarters in California to be a consultant for the Shanghai Disney Project. In 2010, Ma was named one of the World's Most Influential Designers together with master architects such as Rem Koohaas and Zaha Hadid. Most recently, he has been invited as a member of the Awards Committee of Official Exhibitors for the 2010 Shanghai Expo.
Education
1989-1991 M.Arch University of Pennsylvania
1983-1988 B.S. Arch Tsinghua University
Certification
1996 AIA Architect No.11549 in The state of Ohio, U.S.A
Professional Experience
2007-present School of Architecture, University of Southern California Dean
1996-present MADA s.p.a.m. Design Principal
1997-2000 Kling Lindquist Designer office, Philadelphia, U.S.A. Senior Design Architect
1991-1995 Kohn Peterson and Fox, NYC, U.S.A. Senior Design Architect
1990-1991 BALLINGER Architect office, Philadelphia, U.S.A. Senior Design Architect
Academic Experience
2007 School of Architecture, University of Southern California, Dean for 5 years tenure
2006 Tutor of Graduate School of Arts and Science, Columbia University, Visiting Professor of Berlage Institute, Netherland
2005 Tutor of Graduate School of University of Pennsylvania
2004 Visiting Professor of Technical University of Berlin
Visiting Professor of High Institute of Technology ETH Zurich, Switzerland
2003 Visiting Professor of Berlage Institute, Netherland
2002 Visiting Professor of Nanjing University
2001
During the process of assessment and inspection of the IOC Evaluation Commission to Beijing's bid for the 2008 Olympic Games, Qingyun Ma made a great contribution by working as the expert for the presentation of Theme 10 --- "the Olympic Village".
1997-2000 Full-time lecturer of Architecture Program in School of Design, University of Pennsylvania, as the main design graduate thesis advisor Professor.
1997-1999 Being Guest Judge for different schools, including Harvard University GSD and Columbia University
1997 Tutor of Design Studio, College of Engineering of Temple University (Philadelphia)
1995-1996 Visiting Professor of School of Architecture of Shenzhen University
1991-1992 Guest Conductor of James Corner Studio, School of Design, University of Pennsylvania