Peng Wei
Peng Wei is not one of those artists who engages in an immediate and straightforward sense of reality. She isn't interested in participating in the popular "reality craze" of the avant-garde. Rather, she seeks a kind of purity of spirit within the warmth and peacefulness of a traditional "boudoir," or perhaps it's an interest in the ivory tower. Her art doesn't accept the restrictions of an external social reality. Instead, it reaps the imagination of an individual. Her works are free of traces of the present discourse. They derive, instead, from blood ties to traditional Chinese literati painting and reflections on the language and form of art itself. Thus, in the carelessness of the everyday, she's able to discover expressions directly related to femininity within the dress, personal adornment, and scenery of the ordinary; completely outside of the grand narrative discourse. Her works exhibit refinement, elegance, and a disclosure of her feelings.
—An excerpt taken from Peng Wei's "Private Paintings" by Feng Boyi
I never define the genre of my art, nor do I think about how to reflect the contemporary age. The so called contemporary art, in my understanding, is not a style or genre that can be defined. It is not even the game of concepts. It is rather how people discover their own experience, the kind of personal experience that cannot be repeated by others, and use a new method to express the experience. Good contemporary art should be a discovery of personal experience so that others could share it. This is what art can offer and that is why real contemporary art should not have a boundary, nor can it be easily defined. I like embroidered shoes and painted garments because they are private and yet common. A woman is more sensitive to shoes and clothes than a man, at least they care more. This is my personal experience. And real contemporary art is open to any unexpressed experience.
—Peng Wei's words from the Interview with Vision by Yang Yamei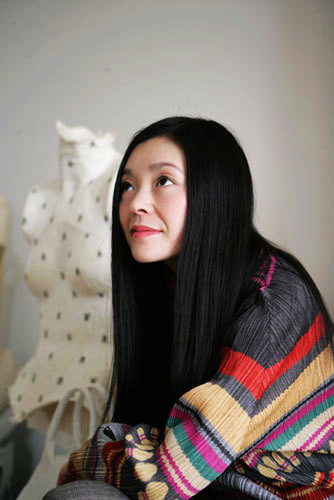 Peng Wei (b. 1974, Chengdu) is best known for her delicate ink color paintings on silk and paper which executed by her in a modern style. Combining imagery of traditional literati painting with the modern forms and expressions of everyday life, Peng Wei's art not only commemorates a bygone era of the scholarly tradition but also represents the subtle elegance and refinement of contemporary culture. Her works have been invited to be exhibited widely in Paris, New York, Hong Kong and Beijing and are held in international private collections. She currently lives and works in Beijing.
CV of Peng Wei
Bachelor's Degree,Oriental Culture and Art Department of Nankai University
MA Degree of Aesthetics of Nankai University
Worked in Beijing as the editor of Art magazine from 2000 to 2006
Currently working in The Beijing Art Academy as court artist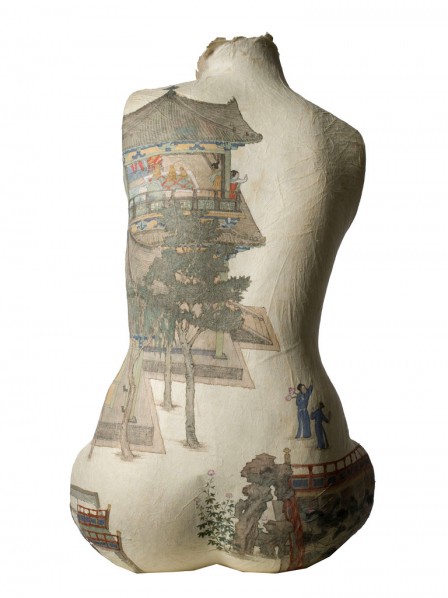 Exhibitions
2009
1. Four Square-Contemporary Ink Painting Exhibition, Today Art Museum, Beijing
2.Parper Skin-Peng Wei's Solo Exhibition Artside Gallery Beijing
3."Europalia International Arts Festival" -"Attitudes. Female Art in China"The European Centre if Contemporary Art Belgium Brussels
4.Real-Life Fairy Tales Beyond Art Space Beijing
5.Peng Wei's Painting Installation exhibition the Opposite House Beijing
6."Don't forget me-Peng Wei's painting installation" Beijing Yintai center
2008
1. Hidden Life Apartment Diary Exhibition, Lin & Keng Gallery Beijing.
2. New Scene: The Exhibition of Chinese Contemporary Ink Paintings, Berlin National Museum & Dresden National Art Collection Museum
3.Hypallage:The Post-Modern Mord of Chinese Contemporary Art,Hua Art Museum Shenzhen
4. Ink Not The Ink: The Contemporary Chinese Ink Painting Exhibition, Shenzhen Art Museum &Philadelphia Art Museum, Today Art Museum of Beijing.
5. The Second National Young Artists' Exhibition, The Chinese Art Museum, Beijing.
6. Water and Color Contemporary Ink Art Show, Today Art Museum, Beijing.
7. Four Square-Contemporary Ink Painting Exhibition, Today Art Museum, Beijing
2007
1.Woven Clouds—Peng Wei' s Exhibition, Plum Blossoms Gallery, Hongkong
2006
1. PURITY AND INNOCENCE Three Chinese Women Artists Exhibition, Neuhoff Gallery, New York
2. Zhu Wei , Xu Lei & Peng Wei's Exhibition, Beijing Seasons Gallery,Beijing
2005
1. Temperature-International celebration of Andersen's 200th Birthday Anniversary, Chinese Contemporary Art Invitational Exhibition, Beijing&Danmark.
2. Century and Heaven —2005 Chengdu Biennial, Chengdu
3. The Second Beijing International Art Biennial, China Art Museum.
4. Drass Up In Art-Chinese Opera Art Exhibition Today Art Museum,Beijing
2004
1. Dot-Radiation and Far-Reaching-Vision Expression from Paper and Ink, Malaysia National Art Museum
2. The New Frttle-Peng Wei & Lin Lan Exhibition, Guangdong Art Museum, Guangzhou
3. Embroidered-Solo Exhibition, Plum Blossoms Gallery , Hongkong
4. The 10th Asian International Art Exhibition , Fukuoka Asia Art Museum, Yokohama Japan
5. Peng Wei Solo Exhibition, Art Scene China Gallery, Shanghai
6. The New Freehand Water and Ink Invatational Exhibition, China Art Museum, Beijing
7. The New Freehand Water and Ink Paintings of Six Artists, Yisu Gallery, Singapore
8. Transformation & Depuration – Chinese Paintings by Artists Born in 1970s, Yanhuang Art Museum, Beijing
2003
1. The First Beijing International Art Biennial, China Art Museum , Beijing.
2. The Exhibition of Liu Jianhua and Peng Wei, Plun Blossoms Gallery, New York.
3. The Second National Chinese Paintings Exhibition, China National Museum, Beijing,Dalian
4. The National Exhibition of Flower-Bird Painting Lanzhou
Courtesy of Peng Wei