Ou Ning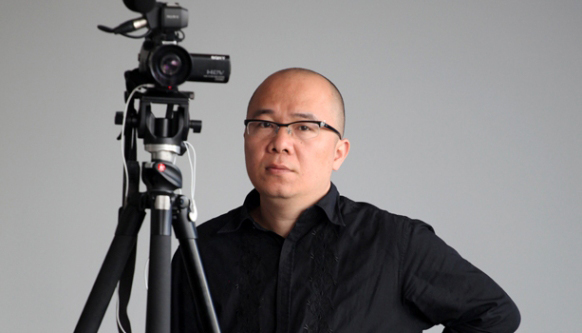 Ou Ning, born in 1969 in Suixi, Guangdong, graduated from Shenzhen University in 1993. As a publisher and graphic designer, he edited the "Beijing New Sound" (1999) not only helping to define the emerging capital of Beijing rock music culture phenomenon, he also tried a variety of stunning visual experiments. Additionally, "Weekly "(2000-2006) refreshed the concept of Chinese media publishing. His work has been shown in Hong Kong Heritage Museum, Rotterdam, Netherlands Museum of Photography, Manchester URBIS City Centre, London V & A Museum, the United States and the Portland Art Museum, Cincinnati Art Museum. He is the founder and organizer of 'Louder' (2005, 2007, 2010) which is a large-scale design art exhibition that toured Shenzhen, Guangzhou, Shanghai and Beijing. As a curator, he was invited by the Serpentine Gallery to plan a Chinese voice art exhibition which was named "Wake Battersea" in 2006 and then toured and exhibited in Oslo and Luxembourg.
As an artist, his works are exhibiting and have been collected all around the world. He presided over the city research and documentary project "San Yuan Li" from 2002 to 2003 which was displayed in many exhibitions, museums and activities, such as the 50th Venice Biennale (2003), the New York Museum of Modern Art (MoMA, 2004) and the 29th Hong Kong International Film Festival (2005). From 2005 to 2006, he presided over the project named "Da Zha Lan", focusing research on the Da Zha Lan area near Beijing's Tiananmen Square. The project was supported by the German Federal Cultural Foundation and displayed in many locations. Within this project, a documentary film named "Mei Shi Street" was played abundantly in well known universities.
Ou Ning is also the founder of "New Independent Music Groups" and the "Independent Film Club". He established an alternative culture and arts platform named Annex (Alternative Archive) in the Pearl River Delta area in 2004. In 2008, he served as the Director of the Shao Zhong Foundation. In 2011, he founded a new literary magazine named  "Chutzpah. "
Chutzpah!
was originally
Tiannan
, a vernacular literary magazine founded by the Guangdong Vernacular Artists' Association that debuted in 1982. In 2005 the Modern Media Group purchased the magazine and changed its content to a book review magazine, renaming it
Modern Boo Review
. In 2011, it was again renamed
Chutzpah!
and transformed into a new literary bimonthly.
Chutzpah
, pronounced ['khutspə], is a Yiddish word that originally means "insolence" and "impertinence." It developed the meaning of "audacity" and "utter nerve" after arriving in the English world. The modern English usage of the word has taken on a broader meaning, referring to the actions that are innovative and groundbreaking which are popularized by the media, literature and film.
Chutzpah!
and
Tiannan
constitute the Chinese and English titles of the magazine, and define its outer image and inner spirit.
China's magazine and publishing market is filled with products of various sorts and qualities. They are either chasing after ephemeral fashion, satiating the fast-food-like reading experience, or indulging in narcissistic ivory towers, being overserious and uninteresting. Fashion magazines seek visual effects, stuffing rumpus of images with shallow writing and expired styles, while literary or intellectual magazines restrict themselves within the outdated editing frameworks, and find it hard to attract readers. There lacks a magazine that provides in-depth reading and pleasant visual experience at the same time—Chutzpah! aims to fill this gap, exploring new ideas and forms of a literary magazine, while also reconstructing a modern literary reading experience for today.
Courtesy of Ou Ning and Ou Ning's Blog
Edited by Chen Tianchan/ CAFA ART INFO, for more information please visit Ou Ning's Blog
Selected Solo Exhibitions
San Yuan Li
(cooperation with Cao Fei), 2004, Courtyard Gallery, Beijing
Blindness
, 2004, Advance Art Center, Shanghai
Talk Without Speaking
, 1999, Libreria Borges, Guangzhou
Selected Group Exhibitions
Detour: The Moleskine Notebook Experience
, 2010, Bund 18, Shanghai
Communities of Tastes
, 2010, Contemporary Art Museum, Chile
At The Crossroad
, 2010, National Taiwan Museum of Fine Arts, Taichung; Guangdong Museum of Art, Guangzhou
4th Tirana Biennale
, 2009
Moving Perspectives: Video Art from Asia
, 2008, Smithsonian's Arthur M. Sackler Gallery, Washington
Concrete Culture
, 2008, Ivan Dougherty Gallery, College of Fine Arts, The University of New South Wales, Sydney
Communities of Tastes
, 2008, Iberia Center for Contemporary Art, 798 Art District, Beijing
China Design Now
, 2008, Victoria and Albert Museum, London
Borderline Moving Images
2007, Beijing
On The Outside: The Social Engine-Exploring Flexibility
, 2007, ACC Galerie, Weimar
Who do you think you are?,
2007, Base B, Milano Bovisa
World Factory
, 2007, San Francisco Art Institute
Detours: Tactical Approaches to Urbanization in China
, 2006, Faculty Of Architecture, Landscape & Design, University of Toronto
China Power Station Part I
, 2006, Battersea Power Station, London (organized by Serpentine Gallery and Astrup Fearnley Museum of Modern Art)
Contemporary China: Architecture, Arts and Visual Culture
, 2006, NAi, Museum Boijmans Van Beuningen, Nederlands Fotomuseum
Kunst und Film
, 2005, Kunstmuseum Bern
Follow Me! Contemporary Chinese Art at the Threshold of the Millennium
, 2005, Mori Museum, Tokyo
Unspeakable Happiness
, 2005, Museo Tamayo Arte Contemporaneo,Mexico City
Die Chinesen: Fotografie und Video aus China
, 2004, Kunstmuseum Wolfsburg
Flip: Chinese Contemporary Book Design
, 2004, Hong Kong Heritage Museum
Out the Window: Spaces of Distraction
, 2004, Asia Center, Japan Foundation, Tokyo; Project Space Zip, Darling Art _Foundation, Seoul
Fabricated Paradises : Artists from China
, 2003, La Parvis Contemporary Art Center, Vidéo K 01, Pau, France
10th Biennial of the Moving Image
, 2003, Centre pour I'Image Contemporaine, Genèva
4th Gwangju Biennale
, 2002
Living in Time: 29 Contempoary Artists from China
, 2001, Nationalgalerie im Hamburger Bahnhof Museum fur Gegenwart, Berlin
19th International Biennale of Graphic Design
, 2000, Brno
Selected Lectures
Poverty and Politics: A Case Study on Da Zha Lan
, 2010, The University of Chicago Beijing Center, Peking University
City Mobilization: Towards Another Kind of Biennale
, 2010, Urban Field Speakers, Prefix Institute of Contemporary Art, Toronto; Harvard University Graduate School of Design, Boston; University of North Carolina, Chapel Hill; Columbia University, New York; State University of New York, Buffalo.
Design and Politics
, 2009, Central Academy of Fine Arts, Beijing
A Thousand Splendid Ideas
, Fall 2008 Visiting Artists and Scholars Lecture Series, San Francisco Art Institute
In Practice
, 2008, IASPIS, Stockholm
Limited Design
, 2007, Shanghai Duolun Museum of Modern Art
Impoverished Communities in Urban China
, Fall 2006 Lecture Series, Faculty Of Architecture, Landscape & Design, University of Toronto
Mass Media and Art in China
, 2006, Art Lobby, Art Basel 37
Design for the Poor
, 2005, Central Academy of Fine Arts, Beijing
The Interaction of Art and Design
, 2004, Cheung Kong School of Art & Design, Shantou University
Nonfiction China: Chinese New Documentary Film
, 2003, 2003 Guangzhou International Documentary Film Festival
New Wave of Multimedia
, 2001, Sun Yat-sen University and Guangzhou Academy of Fine Arts
Alternative Moving Images
, 2000, The 3rd Yearlong Contemporary Sculpture Exhibition, He Xianning Art Gallery, Shenzhen