Chen Xi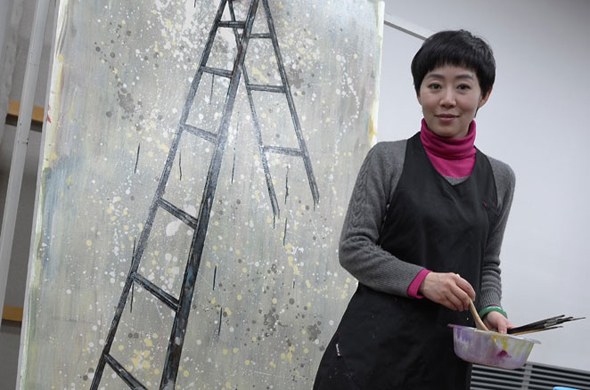 Being Remembered
By Su Kewen
"Being Remembered" is a brand-new concept that has emerged within this era of media.
The moment when a television set is put in your room with all your chairs and couches surrounding and facing it, your time with the media gets started. Within this new environment, you are constantly exposed to information and explanations about the world. No matter what your reactions may be, to resign yourself to the information or mentally extricate yourself from it then memories will inevitably take shape based on the information you've received. Moreover,personal memories will be added to give birth to more details which in turn can barely contribute to the shaping process in a positive and heterogeneous way. The reason: a television is always enshrined as something holy and sacred in most of our personal living space, incessantly sending out information.
Ms. Chen Xi's works give us a full and detailed depiction of the memorized images wherein the materials and sizes of the "holy container" (the television set) of these images and the style of the "altar" (the table), along with other peripherals and handy gadgets are linked up to the images deliberately and meticulously whereas an insular link will otherwise be easily overlooked. Despite the link, these objects are affiliated in nature in so far as they are always overshadowed by the memorized images on the screen and appear faint, desolate, and fragile. Modest and humble as they are, they seem to be endowed with an element of resurrection whereby the static images are replaced by memories that are more underlying and of less certainty and a series of scenes in memory are consequently simulated, one after another.
By simulating 18 fractions of memory in succession, the works convey a kind of message that is quite informative but completely different from that released by a television. It has nothing to do with memories or reality but rather unleashes a sense of non-fulfillment, which has the similar property of a crystal that enables the memorized images to cast various shadows from different perspectives at different moments of time. Hence, the static memories are transformed into vague but dynamic mental actions whereas our motivation to perceive, inspired by media-imposed memories in the first place, are redirected to the infinite and future-oriented daily lives.
The sense of non-fulfillment is distinguished from media-released information by the tension they adopt. The media will invariably use the perfect tense and even a live broadcast that will be featuring nothing but an event in the present, perfect when the reported information ultimately arrives at our hearts. This information is always cut and dried, authoritative, and critical. Nevertheless, history is always in an imperfect tense and so the reality and information about lives, all of which teem with coincidences, differences and changes all the time. As a result, the sense of non-fulfillment as a sublime and ancient sense of presence and mental power is engulfed by this media sensation.
So we can say that Ms. Chen Xi's art exhibition, named as "Being Remembered", is a prayer. It puts the sonorous and luminous memories onto something that is silent and dim and with an imperfect tense and thereby demonstrates the details of imperfect history, regardless of how much separation or reconciliation, submission or deviation, scarcity or elation there is in the works. It is a prayer that aims to defy the imperfect tense while conquering the memory.
About Chen Xi
Born in 1969, Chen Xi graduated from the Attaching Middle School of Sichuan Art Academy in 1987. She graduated from the 4th Atelier of the oil painting department in China Central Art Academy and got bachelor's degree in 1991. In the same year, she took part in Great Wall International Painting Festival. Her first solo show was held China Central Art Academy Gallery in 1989 and her work BIGWIG WINE SHOP was selected into the 1st China Oil Painting Biennale and won the Science Award in 1993. She took part in Beijing International Art Center Art Museum—Female Oil Painting Exhibition in 1994. Two of her works took part in Germany Dusseldorf China Modern Art Exhibition; her work COPY BOARD was selected into the 3rd China Oil Painting Exhibition and won the Excellent Award in 1995.  She published works and articles on the column of Zoology Narration of Female and Art Contemporary Art Magazine in 1996. In October 1997, she held individual painting exhibition in Beijing International Art Center Art Museum and published individual painting volume. Her recent solo show was held at the National Art Museum of China in 2011. Her works were published on Jiangsu Picture Magazine, Guangdong Artist, China Oil Painting, Art Tide, World Art, China Art, Contemporary Art, Art Watch, etc. She has featured comments and individual articles. Her work was collected by overseas galleries.