Sun Jingbo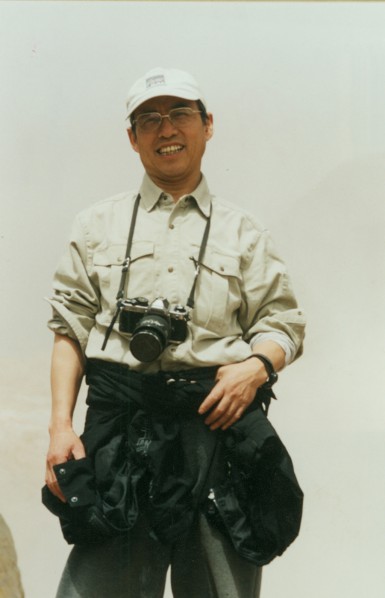 Sun Jingbo was born in Mouping County in Shandong Province on January 28, 1945. He graduated from the High School Affiliated to CAFA (Central Academy of Fine Arts) in 1964, and went to work in Yunnan Artists Association in the same year. He was admitted to the postgraduate class of oil painting of CAFA in 1978. After the graduation he served as a teacher of the Department of Mural Painting of the school, and went to France to study mural painting and oil painting in école nationale supérieure des Beaux-arts de Paris in 1986. He returned to China in 1988. He was successively appointed the deputy director and director of the Department of Mural Painting until 2005. Currently he is a professor of the Department of Mural Painting, Director of the First Studio, Deputy Director of Academic Committee of the academy, doctoral supervisor, Deputy Director of the Oil Painting Art Committee of China Artists Association, Deputy Director of China Mural Painting Association, Director of China Artists Association, and so on.
In 2000, he was awarded the title of "Expert Making an Outstanding Contribution to the Development of Cultural Educational Enterprise in Our Country" by the state council and the government subsidies, and awarded the title ofOutstanding Teacher in Beijing of the Famous School in 2003.
Representative works of oil painting include: "New A Xi's Song", "Awa Mountain People", "Qinghai Lake", "A Family of Wa Mountain", "Bosom Friends", "Talkfest on Postmodern Ecology of Human", "Looking Northwest to Qinchuan", etc.
Representative works of mural painting include: "Confucius's Story", "Yellow Crane Tower's Memory", "Spirit of the Land", "The Great Man – Genhis Khan Mausoleum Mural Painting".
Published papers include: "Reading the Masters' Drawings", "Outline of the Source and Development of Oil Painting Techniques of the Figure", "A view of Impressionist Sketches Again", "Rembrandt's Art Road" and so on, a total of more than 50 articles.
He always has a naive and curious childishness, he is always filled with youthful vitality and innovative courage, his spirit, temperament and artistic life is forever young.
– Xiao Xue, a famous Bai poet, writer and literary critic
Sun Jingbo is warm-hearted, being forever chivalrous and fearless to his teachers, friends, classmates, while selfless and honest in teaching all talents, reflecting his care of the students.
- Zhang Peng
He likes to travel, regardless of risk and distance, persevering and adhering to his thoughts on painting and life, directly expressing his feelings, ignoring other people's feeling, thus he has experienced a large number of difficulties, twists and turns, risks, so that his personal experiences become legends.
- Chen Fengxin
When we see Sun Jingbo's drawings and sketches, they are not shocking masterpieces, but express the feeling and thought that emerges in the fertile soil of daily life with a pen and paper. I only hope the appreciative spectator can calmly and carefully review it, and understand it.
- Zhu Naizheng
Courtesy of the artist, translated by Chen Peihua and edited by Sue/CAFA ART INFO