Lv Pinchang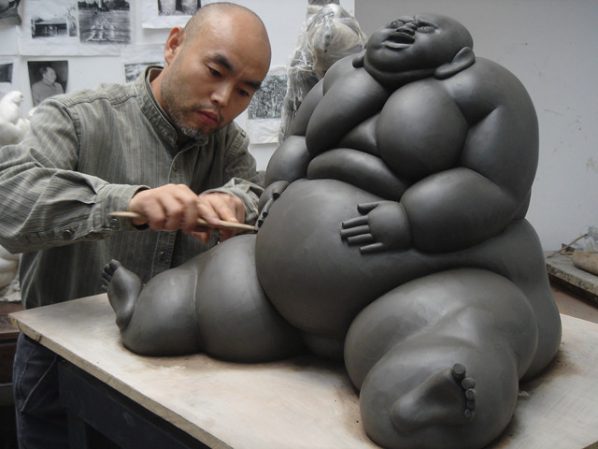 In the pattern of present aesthetic enchantment and contemporary disenchantment, Lv Pinchang eventually liberates the aesthetics from many authoritative ideologies, and considers this "liberation and doubt" in itself as the contemporary innovation.
– An excerpt from "Sun Xiaochen: Liberation and Doubt – Reading Lv Pinchang's Art"
In contemporary Chinese sculptural circles, Lv Pinchang's achievement lies in his ability to alternate between producing sculpture and ceramics, his contradictions and confusions also exist between sculpture and ceramics, how to unify the attention on one of the basic sculptural values "sense of volume and tactile", and the love of "the beauty of form and texture" of ceramic art in generating a process of contemporary artistic "modernity": the way out of solving the puzzle is seeking the intrinsic consistency between sculpture and ceramics from the cultural and spiritual perspectives.
– An excerpt from "Yin Shuangxi: Between the Sculpture and Ceramic Art - Lv Pinchang's Art"
Personally, I dislike the works that purely play with ideas but ignore skills. Compared with philosophers and social scientists, the so-called "thinking depth" of artists is poor. For artists who have advantages to create visual forms, they should strive to maintain and present the unique direction of visual artists, insisting on artists' shaping skills, to fully display the craft and technology that creates visual forms. I believe that, the so-called good work should be both able to profoundly perform in regards to artists' thought and emotion, and be of high technical content at the same time.
– An excerpt from "Academy Sculpture Inheriting Thought and Skill - Lv Pinchang Talks about Modern Sculptural Art Education"
Although people choose things, things can inspire people's creation, so artists should attach importance to the characteristics of the material media. Pay attention to exploring various potential factors of materials, to make full use of materials. Various aesthetic potencies of ceramic textural defects can also be discovered and applied by artists. If we blindly pursue a perfect skin texture, rejecting or despising the use of the performing potency of defected textures (including other skin textures and forms), the way of artistic expression will be narrow, and the artistic language too monotonous, mediocre, boring, mechanical, thus the work of art lacks an aesthetic spirit.
– An excerpt from "Lv Pinchang: On the Aesthetic Quality of Ceramic Defects" (originally published in the Journal of Jingdezhen Ceramic Institute in October 1988)
In the firing of ceramics, the natural clay experiences is a "baptism" of fire and has a "vitrified" qualitative change. The birth of any piece of ceramic art works experiences a similar qualitative change.
– An excerpt from "Lv Pinchang: Clay of Qualitative Change – On the Teaching and Creation of Ceramic Tutorial Class at the Department of Sculpture, CAFA"
Of course, Lv Pinchang's new ceramic works don't start from a profoundtheoretical thinking, but come from a new feeling, a psychological need of the new period. In this new artistic pursuit, it contains a criticising attitude on the traditional artistic language.
- An excerpt from "Deng Fuxing: It's out of Fire and Clay, Going beyond Image – On the Pioneering Significance of Lv Pinchang's Ceramic Artistic Language"
In the processing of shape and form, I pay attention to the alternate sense between the inner and outer spaces, as well as the flow, to leave the audience with an imaginative space, in the grasping of the superficial skin textural effect, I strive to maintain or reveal marks of clay and fire, through an abstract spatial form which is full of bitterness and a profound sense, to express both longing and confusion, both sweet and bitter tastes, both close and distant complicated emotional experience of Chinese culture.
– An excerpt from "Lv Pinchang's Self Statement" (originally published in "Art Observation" vol. 06, 2004)
Lv Pinchang
Born in Jiangxi province in 1962, Lv Pinchang graduated from the Department of Sculpture, Jingdezhen Ceramic Institute in 1982, and studied in the Department of Sculpture, China Academy of Art in 1983, he received a master's degree in 1988. He is currently Director of the Department of Sculpture, CAFA, professor and doctoral supervisor; Vice Chairman of the China Association of City Sculpture; Deputy Director and Secretary-General of the Sculpture Art Committee of China Artists Association; Deputy Director of the Art Committee at the National City Sculpture Steering Committee; Distinguished Sculptor of the China Institute of Sculpture at Chinese National Academy of Arts; Distinguished Sculptor of the Institute of Sculpture at the China National Academy of Painting; member of the standing committee of the China Sculpture Institute. He has enjoyed the special government allowance by the state council since 1992; he is a member of the International Association of Ceramics (IAC).
Exhibitions
2015 The New Form: 2015 Taiyuan International Sculpture Biennale, Taiyuan Art Museum
2014 The 12th National Art Exhibition, Taiyuan Art Museum
2014 China and Norway: "Above the Shape and Form" As the Ceramic Medium, Oslo, Norway
2013 CAFA Teachers Special Creation Exhibition, CAFA Art Museum
2013 Extension: 2013 Datong International Sculpture Biennale, Heyang Art Museum, Datong, Shanxi Province
2013 Cheongju International Art Biennale, Cheongju, South Korea
2013 Return from Kassel Zhangzhou International Public Art Exhibition, Zhangzhou, Fujian Province
2012 Chinese Contemporary Sculpture Tour Exhibition, The Louvre, Paris, France
2012 Paper Not Paper – Chinese and Japanese Paper Art in the First Round, CAFA Art Museum
2011 Datong International Sculpture Biennale, Heyang Art Museum, Datong, Shanxi Province
2010 New China City Sculpture Construction Achievement Exhibition, National Art Museum of China, Beijing
2008 Chinese Imagery – China Institute of Sculpture Works Exhibition, Changchun
2007 The Oriental – China and South Korea Contemporary Art Exhibition, China Millennium Monument, Beijing
2007 Exhibition of Changbai Mountains China International Sculpture Creating Camp, Changbai Mountains, Jilin Province
2006 Busan South Korea International Sculpture Biennale, Busan, South Korea
2005 One Hundred Years Sculptures - Chinese Sculpture Art Exhibition, Shanghai
2004 The Third National City Sculpture Excellent Works Exhibition, China Architectural Culture Center, Beijing
2003 The Open Times – Chinese Contemporary Art Exhibition, Beijing
2003 Beijing International Art Biennale • Works Exhibition of the Teachers from Ten Universities and Colleges of Art, Beijing
2002 USA Archie Bray Foundation Annual Exhibition, USA
Publications:
"Ceramic Art • China", Beijing Arts and Crafts Publishing House, 2015
"Ceramic Art • Contemporary Sculpture", Culture and Art Publishing House, 2011
"Ceramic Art" Basic Teaching Materials of Department of Sculpture, CAFA, Hebei Education Publishing House, 2007
"World Relief Art", album, Jiangxi Fine Arts Publishing House, 2002
"Chinese Contemporary Ceramic Art", album, Jilin Fine Arts Publishing House, 1998
Western Modern Sculptures, album, Jiangxi Fine Arts Publishing House, 1996
Awards
2013 Awarded the "Outstanding Contribution Prize of Chinese Ceramic Education and Development" by China Ceramic Association
2009 Awarded the Chinese City Sculpture "Xu Beihong Award" by National City Sculpture Steering Committee
2009 Awarded the "New China 60 Years City Sculpture Construction Achievement Award" by the Ministry of Construction, Ministry of Culture
2008 Awarded the Arts and Humanities 30 Years Excellent Award by CAFA
2007 Awarded the Excellent Work Prize by Harmony and Difference - Chinese Contemporary Sculpture Exhibition
2006 Selected to the "New Century Excellent Talents Plan" by the Ministry of Education
2003 Awarded the Academic Excellence Prize by Beijing International Art Biennale
1999 Awarded the Silver Prize by "Chinese Art Exhibition", the Ministry of Culture, China Artists Association
1998 Awarded Gold Prize by the "Art Exhibition to Commemorate the 55th Anniversary of the Victory of the Anti-Japanese War" in Beijing
1998 Awarded Silver Prize by "Contemporary Academic Chinese CeramicInvited Exhibition", Guangdong Museum of Art
1997 Awarded the nomination prize by the Art Literature
1997 Awarded the Excellent Work Prize by "The Third National City Sculpture Outstanding Achievements Exhibition", the Ministry of Construction
1993 Awarded Gold Prize by "The Third National Sports and Arts Exhibition", National Sports Commission, China Artists Association
1993 Awarded "National Outstanding Teacher Award" by the State Education Commission
1992 Awarded the special government allowance by the State Council
Courtesy of the artist, translated by Chen Peihua and edited by Sue/CAFA ART INFO