Qiu Zhijie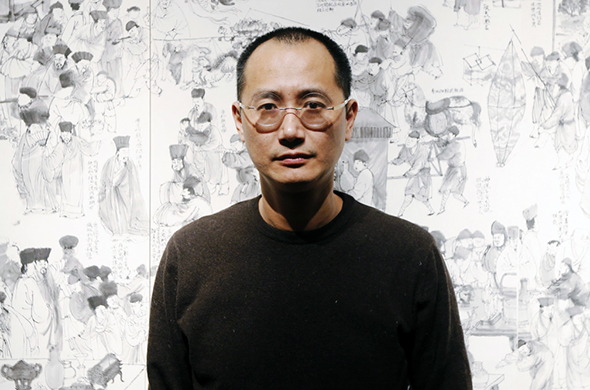 Born in Fujian Province, P.R. China in 1969, Qiu Zhijie graduated from the Printmaking Department, China Academy of Art in 1992, and began to be involved in contemporary art events. Now he is the Dean of the School of Experimental Art, CAFA, living in Hangzhou and Beijing. Qiu's creative events involve a variety of styles, including calligraphy, ink painting, photography, video, installation and theater. He represents the new artistic attempt to communicate with the traditions of the Chinese literati and contemporary art, to communicate on social care and personal artistic liberation.
He has held many solo exhibitions all over the world, including 2016 Race against Time, Galleria Continua, Italy; 2015 Big Plan, Fujian Museum of Art; 2013 Unicorns and Dragon, Querini Stampalia Foundation, Venice; 2012 Blue Prints, Witte de With Art Center, Rotterdam; 2009 A Suicidology of the Nanjing Yangzi River Bridge 4: Twilight of the Idols, The World's Cultural Palace, Berlin, Germany; 2008 A Suicidology of the Nanjing Yangzi River Bridge 3: Breaking Through the Ice, UCCA, Beijing; 2008 A Suicidology of The Nanjing Yangzi River Bridge 1: Ataraxic of Zhuang Zi, Zendai Art Museum, Shanghai, etc. In addition, he has participated in a large number of group exhibitions, including: 2016 Building of Life, Berkeley Art Museum; 2015 The 56th Venice Biennale; 2014 The 31th Sao Paulo Art Biennial; 2013 Gothenburg Biennial; 2009 The 53rd Venice Biennale Pavilion of China; 2007 The Real Things: Contemporary Chinese Art, Tate Liverpool, UK; 2006 Gwangju Biennale; 2005 Yokohama Triennale; 2002 The 25th Sao Paulo Art Biennial; 1993 New Art In China: Post-1989, Han Art TZ Gallery, Hong Kong, etc.
Qiu Zhijie has published many books on art theory, such as "Image and Post-Modern", "Give Me a Mask", "Terminability of Freedom", "The Important Thing is the Scene", "Photography after Photography". The major portfolios include "Qiu Zhijie: Breaking the Ice a History", "The Shape of Time: Light Calligraphy–Photography by Qiu Zhijie", "Mochou: Recent Works by Qiu Zhijie", "Archeology of the Memory" and so on. He was the curator of the first video art exhibition in China in 1996. From 1999 to 2005, Qiu curated a series of exhibitions entitled "Post-Sense Sensibility" which showed the radical experimental works of the young generation artists. In 2012, Qiu was the chief curator of the 9th Shanghai Biennale "Reactivation".
"... When I pick up a brush to write calligraphy, I don't think of whether the foreigners can understand it or not, I do nothing but use my life to witness our traditions and I want to see how it deforms our bodies? How do they grow, I consider it as a chance for me and a chance for it, at this moment, I don't consider whether foreigners and other cultures can understand it or not, because culture can't fully be understood, and I am engaged in the thing that can't be completely digested and understood."
– An excerpt of "Dictionary Series as a Lifestyle – Shu Kewen Interviews Qiu Zhijie"
"Because it completely depends on imagination, to have a self-understanding, and even rely on imagination to recall, Qiu's ego was overgrown at the beginning, and then it was gradually reduced to an empty wasteland. … He rejects the positioning and fight against identity, neither playing a role of object nor as a subject. If the enemy of justice is evil whose enemy is justice, Qiu's enemy is on the limitation of the judgment about right and wrong and the limitation of imagination, while the first premise is to make himself exhausted, empty and meaningless.
– An excerpt of "Jiang Zhi: The Person Combining Justice and Evil or Nothing"
Qiu has a similar temperament to Nietzsche, and he is not afraid of consumption, failing in the support of the collective position and completely relying on his own personality of strength to act – he has always demonstrated and practiced a strong ability of thinking and dialogue; he has an amazing attention and sense of hearing of all the creative languages; constantly preparing for the frank self-expression; the patience to reside in the dialogue on concerned problems; more importantly, he continues to introduce the ignored topics into the conversation in silence, so that they are allowed to be constantly talked about (such as how to create a history, how to regard art, how to think of the closeness between tradition and contemporary, etc.), because of which he has a more and more solid presence and power of creation.
– An excerpt of "Guo Xiaoyan: Breaking the Ice History – about Creation and theConcept of Existence"
"If we say 'There' series is a Werther-style 'wandering' created by Qiu Zhijie, 'A Suicidology of the Nanjing Yangtze River Bridge' is a Promethean 'scream', while a group of works 'Nanjing' can be considered as the remembrance of 'wandering' and 'screaming', and his thought flows in between the old red lacquer wooden fences and iron railings of the bridge."
– An excerpt of "Zhu Zhu: 'The Nanjing Yangtze River Bridge': Two Writings byQiu Zhijie"
"When Qiu Zhijie made these 16 maps, he understood that it is impossible to draw anything without a fixed form… He believed that "nothing" could not create anything, and his work with a map was actually composed of many narratives, and the clues emerged from the process, especially the related stories about society and knowledge, media, technological transformation."
– An excerpt of "Bedora: Organic Map of Qiu Zhijie"
"A Suicidology of the Nanjing Yangtze River Bridge" began with the concern of the phenomenon of suicide. Standing on the bridge, the first thing I felt was that the utopia of futurism and idealism was burning and grilling through daily life, while the collective will was overbearing the individual who fell behind. And then, I found that it was the success of science and development in the tumultuous and boiling time, rather than debt, disease, poverty or the loss of emotion that really drove men to death.
– An excerpt of "Qiu Zhijie Talks about Equality of Things"
"Recently, I was designing a therapy program of calligraphy and ink painting art for the suicide intervention organization of the Nanjing Yangtze River Bridge. Meanwhile, Qiu Jiawa is 5 years old now, so it is necessary for her to start learning calligraphy. I outlined the characters of "The Diamond Sutra of Mount Tai" so that she can trace them. I believe that calligraphy and ink painting, the poetry of Tang and Song Dynasty, and Chinese characters are talismans for my child even if she is trapped in a purgatory in the future."
– An excerpt of "Qiu Zhijie: Why Do I Want to Draw Ink Paintings"
"Many critical works which are so-called social intervention consider themes in the first place, making the works second-class news reports, which separates the double relationship between history and life."
– An excerpt of "Qiu Zhijie: Facing Heaven and Earth Alone are Involved in History"
"Qiu's work is divided into three parts, self-cultivation, making events and creation. Cultivating his moral character is from repeatedly washing and exercise, making events is the practice of everyday life and the creation is the process of artistic creation and imagery crystallization. Qiu once said that he hoped his creation was a Dream-of-Red-Mansions-style labyrinth with a complex clue, ten-sided ambush and staggered causes. His works are like Gothic architecture which repeatedly echo and infinitely extend to the sky in the cycle, he uses a metaphor of reading one banyan tree that makes a forest in his hometown."
– An excerpt of "Gao Shiming: Archives, Clinics and Author's Question –Mechanism Criticism of A Suicidology of the Nanjing Yangtze River Bridge"
Courtesy of the artist, translated by Chen Peihua and edited by Sue/CAFA ART INFO