Zhu Zhengeng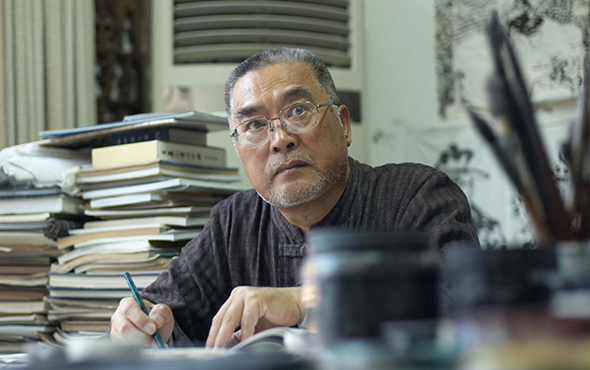 Zhu Zhengeng was born in Xuzhou in 1939 and died in 2012. He graduated from the graduate class of the Department of Chinese Painting, the Central Academy of Fine Arts. He had learned from Jiang Zhaohe, Ye Qianyu, Wu Zuoren, Li Keran, Li Kuchan, Liu Lingcang, Lu Chen, Yao Youduo, and so on. He was a former professor of the School of Fine Arts at the Central China Normal University. His publications include "Zhu Zhengeng: Talking about Art", "Well-Known Chinese Artists – Zhu Zhengeng", "Chinese Painting Thirty Years – Zhu Zhengeng", "Chinese Contemporary Painters – Zhu Zhengeng", "Zhu Zhengeng Talked about Art and Teaching", "Zhu Zhengeng's Sketches", "Zhu Zhengeng's Art of Paper Cut", "Teaching of Sketch", "The Fall of Nanjing", "Teaching of the Chinese Painters from Universities and Colleges of Arts Series – Zhu Zhengeng's Manuscripts", "Line Drawings of Famous Painters – Zhu Zhengeng", "Contemporary Artists' Life and Creation – Zhu Zhengeng" and so on. He designed two sets of stamps of "Patriotic Democrats" which were released in 1993 and 1994.
"Former folk art particularly paid attention to the "savor", namely knowing fun, understanding fun and making fun; the present 'folk art' does not have any fun, but reluctantly learning realism or cartoon, calling it a 'development and innovation', so that it is a mixture of the Western and the Chinese, developing to be more and more ugly, while the fun is lost."
–An excerpt from "Zhu Zhengeng: Talking about Art No.1"
"'Avant-Garde' is both the nest for the excellent people of the times, and also the safe haven for the moron accessing to 'vanity'."
–An excerpt from "Zhu Zhengeng: Talking about Art No.2"
"In the 1980s, I coincidentally loved Shiko Munakata's works. I have perennially lived in the Chinese folk, the folk artworks could be seen everywhere in the fair, so that I was influenced by it as time passed, and I have written one sentence reading that, 'I am looking forward to that the native shape and line will come to my head in future' 3 decades ago."
–An excerpt from "Zhu Zhengeng: Talking about Art No.3"
"The teaching of Chinese painting should have its own 'modern shaping method', in addition to calligraphy and traditional delineation, established the self-ethnic drawing system, both paying attention to the brush & ink, and 'style', both paying attention to the quality and beauty of lines, stressing on the tacit understanding and concertedly applying of the lines and shapes."
–An excerpt from "Zhu Zhengeng: on Ink"
"In general, it is difficult for Zhu Zhengeng to place himself in a certain style or form of work, and he has always been wandering with his personal sensation of painting in the past several decades. He has always been good at discovery, which makes him maintain a kind of nomadic character in the course of painting. I would like to visualize this idea that 'taking' by left hand, and 'transforming' by right hand. Regardless of it is foreign, native, ancient, modern, design, photography, etc., as long as it inspires him to paint, Zhu Zhengeng takes it to transform it into his thing. It results in Zhu's works have always been filled with 'lively and splendid' life will of freedom, instead of inertia. Zhu Zhengeng uses the lively quality of the works to fight against the habit and the cliché which is easily to be crusted, which is the same requirement for the self and the others."
–An excerpt from "Qian Zhongping: Review on Zhu Zhengeng's Art of Painting"
"The most major feature of Zhu Zhengeng is that he refuses following the crowd, but continuing to develop creativity. He specially pays attention to find and learn from the rich nutrition of folk art, and have various forms of trials, to open up new areas in the ink painting, and made outstanding achievements. His works are influential in his peers, inspiring and driving a group of people."
–Zhou Sicong
"Zhu Zhengeng's ink painting has a prominent creation. He experienced a long-term research to absorb the nutrition of folk art, and gradually formed a colorful, rich, improvised and unique form of art, which has a simple and interesting shaping, and a lingering charm, to enrich the expression of ink painting, made his own contribution to the modernization of ink painting, pioneering the new aesthetic areas of ink painting."
–Lu Chen
"Zhu Zhengeng's artistic features include: first of all, it is of a strong sense of form, with the shape full of tension and tenacity that seems to come from the folk art, and it also reveals a magnificent and calm boldness of the mural painting in the Han and Tang Dynasties and the vigorous boldness of the original art; these features are created by the artist who intentionally reduces the area of the surrounding space of the body. Secondly, his colors are excellent. His perception of color is far beyond the limits of the cognitive category of the majority of Chinese painters, with a calm and intensive, rich and mottled visual effect of the ancient mural painting; especially the warm color penetrated from the gray, and the fabulous correspondence and fusion of the darkness and brightness is both pleasing and revealing a pure and broad taste. Thirdly, it is the most important thing that he has been constantly abandoning the old self and opening up a new self, walking on a lonely but promising road. ... And Zhu Zhengeng's keen sense of art and transparent sense of history will make him gained achievements in this field."
–Liao Wen (an excerpt from the "Biographies of 100 Young and Middle-Age Artists in Mainland China", page 20 of the 2nd volume)
"I have always thought that Zhu Zhengeng's paintings are excellent, and he is a rare outstanding painter, the quality of his work is better than those who are famous. First of all, he quickly realized the need of change, which was almost out of the instinct, and his change was relying on the liberation of his passion for the art and ideal, so that he has never fooled with it; secondly, his works have some merits at each stage, and the accumulation has matured, which proves his rigorous attitude towards painting; thirdly, his strength and talent focus on the creation, so his paintings always have lingering potency."
–Li Xiaoshan (an excerpt from the "Ink and Wash Report – 2004 Contemporary Ink and Wash Artists Exhibition Collection", page 49)
"In the class of the training of the shaping of Chinese painting, in order to reverse the negative effects caused by long-term drawing training of the students, it is an effective way that allowing students to use lines to draw plasters: do not draw the surfaces of the plaster, removing shadows, only drawing the structure. We can call 'it is better for the doer to undo what he has done.' As Pan Tianshou said 'washing the face', learning washing the face, and then being vivid, to have a choice, to have a composite and expression, to be exaggerative and transformative...
The impulse before the painting, is called the 'love', which is more precious than gold. A painter goes with the idea and emotion, adapting himself to the changing circumstances, and the works are often able to survive in the feelings. The form should not be a dead mode, and the form is controlled due to the involvement of the emotion, so as to obtain an intrinsic vitality. Once it enters the 'form' with the passion accumulated inside and delivering outside, it does not need to talk about the theory of painting, either it is right or wrong, it is right, and it is reasonable once it is a passion."
–An excerpt from "Zhu Zhengeng's Interview: The Rhyme of Ink Solely Flowing under the Brush"
Courtesy of the artist, translated by Chen Peihua and edited by Sue/CAFA ART INFO