Zong Qixiang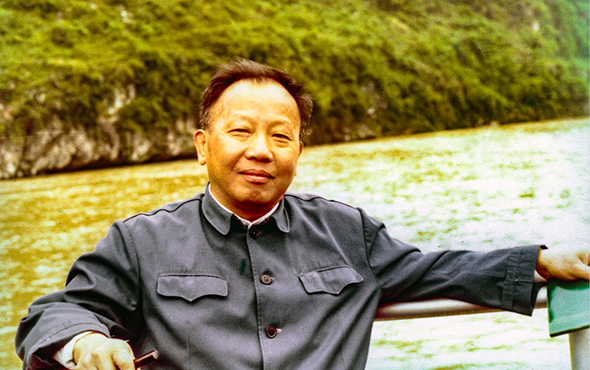 Zong Qixiang is a representative of the Chinese painting reformists of the 20th century, and one of the first representatives of artists who have succeeded in transforming Chinese landscape painting by combining with Western painting, together with Jiang Zhaohe, Li Keran and Li Hu who are the Four New Chinese Art Reformists. Fan Di'an, President of CAFA addressed the opening ceremony of Zong's exhibition and said that Zong Qixiang is determined to develop the modern reform of Chinese painting following Xu Beihong of the 1940s, and created a path of fusion between China and the West, and he also inherited Xu Beihong's feelings about people's livelihood, and society, and his art also perfectly showcased the most important feature of Chinese art of the 20th century, which is a spirit of realism filled with humanistic care. Zong Qixiang's art made a special contribution towards the modern transformation of Chinese painting at different times, and he changed landscape paintings in pursuit of praising the motherland, to create the magnificent mountains and rivers during the period of new China, while creating a large number of works that showcased the southern tropical natural view and the style of ethnic minorities during his later years, to form another new artistic feature.
"When everyone stays rich in nature, he/she personally has a different feeling, so any off-the-shelf techniques of the older generation and other people can't satisfy you, so that it certainly forces you to think about it and explore new ways. In addition to mobilizing all of your ready-made and reserved "weapons", it is necessary to unscrupulously offer a performance, rather than rigidly adhere to tradition or gauge, one should find their own true feelings. The so-called tradition is accumulated by many artists little by little with this form, and handed down which is the same both at home and abroad. Therefore, even if there are many shortcomings with the on-site sketch, it is more uniquely vivid than drawing at home, so we must stick to it."
–An excerpt from "Zhou Zhilong: Personally Experienced 'A Shower of Yongjiang River'"
"Looking at his existing creation of this period and the replications of landscape paintings, such as 'Mountain and Cloud Figure', 'A Replication of Wu Zhonggui's Hermitage with a River and Woods Figure', which showcases the calmness and skill of the traditional Chinese painting technology, people marvel at this juvenile's precocious talent in painting, which has certainly benefited from the gene and skills of enlightenment of his father who was a folk painter, and it also relies on his tirelessly hard-work and toughness from birth to death. It can be imagined that, regardless of domestic and foreign countries, whether the painter appeared or not, there were no hidden rules or prejudice in such paintings, the viewer finished the transactions by depending on the sense and delight, the quality of the painting itself is the only decisive factor."
–An excerpt from "Zhang Ling: An Outsider Talking about the Painter Zong Qixiang"
"Zong Qixiang's artistic exploration was closely linked with his academic thought on the academy. In the 1950s and 1960s, the teaching of Chinese painting of CAFA emphasized the cultivation of the trinity of art, life and creation, as well as the training in the ability of sketching, line drawing, copying and drawing from memory, while Zong Qixiang was an unique painter with his special ink and color painting, he refined a realistic style and beautiful form. He combined the traditional ink and Western realistic techniques to enable him in his use of ink and color to break the stylized modeling and coloring method of traditional Chinese painting, using harmonious and elegant colors and ink full of tension with realistic shaping, to promote the new creative teaching practice in Chinese painting, which was advocated and encouraged by Xu Beihong, to an in-depth level, combined with the naming and teaching pattern of the "Department of Ink and Color Painting" specialty at that time, his creative style making the impact obvious."
–An excerpt from "Yu Yang: Centennial Exhibition of Zong Qixiang and the Integration & Exploration of Night Landscape Painting"
"Zong Qixiang's paintings have his own pattern, which is integrated into the overall performance. In his landscape paintings, it is difficult to find texturing methods of the stones and mountains in Chinese painting, such as Zhedai cun and Hupi cun, and it is also difficult to see the methods of drawing dots with the form of Chinese characters Jie and Ge to create leaves, but often this is combined with a variety of things. It is a creation, Zong Qixiang's creation of a new pattern. Its performance is richer than the pure Zhedai and Hupi cun, and the form of Chinese characters Jie and Ge in the performance. He used the method of overall feeling and overall performance in the sketch. Although the overall feeling and overall performance is unrestricted and misses a rigorous norm, it is not easy to achieve this freedom. Sketching the real scene is a style stemmed from Western painting. It can be said that if there is not such a sketch, and use of the brush & ink and rice paper in particular to sketch the scene, Zong Qixiang's landscape paintings filled with an atmosphere of life can't exist."
–An excerpt from "Liu Yizhi: The Master Zong Qixiang"
"He takes himself as an example: 'in Chongqing before the liberation, I was known for painting the night view of Jialing River, when I arrived in Beijing, many people suggested that I could be a special painter of night view. Jialing River at night is beautiful, so I have a desire to show it, while I couldn't find a similar impulse when I was faced with Beijing at night, so I rarely drew a night view again. So the feeling of life is in the first place.' Mr. Zong was a dedicated person, who was also stubborn, but I like this stubborn person."
–An excerpt from "Fu Yixin: From 'loving landscape painting' to 'knowing landscape painting' – Remembering Zong Qixiang with Gratitude"
"The painting depicts a team of boat trackers including young, middle-aged and old boat trackers at the riverside of the Jialing River, having towlines on their shoulders and backs, and this painting only draws 12 boat trackers, who showcase the tough spirit of the Chinese nation, which supports the determination of the Chinese nation to defy brute force and defend the motherland."
–An excerpt from "Wu Pingmei: the Whole Story of Zong Qixiang's 'Boat Trackers of Jialing River"
An Excerpt from Zong Qixiang's Chronology
Born in Nanjing, Jiangsu Province, in December 1917, Zong Qixiang became an apprentice in the Siweimei craft gift shop, after graduating from a primary school, and then joined the Chinese Art Society. The works of the Chinese painting "Mountain and Cloud Figure" and "Twelve Peaks of Mount Wushan" were selected by the 2nd National Art Exhibition hosted by the Ministry of Education in Nanjing in 1937, purchased by Lin Sen, Chairman of the National Government of the Republic of China, and he became acquainted with Chen Zhifo, Gao Xishun. In September 1939, he was admitted to the special training course of art at the Central University, and created a watercolor painting entitled "Chongqing was bombed by the Japanese Army". He started to create the night view in watercolor in 1941, and often asked Xu Beihong for advice by letter. In 1943, Zong Qixiang held a special exhibition of "Night View of Chongqing" in Shapingba, while Xu Beihong personally presided over the opening ceremony of the exhibition, and heavily praised and encouraged him. In the same year, he donated dozens of paintings to support the educator Tao Xingzhi in running a school. In 1944 he graduated from the Department of Art at the Central University, and became an assistant researcher of the China Academy of Art. In response to the exhortation of "the Chinese People's War of Resistance against Japan Must Succeed, the New China Must Be Established", he was in cooperation with Jiang Fengzheng, the President of Chongqing Progressive Yinghua Weekly Group to co-edit and publish "the Chinese People's War of Resistance against Japan Propaganda Murals", and Xu Beihong wrote a preface. In the spring of 1945, he became a full-time painter at the OSS psychological combat department of the US military, and created anti-Japanese leaflets. After the Chinese People's War of Resistance against Japan succeeded, he returned to the China Academy of Art, and created the Chinese paintings of "Chongqing University of Technology at Night", "Boatmen of Jialing River", "Floating Dock", "Boat Trackers of Jialing River" and "Mountain City at Night". In August 1948, he participated in the Chinese People's Liberation Army. Followed the army moving to the south, he was incorporated into the Political Department of the Third Field Army of the Chinese People's Liberation Army, as a cultural teacher, he trained a group of talented artists for the troops, and he made a lot of sketches and diaries. In 1950, he created a group of oil paintings entitled "Huaihai Campaign History Painting", as well as a large number of sketches of advanced figures including workers, farmers and soldiers, published in the domestic and foreign major newspapers and magazines, shown in and collected by the major art museums and galleries. In the same year, he collected materials and created the work of "Immortal Hero Yang Gensi", which was selected by the first military art exhibition, and won the first prize, as well as the third-class merit. He was then transferred to civilian work, to be the director of the teaching and research class of watercolor, and the tutor of the cadre class, he trained many students such as Yang Zhiguang, Yang Zhongliu, Peng Bin, Xu Tianmin, Wang Naizhuang and many other students. In July 1955, he was married to Wu Pingmei, and then he went to Chongqing, Yunnan, Guizhou, Sichuan and other places to sketch, in order to draw the famous battle scene of the Red Army "Fighting to Cross the Dadu River". In 1961, he was appointed as the Director of Chinese Landscape Painting Specialty of the Department of Chinese painting, CAFA, together with Li Keran as co-coach, they cultivated Jia Youfu, Zhang Ping, Wang Wenfang, Zhou Zhilong, Zhang Renzhi, Fu Yixin, Li Baolin, Qiu Zhaoming, etc. When the "Cultural Revolution" began, he suffered the "criticism", "censorship", and was imprisoned in the "bullpen". After the resumption of the college entrance examination, he returned to CAFA and continued to teach. Since then, he often went to Guangxi to sketch, collected a large number of creative materials, and hold exhibitions in Guilin, Wuhan and other places. On the morning of December 29, 1999, he died at the age of 82. Three people including Fan Di'an, former Vice President of CAFA went to Guilin to participate in the funeral proceedings and wrote an elegiac couplet: "Zong Qixiang's Chinese paintings were well-known early on both at home and abroad with his talent in combining the West and China, and he made contributions to his descendants with his educational achievements".
Courtesy of the artist, translated by Chen Peihua and edited by Sue/CAFA ART INFO