Duan Jianwei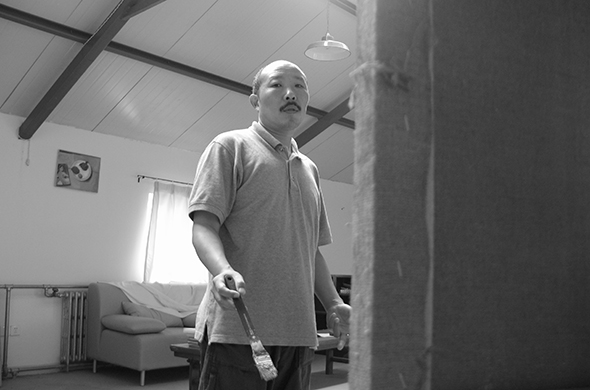 "Removing the grand narrative, removing the sacred, removing the theme, lowering the artist's posture, so the eyes and the people depicted are allowed to be placed at the same level. It seems that Duan Jianwei chose the same narrative orientation that many young painters chose at that time, for example, the so-called 'New Generation' painters Liu Xiaodong and Yu Hong, as well as the 'Cynical Realism' group, and even Chao Ge who was addicted to the painting noumenon also created the portraits filled with the heat of life and realistic details in that period. The trauma and frustration appeared after 1989 and has spread in the field of culture and art through self-repression. A philosophical gap between the climax and low profile corresponds to a calm narrative transformation that replaced the radical one, which seems to be a holistic symptom. For the painters like Duan Jianwei, who entered the world and objectively described the peasants through an impulse that he hopes to remove from the mainstream painting idea which is of a fixed, fake and brilliant theme that is going first, with politics in command, and it allowed him to finish an adult ceremony for a new generation of painters."
—An excerpt from "Wang Pengjie: Alchemy of Representation—Practices of Duan Jianwei's Painting Creation (1978-2016) and the Evolution Logic"
"I have mentioned above that Duan Jianwei's recent works were the results of the actively simplifying the elements of painting. The details in the painting, the number of characters and things, and stories have been simplified. In several pieces, the scenery has gone and been replaced by a single color or two colors serving as the background of the characters. The painter has abandoned the feeling of depth brought by the horizon and he has also abandoned all geographical 'features'. Whether the paintings depict the youths from Henan or not, which is not important any more, and Duan has been ready to become a 'pure' painter, instead of a spokesperson for regional art. Now, his works have transcended time and space; and the feelings that they show is too strong so it does not need a support for an external reference. I think they have a metaphysical taste, which is like two silent and sunny landscapes created by a tenth-century art master De Chirico, but it is different from Duan Jianwei's works which make people feel 'silent' because of the appearance of characters."
—An excerpt from "Dr. Monica Dematte: Duan Jianwei's Renaissance"
"Characters have always been the main objects depicted in Duan Jianwei's paintings. To be precise, those characters are the peasants who make up the majority of the people in local China. In many previous creations, the images of the peasants have been easily over-represented, and artists usually see this class from an intellectual perspective, either highly exalting them, or overlooking and having compassion for them. And it seems that Duan Jianwei's creative attitude lies between both, and he becomes like a member of this group, looking at the people and things around him: labor, recess, joys and sorrows, and even the indescribable distress... The description of the peasants' secularized daily life is in fact the presentation of the general behavior of other people who are also dwelling on the earth. The peasants represent others and also the artist himself. All things are spirits. Rather than drawing peasants, Duan Jianwei expresses the sentiment and praise of the essence of life. He intrinsically and profoundly explores and focuses on human nature, which allows his works to reproduce what Benjamin said, 'the fainting halo in the era of mechanical reproduction.'"
—An excerpt from "Xia Jifeng: Duan Jianwei—A Warm Journey of Art"
"Of course, Duan Jianwei does not intend to separate himself from the world, but to be deeply rooted in the land and the villagers he portrayed, and these things have become part of his blood for decades, and also formed the style of painting itself. In 2002, he left Zhengzhou and arrived in Beijing, but he did not speculate to sell a feeling of being homesick, nor look down on them from the perspective of the elite, and he has always shaped the land in which he was born and grew up in, as well as the people. He once said that both the medieval icons and the peasants he portrayed were shown as the ordinary people, but it does not cater for the spectators' taste. It is just like religious icons, bringing a sense of symbolism or guidance, that is, it is originally a reflective view. In the words of Jacques Rancière, they share an equal viewing-perception mechanism. In this sense, although Duan Jianwei seems to only borrow partial motifs and forms of the paintings of the Middle Ages and the Renaissance, he has actually inherited the inherent image-making logic and stylistic will."
—An excerpted from "Lu Mingjun: The Image—Making Logic and Stylistic Will"
"In recent years, Duan Jianwei often traveled to the grottoes, temples and folk cultures of northern China, and has gained new enlightenment from the traditions of ancient statues and murals. This tradition is much closer to the artist's spiritual situation than the art of the early European Renaissance. The ancient Chinese tradition was originally an art that matured earlier than the West, emphasizing language form and was more spiritual. Duan Jianwei seems to have clearly seen the natural umbilical cords connecting the spirit of the statues of ancient figures and the spirit of the oil paintings of native people from the Central Plains over the decades. The grottoes and temples which are scattered in Shaanxi, Shanxi, Henan and Shandong in northern China, offer a limitless supply of paradigms to the artist for study, and they have reached an internal consistency with the spiritual image of Chinese characters, which is undoubtedly in line with the sentiment of people who have searched for a thing hundreds and thousands of times in the crowd, suddenly he turned back and found it was there in the dim light.
In this process, Duan Jianwei's stylistic orientations were repeatedly and alternatively conducted, and the painter himself deliberately placed himself in a state of contradiction. At the same time, he had more enthusiasm for the characters' gestures, expressions and props on the screen. He attempted to remove narration, which was completely revealed in the arranging of the names of the works. It seems that the painter inadvertently describes his own works, so that we see a series of ordinary subjects such as "Youth", "Girl", "Mirror", which have failed a special and point-oriented title. The characters and identities of the figures become blurred and the scene is even faded. All the factors that clearly point to the specific situation are deliberately removed, and people and things will be given more universal and eternal meaning at this time."
—An excerpted from "Dai Zhuoqun: Duan Jianwei—Performing the Mind and Making Images, to Change the True Self"
About the Artist
Duan Jianwei was born in Xuchang, Henan province, China, in 1961, and graduated from Henan University with a bachelor's degree in 1981. He is a teacher at the College of Fine Arts, Capital Normal University.
Solo Exhibitions
2016 Duan Jianwei: Fruits of Earth, Hive Center for Contemporary Art, Beijing, China
2014 Appearance—Solo Exhibition of Duan Jianwei, Hive Center for Contemporary Art, Beijing, China
2013 Solo Exhibition of Duan Jianwei, Chinese Academy of Oil Painting, Beijing, China
2005 Little Boy: Duan Jianwei Oil Painting Exhibition, Visual Horizon Gallery, Shanghai, China
Selected Group Exhibitions
2015 The 4th Chinese Oil Painting Exhibition, Beijing, China
2013 Keeping Pace with The Times—The 50th Anniversary Exhibition of Achievements of the National Art Museum of China, National Art Museum of China, Beijing, China
2012 Opening-up and Harmony—Exhibition of China Contemporary Art, National Art Museum of China, Beijing, China
2009  Artworks by the Teachers from the Academy of Fine Arts of Capital Normal University, National Art Museum of China, Beijing, China
2008 Oil Paintings by Duan Zhengqu and Duan Jianwei, National Art Museum of China, Beijing, China
2007 The Language of Personality—The Newly-collected Oil Painting from National Art Museum of China, National Art Museum of China, Beijing, China
2006 The First Yearbook of China Contemporary Art, The China Millennium Monument, Beijing, China
2004 The Chinese Oil Painting Exhibition in New Era, National Art Museum of China, Beijing, China
2003 Chinese Art Today, The China Millennium Monument, Beijing, China
2001 Research and Exceed—Exhibition of Small Oil Paintings, National Art Museum of China, Beijing, China
2000 China Oil Paintings in The 20th Century, National Art Museum of China, Beijing, China
1999 Artworks of Six People, Art Museum of Shandong College of Art, Jinan, Shandong, China
1999 Representing the People, Manchester, Birmingham, Newcastle, UK
1997 Oil Painting Exhibition of Chinese Youth Artists, National Art Museum of China, Beijing, China
1996 The First Exhibition of China Oil Painting Society, National Art Museum of China, Beijing, China
1996 The Portrait of Chinese Oil Painting in the Last Hundred Years, National Art Museum of China, Beijing, China
1996 Oil Paintings by Duan Zhengqu and Duan Jianwei, Beijing International Art Gallery, Beijing, China
1995 Charm of Representation, Beijing, China
1994 The Invitational Exhibition of Chinese Contemporary Oil Painting, Art Museum of the University of Hong Kong, Hong Kong, China
1993 Oil Painting Exhibition of Four People, Gallery of The Central Academy of Fine Arts, Beijing, China
1992 Exhibition of Chinese Contemporary Painting, Hong Kong, China
1991 Oil Paintings by Duan Zhengqu and Duan Jianwei, Gallery of the Central Academy of Fine Arts, Beijing, China
1991 The First Chinese Annual Oil Painting Exhibition, National Art Museum of China, Beijing, China
1985 The Advancing Chinese Youth Fine Art Exhibition, National Art Museum of China, Beijing, China
Courtesy of the artist, translated by Chen Peihua and edited by Sue/CAFA ART INFO