Li Jin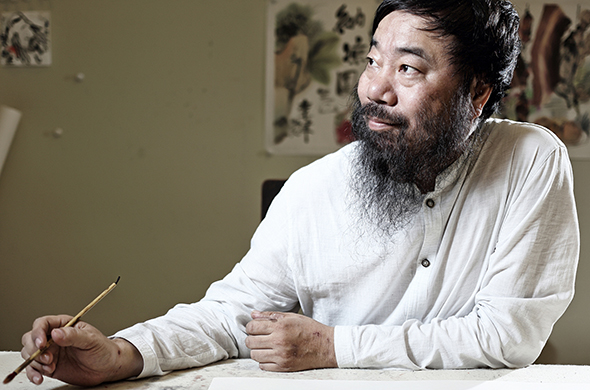 Li Jin is best known for his lush and colorful depictions of sensory pleasures in contemporary China. In his banquet scenes and anecdotal vignettes, voluptuous men and women are surrounded with food in various states of undress and sexual intimacy, but appear awkwardly out of place or spiritually vacant. Often portraits are of the artist himself, the figures suggest both playful self-amusement and reflective distance. Indeed, even at their most extravagant, Li Jin's pleasure scenes are tinged with the melancholy of solitude and the unreality of a dream or a memory. Born in Tianjin, China in 1958, Li Jin graduated from the Chinese Painting Department of Tianjin Academy of Fine Arts in 1983. He is currently Associate Professor in the Chinese Painting Department of Tianjin Academy of Fine Arts. The artist lives and works in Tianjin, China.
"Of course, I have never been obsessed with traditional things, which is the biggest or essential difference between me and other painters engaged in Chinese painting. There are two types of people who are obsessed with traditions: some painters are obsessed with traditional techniques, namely brush and ink, and some painters are obsessed with the state of the art. Perhaps, they are good painters, but they are often distressed by traditions. The painters who are obsessed with brush and ink consider themselves as students, borrowing traditional languages, borrowing traditional forms, as well as borrowing ancient habits of appreciation, etc. Because I am not one of those painters, I don't pay much attention to anything like the excellent results people get from traditions, in other words, any excellent result does not matter to me. In the sense of modern art, perhaps, I have found a way to include the literati tradition into the contemporary, that is 'worldly'. It is my personal choice, and it is also a reflection of my true feelings of living."
—An excerpt from "Li Jin: The Doctrine of Daily Life"
"It is interesting that food is taken as the object portrayed by Li Jin. The braised pork head, the braised prawns, the steamed siniperca chuatsi, and the fried tender flower stalks, are considered as important as the four objects often performed in the literati paintings; a chicken drumstick, two radishes, three crab claws, and four garlic bulbs seem to have a spiritual dialogue with Li Jin. Delicious food must be placed in beautiful vessels, and Li Jin's cups, plates, saucers, bowls, pots, spoons, chopsticks, and even hot pots, soup pots, teapots and wine glasses, which are the vessels that contain food, are more like things appreciated by a collector. The food daily eaten and the vessels daily seen and used are actors or actresses in Li's paintings, to have a dialogue with Li Jin who is slightly drunk and ignorantly acting in life. They are speechless and appreciating each other."
—An excerpt from "Li Xianting: The Desire for Food and Sex is Part of Human Nature - New Literati Painting Movement and Li Jin's Works"
"The majority of works are thinly and lightly colored, smooth and slowly dyed, and are featured in thin and soft ink. The characters with dim expressions are neither ugly nor beautiful. Li skillfully or unskillfully runs a brush, and disorderly inscribes on his paintings. Some characters (such as a bearded man in the 'Bathing', and a man dressing in a Chinese tunic suit in the "Group Photo"), seem to be dull or idiotic, or humorous or funny, which are rarely seen in both traditional and contemporary Chinese paintings."
—An excerpt from "Lang Shaojun: Eat, Drink, Man, Woman, The Part of Human Nature, On Li Jin's Paintings"
"Li Jin appeared after postmodernism or modernism. Bad painting does not aim to seek a form but expresses a certain concept. Perhaps, it is an obscure and unconscious concept, or it might be a strategy. The paintings mirror the artist and his life. Also performance is art, and it is displayed for the audience, so that only the madman who does not care about the audience is able to unlimitedly perform on the stage. Painting is either created for the audience, or not. A painting is speechless, without the narrative communicated by words, it unconsciously communicates."
—An excerpt from "Yi Ying: Bad Paintings by Li Jin"
"Although they face the same dilemma, the orientations of writing are different. If a potential sense of conflict is maintained in the 'Cynical Realism' and political reality, Li Jin's expression has abandoned the last association with the ideological theme, deliberately returning to daily life, in which he seeks private pleasure. Although it seems that these subjects are trivial and about domestic trivialities, different social forms are demarcated depending on the level of democracy, to reach the universal situation of humanity, so that his works are more and more adored by many people"
—An excerpt from "Zhu Zhu: The World Can Be Played"
"Just as foods have human properties, the people in Li Jin's paintings gradually begin to take on marked properties of food. He strives to paint his people as fat as possible. Their bodies are covered in flesh. The flesh is not a marker of sensuality, but instead the object of food. The flesh is full of naked fat, like the flesh of animals. They seem edible as well, especially the fat men and women in these paintings. Li Jin strives to depict the flesh on their bodies, the supple flesh of the nude women. These are truly naked bodies, telling us of all kinds of food and telling us of fat. It seems as if within this human flesh, we can see animal flesh, the flesh of the food from animals, meat to be eaten. Meat to be eaten is piled up to become the meat of the human body. This gives them the appearance of animals, not just animals as meat, but animals that cannot think deeply—animals never think deeply, simply eating until they are full, living for satiation. Only humans think deeply, and humans are never satisfied, always denying themselves."
—An excerpt from "Wang Min'an: The Joy and Sorrow of Li Jin"
Selected Awards
2014 "Artist of the Year" granted by L'OFFICIEL Art 2013, Beijing, China
2013 "Ink Artist of the Year" granted by AAC · Art China 2012, Beijing, China
Selected Solo Exhibitions   
2017 Li Jin, Sotheby's S2 Gallery, Los Angeles, USA
2016 Li Jin's Solo Exhibition, Context New York, New York, USA
2015 The Sensory Life of the Mass: 30 Years of Li Jin, Long Museum, Shanghai, China
2014 Li Jin's Exhibition of Chinese Paintings and Sculptures, Sotheby's Gallery, Hong Kong, China
2013 Eat, Drink, Man, Woman – Li Jin's New Works, Art Museum of Victoria Artists Association, Melbourne, Australia
2012 "Li Jin • Today • Banquet", Today Art Museum, Beijing, China
2010 Li Jin, Kasten Gallery, Mannheim, Germany
2010 Li Jin: One Square Meter Paintings, Houtian Gallery, Beijing, China
2009 The Art of Li Jin, Kunstraum-Bernusstrabe, Frankfurt, Germany
2008 Malerei und Tuschzeichnungen (Paintings and Ink Drawings), Dittmar Gallery, Berlin, Germany
2007 A Feast, Food & Sex, Artside Gallery, Seoul, Korea
2006 Li Jin's New Works, Gallery 99, Aschaffenburg, Germany
2006 Li Jin Solo Exhibition, Ray Hughes Gallery, Sydney, Australia
2006 Li Jin—Solo Exhibition, Art Scene China, Shanghai, China
2005 Eat, Drink, Man, Woman, Haines Gallery, San Francisco, USA
2005 Art Exhibition By Li Jin: Eat, Drink, Man, Woman, Tang Contemporary Art, Bangkok, Thailand
2005 Simple Pleasures—Passing Time with Li Jin, Asian Art Options, Singapore
2004 Li Jin: New Works, CourtYard Gallery, Beijing, China
2003 Li Jin: A Feast, Seattle Art Museum, Seattle, USA
2002 Eat, Drink, Man, Woman: Li Jin Ink-Wash Paintings, Yan Gallery, Hong Kong, China
2001 Li Jin New Works Exhibition, CourtYard Gallery, Beijing, China
2001 Exhibition of Li Jin's Paintings, Ray Hughes Gallery, Sydney, Australia
2000 Li Jin's Ink Figure Paintings, Galleri Lars Bohman, Stockholm, Sweden
1996 Li Jin Ink Exhibition, Mirror Garden Gallery, Vienna, Austria
Selected Group Exhibitions     
2018 "New Freehand Style" The First Invitational Exhibition of Chinese Contemporary Artists, Cui Zhenkuan Art Museum, Xi'an, Shaanxi, China
2017 Luminous Shadow, Ink Studio, Beijing, China
2016 First China Contemporary Ink Yearbook Exhibition, Today Art Museum, Beijing, China
2015 The Revival of Tradition: Another Approach to Contemporary Chinese Art, Jacob K. Javits Convention Center, New York, USA
2014 Within and Without—Transformations in Chinese Landscapes, Cantor Arts Center at Stanford University, Stanford, USA
2014 In Sequence—Chinese Contemporary Ink Art Exhibition, Zhejiang Art Museum, Hangzhou, China
2013 Portrait of the Times—30 Years of Chinese Contemporary Art, Power Station of Art, Shanghai, China
2012 Chinese Contemporary Ink Art Exhibition, Guan Shanyue Art Museum, Shenzhen, China
2012 Ink: The Art of China, The Saatchi Gallery, London, UK
2012 Shuimo: Chinese Contemporary Ink Paintings, Sotheby's, New York, USA
2012 Re-Ink: Invitational Exhibition of Contemporary Ink and Wash Painting 2000-2012, Hubei Museum of Art, Wuhan, China; Today Art Museum, Beijing, China.
2011 Re-Interpretation, China Cultural Centre, Berlin, Germany
2011 Expression of Chinese Contemporary Art, Today Art Museum, Beijing, China
2010 Fresh Ink: Ten Takes on Chinese Tradition, Museum of Fine Arts Boston, Boston, USA
2010 Reshaping History – Chinart from 2000 to 2009, National Convention Center, Beijing, China
2009 Four Square Exhibition on Inheritance of Chinese Contemporary Ink, Today Art Museum, Beijing, China
2008 Chinese Contemporary Ink Art, National Art Museum of Germany, Berlin, Germany
2008 Ink Not Ink: Chinese Modern Ink and Wash Art Exhibition, Shenzhen Art Museum, Shenzhen, China
2007 Reboot: The Third Chengdu Biennale, Museum of Contemporary Art Chengdu, Chengdu, China
2006 Chinese Art Today, National Art Museum of China, Beijing, China
2005 The Difference Between You and Me, The Ian Potter Museum of Art, University of Melbourne, Australia
2004 Fresh Brushwork in Chinese Painting Exhibition, National Art Museum of China, Beijing, China
2003 International Paper, UCLA Hammer Museum, Los Angeles, USA
2003 The Open Era, National Art Museum of China, Beijing, China
2002 China Art, Museum Kuppersmuhle, Duisburg, Germany
2001 China: 20 Years of Ink Experiment 1980-2001, Guangdong Museum of Art, Guangzhou, China
2000 Neo-Inkpaintings, Liu Haisu Art Museum, Shanghai, China; Jiangsu Art Museum, Nanjing, China
1998 First Invitation Exhibition of Chinese Ink Painters, National Art Museum of China, Beijing, China
Selected Collections      
Metropolitan Museum, New York, USA
National Art Museum of China, Beijing, China
Museum of Fine Arts, Boston, USA
Seattle Art Museum, Seattle, USA
Museum of Fine Arts, University of Washington, Seattle, USA
Today Art Museum, Beijing, China
Hong Kong Museum of Art, Hong Kong, China
Guangzhou Museum of Art, Guangzhou, China
University of San Francisco, San Francisco, USA
Hammer Museum, University of California, Los Angeles, USA
Ray Hughes Gallery, Sydney, Australia
The Ian Potter Museum of Art, University of Melbourne, Melbourne, Australia
Berkeley Art Museum, University of California, Berkeley, USA