Lin Gang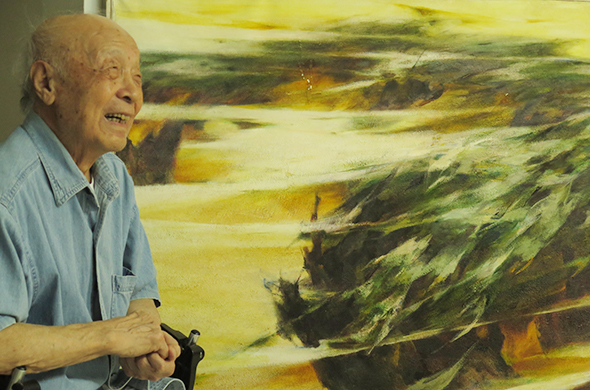 Lin Gang was born in Ningjin, Shandong Province in 1924. He is a contemporary Chinese oil painter and a famous professor in the Department of Oil Painting at the Central Academy of Fine Arts. In 1999, he was awarded the Pushkin Medal by the Russian Ministry of Culture and was appointed as the Emeritus Professor of the Repin Academy of Fine Arts in St. Petersburg, Russia. In 2018, he was awarded the title of "Outstanding Professor of the Central Academy of Fine Arts". Mr. Fan Di'an, Chairman of the China Artists Association and President of the Central Academy of Fine Arts, commented that "thanks to a group of senior artists who have excellent ideas, characters, styles and language like Lin Gang, the Central Academy of Fine Arts has formulated an outstanding academic tradition in the education and teaching of oil paintings. Today we can understand and study the exploring process of our predecessors. We will learn and carry forward the artistic spirit constantly explored by the artists of our predecessors to promote our education in this new epoch."
He has created more than ten giant historical paintings, such as: "Prison" (1961), "Reunion at Jinggangshan" (1975), "The Hearts of the People" (1976), "Crossing towards the East" (1976-1977), "Endless Poetry in the Journey of Ten Thousand Miles"(1977), "Female Soldier" (1986), etc., most of which were collected by the National Museum. His work "Zhao Guilan at the Conference of Outstanding Workers" won the first prize of the National New Year Picture in 1951. "Extraordinary Years" (also known as "The Long March", in cooperation with Pang Tao) won the second prize at the National and Beijing Excellent Works in 1979 and it was showcased in the exhibition of 5000 Years of China presented by the Guggenheim Museum in the United States and Spain. His works have participated in large-scale exhibitions at home and abroad. Many works have been collected by important museums and galleries.
After the reform and opening up in the 1980s, Lin Gang and his wife Pang Tao's artistic pursuits changed. From the realistic presentation to imagery and abstraction, the "Sand Wind" series has initiated a new art process. His abandonment of "thematic" creation and figurative language does not mean giving up on the humanistic spirit of art. Instead, he uses a pure drawing language, that is, a combination of points, lines, planes and colors to express the pursuit of beauty and goodness and make strength and beauty become embodied in the character and taste of paintings. Lin Gang combines the lines of strength with color blocks, with the potential and charm of artistic language, conveying his understanding and cognition of history and reality as well as his longing for the future...endowing people with a rich imagination and edification.
For more than 30 years, Lin Gang and Pang Tao ignored some misunderstandings and gossip, they encouraged and discussed issues with each other while emerging themselves in the exploration of abstract art. They constantly seek inspiration from their own life experiences and artistic practices, both from traditional national art and from the experience of foreign art creation, especially the achievements of modernist art, they draw on nutrition, enrich their painting language, artistic techniques. Thus their presentations are constantly changing, their modern feelings and individual styles become more and more vivid, and their poetic imagery gets more and more profound. They have also dedicated their exploration and research to the education at CAFA, and contributed a lot to the establishment and development of the Fourth Studio of the Oil Painting Department.
Excerpts from Shao Dazhen: A Diligent and Intelligent Explorer of Art—Lin Gang edited by Sue/CAFA ART INFO
Photo Courtesy of the Artist