Pi Li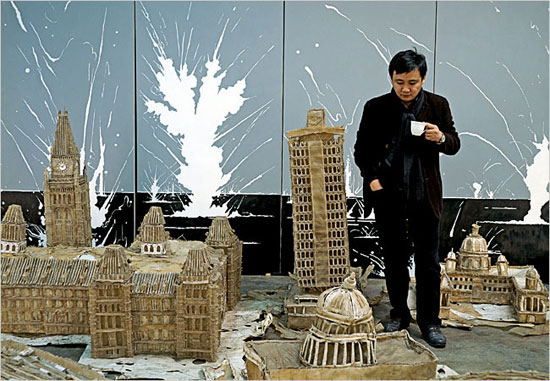 Born into an official Chinese art family in Wuhan in 1974, Pi Li graduated from the Department of Art History, the Central Academy of Fine Arts in 1996. He was invited by the British Council to attend a project on curatorial training in 1999 and received his master degree from the Department of Art History, the Central Academy of Fine Arts in 2000. He has taught in the Department of Art Administration, the Central Academy of Fine Arts since 2001. Supervised by Professor Wang Hongjian, he received his doctorate in Theories of Art in 2009.
He made a name for himself in the 1990s for his criticism of some painters who are now commanding big dollars at international auctions. Also his influence as the curatorial don of the Chinese economic reform generation continues to expand, the exhibition curated by himself includes "Star of Hope" at Qingdao Sculpture Museum in 2000, "Fantasy Zone" at Art Museum of Dong A Daily in 2001 and Beijing Modern Art Center in 2002, "Under Construction at Tokyo Opera Museum in 2002, "Moist: Asia-Pacific Media Art" at the Beijing Millennium Monument Art Museum in 2002, " Image is Power" at He Xiangning Art Museum in Shenzhen in 2002. In addition, he worked as an assistant curator of Sao Paulo Biennial in 2002 and Shanghai Biennial in 2002 and "Allôrs la Chine" in Georges Pompidou Centre, France in 2003. His publishing includes the Age of Curators and Postmodern Sculpture published by Jiangsu Art Press. As one of the founders of arts.tom.com, he also plays an important role as the editor-in-chief of this Contemporary Art Magazine.
Pi Li once worked at the Courtyard Gallery, the earliest commercial gallery in Beijing. Later, he chose to be a curator. From 2003 to 2004, he not only co-curated many large exhibitions home and abroad, in 2006 he was involved in the planning of "China Power Station" exhibition at Battersea Station by the Serpentine Gallery in London. Recent exhibitions curated by him include Overstep—Shen Yi Elsie & Lei Benben Works Exhibition, Out of the Box—the Threshold of Video Art in China (1984-1998) and so on.
At this point of his career, Pi Li is positioning himself as a gallery operator. As is reported by ArtZineChina.com, Pi Li once commented on his own choice, "At first I talked about an independent exhibition system, later I tried the foundation system and non-profit system –things I most constantly adhere to. I tried, but non-profit couldn't work, so I try to build a gallery system. System is always what I'm most interested in."