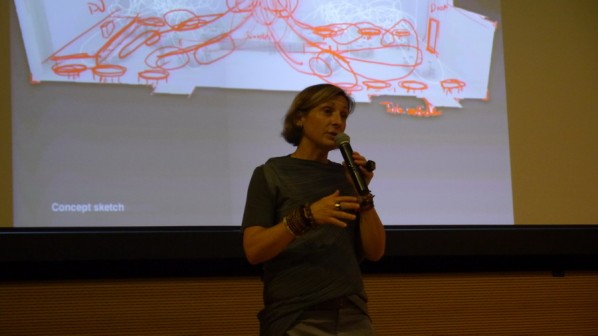 At 14:00 on June 5, 2013, organized by the CAFA Art Museum, Grimanesa Amoros - The Mirror Connection was held in the Auditorium of CAFA Art Museum, Peruvian artist Grimanesa Amoros talked about her art career during her world tour at CAFA. It is presided over by Prof. Zhang Guolong, Associate Professor of the Department of Experimental Art, CAFA, Graduate Supervisor.
Grimanesa Amoros (born in Lima, Peru) is an interdisciplinary artist, who is interested in various fields including social history, scientific research and critical theory, which have a tremendous impact on her works, the works created through sculpture, video and lighting, to clarify the understanding of the individual and group concepts. Her art and modern technology have given us information, contact and a creative power. She hopes to explore the natural duality of spirituality and modern technology. "The scientific and technological strength, which is used now but was thought to be a miracle 3000 years ago."
Recently, Amoros's "The Mirror Connection" Installation Art Exhibition was on view at CAFA Art Museum, and remains there until June 22.
As a personalized female artist, Grimanesa Amoros addressed on her unique form, showcasing the representative works with a combination of oral and screening videos. Prof. Zhang Guolong said, as a representative of contemporary art and in particular postmodern art, the feature of the works by Grimanesa Amoros was public property and involved participation. In addition to the use of a high-tech approach, Grimanesa Amoros's works also contain some mysterious factors as well as traditional folk elements.
Amoros initially talked about the Golden Connection 2013 Project, in collaboration with BAZAAR ART in Hong Kong, where the mirror and Uros(bubble) installation was placed in the ceiling about 34 feet from the ground. She screened a film to explain the origin of Uros (bubble): She was from an island in the southeast corner of Peru, which has been suspended in the water, where the locals use reeds to build temporary houses. Amoros said, inspired by the floating island and reeds, she produced "Uros" lighting installation, while Uros (bubble) represented a floating island, the pattern represented the reed grasses and flowing waves of the sea.
Following on from this she introduced the recent exhibition in Israel at the Litvak Gallery, where five sets of lighting installations were specially designed for the exhibition, as well as a video work that was finished early in 2013 and was screened in the video theater behind the exhibition hall.
She then introduced her sculptures produced in Mexico, and works in cooperation with a clothing brand in New York, in addition, she said she was impressed by Chinese-American curator Victoria Yung-Chih Lu, a perfect curator, who would always clearly inform the artists where the works would be placed.
Finally, Amoros introduced a neighbourhood project in New York: Hudson river health center, a car specifically designed for the promotion of health information travelled through the neighborhoods of New York, with a lighting installation specially designed for it. In addition, a dental clinic was set up inside the car, to check the mouths of children, making installations in the car and changing them regularly, led to them being an interactive work within the community.
Q & A :
Q: Would you like to show the manuscripts or sketches of the creations?
Amoros: Yes, I will show you the sketches of the Bazaar Art project in Hong Kong.
In the beginning you must be clear about how much the budget is, which would determine the size, materials for the works, in addition, it also impacts on the artist's creativity.
Q: As a female artist, how do you stick to creation and be successful? Could you offer some suggestions to Chinese women artists?
Amoros: This is a very good question, and I think, it's very interesting to be a female artist, when I get up in the morning, I don't care about how many projects and conferences I have to deal with, but I do my best, and work hard. I believe that every young man should learn to try different things.
When I tried, I found art and determined to make it the best, which makes me persevere with art. In addition, we must pay attention to our health, which is more important than time, and I hope fellow women live using wisdom, which is the mission that a woman needs to complete.
About the artist
Grimanesa Amorós (born in Lima, lives and works in New York City and Peru) is an interdisciplinary artist with diverse interests in the fields of social history, scientific research and critical theory. She is mostly known for her public art, particularly her light sculptures, and has exhibited internationally in the United States, Europe, and Latin America.
Amorós gradually incorporates light into her sculptures, but her first major lighting sculpture was when she was commissioned by ICART for the Royal Caribbean International to create a lighting sculpture for Allure of the Seas, the largest cruise ship in the world. Inspired by the light of the natural world from her travels, Amorós sought to find a way to incorporate technology to express her own interpretation of how nature impacts on her. She created Racimo based on her experiences growing up in Peru and spending long afternoons in the vineyards. She became fascinated by the color and shapes of the grapes. The shapes also mirrored her fascination with the shapes and colors of ocean foam.
Public Work
2011 Festival APART 2011, "Golden Uros," Chapelle de la Persévérance (Tarascon, France)
2011 Venice Biennale, "Uros Island," La Biennale di Venezia, 54th International Art Exhibition, ILLUMInazioni - ILLUMInations, Collateral Event Future Pass (Venice, Italy)
2011 Times Square, "Uros House" as part of The Times Square Alliance Public Arts Program in collaboration with The Armory Show (art fair) (New York, NY)
2010 Allure of the Seas, cruise ship "Racimo" (Turku, Finland)
2010 Hot Art Basel "La Recolección" (Basel, Switzerland)
2010 Tapestry, 245 East 124th St. "Tapiz" (New York, NY)
2009-2010 tribeca Issey Miyake Headquarters, "Aurora" (New York, NY)
2007-08 Jamaica Art Center (Flux 2007), "Remolino" Outdoor Video Projection (Queens, NY)
2007-08 AKA One Rittenhouse Square, "Human Survival" (Philadelphia, PA)
2007-08 Hudson River Community Health Center, "Substantial, Phase 4" (Peekskill, NY)
2007-05 Hudson River Community Health Center Façade, "Substancial" (Peekskill, NY)
2007-05 Hudson River Community Health Center, Mobile Dental Van, "Ambulante" (Peekskill, NY)
Solo Exhibitions
2010 Slag Gallery, "Conexion Dorada" (Golden Connection) (New York, NY)
2010 The Lab Gallery Rogersmith "La Incubadora" (New York, NY)
2009 Centro de Cultura Antiguo Instituto (CCAI), Optica Fesvial "Remolino and La Maleta Del Inmigrante" (Gijon, Spain)
2008 Hudson Valley Center for Contemporary Art "Rootless Algas" (Peekskill,NY)
2008 Hardcore Art Contemporary Space "You Cannot Feel It…I Wish You Could" (Miami, FL)
2006 City Art Gallery, Fifth Edition " Reflexion Obscura", Natural/Human Festival (Varna, Bulgaria)
2006 Hostos Center for the Arts & Culture, "Between Heaven and Earth & Rootless Algas" (Bronx, New York)
Awards and Grants
2005 X Tumi USA Award (Miami,FL)
2004 Centrum Arts, Residency (Port Townsend, WA)
2004 ARTspace Summer Artist-in-Residence (Raleigh, NC)
2003 Art In Embassies Program of the U.S. Department of State (Lima, Peru)
2002 Virginia Center for the Creative Arts Fellowship Residency (Lynchburg, VA)
2002 Santa Fe Art Institute Artist Residency (Santa Fe, New Mexico)
2001 Art in Embassies Program of the U.S. Department of State, (Ankara, Turkey).
1994 Travel Grants Fund for Artists, NEA, Arts International, (New York, NY)
1993 National Endowment for the Arts Visual Art Fellowship (Washington, DC)
1993 Art-Omi Residency (Columbia County, NY)
1990 The Bronx Museum of the Arts: Aim Program (Bronx, NY)
About the lecture
Title: Grimanesa Amoros - The Mirror Connection
Guest : Grimanesa Amoros
Venue: Auditorium, CAFA Art Museum
Time: 14:00-16:00,June 5th 2013
Add: No.8 Hua Jia Di Nan Jie, Chao Yang District, Beijing, China
Organizers: CAFA Art Museum, China Arts Entertainment Group
Transalted by Chen Peihua and edited by Sue/CAFA ART INFO