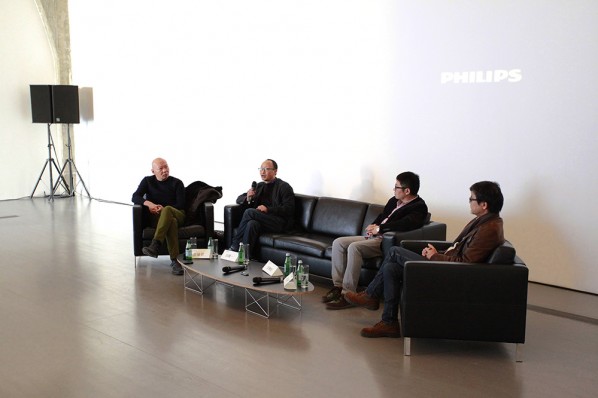 A special dialogue of " Yue Minjun: Neo-Idolatry" concerning Yue's latest solo exhibition in Macao Art Museum, was held at 2:30 p.m. on December 14, 2013. On November 20, 2013, the latest solo exhibition of "Yue Minjun: Neo-Idolatry" on the grand opening held by Macao Art Museum covered a total of 52 works that Yue Minjun has created in recent years, including paintings, indoor and outdoor sculptures, among which have not only Yue Minjun's well known typical art creation, but the more are his recent three-year new works. So far they have constituted successive logical relationship before and after Yue Minjun Art and Yue Minjun's thinking on related issues. Curator Feng Boyi, using Yue Minjun's studio in different periods of cultural geography changes as the main line, asked about conversion relationships between Yue's art and studio. For the dialogue in Pace Beijing, the invited guests were artists and curators. According to exhibition scheme and implementing process, they have dialogued and exchanged about the daily cultural motive power in Yue Minjun's art creation, his Idol Art and the relationships between history and times.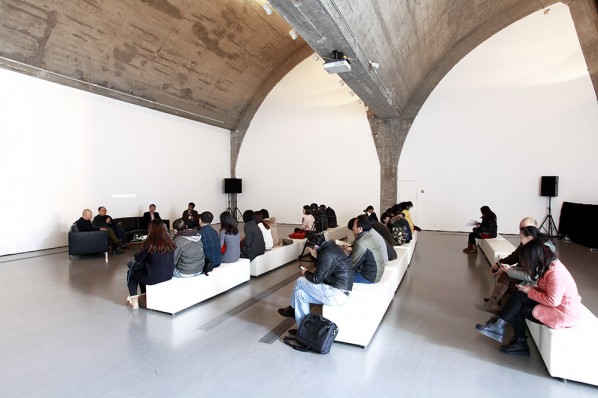 Since the 1990 s, Yue Minjun has blueprinted personal images, combined different periods of Chinese social life symbols, and produced different series of "Idols" works. Their unique era spiritual disposition has not only become the classic image of Chinese contemporary art, but it is also one of the identification symbols for contemporary China's image in the world. Artist's cynical humours in his creation, wide attention of life and time and effective use of image transmission have embedded in contemporary China's context. Since 1990, as the earliest international concern of Chinese artists, Yue Minjun has been invited to a series of important international exhibitions. And he won American TIME's Person of the Year in 2007, Denmark "first Andersen Festival highest award NIGHTGALE" and such as honours. He is one of the representative Chinese artists with important international influence.
Guest Speaker Brief Introduction
Yue Minjun(Artist)
Feng Boyi (Exhibition Curator, Famous Chinese Contemporary independent curator and art critic, also the artistic director of He Xiangning Art Museum and and Suzhou Jinji Lake Art Museum
Wang Xiaosong (Exhibition Ass. Curator, ph.D in Chinese National Academy of Arts )
Exhibition Introduction
The Macao Museum of Art (MAM) presents Yue Minjun: Neo-Idolatry, by using the artist's studio as the curatorial concept to feature the artist's 52 works, including paintings, sculptures in indoor and outdoor area, while also displaying his sketches, source materials for art creation, documents of art critics, work table, and painting tools. The exhibition runs till 16th February 2014.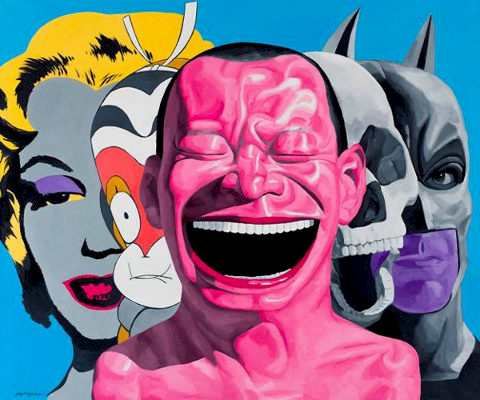 In this exhibition, the curator has chosen to 'transplant' Yue's Songzhuang studio to the exhibition venue, where the materials, and the tools used by the artist in creation are featured, alongside his representative works including paintings, indoor sculptures and outdoor large size sculptures, thereby creating a corresponding relationship between production and outcome. One of the highlighted exhibits, Roles, is an oil painting created in 2011.The laughing man is placed in the middle of the composition with several famous 'roles' alongside, such as the movie star Marilyn Monroe, the novel character Monkey King Sun Wukong, and the comic superhero Batman. However, lips are closed tightly on their emotionless faces. A skull thatrepresents ending right behind the laughing man – seemingly with a big grin due to the lack of muscles – makes the whole piece more paradoxical and absurd. This work makes a wide-ranging sarcasm on issues such asshameless laugh, lofty stardom, fictional hero, as if raising a question to the audiences by his fiery colours.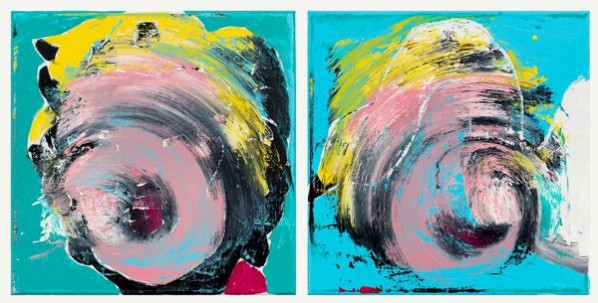 The exhibition presents Yue Minjun's multi-dimensional, comprehensive artistic approaches in a 'new space' at the MAM exhibition gallery. His works are grouped into nine sections, including 'Reworking the Portrait', 'Laughing Man', 'Journeyto the West', 'Epidermis', 'Nota Soul', 'Maze', 'Triviality', 'Overlapping' and 'Re-Idolatry'. Indeed, this is an excellent opportunity for audiences to somehow perceive the scenes of Yue Minjun's art creation.
Courtesy of the artist and Pace Beijing.