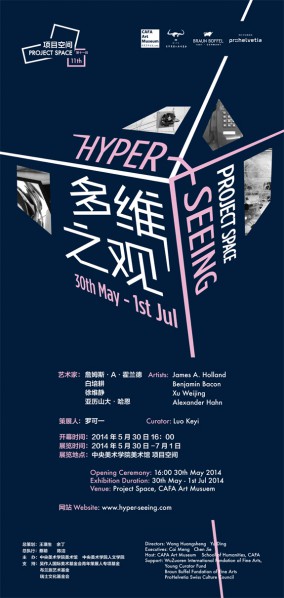 Curated by Luo Keyi, the group exhibition "Hyper Seeing" will be held at CAFA Museum Project Space from May 30 through to July 1, 2014.
Curator Luo Keyi's statement about the exhibition "Hyper Seeing":
The artistic activity I proposed is a curatorial project namely a group exhibition called 'Hyper-seeing', the title is an appropriation borrowed from the mathematic field. "Hyper" is a prefix used in geometry or physics to denote four or more dimensions. Combined with "seeing", this exhibition title is designed to delineate a multidimensional scene of today's art works using digital media techniques. The four artists I selected and invited explore various fields in digital art discourse: sound art, video art, internet work and bio-electron art, both have their unique narratives and contexts. Besides presenting the cutting edge practicing on digital art, I also want to rise a critical issue about the validity of the term 'New Media Art' which has been used for a long time. By exemplifying the artists' diversified narratives in this exhibition, I intend to question the signified of the term 'New Media Art' which might became anachronistic in today's contemporary context. The critical methodology I followed can be tracked to Jean Lyotard's 'Meta-narrative and Micro-narrative' theory and Jacques Derrida's 'Différance' notion.
I invited and selected four artists to participate in my exhibition. They will present their newly-made artworks specially for this project. British artist James Holland's sound installation 'Panaudicon' is a site-spcific work reflecting and monitoring audience's motion action by producing according sounds. A designed net or tunnel made by wires, speakers and sensors will create an environment for people to explore and experience. Swiss artist Alexander Hahn's new project 'Anaµorphosis' combines digital media technology with personally emotional tribute. Five 'shrines' playing anamorphic videos reliquaries honoring figures the artist have met but have passed away. American artist Benjamin Bacon will present his newest piece 'Mingle Version 2', an interactive artwork makes viewers to be the artwork's contributors by using internet technique. People can use a red public phone to listen messages collected from the other red phones installed all around the world and leave their own to make a common information loop continuously accumulating. Chinese young artist Vivian Xu's unique art practice seeks the possibility between electronic media and biological media, her on-going work 'The Silkworm Project' will show the most recent outcome of her research. This project aims to create a hybrid interactive system between silkworms and electronics, with the ultimate goal of constructing a silkworm 2D and 3D printer where organically formed silk-based spatial structures can be generated.
Participants:
Keyi Luo, Curator, London, Uk
James Holland, Participated Artist, London, UK
Benjamin Bacon, Participated Artist, New York, USA
Vivian Xu, Participated Artist, Shanghai, China
Participated Artist: Alexander Hahn , - Rapperswil, Switzerland
This curatorial project will take place at the Project Space, an exhibition space with distinct shape and structure, located inside of the CAFA Museum (Central Academy of Fine Arts Museum).
Courtesy of the artists.