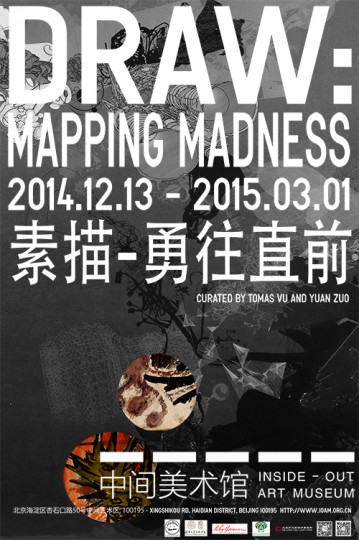 On the afternoon of December 13, 2014, hosted by Beijing Inside-Out Art Museum, organized by the Institute of Contemporary Art, Academy of Arts & Design, Tsinghua University, the large scale exhibition "Draw: Mapping Madness" opened at Inside-Out Art Museum in Beijing. The exhibition is jointly curated by Yuan Zuo, Director of Inside-Out Art Museum and Professor Tomas Vu from Columbia University which invited nearly 80 Chinese and Western artists, more than 100 works of "sketch" are collectively presented at Inside-Out Art Museum in Beijing.
At 2:30 pm, an academic seminar around the exhibition was held on the second floor exhibition hall. The seminar was hosted by Director Yuan Zuo, and curator Tomas Vu, artists Kurt James Kemp, Brian Novatny, Predg Dimitrijevic, BaoLin, Ma Shuqing, Yang Hongwei, Feng Lianghong, Li Di, Li Tianyuan, Liu Shangying, Yuan Shun, Qi Zhilong, Ji Yunfei, Sandra Eula Lee, Ma Kelu and Cao Xingyuan, etc., attended the seminar and gave a speech.
"Draw: Mapping Madness" presents an open state and opportunity. Chinese old-fashioned education of fine arts tells students that "draw" is a kind of basic training, while this exhibition brings us different experiences. "Draw" is not only a basic training, but also a kind of concise and clear art form.
In addition, the exhibition also sets up an interactive experience zone for the audience, offering three panels each with a special theme, and the audience can personally draw the slide projections on the panels. So the audience can feel the visual thinking while at the same time experiencing the fun of drawing, which also becomes a part of the exhibition.
The exhibition continues to March 1, 2015.
Preface
When the images of Lascaux Cave suddenly appeared throughout the world, people were full of praise as they were the most unbelievable group of drawings that had been discovered. They are unlike any other old masterpieces that have a long history within collections, they have been through a selection and preservation by generations. Although there is a 15,000 year gap from the past to now, still Lascaux hits our mind with the universality of basic human ability, with an instant reaction and response to nature. Lascaux proves: the basic intuitive ability of mankind is very similar regardless of time, culture, geographic location and human race. Our mind is only shaped by different ideology and the need to survive.
Drawing is such an old process of visual thinking. A typical style of drawing might be determined by an ideologyor environmental situation. But the clarity of such determination could be made blurred if we, as artists or human beings, exchange our ideas and drawing techniques from different cultural backgrounds. Although such exchanges may not be comfortable or natural at times, but they will shorten the distance between us aesthetically, make us aware of the verity of the method of thinking technically. Any contempt and refusal of such exchange might originate from a conservative regionalism or temporal local political needs. A visionary politician, artist and thinker is always willing to follow his or her intuitive decision, and to break the unknown. We could judge it but we don't resist it. The unthinkable might be the common sense nurtured by time. This has been proved in the history of art development over and over again.
Inside-Out Art Museum always promotes all kinds of culture exchange. We believe all artistic forms should be openly shared and discussed. We are honored to have all of you to participate in this first drawing survey exhibition in our museum. Our gratitude goes to LeRoy Neiman Foundation and The Inside-Out Art Fund at the Beijing Cultural Development Foundation. We are looking forward to carrying on into the futurethis dialogue with all of us.
Yuan Zuo
Director Inside-Out Art Museum
Artists:
Albert Weaver, Xu Bing, Buckminster Fuller, Tuguldur, Yondonjamts, Tomas Vu, BekaGoedde, Hanneline Rogeberg, Valerie Hammond, Feng Lianghong, Ma Shuqing, Gregory Amenoff, Mark Dion, Eric Ramos Guerrero, Wang Hongjian, Yuan Yunsheng, William Kentridge, Emily Henretta, GhadaAmer, Gandalf Gavan & Jack Warren, Alyssa Piro, David Altmejd, Mark Perlman, Fred Liang, Yuan Shun, Yuan Yunfu, Rirkrit Tiravanija, Li Mu, Yin Qi, Daniel Touff, Megan Foster, Luis Silva, Lisa Sigal, Corey Riddell, Richard Ryan, Benjamin Zawalich, Zhao Bin, Brian Novatny, Predrag Dimitrijevic, Aurelien Couput, Tammy Nguyen, Bruno Pogacnik, Qi Zhilong, Jennifer Nuss, Su Dongping, Kurt Kemp, RiakiEnyama, Tan Ping, Lin Mo, Jesse Weisse, Peter Wayne Lewis, Shahar Yahalom, Sarah Sze, Yuan Zuo, Nicola Lopez, Li Tianyuan, Ji Yunfei, Liu Shangying, Paula Wilson, Bao Lin, Wang Xu, Chris Jehly, Meng Luding, Li Di, Kayla Mohammadi, Hedya Klein, Yuan Ye, Jessica Segall, Sam Messer, Jen Sturgill, Miguel Cardenas, LeRoy Neiman, KambuiOlujimi, Cecily Brown, Nathan Catlin, Kiki Smith, Sanford Biggers
Translated by Chen Peihua and edited by Sue/CAFA ART INFO
Courtesy of the artists and Inside-Out Art Museum, for further information please visit www.ioam.org.cn.