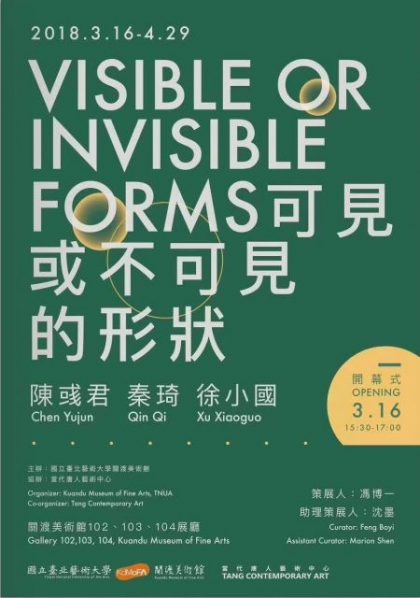 This exhibition presents new work by three mainland artists born in the 1970s. They often rely on the perceptual experiences of the individual and stress thought and understanding acquired from quiet, internal observation. They situate the contours of their forms within a relatively narrow space. They have continued to deepen and purify figurative and abstract painting, especially on the level of formal language, by considering and practicing the multiple possibilities of conceptual painting in the context of contemporary art.
The value and meaning of their work lies not only in the use of a new painting concept or visual language to express the existential states and cultural memories of their generation; their work also shows ungraspable variations in vague relationships that arise after they step away from the "similitude" of realism. They simply emphasize an unsteady drifting, a looking toward an uncertain environment or a visible and invisible form, and not the "certain meanings" that past art so treasured. They may provide Chinese contemporary painting with another visual model.
Chen Yujun: Spatial Plurality
Chen's work is situated on the boundary between concrete physical spaces and unreal scenes. It is not only a concept of spatial displacement; it is also a consideration of a place where mobility or change could dwell. He seems to be consciously confusing visual order, cutting it into countless ribbon-like fragments. He transforms his lived space into an internal awareness, thereby giving it a complex and separate structure. This is a metaphorical presentation of the artist's experiences and encounters, as well as interdependent and corresponding situations formed in space.
Chen Yujun was born in 1976 in the Fujian Province, China. He graduated with an MFA from the Department of Comprehensive Art at the China Academy of Art in 2007. Chen Yujun lives and works in Shanghai, China. Chen's work reevaluates the emotional bond to one's homeland in a modern context whereby the migrant's tribulation is shared across generations. Chen's continued interest in the affinities between personal and social history as well as natural and manmade space take precedent in this ambitious presentation. His solo exhibitions include Transnational Room, Boers-Li Gallery, Beijing, China (2012); Mulanxi River – Unsettled, Zhong Gallery, Berlin, Germany (2012); The Empty Room, Boers-Li Gallery, Beijing, China (2010), Jiangnan Manufacture, Line Gallery, Beijing (2007). Group shows include The Exhibition of Annual of Contemporary Art of China 2015, Beijing Minsheng Art Museum, Beijing, China (2016); An Anonymous Exhibition, Sheng Zhi Art Center, Beijing, China (2015); The World III in the Third World, Chulalongkorn University Art Center, Bangkok, Thailand (2014); Destroy and Rebuild: New Painting, Long Museum, Shanghai, China (2014); ON/OFF: China's Young Artists in Practice, Ullens Center for Contemporary Art, Beijing, China (2013); Dawn: New Art from China, Zhong Gallery, Berlin, Germany (2012); Ri Yong – Chang Xing, Chengdu Museum of Contemporary Art, Chengdu, China (2011); and Invisible Wings, Times Art Museum, Beijing, China (2010). Chen has also showed works at the 8th Shenzhen Sculpture Biennale at OCAT in Shenzhen, China, and has been invited to lecture at Rockbund Museum, Shanghai, China. He is collected by the DSLcollection, Paris, France; Long Museum, Shanghai, China; M+ Museum, Hong Kong; and White Rabbit Collection, Sydney, Australia.
Qin Qi: Unlimited Hybridity
Through an outsized and surreal style, Qin places fragments of historical narratives and multiple images within different scenes, presenting a blended, complicated context. Between the fragments lies the visual rhetoric of reality and fiction, implantation and admixture, which creates the absurdity in his work—it is seemingly real, and even lifelike, but it is actually fictional. This produces a confusion and suspense that is impervious to reason, but it also compels us to find appropriate past and present symbols and allusions within this interval, and an imaginative space in which various things are possible.
Qin Qi was born in 1975, Shaan Xi Province. Qin Qi graduated from the Department of Oil Painting at the Lu Xun Academy in Shenyang in 1999. He received his Master Degree from Lu Xun Academy in 2002, and teaches at Lu Xun Academy since 2002.Now He works and lives in Shenyang.
His works are characterized by a surreal dimension, through which he strives to depict things taken from a familiar context and represented with a reconfiguration of their concepts. His compositions are characterized by still life, real landscapes, dream-like situations and sketches from nature, all different elements that he has rationally chosen to assemble together in order to prove the coexistence of many different worlds. Qin Qi is a visual thinker and his compositions, no matter often permeated by a sense of ambiguity; appear as subtle representations of a consciousness that goes beyond forms to reach their more remote meanings.His Recent Solo Exhibitions includes: "Qin Qi", Tang Contemporary Art, Beijing (2017), "Qin Qi", Platform China, Beijing (2014), "Chairs Can Save Lives", Minsheng Art Museum, Shanghai(2011). Qin Qi has participated to exhibitions worldwide, in 2009, his works have been presented at Prague Biennale; he was part of Guangzhou Triennale and Nanjing Triennale.
Xu Xiaoguo: Ordered Outlines
Through the extraction of natural imagery, Xu distorts the orderly contours of woven or linear entities. This uncertainty has form, but it is also a microcosm of lived experiences and internal emotions. This naturally constitutes an intermediate state in an interactive pictorial relationship, and it expands our vision of the saturation and capacity of abstraction within the image's entwined and layered dimensions. In the fusion of static and active, cold and hot, simple and complex, sparse and dense, we feel calm restlessness, cool passion, and impermanent eternity.
Xu Xiaoguo was born in Xi'an, Shanxi Province in 1977. He majored in Oil Painting and graduated from the Xi'an Academy of Fine Arts in 2000. Currently based in Beijing, Xu's works take various artistic forms such as painting, pictorials and video. In recent years, Xu had been lauded with various accolades for his art, including but not limited to first prize for the "798 Arts Festival Young Artists Recommendation Exhibition", the "Academy Award for Young Artists of Film Media" from the Beijing Film Academy International New Media Arts Triennial Exhibition and the "Guanghua Qianyu Award".
His works cover a wide range of artistic forms such as paintings, photos, images and installations. His works exhibited in many important institutions includes: The Lucerne Museum of Art, Switzerland; Moscow Museum of Modern Art, Russia; White Rabbit Gallery, Sydney; BWA Art Gallery, Poland; UCCA, Beijing; Today Art museum, Beijing; Museum of CAFA, Beijing; Museum of Contemporary Art, Taipei; Macao Museum of Art, Macao; OACT by Xi'an; Zhu Qizhan Art Museum, Shanghai; Shijiazhuang Museum,Shijiazhuang; Tang Contemporary Art, Beijing; Iberia Center, Beijing; White box , Beijing; Hakgojae Gallery, seoul; Osage Gallery, Hong Kong.
About the exhibition
Dates: Mar 16, 2018 – Apr 29, 2018
Opening: Mar 16, 2018, Friday
Venue: Kuandu Museum of Fine Arts
Courtesy of the artists and Kuandu Museum of Fine Arts, for further information please visit www.kdmofa.tnua.edu.tw.