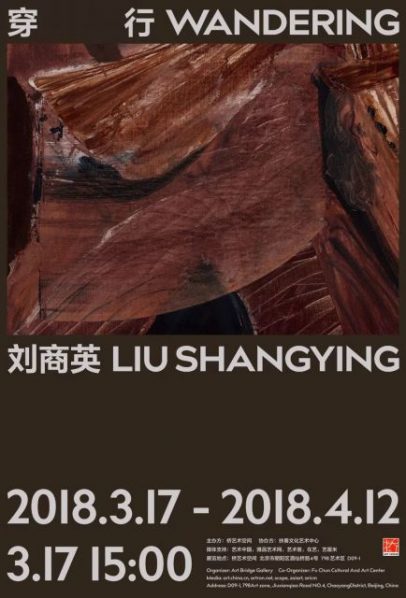 Artist Statement
Travelling through the populus diversifolia woods and across the sands, I moved back and forth between the busy city life and the wilderness from time immemorial, between the past and the present, between reality and unreality. After each trek I'm destined to return where I started. Wandering is part of my life, also part of my art. Standing apart, they are both in conflict and in harmony.
Overwhelmed by nature, I feel energy rushing into me and I blend into it. Then with a lot that waits to be finished, I go back to the life I'm familiar with, reflecting on "wandering" in its own right. Immediately I sort out the scenes in my mind. In the studio my connection with nature extends, but this time the energy rushes out of me and keeps fermenting.
Everything in the studio goes at a lower pace than in the field – even a small work can take as long as a week. Meditating, recollecting, imagining, quitting, and restarting, I continue to wander in the pursuit of an answer to the old and eternal question about man and nature, return to that remote world of chaos, and embrace it.
About the artist
Liu Shangying, Associate Professor and Vice Dean of the Oil Painting Department of CAFA.
He was born in 1974 in Kunming, Yunnan. He graduated from the Attached Middle School of CAFA in 1995, and got a BA from the No. 2 Studio of Oil Painting Department, CAFA, in 1999 and an MA from the No. 3 Studio of Oil Painting Department, CAFA in 2004. Since 2011, he has made a number of trips to do large-size paintings from life in Ngari in Tibet and Ejin Banner in Inner Mongolia. Based on these painting sites, he finished "Lake Manasarovar" series and "Desert Poplars and the Sand" series that touched upon pictorial expression in the primordial field and the relationship between painting and nature. With his paintings and his actions going hand in hand, he mixes himself with the natural world since time immemorial, therefore entering into a dialogue with nature via the action of painting to gain multi-dimensional experience and encourage reflection. His important solo exhibitions include "Fleeting" (Inside-out Art Museum, 2013), "Myriad Visions Rise from the Void" (National Art Museum of China, 2015), and "Living Natures" (Hongcheng Relics, Ejina Banner, Alxa League, Inner Mongolia, 2017).
About the exhibition
Dates: Mar 17, 2018 – Apr 12, 2018
Opening: Mar 17, 2018, 15:00, Saturday
Venue: Art Bridge Gallery
Address: D09-1 No.4, 798 Art Zone, Jiuxianqiao Road, Chaoyang District, Beijing, China
Courtesy of the artist and Art Bridge Gallery.