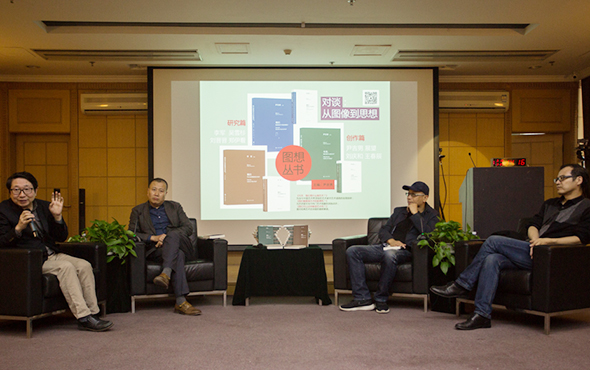 Visual materials provide a foundation for both the creations and research within the Central Academy of Fine Arts. The artists carry out their exploration with their own patterns of graphic practices, and scholars undertake their research based on visual resources across the spectrum of time in and across the globe. Recently, a set of books —"Graphic Thinking Series": How do we make art today? Can we read art like this? combines several academic studies that CAFA has officially published. The book launch event, held in a reporting hall in the Library of CAFA, conducted an academic seminar :"From Images to Thoughts" that discusses the image-thought relationship on multi-dimensions.
Many scholars and publishers attended the seminar: Yin Jinan, Dean of the School of Humanities, CAFA and Editor-in-chief of Graphic Thinking Series; Li Jun, Associate Dean of the School of Humanities, CAFA; Cao Fei, Editor-in-chief, Shandong Fine Arts Publishing House; Cao Qinghui, Deputy Director of the CAFA Library; Wang Chunchen, Deputy Curator of CAFA Art Museum; as well as artists who were involved in the writing of the book series: Zhan Wang, Liu Qinghe, and scholars Wu Xueshan, Liu Jinjin, and Zheng Yikan. Huang Xiaofeng, Deputy Director of the School of Humanities, CAFA, presided over the launch of the new book and the seminar.
Yin Jinan, in the opening speech, talked about the agency for an image to think about. Past research, usually starts from the central core —"text" with the preset that images cannot think. However, text actually cannot express a lot of information throughout history, like Tai Chi. This is also the significance of this series of books, which gives us a chance to think about what does it mean for an image to think and how scholars and researchers can study through looking at images. "Graphic Thinking Series" was published by Shandong Fine Arts Publishing. Cao Fei, Editor-in-chief of the publishing house, introduced this series of books that is compiled in three sections. The first part is the compilation of historical documents of artists'growth, the second part is the research and critical studies of art and the third part is the new ideas on art that leads towards the future. Those three sections together construct a complete framework of the study of art. Cao Qinghui, Deputy Director of CAFA Library, talks about the strength of this series in terms of their academic contributions and the close relations to the library. It also unveils many private academic discussions on certain topics that are usually secretive by the artists and researchers from CAFA.
The academic seminars "From Images to Thoughts" are divided into two parts —"creations" and "research" in which artists share their own artistic experience and thoughts on art, and scholars put forward their reflections on art history studies. Zhan Wang, professor of the sculpture department at CAFA, shares his thoughts on the relations of images and ideas from the perspective of an artist. He believes when artists make decisions, they depend on their intuition far more than other people. For him, the obsession with images is also more than that of texts. With typical modesty, Zhan says of himself that he is not good at thinking with texts; instead, he believes that the image itself is thought. For example, during his making of art, Zhan Wang pays attention to the agency of materials, in which he proposed the idea of "materialized concepts". He thinks that materials, inseparable from artworks, correspond to ideas. For example, his recent new series of works —"reformability (yingxing)", "phantom (huanxing)" and "invisibility (yingxing)" all try to reject the traditional rules of models and return to the original and flowing state of material themselves, as a way of reinterpreting the concepts of shapes. Liu Qinghe, Vice President of School of Chinese Painting at CAFA, jokingly called images as a real power for artists, whereas ideas are mere "petty tricks". His creative experience can be summed up as "no system", as his learning experiences range from arts and crafts to comics to ink painting. He has always explored a new way of doing traditional ink painting. Wang Chunchen, Deputy Curator of CAFA Art Museum, who has extensive curatorial and research experience, responds to this topic from the perspective of theoretical research and believes that thinking through paintings (images) has already been used as a way of exploring art since the 1960s. Though it is what they called "besides text, nothing else," visual images themselves are also a type of text. Moreover, it is not only the representational and narrative images that can express ideas, abstract art and art without visual representations can also think and express themselves.
In the "research" section of the "From Image to Thoughts" symposium, scholars who participate in writing asked 'Can we read art like this?' and shared their research results, including Wu Xueshan, associate professor of the School of Humanities of CAFA; Liu Jinjin, lecturer of the School of Humanities of CAFA and Zheng Yikan from the School of Advanced Studies in the Social Sciences. As for discourse on the images, Wu Xueshan likened it to Kant's "Thing-in-itself." The studies on art history place a great emphasis on looking at the image itself as well as decoding the significance via its sense of space. She also mentioned that it is not enough to understand the significance of an artist's intention at first hand because the image will receive a lot more new meanings when it develops through time, just like how we now think about Dunhuang wall paintings from a contemporary point of view. Wu Xueshan also explained in detail his research on Tang Bohu's "Paintings of Benji's Circular Fan (banjituanshantu)". Liu Jinjin who began his talk with "imaginal thinking" in the traditional scholarships to an "image turn" in the visual cultural studies, believes that the iconographic image can be regarded as part of the understanding of its significance, and the method of doing research in art history is also an image analysis, such as Panofsky's "iconology," with its layered structure is also itself an image. Zheng Yikan looked back at his own experience as an art critic, as another way of writing art history, and produces another space for the studies of art.
Currently, two volumes of the "Graphic Thinking Series" were published. Both books draw on a broad and unique perspective of the most influential artists and art scholars in contemporary China and the world. With its lively language and detailed reading methods, it provides an angle of view on their artistic life and thoughts on art as well as popular academic topics for the researchers. Initiated from the phenomenon of art, the books analyze the developments and historical context of Chinese contemporary art. As a witness to the development of contemporary Chinese art history, this series of books fully presents an exceptional research quality and are at the frontier of scholarships of contemporary Chinese art and critical studies. At the same time, it records the development of contemporary Chinese art as an important archive.
Text by Zhang Wenzhi, translated by Yao Yue and edited by Sue/CAFA ART INFO
Photo by Hu Sichen/CAFA ART INFO