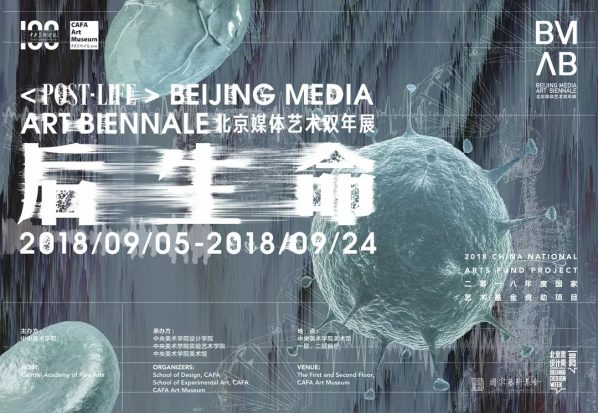 On September 5, 2018, the 2nd Beijing Media Art Biennale (BMAB) is to return on schedule. If the topic Ethics of Technology last year discussed what we should contemplate and introspect at the epistemological level under the pressing and disturbing mystery of New Theology of Technology, the theme of Post-Life covered in the Biennial this year will explore not only at the epistemological level but also discuss whether we, as post-life, when prompted by new technology to revalue the relationship between ourselves and other species. Do we have the courage to decentralize ourselves?
As another section in BMAB 2018—the "Art and Technology" Lab Space, which aims to build a platform where artistic creation and cutting-edge Science and Technology Studies can exchange ideas and cooperate. It is also set to introduce research topics and practices by interdisciplinary research laboratories across the world that related to the theme of "Post Life" and present the accomplishments on future life realized on the basis of interdisciplinary cooperation.
Organised by the Central Academy of Fine Arts, Beijing Design Week and HFG-Offenbach, Beijing Media Art Biennale "Ethics of Technology" consists two parts. The first part includes five pillars of technology: AI/ROBOTICS, BIG DATA/ALGO- RITHMS, BIO-GENETICS, VR/AR/MR, along with META SCIENCE, together forming a core of tools and method. The second part is made up of a selected body of art/research works and practices which are reflective and relevant to ideas on ethics and morality. Furthermore the event expands into forums, panel discussions, public engagement, an online hyperlink exhibition and publications.
The 2018 Beijing Media Art Biennale (BMAB) will run from September 5 to September 24, 2018 at CAFA Art Museum. BMAB is funded by China National Art Fund, organized by China Academy of Fine Arts and co-sponsored by the CAFA School of Design ,the CAFA School of Experimental Art, and CAFA Art Museum. As an international academic platform aimed at promoting the intersection of art and technology, the 2018 BMAB is centered on the theme of "Post Life" and comprises six parts: the main exhibition, Lab Space, Hyperlinks Exhibition, live performances, thematic forums, and workshops. The event will also include interdisciplinary experiments in the art and technology fields, with an aim to facilitate in-depth discussions between artists, designers, scientists, and theorists.
Thematic Exhibition:
The theme of the exhibition is "Post Life" and it focuses on how the ancient concept of life itself has been expanded in the context of the rapid development of biological genes, artificial intelligence, robots, and the subsequent increase of attention paid to anthropological theories. It is further meant to explore the subtle changes that have led to the idea of humans' coexistence with other species on Earth from the perspective of non-anthropocentrism. The main exhibition comprises three parts: "Data Life", "Mechanical Life", and "Synthesized Life"; all focused on trying to determine what life is as seen from the different points of view of: virtual life brought into existence by computer algorithms, bionic life brought into existence by machinery, and hard-to-define synthetic life. The exhibits will belong to categories such as videos, interactive installations, immersive art, biological art, mechanical installations, audiovisual art, Internet art, sound art, mixed media, and others.
"Art and Technology" Lab Space:
The cross-disciplinary "Art and Technology" Lab Space is a new model of futuristic innovation; it not only changes the research and development model of the scientific and technological circles, but also provides new possibilities for the studio-centered artist practice. The "Art and Technology" Lab Space invites a number of representative domestic and foreign laboratories, such as MIT Media Lab, to present their ideas, practices, and methods, along with their research findings and artworks related to the theme of "Post Life". The exhibits will include R&D prototypes, demo videos, technical demos, literature, and publications. The Lab Space will utilize exhibitions, workshops, or panel discussions to exchange practical experience, activate an urban organic symbiosis, and catalyze cross-field art cooperation. It will also showcase Chinese folk traditional artistic and scientific achievements, emphasizing the extended historical background of art and technology.
Hyperlinks Exhibition:
The Hyperlinks Exhibition is an online exhibition of works and projects on Internet platforms such as the official website and WeChat account of the Beijing Media Art Biennale. It provides information regarding the artists' work and related projects along with reference information that is aimed at helping the audience to understand the main theme and the exhibited works and thereby expands the public education function of BMAB.
Live Performances: As part of the Biennale, live performances will be hosted at the venues of CAFA Art Museum and CHAO Art Center.
Tour exhibitions: Tour exhibitions will be held in various venues, both in Beijing and other places, which are all focused on the same or related topics.
About the exhibition
Academic Director: Fan Di'an
Academic Advisors: Su Xinping, Zhang Zikang
Academic Committee: Fan Di'an, Xu Bing, Su Xinping, Zhang Zikang, Song Xiewei, Qiu Zhijie, Chen Xiaowen, Fei Jun, Zhang Ga, Wang Min'an, Yin Shuangxi, Guan Huaibin, Zhang Peili, Wang Chunchen, Wang Zhong, Jin Jun, Ning Ning, Chang Zhigang
Chief Curators: Song Xiewei, Qiu Zhijie
Curators: Chen Xiaowen, Fei Jun
Executive Curators: Brad Miller | Jo Wei, Brad Miller
Exhibition Execution: Gao Gao, Xue Tianchong, Zhang Wenchao, Wang Naiyi
Courtesy of Beijing Media Art Biennale and CAFA Art Museum.