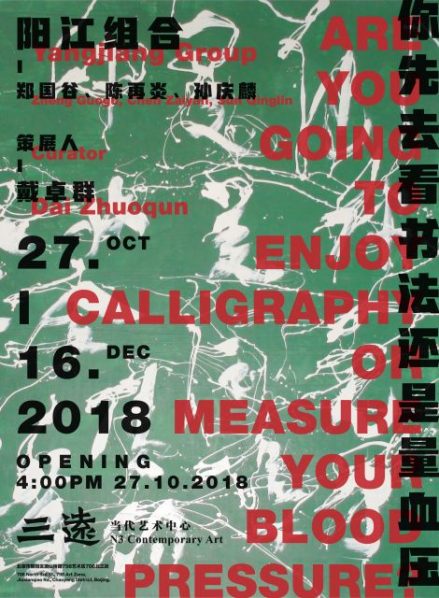 N3 Contemporary Art is delighted to announce the opening of Yangjiang group's new exhibition "Are You Going to Appreciate Calligraphy First or Measure Your Blood Pressure?", on October 27. Curated by Dai Zhuoqun, the exhibition features seventeen works of the artist collective.
Yangjiang Group: Are you going to appreciate calligraphy first or measure your blood pressure?
Text by Dai Zhuoqun
The Yangjiang Group became active in 2002 and was formally founded in 2005. Its establishment was intended to address the state of "calligraphy" in the new China, and its actions and engagements were aimed at restoring literature and writing, in other words, restoring "everything" back into its original forms.
—Zheng Guogu, 2005
1.
In the spring of 2001, what later to be known as the "Yangjiang Group" was yet founded. Zheng Guogu and Sun Qinglin, both natives of Yangjiang, and Chen Zaiyan, originally from Yangchun, held their first three-person calligraphy exhibition upon Zheng's suggestion, at Yangjiang's World Bookstore and Ningbi Xuan Studio that was founded by Chen Zaiyan.
The title of the exhibition was, "Are you going to appreciate calligraphy or measure your blood pressure". This seemingly outlandish title was inspired at random. Once upon a time, as they practiced calligraphy at the studio, an elderly calligrapher passed by and asked them what they were doing upon entering? The old man didn't believe they were practicing calligraphy and asked whether they had works to show him. They told him, the works were semi-completed, which perplexed the elderly man. Then they asked him where he was headed. The old man said he was going to measure his blood pressure. From which, they came up with the title of their first group exhibition, which also marked the first informal presentation of the Yangjiang Group.
In 2001, the number of Internet users began to grow exponentially. In the same year, China successfully joined the WTO. Personal computers were widely becoming popularized in the lives of the Chinese. The Yangjiang Group's initiatives occurred at a time when everyone began to type on computers. With the advent of technology, what is the meaning of writing? They were resolute to integrate this antiquated artistic form—calligraphy—into the contemporary context, and they wished to practice calligraphy through their continuous "attack on calligraphy".
2.
In 2005, the Yangjiang Group was formally founded, its birth was indebted to Zheng Guogu's lasting interest in making works of art as a collective. Prior to forming the Yangjiang Group, he founded an architectural group called "Yangjiang—Beautiful Design", which amalgamated a mix of disparate ideas together. Zheng Guogu, who's always been keen on the notions of space and architecture, was an indispensible member for the group, while the other two members, Chen Zaiyan, trained in calligraphy, and Sun Qinlin, gifted in writing, contributes their talents into a seamless perfection. They have made the manifesto to practice commoner calligraphy, and reject the canonical and mummified forms and the phenomenon of the medium, so even the illiterate would have the right to practice. This was undoubtedly a radical expression on the essence of calligraphy.
Yangjiang, a third-tier small city situated along the southwest coast of Guangdong province. Backward and lagging behind, its chaotic urban order and its location far from political and economic centers, like most of the Chinese urban areas, makes it neither city nor countryside. Chaos and disorder are commonplace, where its barbarous growth often magnified such "countryside -built-in-cities".
The Yangjiang Group stayed active within this narrow area over the last decade or so, where they've found flexibility vis-à-vis to operating at the centers. Holding the alternative attitudes than the politicians and revolving their practice around calligraphy, they have developed art forms and approaches that often involved participation, impromptu performance, installation, painting, sculpture or even landscape architecture, with which they appropriated and integrated calligraphy into all facets of reality in unhinged manners. As they proposed, "There is calligraphy beyond its own conventions, rather than claiming these practices as calligraphy, it's more appropriate to call them as "social writing".
Inquiring into the truth, challenging the dross of reality, and relentlessly expounding on the world of the fake are considered the primary impulses behind Yangjiang Group's calligraphic practice. Living in Yangjiang in reclusion, and being away from the center of the contemporary art world, their unimaginable energy and lasting contentions with the mainstream, their derailed positions from the general trend, propelled them to throw the spear at any conformity to the mummified world in the most unwavering fashion time and time again.
They work night and day, and they gather for celebration and feasting, where they could free themselves. In this process, they left a series of performances, photography, and calligraphy such as "Calligraphy after dinner", "Dead Beat", "Ink is still there" before they wake up from their dreams. In inebriation, they adopted leftover vegetables, shrimps and crabs as their supplementary materials that fulfilled the roles of brushstrokes, written in full and delightful ways, showing their geniality.
It has been 16 years since the founding of the group. During this period, they have completed numerous large-scale interactive on-site projects. In "Pine Garden", the Yangjiang Group has transformed a vacuous exhibition space into an interior garden, where they improvised events and news captions particular of the Internet age. These improvisations represent the Yangjiang Group's playful but satirical commentary on the social, political and economic states were shaped against the engulfing mainstream discourse. They invite their friends to join them for a hotpot meal and drinking feast, and eventually covers the entire scene under white dripping wax, turning it into a world covered under ice, leaving a mournful void once the glory has passed.
In "Soccer Kapitale", they invite the residence of Yangjiang to participate in an unconventional soccer match. First, they copied Karl Marx' "Das Kapitale" on over 7000 thousand sheets of rice paper in calligraphic style, and scattered these fragmented writings, that have once profoundly influenced the world, onto the immense soccer field. They invited six teams to divide into three matches taking place at the same time, overlapping with each other, the scene revealed unprecedented chaos. The "Das Kapitale" was stepped on and flown off in the air, and the players have thus lost a sense of goal and direction.
Global capitalism has fundamentally alienated people at a scale that has permeated into all corners of the world. In 2006, the Yangjiang Group's art museum presented an on-site project, "The Last Day, The Last Challenge", which is undeniably the most literal and thorough ridicule on the contemporary consumer's society. They transplanted a seemingly "realistic" street market that sold clothes into the art museum, and the visitors would be able to choose clothes that the Yangjiang Group has made. It is made apparent that business was idle as the stands hung placards such as "government rescinds property, suicidal sales", "Runoff boss, unpaid staff, everything must go"; "Son on drugs! Daughter has epilepsy! Liquidation!"; "I am old, poor, and wife cheats" and etc. In this bustling but laidback virtual business world, the promotional ads the small vendors put up were the medium the Yangjiang Group channeled their calligraphy practice. Calligraphy should be alive, vital, and these small vendors rushed to write photography to appeal to their buyers, where all heroic and mournful chants are transformed into the act of writing calligraphy.
3.
In spite of the various obstacles prior September 9, 2018, I finally came to Yangjiang and visited their bewildering architecture, whose composition is as outstanding as a glacier in the South Pole, among a large area of mansions. This is the Yangjiang Group's "headquarter", where they make artworks, work, gather, and entertain. Without any exceptions, this is architect Zheng Guogu's experiment in a random and dangerous encounter, not preplanned illegal architecture, an unhinged and free imagination.
On this occasion, I was delighted to visit the legendary "Le Garden". It's an area of land he purchased off the farmers in the suburbs, which occupies approximately 60,000 square meters of land that he has no legal right to. Prior to the architectures and garden landscapes, was a real "empire" he had built in the physical world, inspired from the popular online game, "Empire".
Beyond the waterside pavilions of "Le Garden", is a mixed area lined by rows and rows of houses that are not protected by proper deeds, these places await to be evaluated and bid off, at the same time, they encapsulate a reality of the lowest tier of society in this country. For the same reason, it's a paradise for the adventurous. Everything can be imagined or transcends imagination; everything is possible or impossible; everything is legal or illegal, all desires, risks, corruption, extremes and indistinct.
For dinner, we had oysters in the Cheng village. Both Zheng Guogu and Chen Zaiyan no longer drink alcohol.
Now, they only drink tea.
Everyone sat down under the "pyramid". At the top of it, there is a crystal, which is the emblem for Zheng Guogu's study of energies.
Imagination shapes reality and everything can be enigmatic and unknown.
Zheng Guogu said, "We are not the 'Yangjiang Group' anymore, but the 'Yangjiang Ensemble'". Having input both names into the divination software he often uses, the former had scored 80 and the latter 95. For the perceptive, it was clear that the energy has gone up.
I've discussed with the Yangjiang Group about the title of this exhibition, that I was going to use the "Are you going to appreciate calligraphy or measure your blood pressure" – the one they used for their first event before the group was founded. Zheng laughed, and added the character "first", and the score was 98.
For this reason, came this exhibition, "Yangjiang Group: Are you going to appreciate calligraphy first or measure your blood pressure".
November 13, 2018
Beijing
About the exhibition
Dates: Oct 27, 2018 - Dec 16, 2018
Opening: Oct 27, 16:00
Venue: N3 Contemporary Art
Courtesy of the artists and N3 Contemporary Art.