Albert Camus once said that, no artist can live without reality. Art can question reality, but art cannot escape from reality. Compared with most mature artworks, the living conditions and life stories behind the art production seem to be more intriguing. Taking from the first-person perspective, CAFA ART INFO is now presenting you with our latest micro video program, "Art Walk: Behind the Scenes". With a focus on individual artists' life stories, we will take you on a tour to explore how an artist actually works and lives in real-life situations. This series will be filmed at a part of the artists' studios at some art districts in Beijing. Each artist's unique character will be revealed to our audience in a more realistic and tangible way.
Wang Hua was born in Jingzhou, Hubei Province in 1982. In 2005, she obtained a BA degree of Chinese Painting from Xi'an Academy of Fine Arts. She currently works and lives in Beijing. Her artistic practice covers multiple medias, ranging from performances, videos, paintings and installations to ready-made products. She is good at combining theoretical concepts, private narratives and personal backgrounds, which are aesthetically expressed in her unique artistic approach. Wang Hua's work mainly emphasizes the relationship between the psychological process of creation and the form of visual communication. She mostly explores the sense of déjà vu and the unknown when subconscious is subverted to the reality through combination of the temporality and space. Therefore, Wang Hua's creation usually starts with a private narrative but ends with widespread public resonance.
Wang Hua sees the body as the most direct and best-fit expression for artistic practice. As a carrier, the body can present the thinking through sublimated feelings. Her work not only focuses on self-liberation and self-redemption, but also attempts to explore the complex dialectic relationship among the public, their instant reactions, and the fantasy and the reality.
Wang Hua has mainly engaged in art creation since 2012. She was invited to many exhibitions both domestically and internationally. Wang Hua's artworks share a common theme, that of feminine power, which can be seen in all kinds of relationships, such as love, friendship, and family ties. Female artists often seem to be born with sensitivity. Uncertainty towards her future life, as well as her internal insecurity towards life, together bring Wang Hua enormous pressure. Such anxiety naturally penetrates through her artworks. Constantly, Wang Hua questions whether a path to happiness exists. In the words of an artist, these performance art pieces become Wang Hua's medicine or salvation to cure her emotions.
On the other hand, due to a poor market in the sale of art, Wang must work full-time to financially support herself and make art in her spare time. She also works in the art field. Recently, Wang Hua has been busy preparing for a group exhibition at a gallery in Chengdu. Wang Hua thinks that paintings are easier to sell and manage if compared to other forms of artworks. She admits that she must keep making decisions between work and making art.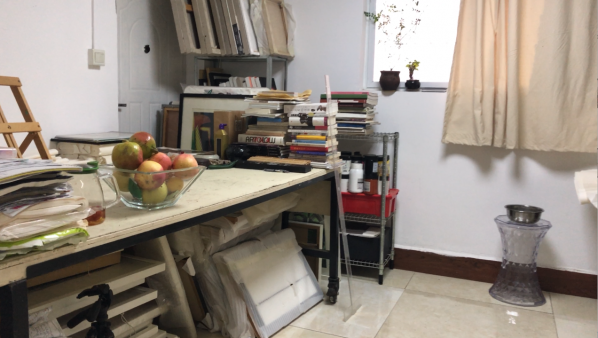 She hopes that art could become a method to feed people's spiritual need, instead of a way to make a fortune. Nevertheless, maybe art creations could not fully solve the issues she faces in reality. Wang struggles painfully with these conflicts, so do many young artists. Luckily, Wang keeps control of herself physically and mentally, so she can always act in a positive manner towards life.
Courtesy of CAFA ART INFO