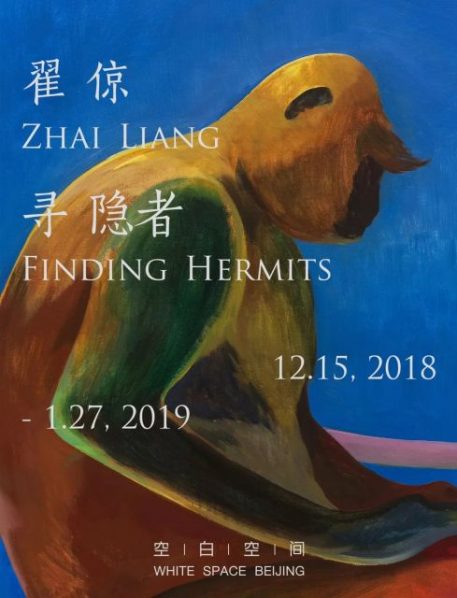 Zhai Liang's new solo exhibition Finding Hermits will open on December 15 at White Space Beijing.
One of the core aspects of Zhai Liang's artistic practice has always been how to handle knowledge and experience, systematically transforming them into the language of painting. In this exhibition, Zhai Liang continues his visual conversion of textual imagery, plot, subject and structure from novels, allusions, and poetry.
A major motif of this exhibition is Zhai Liang's depiction of the "hermit" theme. The hermit in Zhai Liang's work usually isn't the classic image in our minds of seclusion among remote mountains. Some of these people, objects, and scenery originate from famed tales of hermits, while some are anonymous images of "urban recluses." He takes the protagonists of texts such as Lu An Ti Feng, Leaving Baidi in the Morning, and Waiting for the Barbarians (Ji Kang, Li Bai, and the Magistrate respectively) and uses absence as a means to restore them to the original tableau and scene. In other works, Zhai Liang extracts fragments of memories from his life and his travels: no matter if it's a smoker avoiding the rain under a wash basin or a kneeling old man rolling dice or perhaps a restful person lying in the forest—in Zhai Liang's paintings they all engender the same "hidden" spiritual connection. Also, in the inherent language of his painting, Zhai Liang draws upon his study of Central Asian painting and the comprehensive visual experience he acquired while traveling around South Asia to undertake an exploration of the secret knowledge of painting itself. His subjects are often depicted with dark skin and their facial features, expressions, and physiques are reminiscent of Indian depictions of the Buddha and arhats. Gentle colors and edges outlined with brush strokes, along with large rustic and primitive swatches of solid color blocks, taken together form a solidified version of space and time like the frescos of Dunhuang.
Displayed in a densely concentrated manner, 28 oil paintings of various sizes and 50 watercolor works on silk mold the space into something akin to a lively market scene. Viewers will wander among the works, encountering the "hermits" of Zhai Liang's painted world. Here, painter, subject, and viewer all become people seeking out the "hidden."
About the artist
Zhai Liang (b. 1983, Shanxi Province, China) received his BFA from the Oil Painting Department of the Sichuan Fine Arts Institute (SFAI) in 2006, he graduated with a Master's degree from the Oil Painting Department of the Central Academy of Fine Arts (CAFA) in 2009. Recent exhibitions include Slow, A Thousand Plateaus Art Space, Chengdu, China (2017); Zhai Liang: Living Room, Fou Gallery, New York, US (2016); Hack Space, K11 Art Foundation Pop-up Space, Hong Kong, China (2016); Luo Zhongli Scholarship 10th Anniversary Retrospective Exhibition, CAFA Art Museum, Beijing, China(2016); Notes, White Space, Beijing, China(2015); 1199 People: Collection from Long Museum, Long Museum, Shanghai, China(2014). Zhai Liang currently lives and works in Beijing, China.
About the exhibition
Dates: Dec 15, 2018 - Jan 27, 2019
Venue: Dec 15, 2018
Courtesy of the artist and White Space Beijing.