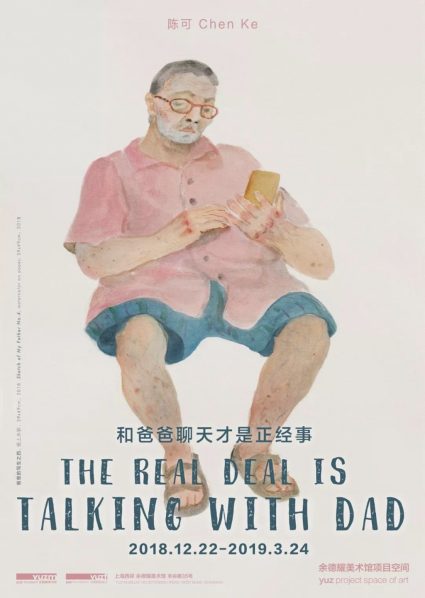 Yuz Museum presents Chen Ke's solo exhibition "The Real Deal is Talking with Dad", from December 22, 2018 to March 24, 2019, at Yuz Project Space of Art. Through a series of mixed media paintings and installations inspired by the daily talk with the artist's father, retrospection of the past events and re-creation of the used products, the artist discussed about youth, characteristic, family and aging, showing her profound insight of the individual and her self-conscious on these topics.
Born in the late 1970s, Chen is among the generation witnessing the rapid development of China. Traditional Chinese culture and Western culture have intertwined throughout her growth and career. Chen's father was a traditional Chinese painter who taught at a middle school. However, he never forced Chen to take over the mantle of him, but let her be a contemporary artist at her own will. Yet, with the cultural conflicts and integration brought about by globalization, Chen, at the age of 40, began to ponder over her real identity and found the answer in traditional Chinese art that she once abandoned. The Eastern Taoist charms may have been rooted in her mind since childhood: watching her father paints, reciting Tang poetry, and practicing calligraphy. Chen transformed her abstract speculation of art into groups of penetrating pictures through these life moments.
The whole exhibition is a dialogue filled with images attached to individual memories. Fragmentary texts, reminiscent objects, and portraits outlined by pencil lines creates a huge field, where different times and spaces meet. Chen creates an entryway for the audience through the clue of her father. Maurice Halbwachs once explained in On Collective Memory that the notions of human and facts forms the framework of family memory, which is "singular and historic but that otherwise have all the characteristics of thoughts common to a whole group and even to several groups. " Meanwhile "social thought is essentially a memory and that its entire content consists only of collective recollections 0r remembrances." By refining the dialogues with her farther, Chen restored the recollections of him and herself as an individual family member, and constructed the framework of family memory that includes the concept of people and facts. Thus, the personal experience has been further expanded, developed through the family, and turned into a profile of the entire social group and collective thought.
What exactly does art mean? Is it an individual's sanctuary or a messenger communicating with the society? Is it an individual's experience or part of a collective memory? In this space, Chen answers these questions through her unique artistic language and expression, providing a blank space for the audience in which they can find their own "deja vu".
About the artist
Chen Ke (b. 1978, Sichuan), graduated with MFA from the Sichuan Fine Arts Institute, currently lives and works in Beijing. Her works have been exhibited in museums and art institutions. Her solo exhibitions include: "Dream. Dew," Perrotin Gallery, Hong Kong, China, 2016; "Cover," Star Gallery, Beijing, China, 2015; "With 'You', I Will Never Feel Lonely," Today Art Museum, Beijing, China, 2012 and etc. Group shows include: "Chinese Whispers: Recent Art from the Sigg& M+ Sigg Collections," Kunstmuseum Bern, Bern, Switzerland, 2016; "SHE: International Women Artists Exhibition," Long Museum West Bund, Shanghai, China, 2016; "As Far as We See: Chinese New Painting at Post Financial Crisis Era," Poly Gallery, Hong Kong, China & Foundation Taylor, Paris, France, 2015 and etc. Publication: "A Woman," New Star Press, Beijing, China; "With You, I Will Never Feel Lonely," China Youth Press, Beijing, China and etc.
About Yuz Project Space of Art
Yuz Project Space of Art is a new independent program of Yuz Museum's exhibitions, which opened to the public in September 2015. Yuz Project Space of Art invites artists to make site-specific works or projects, engaging boldly with the museum, its surroundings and its audience. Combining "a project + an exhibition", the artist interacts actively with the space and aims to present the moment when contemporary art is happening.
Yuz Project Space of Art is the place where innovation, invention, and a new movement happen in the pathway of an artist. It aims to provide another platform for Chinese and international artists to exhibit their artworks as well as more opportunities to communicate with each other. Yuz Project Space of Art invites the artist to get inspired with new ideas by engaging the artist with the museum space and try to make some break-through artworks that are different from its own line.
About the exhibition
Dates: Dec 22, 2018 - Mar 24, 2019
Opening: Dec 22, 2018, 16:00
Venue: Yuz Project Space of Art
Courtesy of the artist and Yuz Museum, for further information please visit www.yuzmshanghai.org.