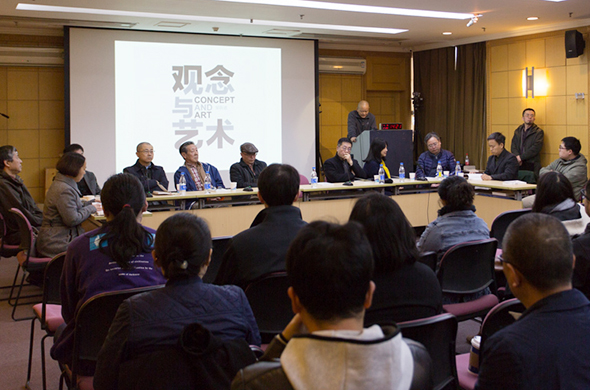 After a lapse of 22 years, Professor Zou Yuejin's doctoral thesis Idea and Art— on Channels and Ideas in Constructing Arts has finally been published; however, the artist passed away, rendering it a posthumous work.
Citing the word "Nachleben" by Aby Warburg, Professor Li Jun regards Zou's publication eight years after his death as a "spiritual productivity". He thinks that books, like works of art, have an afterlife, just like an echo, a response of sound bouncing off a thick wall. Therefore, he believes that the meaning and value of a book needs to be responded to by later generations, who need to find something meaningful in the book. In this way, the afterlife of the book will grow, which is another continuation of the author's life. At the same time, he believes that the spirit of Zou Yuejin will keep on with its productivity in the future.
In 2019, as eight years have passed since Zou Yuejin left us and April 9th is his birthday, the book Idea and Art was published in the form of a monograph, whose launch event was held in the lecture hall of the library of Central Academy of Fine Arts. On the day, Zou's former teachers, colleagues, relatives, friends and students 1 gathered together in memory of the time they spent together.
I
In 1989, Zou Yuejin was admitted to the Central Academy of Fine Arts to study art theory under the guidance of Wang Hongjian. "He lived a very simple life, every day voraciously reading, thinking, seeking knowledge, understanding and solutions," when Wang Hongjian wrote a preface to the book Idea and Art, he remembered the disciple that he was proud of. During the three years of his study for the master's degree, he assisted the tutor, as the editor-in-chief of a book, with the theoretical part of "fine art acceptance" and also carried out research on the theory of "aesthetic occurrence" and successfully accomplished his master's thesis On the Aesthetic Occurrence of Prehistoric and Primitive Plastic Arts, after which he acquired the opportunity to stay and teach in the academy.
As a scholar, Zou Yuejin published many books, including The Eye of Others—Occidentalism in Contemporary Art (The Writers' Publishing House, 1996), Popular Culture and Art (Hunan Arts Publishing House, 2002), Art History of New China, 1949-2000 (Hunan Arts Publishing House, 2002), Vulgar Art (Hunan Arts Publishing House, 2003), Fine Arts in Mao Zedong's Era, 1942-1976 (Hunan Arts Publishing House, 2005), Introduction to Art (Higher Education Press, 2008), and Idea and Art (Hunan Arts Publishing House, 2019). In addition, he participated in the planning and editing of Sunny Days: Woodcut Prints in the Liberated Areas, 1937 to 1949 (Hunan Arts Publishing House, 1998) and Flowery Spring and Fruitful Autumn: A Collection of Prints of New China, 1949 to 2009 (Hunan Arts Publishing House, 2009), and won many book awards. Li Xiaoshan summarized Zou's academic path in three points: first, he is a well-known scholar with independent thoughts and fruitful achievements; second, he is a planner and publisher of important fine arts books in China; third, he is a good father, a good husband, a good teacher as well as a good friend. Li's overview offers an important dimension for our understanding of Zou Yuejin.
II
In 1997, Zou Yuejin, a persistent scholar from Hunan province (as Wang Hongjian's remarks), took another examination for further study in order to solve one of his findings in the process of teaching and research—that is, the "idea", the intermediate link between life and art, between natural beauty and artistic beauty, with teaching on one side and research on the other. At the launch event, Ge Yujun recalled his mentor with reverence. During the daytime, he had to teach lessons; he told his students who wanted to visit him to be there after 8:30 p.m. Mr. Zou, who had a tight writing schedule, often wrote in the afternoon and evening. "Every day, when he felt his brain didn't work, he would close his eyes; and he would go to bed when he didn't want to open his eyes. That's why he went to sleep." 2
"In the history of mankind, how do the words and the ideas of writing (such as philosophy, religion, literature, etc.) construct a related art genre and type from nothing?" 3 According to Zou, the idea created by words does not only dominate the image, but also construct the relationship between them in its own unique way. In order to prove his own point of view, Zou selected three schools—ancient Chinese literati painting, Chinese modern revolutionary art and classicism in the history of western art—as the supporting arguments. It took him five years to finish his doctoral thesis on academic thinking throughout his life. Although he answered questions about the subjects of his research in the introduction to his thesis, his practice of placing the subject of discussion on the word "idea" is referred to as an "idea coming first". This led to the long period of neglect in the doctoral thesis. 4
As a student at that time, Cao Qinghui was lucky enough to attend both Zou Yuejin's thesis defense for his master's degree and his doctoral defense. He recalled at the launch event: for Zou Yuejin, the two oral defenses weren't as "smooth" as expected, due to the position and basic condition of the theory of fine arts in the structure of the teaching and scientific research in the Department of Art History. Zou's repeated words during his defense lingered in his mind: "I don't know if you understand." "Let me say it again. The question is very important to me!" In the doctoral defense, Zou Yuejin was more mature, but he still emphasized again and again, "I mean…" "I mean…" Cao Qinghui thought that in the academic ecology of China, Zou Yuejin has touched the thorny issues that most people have not touched and dealt with. In this regard, the death of Zou Yuejin has undoubtedly brought huge losses to academic circles. Hearing this, Wang Hao, who is engaged in the research of art theory, felt the same way. Someone works seriously on the theory but his/her research achievements may not be understood, or it may be that people seem to understand but actually misunderstand.
The doubts about his doctoral thesis did not stop the diligent scholar. It was on the basis of this thesis that Zou conducted an in-depth study on "Chinese modern revolutionary fine arts", the argument used in the thesis. Through research, he first put forward the new academic concept of "fine arts in Mao Zedong's era", and published two works, Art History of New China, 1949-2000 (Hunan Arts Publishing House, 2002), and Fine Arts in Mao Zedong's Era, 1942-1976 (Hunan Arts Publishing House, 2005), which opened up a new world for his academic research. In 2005, a special exhibition entitled "Literature Exhibition of Fine Arts in Mao Zedong's Era (1942-1976)" was held in Guangdong Museum of Art, followed by the "Seminar of Fine arts in the Mao Zedong's Era (1942-1976)" in Yan'an, the holy land of the Red Revolution. The series of research activities he organized "have a huge and far-reaching impact, leaving a long-term sustainable research space for future generations". 5 As a partner of Mr. Zou's experience, during the launch of his new book, Wang Huangsheng 6 said that he had felt the influence of Mr. Zou's academic judgment and academic excellence. Mr. Wang called Mr. Zou "a scholar of independent ideas and inner spiritual strength".
During the 20 years from 1992 to 2011, as a teacher at the academy, he cared about the development of students. Now, his students are active in university forums, research and publishing institutions, etc. Yu Runsheng received his first academic training in Zou's class. He recalled that during his study abroad in Moscow, Zou encouraged him to carry out academic exploration on his brief holiday back in China. In his opinion, "Zou always impressed us with his enthusiastic guidance and helped students in their study and work." As a colleague with Zou for many years, Yuan Xiaojin recalled that when Zou was in the terminal stages of his illness, he was still concerned about who would take over the guidance of his students in the future. He even dragged his painful body to his last graduate student graduation defense that he fully participated in.
III
In the seminar session after the book launch, scholars discussed the academic significance of the book Idea and Art. Wang Hongjian thought that Zou Yuejin's book has been exact in providing theoretical support for the concept of "fine arts in Mao Zedong's Era" which he put forward. The emergence and establishment of fine arts in Mao Zedong's Era are related to specific concepts of literary and artistic ideas, which is also proof of how concepts construct art. Zou Yuejin put forward a theory that is "not too broad but very useful" and "ignored by the contemporary theory of literature and art". It seems too elite to be appreciated, whose meaning can only be understood by a limited readership, and whose theoretical meaning can be recognized by even fewer readers. However, he believed that with the epochal development and the progress of society, the theoretical value will demonstrate itself more clearly.
Gao Ling thought both Zou Yuejin's "idea" and Gao Minglu's "YiPai Theory" intend to construct the core value of Chinese art theory in a Chinese way, but the difference is that the latter is a brand-new concept, while Zou Yuejin endowed the "idea" with more profound connotation. Therefore, he thought, the understanding of the word "idea" of Zou Yuejin cannot be taken as equivalent to general ideas. Yu Runsheng considered that in the context of today's discussion on "image turning", it is interesting to review the works written by Mr. Zou many years ago. He saw the ambition and independence of a scholar who thought about and wrote in a reverent and earnest way, and thought that the publication of Zou's PhD thesis is particularly valuable in the current academic climate. Yang Wei got to know and kept close contact with Zou Yuejin in the early 1990s. As a friend, he witnessed the ideological trajectory and development of Zou after he came to Beijing from Hunan. He believed that the breadth of Zou Yuejin's research on Chinese art history and the depth of his research on "idea" characterizes his unique research and thus has established his position in the study of Chinese art history and art theory.
Liu Jinjin expressed his opinions based on the visual culture theory he is proficient in. He thought that the process of constructing ideas on art discussed in the book is in line with the "construction of vision and image within the social culture", a core concept in the theory of visual culture. By tracing back to a time when the theory of visual culture was introduced into China, he pointed out that the Zou's theory was earlier than the theory of visual culture that domestic art theorists consciously studied, so his research was advanced. In this regard, he also found that Zou was influenced by Norman Bryson's visual culture theory. At the same time, he pointed out that Zou's discussion on how to construct arts from the macro level of theory greatly inspired him. Visual culture often regards cultural and social visual construction as a theoretical premise, but the discussion on this premise was ignored for a long time. Therefore, he believed that it is possible to conduct thinking on visual culture and the theoretical premise of visual culture theory as well as to think about how culture constructs vision and images.
Huang Hongji recalled several conversations he had with Mr. Zou during his lifetime. Once they talked about Rudolf Arnheim's statement in Art and Visual Perception, "all intuition includes thinking", to which Huang agreed. Zou, however, thought Arnheim was wrong. Inspired by Zou, he discovered in optical illusion images that are from intuition, during image recognition, though they will not be disturbed by thinking. Huang Hongji believed this can partly elucidate Mr. Zou's "idea coming first". Another time they talked about Jürgen Habermas' communication theory. Huang Hongji questioned Zou's view on the theoretical basis of Jürgen Habermas as linguistics. However, Zou suggested that in Habermas' communication theory, language practice is the basis of communication. Recalling the dialogue, Huang Hongji believed that the language communication mentioned by Mr. Zou as a non-empirical model was also his continuous thinking on the issue of "ideas coming first". From this perspective, Huang Hongji maintained that Idea and Art has an exceptional value in Zou's ideological development.
Zou Yuejin believed in Roland Barthes' assertion of the death of the author, and he also believed that language, as the questioning of existence and the expression of thought, is also another life form: denial, negation, criticism, explanation, statement, agreement, questioning, inquiry, inference, expression, etc. In this sense, in the world of language, the death of a specific author represents the birth of an abstract subject. 7 Eight years after his death, Zou Yuejin's new book has been published, where his life turns into "idea" and his language into thoughts—they will continue to grow in this world.
Text (CN) by Yang Zhonghui, edited (EN) by Sue/CAFA ART INFO
Photo by Hu Sichen/CAFA ART INFO
References
1 Guests attending the launch event and delivering speeches include: Li Jun, Dean of School of Humanities, Central Academy of Fine Arts; Li Xiaoshan, former President of Hunan Arts Publishing House; Wang Huangsheng, Professor of Central Academy of Fine Arts; He Wei, wife of Zou Yuejin; Wang Hongjian, Professor of School of Humanities, Central Academy of Fine Arts; Yuan Xiaojin, Professor of School of Humanities, Central Academy of Fine Arts; Yang Wei, professor of Fine Arts Academy, Hunan Normal University; Gao Ling, Professor of School of Arts and Humanities, Tianjin Academy of Fine Arts; Cao Qinghui, Professor of School of Humanities, Central Academy of Fine Arts; Yu Runsheng, Associate Professor of Department of Art Theory, School of Humanities, Central Academy of Fine Arts; Liu Jinjin, Instructor of Department of Art Theory, School of Humanities, Central Academy of Fine Arts; Huang Hongji, Instructor of Department of Art Theory, School of Humanities, Central Academy of Fine Arts; Ge Yujun, Director of the Teaching Department of the Graduate School of the Central Academy of Fine Arts. The whole event was presided over by Wang Hao, Head of Department of Art Theory, School of Humanities, Central Academy of Fine Arts.
2Zou, Yuejin. Idea and Art. Changsha: Hunan Arts Publishing House. P. 234.
3 Zou, Yuejin. Idea and Art. Changsha: Hunan Arts Publishing House. P. 2.
4 Wang Hongjian (2015). "In Memoriam Zou Yuejin", Art Research, 6.
5 Wang Hongjian (2015). "In Memoriam Zou Yuejin", Art Research, 6.
6 Wang Huangsheng worked as the curator of Guangdong Museum of Art from 2000 to 2009.
7Zou, Yuejin. (2012). Position: Collected Works of Art Theory and Criticism of Zou Yuejin. Changsha: Hunan Arts Publishing House.