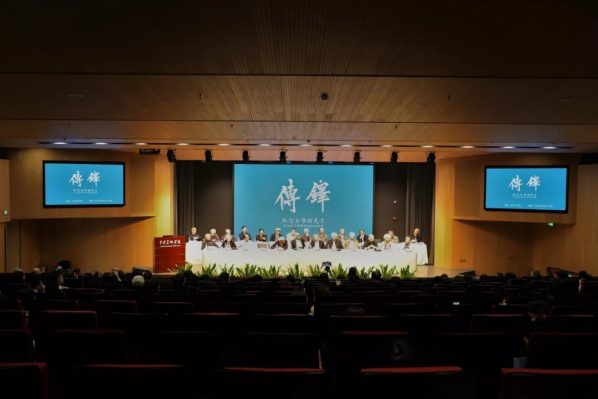 On 10 May 2019, the symposium in memory of Jin Weinuo's art education and academic achievements was held in the Auditorium of North CAFA. The leaders of Central Academy of Fine Arts, Jin Weinuo's friends, academic colleagues, the successive student representatives and the family members of Jin Weinuo attended the symposium. The opening ceremony was hosted by Professor Zhen Yan from the School of Humanities at CAFA, Professor Fan Di'an, President of CAFA, Professor Xue Yongnian, Professor Yin Ji'nan, and Professor Li Jun, Dean of the School of Humanities at CAFA all delivered a speech.
The commemoration was followed by the opening ceremony. Shao Dazhen, Yang Hong, Xue Yongnian, Sun Shichang, Wang Hongjian, Yuan Baolin, Peng Hongyuan, Xi Chuanji, Chen Jinling, Zhang Shufen, Nie Chongzheng, Xu Qingping, Deng Huibo, Huang Wenkun, Li Fushun, Yang Gengxin, Shan Guoqiang, Feng Pengsheng, Liu Ruyang, Liu Xilin, Zheng Yong, Zhao Lizhong, Zhang Langlang, Hu Dezhi, Zhang Xu, Chen Ruilin who took part in the commemoration jointly reminisced on Jin Weinuo's life and their memories with Jin. The Japanese scholar Okada Ken, who studied in the Department of Art History at the School of Humanities, recalled Jin's guidance to him. Li Songtao and Wu Hong, who were not able to attend the symposium, also offered a speech through a piece of prose and a video. Jin Xiaoyao, the grandson of Jin Weinuo, expressed gratitude to everyone on behalf of his family.
The second session of the symposium focusing on Jin Weinuo's academic achievements was held in the afternoon. Hosted by Associate Professor Huang Xiaofeng, this session introduced Jin Weinuo's academic achievements in Han Dynasty Buddhist Art, Tibetan Buddhist Art, the history of painting and appraisal, the historical records of painting and calligraphy and the archaeology of art by Luo Shiping, Xiong Wenbin, Zhang Peng, Shao Jun, He Xilin respectively.
Text by Zhang Yifan
Photo by Guo Qiyang, Wei Jiangyue, Li Xueyan
Translated by Emily and edited by Sue/CAFA ART INFO
Source: The School of Humanities, Central Academy of Fine Arts