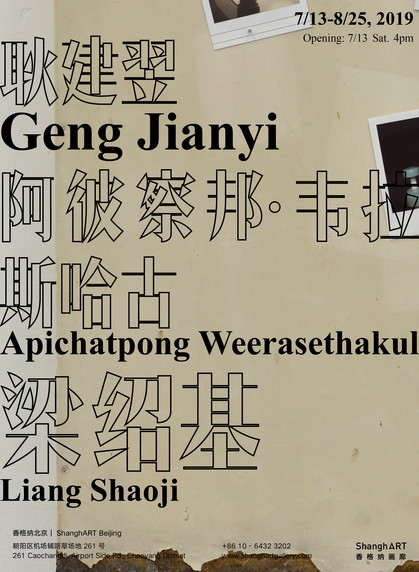 Opening on 13 July, ShanghART Beijing is pleased to present three significant (series) works by renowned artists Geng Jianyi, Liang Shaoji and Apichatpong Weerasethakul. Demonstrating the artists' bold experimentation and challenge of different artistic languages, this exhibition recontextualises these three (series) works and allows them to be in conversations with each other.

Known as a seminal figure of the avant-garde art movement and one of the most influential conceptual artists in China, Geng Jianyi's Door series will be on view in this show, which was also included in the opening exhibition of our Beijing gallery eleven years ago. Through the readymades - eight old refrigerator doors, the artist is able to convey his critical thinking of everyday life: this kind of imported goods marks the end of a era of cellaring. Attached to these items, the Polaroid photographs nevertheless examine the relationship between individuals and the world, and reveal Geng's sustained exploration of identity throughout his career.

Spiritual subjects, such as memory, dream and soul, weave their way into Apichatpong Weerasethakul's artistic output. In his 2018 single-channel video Blue, a woman that lies under a blue sheet suffers from insomnia at night, while a set of theatre backdrops unveils two alternate landscapes nearby - at the threshold of consciousness, the theatrical scenery forges a transitional space between corporeality and incorporeality. The flicker of firelight upon the blue colour - hushed and yet unsettling - draws viewers into an intimate, mysterious vision, so as to provoke their potential intuitive awareness.

Also presented will be a large-scale installation titled Guiguzi (2009) by Liang Shaoji, which is considered as one of his major early works. Similar to the sensitive and vulnerable nerve endings of human being, this work creates a maze-like configuration in the air with silk and iron wires. Honoured as "the hermit of art", Liang has indulged in the entire life cycle of silkworm for over three decades which accounts for his unique subject matter and materials. Silkworm is a language of nature; characterised by this creature's growth and spinning, Liang's working method is filled with a sense of meditation. As the artist notes, "silk resembles a visible reflection of the knotting point of time and life - the imprint of being and beings. It generates 'unity', which refers to the origin of heaven and earth, the lord of creation…"

The exhibition is on view through 25 August 2019.

About the Artists

GENG Jianyi (1962 - 2017) was born in Zhengzhou, Henan Province. He graduated from the Zhejiang Academy of Fine Arts (now China Academy of Art, Hangzhou), Oil Painting Department in 1985. Major exhibitions include: the 57th Venice Biennale - Viva Arte Viva, Venice, Italy (2017); Wu Zhi, Geng Jianyi's Works 1985-2008, Minsheng Art Museum, Shanghai (2012); Geng Jianyi: Excessive Transition, ShanghART Beijing (2008); 85 New Wave: The Birth of Chinese Contemporary Art, UCCA, Beijing (2007); The Real Thing: Contemporary Art from China, Tate Liverpool, U.K. (2007); the 45th Venice Biennale - Cardinal Points of the Arts, Venice, Italy (1993); China/Avant-Garde Art Exhibition, National Art Museum of China, Beijing (1989), etc.

LIANG Shaoji was born in 1945 in Shanghai, now works and lives in Tiantai, Zhejiang Province. At the China Academy of Art, he studied soft sculpture from Marin Varbanov, one of the world's leading tapestriests. Major exhibitions include: The Allure of Matter: Material Art from China, Los Angeles County Museum of Art (LACMA), Los Angeles, U.S.A. (2019); Liang Shaoji: As If, M Woods, Beijing (2018); Liang Shaoji: Sha Sha Sha, ShanghART Shanghai (2017); Cloud above Cloud, China Academy of Art Gallery, Hangzhou (2016); Liang Shaoji: Back to Origin, ShanghART Main & H-Space, Shanghai (2014); Art of Change, Hayward Gallery, London, U.K. (2012); the 48th Venice Biennale - APERTO over ALL, Venice, Italy (1999); China/Avant-Garde Art Exhibition, National Art Museum of China, Beijing (1989), etc.

Apichatpong WEERASETHAKUL, born in Bangkok in 1970, now works and lives in Chiang Mai, Thailand. After studying Architecture at Khon Kaen University, he received his M.F.A in Filmmaking at the School of the Art Institute of Chicago in 1997. He is the winner of the 2010 Cannes Film Festival Palme d'Or prize, and the 2019 Artes Mundi 8, the UK's leading award for international contemporary art. Major exhibitions include: the 58th Venice Biennale - May You Live in Interesting Times, Venice, Italy (2019); Rituals of Signs and Metamorphosis, Red Brick Art Museum, Beijing (2018); Apichatpong Weerasethakul: Monuments, ShanghART Shanghai (2017); Tate Film Pioneers - Apichatpong Weerasethakul: Mirages (Retrospective of Films and Videos), Tate Modern, London, U.K. (2016); Apichatpong Weerasethakul: Primitive, The New Museum, New York, U.S.A. (2011); Apichatpong Weerasethakul: For Tomorrow For Tonight, UCCA, Beijing (2011), etc.
About the exhibition
Opening: 4 PM, 13 July, 2019
Duration: 13 July – 25 August, 2019 (11:00-18:00, Monday Closed)
Location: ShanghART Beijing, 261 Cao Chang Di, Airport Side Rd., Chaoyang District, Beijing, China
Contact: infobj@shanghartgallery.com | + 86 10 6432 3202
Courtesy of the artists and ShanghART Beijing, for further information please visit www.shanghartgallery.com.