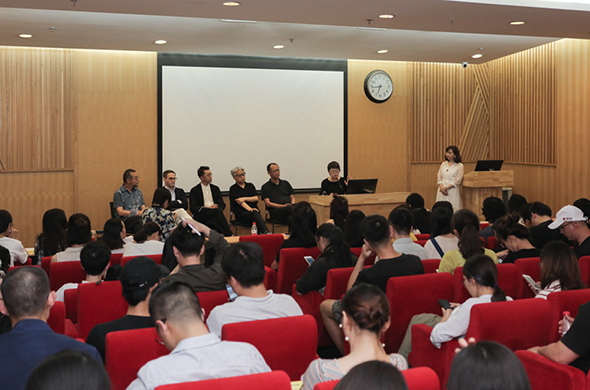 At 6:30 pm on 24th June, 2019, the symposium themed on "Do Artists Need Critics?", as one of a series of events of the sixth edition of International Awards for Art Criticism (abbr. IAAC), was held in the auditorium of the No.7 Teaching Building at CAFA. The symposium was co-organized by the School of Humanities at CAFA and Shanghai Minsheng Art Museum. Gao Minglu, critic, curator and Professor of University of Pittsburgh, Professor Sui Jianguo, the former Director of the Department of Sculpture at the School of Fine Art in CAFA, Qiu Zhijie, Dean of the School of Experimental Art at CAFA and Professor of the School of Intermedia Art at China Academy of Art, Philip Tinari, Director of UCCA Center for Contemporary Art, Gao Peng, Director of Today Art Museum, were invited to attend the symposium. Professor Shao Yiyang, Vice Dean of the School of Humanities at CAFA, hosted the event. Gan Zhiyi, a member of International Awards for Art Criticism organizing committee and the Director of Shanghai Minsheng Art Museum, Ling Min, Associate Professor in art history at Fine Arts Academy of Shanghai University, also participated the symposium.
After a general introduction of IAAC by Gan Zhiyi, Professor Shao Yiyang started the conversation from the point of crisis confronted by art criticism. The status of art criticism used to have a glorious period in history; however, during the last twenty years, the phenomenon of the decline of art criticism cannot be ignored. Specifically, the speaking right of critics which has been robbed of by curators; moreover, the standards set by critics are constantly challenging as they are by unconstrained artists. Under the double impact of commercial culture and ideology, the "seriousness" of art criticism has also been questioned, and critics are easily degraded into propagators. Due to the lack of an art criticism system, art criticism in China is confronting crisis both in theory and in a practical situation. In this case, questions such as "Do artists need art criticism?" and "What is the direction of art criticism in the future?", are worth considering.
Professor Gao Minglu believes that the relationship between artists and critics should be practical and in a state of natural development. There is no alleged crisis of art criticism. In the 1970s, the concepts related to "the death/end of…" appeared in western academia. Instead of being plagued by these concepts, focus is placed on the current situation and considering solutions to practical issues are more significant. Artists need to dig into the way to create works with the identity of originality and consensus, while critics should devote themselves to theoretical studies. The nature of criticism should be triggered by sincere feelings. By doing so, the problem of death and crisis would cease to exist. Professor Gao Minglu suggested that emerging critics should start with practices and develop the ability of independent thinking instead of dogmatically chasing after the international trend.
"What is useful to artists is the previous criticism." Professor Sui Jianguo holds the view that art creation is an independent status. Thus pain and ecstasy are only personal feelings that cannot be transferred. Critics can comment on the quality of artworks, but they cannot be shared with the process of art creation. It is necessary for critics to comment on the relationship between the active young generation of artists and the previous generation artists. "In this era, perhaps great works have already been created, but no one has reflected on them. The possibility might be there." Professor Sui Jianguo encouraged young artists by saying so.
Since the end of the 1980s, postmodernism has promoted diversified values, which enables art criticism to be multiple and deconstructs all core values in art. In this case, the horizon of artists and art critics has been increasingly broader. Does the intimate relationship between artists and art critics still exist? Professor Qiu Zhijie holds the view that the identity of both artists and art critics should be diversified. Their relationship ought to rely on whether an individual artist needs art criticism as well as if the individual critic's ideas are worth considering. It cannot be generalized. Besides, the limit of identity may not be important as well. In ancient China, the transformation of identity was organic. In this view, it is not necessary to divide our identity based on the capitalist division of labor. Qiu Zhijie holds the viewpoint that the solution to the crisis of art criticism is to raise the remuneration for critics rather than require critics to have noble and independent characters based on moral standards. "When a critic's income reaches the level of a decent middle class person, he or she is able to develop an independent identity; thus the academic level will naturally be improved. "
Philip Tinari believes that the role of art criticism lies in channelling. Instead of judging artworks' quality or directing future trends, it is more important for art criticism to establish a value standard. As for the relationship between art critics and curators, Philip Tinari believes critics and curators use different media to express themselves – critics use words to write while curators use exhibitions to narrate. The nature of both critics and curators' expressions are related to the concept of delivering comments and rhetoric.
Gao Peng reflected on art criticism through three perspectives, namely, values, the art ecosystem and information channels. Both the Chinese value or the Western value are dissimilar to each other. The way of writing Western art criticism is in conflict with China's poetic genes rooted in the philosophies of Taoism to some extent. In this case, Chinese critics who usually have questions in terms of confronting the criticism system using Western discourse. Besides, there is an ecosystem in the art industry, which is composed of museums, art museums, galleries, art fairs, auctions, art criticism, art historians and artists. Can all these components within this ecosystem could be linked up by a shared value? How is it possible to construct a sustainable ecosystem for art? All these questions are required to be reflected on. The cross-border discussions among critics, curators and artists conducted today, should be established upon the understanding of the entire art ecosystem and the understanding of their own works.
Furthermore, the explosive expansion of information channels can be a significant reason that divides the art criticism at present from the past. In the 1980s, due to limited information channels, qualified art criticism could only be published in certain magazines, which was easily accessible for the public. However, nowadays, everyone can be a critic. With the expansion of information channels, the efficiency of message acceptance is getting increasingly lower. Gao Peng encouraged emerging writers by saying that China is experiencing the reconstruction of values. By observing and reflecting on issues in society and reality, and keeping it desirable to express, the restart of art criticism can be expected.
After the speech section, participants debated various opinions. From Gao Minglu's perspective, although the idea of "raising the remuneration for critics" proposed by Qiu Zhijie, is important, the core of this problem should lie in the academic level. Gao Minglu reiterated the significance of independent thinking. He elaborated that an independent thinking is a capability that requires diligence. Qiu Zhijie responded that the pure pursuit of the truth requires a premise from the aristocracy. Nowadays, the social system should take on a role to guarantee that critics are properly supported as a knowledge community.
As for the identities of critics, curators and artists, both Gao Minglu and Qiu Zhijie agreed not to follow the division of labor system, but to transform organically like in ancient China. Shao Yiyang pointed out that a direct comparison between contemporary and ancient society cannot be made. She utilized Deleuze's notion of "Organs without Bodies" to describe contemporary society in which various categories are open. Although it is similar to ancient society in structure, it is still difficult to compare to the art criticism system with a modern spirit due to the classic form of the ancient era.
In the following Q&A session, participants responded to questions proposed by the audience. For example, one audience questioned what kinds of critics do artists need? While others proposed questions in terms of the status of criticism in art museums as well as the direction of art criticism. Philip Tinari believes that different critics need to make various criticisms in their different periods, and he elaborated on his discussion regarding criticism as a channel furthermore. Qiu Zhijie holds the view that worthy art criticisms ought to answer the question of the quality of an artwork, instead of persisting in inquiring as to the meaning of it. He believes that artists are in need of a critic who can provide suggestions to them rather than an interpreter. Shao Yiyang responded to Qiu Zhijie's viewpoint by pointing out that art critics should avoid pointing fingers at artists. Nowadays, most conscientious art critics are interpreters. An interpretation with a high value can be eventually proved by history.
Philip Tinari and Gao Peng, as art institution directors, introduced the status of academic research within art museums. Philip Tinari pointed out that the inclusion of research functions within the institution is a process of rational evolution of art museums. Gao Peng has introduced that the Today Art Museum is a typical Chinese art museum that is grouped step by step within these years. Based on experiences of development, the solution to explore academic research is to hold the internal academic conferences every three months, to organize exhibitions that can represent the image of Today Art Museum, and to invite external curators and critics to attend symposiums and other academic events.
At the end of the symposium, participating guests summarized their opinions respectively. Sui Jianguo agreed to Philip Tinari's idea in terms of criticism as a channel, while Philip Tinari believes that art critics' responsibility is to convey concepts to the public and encourage the increasing number of people to enjoy a diversified life. Gao Peng emphasized the value of art criticism in terms of reconstructing the social value and independent thinking. Gao Minglu suggested critics remain curious about current popular cultures and persist in a personal insistence as well. Qiu Zhijie took Effendi as an example to reinforce his discussion. Last but not least, Shao Yiyang summarized that artists do not need to consider art critics too much, while art critics should not merely focus on artists and galleries. "We all should have ambitious goals to expand our fields and horizons."
Text by Xu Zijun, Photo by Hu Sichen/CAFA ART INFO
Translated by Emily Weimeng Zhou and edited by Sue/CAFA ART INFO
Courtesy of the organizer