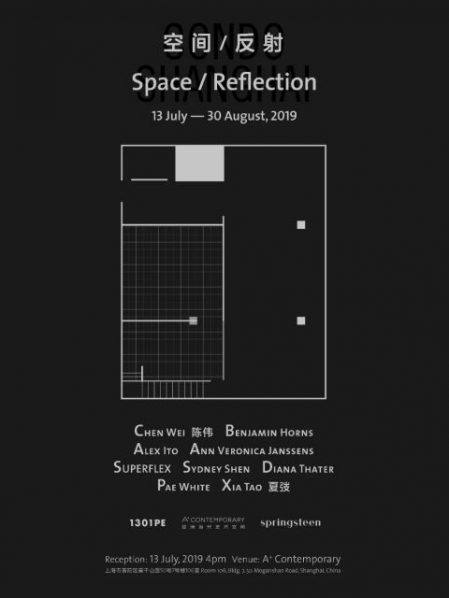 A+ Contemporary is pleased to participate in the second edition of Condo Shanghai on July 13, 2019, teamed up with 1301PE from Los Angeles and Springsteen from Baltimore to present a group exhibition "Space/Reflection". The artists – Ann Veronica Janssens, Diana Thater, Pae White, SUPERFLEX from 1301PE, Alex Ito, Benjamin Horns, Sydney Shen from Springsteen, and two Chinese artists Chen Wei and Xia Tao presented by A+Contemporary – share the gallery space and present a series of works in the medium of painting, installation, video and mural, etc. Through this collaborative platform, the show displays a part of various perspectives of contemporary life.
Regardless of geography and time, people often perceive the outside world through their own sensory experience, and the artist's imaginative creation of materials and media also opens up a new vision and inspires people's sensory experience. Ann Veronica Janssens uses abstract colors, mirrors and light to explore the plasticity of materials in a way that is close to scientific research, infiltrating light into established architectural spaces and challenging the stability of the original space. Diana Thater's video installation focuses on ecological issues such as species extinction and environmental disasters caused by the Chernobyl nuclear accident. Atypical perspectives, dramatic proportions, and uncommon color spectrum provide viewers with another dimension of perception.
Pae White's tapestry uses unconventional weaving materials combined with specifically programmed software to create a conceptual work that combines decorative style and technical elements, blurring the boundaries between fine art and applied art. SUPERFLEX projects examine the effects of the contemporary economic systems and develop tools to be used in constructive transformations. This mural project functions as a replicable model made available through instructions, exposing contemporary consciousness under global consumerism.
Alex Ito adds a playful two-sided character to his work through the use of text. They are deeply influenced by the modern design movement with a reflection of its consequences. This results in his objects that fall in the middle of ornaments and historical relics. Benjamin Horns' drivers in the driver's side mirrors are captured in a semi-public and semi-private space. Their slightly blurred and distorted faces are psychological portraits that reflects a contemporary state of alienation under constant surveillance. Sydney Shen's installation presents ordinary materials in a strange way and labelled with a bureaucratic nameplate. She deliberately abandons the logic of language to create semantic confusion and void, revealing its absurdity.
Chen Wei's project consists of three parts, each examines topics on architecture, plant and sleep state in a method of sociological studies. His projects focus on each subjects' additional metaphors and meanings produced within the social structure. Xia Tao's series works makes up as sculptures, exploring the variation of the core concept in contemporary urban life – the "house". The structures are formed with ready-mades and waste materials which are deviated from original time and space, rendered with a new context.
Facing the constant changes in the contemporary natural environment and social ecology in this age we live in, each of the artists reflects and responses to the issues of their own and those around them. Through this cross-regional cooperation, the exhibition presents their different focus and interpretation. The exhibition will be on view until August 30, 2019.
About the exhibition
Dates: Jul 13, 2019 – Aug 30, 2019
Venue: A+ Contemporary
Courtesy of the artists and A+ Contemporary.