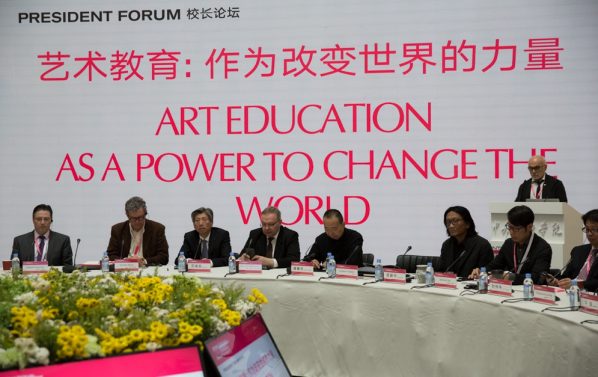 The International Art Education Conference, which was hosted by the Central Academy of Fine Arts, has successfully concluded in Beijing. The Conference was not only an important part of the centennial celebration of the Central Academy of Fine Arts, but it also invited nearly 300 guests including principals, directors and experts from 114 art institutes, art organizations from over 30 countries and regions. In the six forums of the International Art Education Conference, the President Forum has attracted most attention within the academic field of art education. Confronted with the globalized context and developing situation, the President Forum presented a wonderful discussion based on reality and looked into the future. It also provided new opportunities and challenges for the research and development of art education.
The Chairman of the International Art Education Conference as well as the Chairman (CN) of President Forum, Fan Di'an, President of CAFA together with Gordon Knox, President of San Francisco Art Institute, who served as the Foreign Chairman of President Forum, expressed that: with the theme of "Art Education as a Power to Change the World", the President Forum explored the challenges and opportunities that art education was confronted with in innovations. The President Forum was centered around three topics: "living tradition", "value of crafts" and "extending boundaries" and it was intended to arouse more thinking and solutions from the presidents attending the conference and raised questions about their education reforms.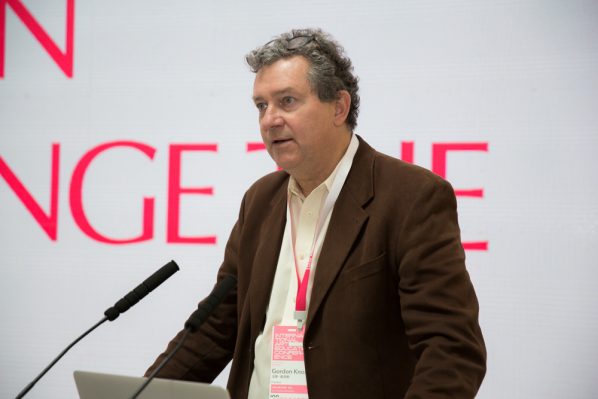 Gordon Knox, President of the San Francisco Art Institute who served as the Foreign Chairman of the President Forum, talked about how to integrate traditional cultural resources with modern life by activating traditions, this will become a profound method to support production and observe the world. In the context that globalization has intensified and infiltrated, traditions should be continuously activated to develop a rich, solid and powerful platform for international cultural exchanges which will provide advanced thinking and exploration in the reforming process of higher education in this new era.
During the tea break, CAFA ART INFO interviewed Gordon Knox about the discussions in the President Forum.
CAFA ART INFO: Each art college has its own glorious tradition and each one is also confronted with new opportunities and challenges. From your experience, how do you think art education could move forward with the heritage of tradition while inspiring innovation?
Gordon Knox: The San Francisco Art Institute which started in 1871 has been exploring new technologies from the very beginning. In the 1880, Eadweard Muybridge was hired to started the Film Department, and that was before there were films, before there were movies. The Institute started the motion picture idea. And in 1935, Ansel Adams started the first Photography Department as an art form before photography was considered a science. So the San Francisco Art Institute has always been connected to new technologies. And we explore them as soon as they come up. At the same time, our approach is through studio-based teaching. Artists teaching artists. So prior to their identity as faculty they are practicing artists. So they are deeply connected to traditions.
But absolutely we always explore the very next way to make the next statement. So in many ways, for a perfect set, our next set of explorations will be with VR and AR, and now what we call MR, and who knows how many "Rs"? And also with motion detection and film, 360°film making which is obviously digitized in terms of  photography and at the same time, we have a very very strong painting department. Excellent printmaking with traditional techniques. But always the story is what is content and the content almost always looks for a new strong statement, political or social or global.
CAFA ART INFO: The current systems and concepts of art education are undergoing new adjustments, do you think the renewal of concepts and cultivation of skills will be compatible? What do you think about the proportion of content and form, theory and practice and how they should be distributed?
Gordon Knox: Interesting question! There's been a lot of discussion today about what really are core competencies? What skills do you have to have? Even asking the question as to whether drawing is necessary in four-steps. Can you go straight to digital art?You know the traditional step is started with two-dimensional drawing and then three-dimensional sculpture and then four-dimensional sort of filming or time based. But maybe we start with this all round. We started with Youtube and ended up with drawing. So I am interested in exploring an approach. I am interested in exploring which techniques or skills are really important. But the main thing is a critical assessment, and an ability to ask deep questions, be persistent and strong with pursuing that question.
And the most powerful part of art is its ability to challenge the status quo, to ask a question what if we did it differently and reveal the hidden lines of power. So as long as those questions are being asked, then I am not sure where the skills come in, but our school actually has a very strong relationship with these skills. But I am open to understanding or contemplating students who feel that they like to get straight to the complex issues of challenging the status quo even if they come from Youtube or iphone images.
CAFA ART INFO: I would like to ask a question related to your own experience.
As far as we know you served as Director of a University Art Museum and you also led a humanities lab in Stanford, how did you adjust your identities
and
changes?
Gordon Knox: That's a good question. In many ways I've always started with the artist. How can I power the individuals to pursue their work, release their ideas?
My original training was in anthropology. So I am an anthropologist. So I am mostly interested in the role of art in a changing society. So I see art as a very difficult career to choose. I see people who are very brave, committed, very serious individuals who probably have to be to be artists just because they want to be an artist, their choose, their drive.
So my job has always been whether in the Humanities Lab in Stanford, or the museum at the Arizona State University or in a residency program I ran both in California, Italy and New York. All of those locations, my starting point was the artist, how to make their work more powerful, how to enable them to complete their projects, how to encourage them in a course in the dialogue to refine their ideas. So in a way, the different forums are different institutions that have very little influence on my starting point.
CAFA ART INFO: Your accomplishment is absolutely significant especially for artists.
Now you serve as the president of
the
San Francisco Art Institute. What do you think
of
the new role and your position and have you brought something new into your career?
Gordon Knox: Again, I started with artists. But now I start with artists that span two generations, both the artists that are working in the faculty and the students. My commitment now is to ensure the quality of art education and to set the students up to be successful with their social impact. Maybe that their studio practice is a starting point but their result is the open gallery in downtown San Francisco. Because that's where life is taking them. As long as they really live a fulfilling life and they make an impact in society, I support them.
CAFA ART INFO: Your encouragement and effort will definitely bring more confidence and opportunities to students. Finally, what do you think of the International Art Education Conference? What
'
s your impression of CAFA on the occasion of its centennial celebration?
 Gordon Knox: I have tremendous respect for CAFA. It's really one of the finest art school in the world. And it is a brilliant school that has created some brilliant artists. I also think this conference and the leadership of President Fan Di'an is a wonderful example of how CAFA can reach out across the world, bring people together to share ideas, to make the next the generation of artists more powerful then ever. So I am very pleased.
About Gordon Knox
Gordon Knox is President of SFAI(San Francisco Art Institute). Prior to this role, he served as Director of Arizona State University Art Museum. Previously, Knox led Global Initiatives at the Stanford Humanities Lab, where he identified, developed and implemented international projects that combine the understanding and techniques of the arts, humanities and sciences and engaged them in on-the-ground efforts to effect social change.
Prior to Stanford, Knox was Artistic Director at the Montalvo Arts Center in Saratoga, California, where he designed, developed and established the organization's international artist residency program and launched its global participation in the world of arts and letters. Implementing his commitment to the open flow of ideas and underscoring his belief that the advancement of civil society requires articulate critical analysis, Knox helped establish Montalvo as an institution recognized for ambitious projects often involving unusual collaborations.
Text edited by Sue and Photo by Hu Sichen/CAFA ART INFO