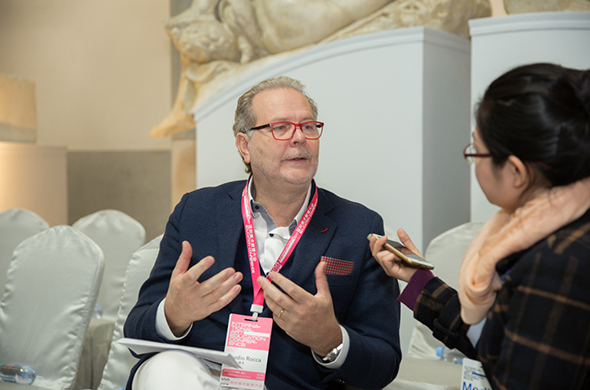 The International Art Education Conference, which was hosted by the Central Academy of Fine Arts, was held in Beijing from 2 November to 3 November 2018. The Conference was not only an important part of the centennial celebration of the Central Academy of Fine Arts, but it also invited nearly 300 guests including principals, directors and experts from 114 art institutes and art organizations from over 30 countries and regions. In the six forums of the International Art Education Conference, the President Forum attracted most attention within the academic field of art education.
During the tea break of President Forum, CAFA ART INFO interviewed Claudio Rocca, Director of Accademia di Belle Arti di Firenze, Professor of Architecture, a designer and an expert in historic building restoration, on the topic of "Art Education as a Power to Change the World". Prof. Claudio Rocca commented that we should bring together many expressions to develop art education. He also said that, "without tradition and the past, we haven't a future."
Interviewee: Professor Claudio Rocca
Interviewer: Chen Peihua
Photo by: Zhang Yunchang
Edited by Sue/CAFA ART INFO
CAFA ART INFO: How do you do Prof. Claudio Rocca, what do you think of the International Art Education Conference?
Claudio Rocca: It's a good conference, I like it. We have many, many different cultures gathered together. We can share different points of view and I think it's very good. Also in celebrating 100 years of CAFA, it's a very good meeting.
CAFA ART INFO: The concept of art has been continuously changed and conceptual art is highlighted more than fine arts over the past century. In recent years, the department of design has been established by Accademia di Belle Arti di Firenze. Would you like to talk about your attitude and experience of these changes from the perspective of a professor?
Claudio Rocca: Too complex! I think we have many changes. The boundary of art has encountered many changes. I think we need two visions: from the past and from the future. We need to capture all parts of traditions. And after we see the future, without tradition and the past, we haven't a future, so that I think we have many perspectives for this change. But it is really a difficult moment for art, and for Italy it is a very bad moment. The school will change to follow the trend of the world.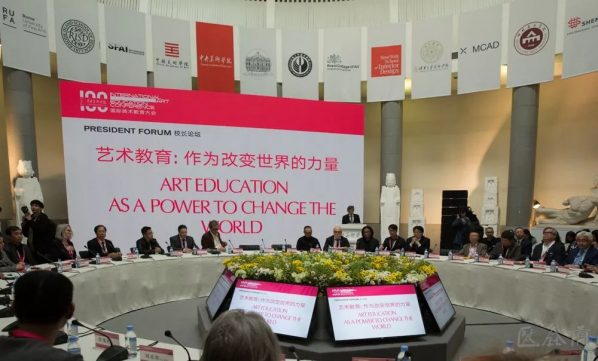 CAFA ART INFO: As you have extensive practical experience in the restoration of ancient buildings, would you like to talk about the similarities and differences between China and Italy in the attitude and measures of the restoration of ancient buildings from a designer's perspective? And please share with us your suggestions for the restoration and renovation of ancient Chinese buildings.
Claudio Rocca: I'm a specialist in the restoration of buildings and I worked in the past on the restoration of frescoes, restoration of buildings, and restoration of marbles. And of course, it is very important to know the materials very well and the ancient mode of construction.
It's very difficult to tell the difference between China and Italy. But I think China has often changed a lot of landscapes, and destroyed its memory. I don't know why but I think it's a cycle of history, because in China they have changed many times with different dynasties, and the order has changed all landscapes. It is like a cut from the past. I don't know why, but I think it's different, because in Italy, we have different periods in the same building, in the same monument. We can see this stratification of history. This is one of the best examples of Italy. Because Italy is a platform in the Mediterranean Sea, and we have many different cultures that influence: Spanish, French, Greece, Arabia… and after we retain all these cultures, we transformed them. This is the big power of Italy. Also, we haven't destroyed anything. For some parties, it's too much, because we can touch nothing. But when we see Palazzo Vecchio or the Colosseum in Rome, we can understand what history means and we conserve every stage of the past. I think it is also very important, for a good lecture on monuments, on buildings. Of course, we also need knowledge to understand different monuments and different buildings, because we have different periods inside this building. In China we lost all these parts. And I think it's better to conserve some parts for the future. Or, when a new generation arrives, they don't know where they come from.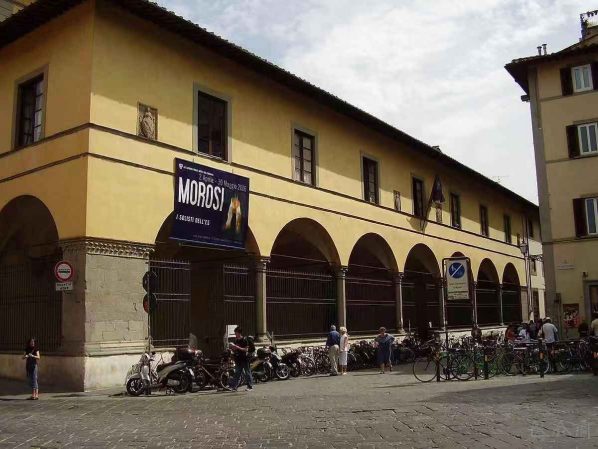 CAFA ART INFO: As you both have doctoral degrees in architecture and fashion design, what do you consider is the relationship between architecture and fashion design?
Claudio Rocca: Yes, of course. I have a doctoral degree in architecture, also in fashion design. First, I'm a curious man, so I want to study whole parts of all human expression. And art, design, architecture and fashion are all parts of human expression. On the other hand, we also have many examples from fashion designers. Some people come from architectural studies, like Gianfranco Ferré, for example. Also, we have many artists good at drawing and making design projects, like Achille Castiglioni and Carlo Scarpa, and we also have some designers from academies. I think this is important, because the first Academy in the world was in Florence and this Academy had many different arts. The three main arts were architecture, sculpture and painting. When we had all these arts together, we were on the top of our expression. In 1934, Faculty of Architecture was separated from the academy. Now we try to bring them together, because it's better for all arts to share many expressions and become richer, and then there are more meaning from the arts.
CAFA ART INFO: Do other professors from the school agree with this idea? Is there any new initiative at the Accademia di Belle Arti di Firenze?
Claudio Rocca: Yes. We also have a project with CAFA, we will work together in art and architecture. Next, we will be involved in an exchange project, so that Firenze students come to Beijing, and Beijing students come to Firenze. Next year, we want to start with this project.
CAFA ART INFO: As you have visited many universities and colleges of art in China over many years, would you like to share your feelings? And, could you give Chinese students any suggestions?
Claudio Rocca: I know different academies and different Institutes of art in China, and I think we have good students in the arts. Maybe two years ago I saw one exhibition bringing together the works from all Chinese academies of art in Beijing. I thought the best artworks were CAFA's works, for they have the best expression. Different idea, different expression; different expression, also different skills of course, and we should pay attention to the expression.