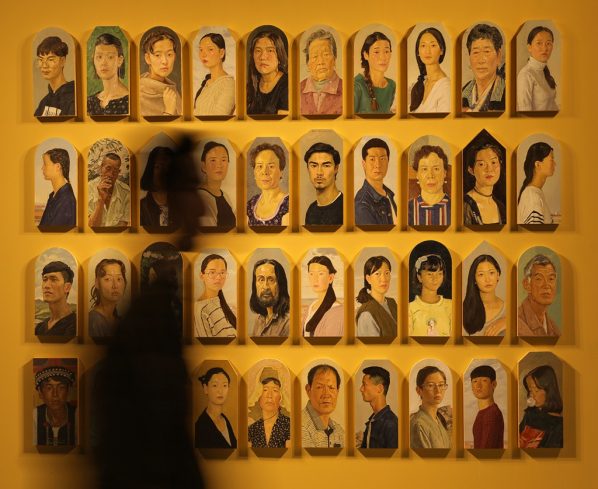 From May 1st to Jun 2nd , 2019, "Learning and Constantly Practicing" — YOU Yong's solo oil painting exhibition is held in the Youth Exhibition Hall of Chinese Oil Painting Academy. The exhibition is the first solo exhibition of the young Chinese artist and it is open to the public free of charge. The exhibition focuses on "Learning and Constantly Practicing" and displays nearly 100 oil paintings created by YOU Yong in various places since 2010.
The themes of his paintings involve still life, scenes, landscapes, portraits, copying, etc. YOU Yong's paintings demonstrate the renewal and growth of his emotion and philosophy in painting research and practice. In the history of modern western art, YOU Yong prefers the quietness and divinity of "Thinking nurely" shared by the South and the North in the early Renaissance, and the exhaustion and profundity of the painting genres in both the high Renaissance and the Baroque era, and the freedom and enthusiasm of the paintings genres in the late 19th century. Meanwhile, the internal reflection and advocation of literature and virtue in oriental paintings – concise and vivid in language and brief in words and rich in meaning, the straightforward ancient civilizations, religions, etc. also have influence on him. He draws on all these factors and gradually develops his own style.
Young artist YOU Yong is sincere and practical. Like other artists, his basic skills are strong, his emotions are real, his personal sensitivity is impressive, and his works are unforgettable. It is rare among young oil painting artists today.
"His expressions are straightforward, as he speaks from the bottom of his heart with a relentless will." The sentence that appears on the wall of the exhibition hall is very apt for him.
"Vincent van Gogh is a window that opens my heart."
CAFA ART INFO: There seems to be a lot of traces of "Vincent van Gogh" that cannot be ignored in his paintings, such as the moths in Pumpkins and Moths (2018), including the strokes in most portraits, and many sentences that have been printed on the exhibition hall, such as "If there is nothing profound, infinite, realistic in life... I will not be in love with life." Can you talk to us from your perspective about Vincent van Gogh's influence on you?
YOU Yong: Vincent van Gogh did offer me a lot of inspiration. The training stages of the Central Academy of Fine Arts start from the traditions of the Renaissance and go to the 19th century college, and then to the Cheschakov teaching system. But VVincent van Gogh is listed outside this system. Vincent van Gogh has solved the absolute of this system. His absorption and learning of ukiyo-e has opened a dimension for me and ushered in a gap, which encourages me to see the significance of paintings in other worlds and other cultures. Under the vision of academic training, Vincent van Gogh made me think that some paintings outside the "college" can still be "paintings"? What do we think about those paintings? and how we created the paintings after coming out of the college. Therefore, for me, Vincent van Gogh is a good research subject. He is a window. He opens up not only the understanding of Japan, but also the comprehension of Egypt, China, Japan, other civilizations and paintings or a higher comprehension of human nature.
Vincent van Gogh's cloisonné uses a smeared and sketched pattern to quickly express a strong emotion in his work and a greater loyalty to the objective object of "disloyalty". These things are actually what happened before Van Gogh, which were lacking in Western paintings, so he is a pioneer. Then, after Vincent van Gogh, the Fauvism and even other genres developed at this critical point.
We know that in the lenticular tradition, a living painter is imprisoned in a small optical dark box with fixed coordinates. After David Hockney's reminder, I find that a painter can walk and move, as free as a bird flying over the fields as it does not care about the restrictions and barriers of the fence, thus I understand a little about paintings from other civilizations.
CAFA ART INFO: There are many interesting sentences in the exhibition hall. I noticed this. "The image starts in the cave and ends in modern technology."What kind of understanding do you have for the current oil painting, and the future development direction of oil painting?
YOU Yong: I personally feel that it is very difficult to study painting and talk about painting. It is also important to study the language itself and the philosophy behind it. Egon Schiele stated that, "Art cannot be modern, Art is primordially eternal." My concept is also the same. As long as there are human beings, as long as culture and economy reach a certain height, painting can't be blocked. It is human instinct, including the dreams I mentioned in the opening ceremony. Actually it turns things that are impossible to be seen but seen by some individuals into public visions that others can see, so they are both invisible and visible. When Vincent van Gogh did not paint the painting, there would be no such picture in our heart, but after he painted it, we can see it, then I use his eyes to see the world again, so this is a story of inheritance, the renewal of vision.
CAFA ART INFO: You were admitted to the Central Academy of Fine Arts in 2004, and graduated from the third studio of the Oil Painting Department of the Central Academy of Fine Arts in 2012. What kind of experience did you get in the Central Academy of Fine Arts after so many years?
YOU Yong: The Central Academy of Fine Arts has given me a very good platform. I have a maternal plot and I feel grateful even if it's bad. Moreover, it is very good. I think that the Central Academy of Fine Arts is included in a big social relationship and it is very difficult to find a suitable place. Especially in today's social relations, the college can be said to be the determined party. For a specific student, he is more passive, so when I gave a lecture at the Fine Arts Middle School Affiliated to CAFA yesterday, I told them that they should be "surpassing", which means in the prescribed exercises and training, they must have a transcendental vision. How can the transcendental vision be obtained? It is necessary to reflect through the huge amount of information in the history of art, especially today.
A hundred years ago, Roger Frye talked about college education: For decades, they (the Royal Academy of Arts) swallowed up a considerable amount of public resources, cultivated not artists, but just cultivated more "art teachers." Moreover, it is obvious that if there are more "art teachers", the fewer artists there will be.
"He updated our view of everyday life."
CAFA ART INFO: It is not difficult to notice that your work portrays a lot of everyday things. This is a very touching feature. I heard that you cook well. I am afraid that many things in life give you inspiration?
YOU Yong: This is the case. I quoted a sentence of Vincent van Gogh over there. "If there is no deep and eternal life in daily life, or something that touches the soul, then we have no love for life." When we see such things, including watching many masterpieces by him, we will find that he actually updated our vision and re-examined the vision while observing daily life.
CAFA ART INFO: Between the intervention and advancement of technology, many young people are now seeking new and different ideas. The creative methods of "new art" are endless. Your paintings basically give people a very practical feeling. From your perspective, would you consider seeking another experiment? What kind of development path will there be in the future?
YOU Yong: Of course, I do not exclude new media, but I am more concerned about the difference between the two ideas of "infinity". One is the "outside infinity" that opens up the territory and stakes the earth, and the other is "inner infinity" that knows that there is one and approaches it between 0.99 and 1. Both are close to the limit, but their directions and focuses are different. I don't think that abstraction and installation belong to the same category of painting. It has nothing to do with painting. It has something to do with "art". Although painting belongs to art, they are not inherited or developed. If the development of painting is abstract art. The development of abstract art must be the death of painting. Painting is abstract, abstraction is very important, "beauty" comes from abstraction, but not necessarily abstract painting, because no one knows, we don't have public cognition to outline what "abstract" is, if there is one person saying abstraction is something that is invisible, then abstract painting must not be visible. If abstraction is an important feature in painting, there is indeed something in it, but most abstract painters don't know much about it.
You Yong said, "The ultimate goal of aesthetics is the sincerity of the soul and the willingness to sacrifice." With a broad vision and unique sensitivity, he takes advantage of being a young artist, and thousands of roads are placed in front of him. How to choose becomes another opportunity. His first solo exhibition was just a "starting point".
About the artist
YOU Yong, born in Wenzhou, Zhejiang Province in 1988, began studying painting at an early age. In 2004, he was admitted to the middle school affiliated to China National Academy of Arts in Beijing. In 2012, he graduated from the 3rd Studio of Oil Painting Department of China National Academy of Arts, studying under LIU Xiaodong, YU Hong, XIE Dongming, HONG Ling and LIU Shangying. In 2015, he took Sino-Russian advanced oil painting courses. Now he is a young painter at the Chinese Oil Painting Academy and a Ph.D. candidate in oil painting at Chinese National Academy of Arts, studying under the famous painter YANG Feiyun. YOU Yong has also been mentored by Mr. CHEN Danqing.
YOU Yong has traveled to Tibet, Yunnan, Russia, France, the United States and other regions to paint and study. YOU Yong's works have been inspired by both Western Renaissance style and the paintings in different periods and regions of Chinese civilization. While studying these painting genres, his practice has also undergone profound changes which added diversities and depths to his paintings. He believes that the art of paintings will inspire people and even stimulate their creativity to paint and that the painter's perspective and expression will change people's feelings and attitudes towards daily life.
YOU Yong was commissioned by the National Centre for the Performing Arts to create oil portraits of musicians such as Bach, Brahms and Mahler. He was also invited to participate in the "Transcend Language — Figurative Painting in China" (Spain), Sino-Korean Youth Oil Painting Exchange Exhibition (South Korea), "Seeking the Source — Chinese Oil Painting Invitational Exhibition" (Beijing, Jiangxi) and other oil painting exhibitions. He has published literary criticism in many media such as Beijing Youth Daily.
---
Preface to YOU Yong's Solo Exhibition by CHEN Danqing
YOU Yong is very versatile and talented, able to create in many forms — portraits, human bodies, landscapes, still life, large size, small pieces, cloth and boards. His works transcends the times and genres, from portraits of Egyptian Fayum to figurative paintings of the New Century. He is also well-versed in traditional China aesthetic styles.
He is passionate about art, his house is full of picture books and he is always reading. Recently, I have been reading art books recommended by him, most were written by the British. His global view of art has helped open my eyes to different perspectives and ideas. When I was young, I didn't have such broad horizon and thirst for knowledge.
I am never a strong advocate of orthodox college education for artists. However, YOU Yong has shown me that orthodox education can help a person grow — from the middle school affiliated to China National Academy of Arts to graduate school, now he is studying for an Ph.D. at Chinese National Academy of Arts. I don't believe a person's education determines him/her, but what he/she does with knowledge determines that person. YOU Yong is eager to learn, diligent, decent and gentle. What is rare is that he is not utilitarian. This is his first solo exhibition, he asked me for advice, I said, first classify your paintings, because I know he has numerous paintings and each is magnificent.
Although he received structured training at China National Academy of Arts, he is capable of painting spontaneously. I prefer his small size paintings personally. In the past two years, we have been painting together. He sketched on small papers the seven or eight models that we brought in, rather than treating them as objects, he directed each of them to have his/her most genuine representation. I turned around, looked at my own large size painting and felt ashamed.
Sometimes I am anxious for him: such a talented young man, what is the best way to mentor him to realize his great potential? Of course, he is still young and has a long way to go. I hope he can achieve his full potential.
YOU Yong has a good dog Isaac around him. Issac is warm and gentle, like his master. YOU Yong's only distraction is walking Isaac. Now he is going to "walk" his paintings, exhibiting his works to the public. I am proud of his accomplishments and look forward to his continued success.
Chen Danqing
2019.4.21
Florence
---
Introduction of YOU Yong's Solo Exhibition by YANG Feiyun
Adilemma in painting today is that people have a feeling when they are not trained but lose the feeling after they are trained. Painting requires the ability to express, and more importantly, the ability to express the abundance in the painter's heart. With the boundaries of painting expanding infinitely and an information explosion, painting faces severe challenges, artists are struggling with what and how to express and can't concentrate on accumulation and deposition, many of them are caught up in a variation of techniques, and more and more obsessed with strange and radical subjects. The expressive quality of painting comes from a step-by-step study and accumulation, and extraordinary artistic appeal comes from the deep spiritual experience of life, it is by no means a simple change of technique. Oil painting has a history of more than a hundred years in China, it has unprecedently developed in terms of pattern, population, vision and conditions, how to improve its academic standard has become the priority in the field of oil painting .
YOU Yong is young, his solo exhibition is obviously a big challenge for him, but it also demonstrates his talent in oil painting. He has shown great painting talent since childhood. YOU Yong, born in Wenzhou, Zhejiang Province, was admitted to China National Academy of Arts after a few years of preschool education. From middle school to college and even as a Ph.D. candidate at Chinese National Academy of Arts, he has been developing well due to his learning capability and painting talent. He received orthodox education and comprehensive training, which laid a solid foundation for him. He hardly knows what an amateur is, painting seems to be effortless to him. He is capable of painting almost anything so sometimes he is troubled by not knowing what to paint.
YOU Yong is good at learning, loves reading, has a broad horizon, enjoys making friends, is involved in a wide range of activities and has the habit and vitality of questioning and reflection. During his study at China National Academy of Arts, he was a cadre of the student union and Youth League committee. The first time we met was more than ten years ago when he arranged for me to give a lecture in the middle school affiliated to China National Academy of Arts. Because of his unique perspective and sharp insight, as well as the great possibilities and convenience brought by the development of the times, YOU Yong has copied a large number of original works and practiced constantly over the years, painted people and scenery from different perspectives in life, and absorbed portraits of Egyptian Fayum and saints in the Middle Ages, as well as portraits of the Renaissance and the Neoclassical and those of Baroque and Van Gogh, now he is developing his own style. Although he learns fast and is capable of painting almost anything, what bothers him now is how to make his painting more expressive and meaningful. Others struggle to walk one way, but he has many ways ahead of him, therefore, how to choose which way to go has become a problem for him. To make the decision, he needs to have more in-depth thinking, an independent perspective and inner courage.
"To the Best of My Ability" Youth Invitational Exhibition is just the beginning of YOU Yong's artistic career, he has a long way to go. His exhibition not only brings academic vitality to the Chinese Oil Painting Academy, but also inspires the academic enthusiasm of young colleagues and injects new vitality into the academic research of the Chinese Oil Painting Academy.
In the era of material surplus, spiritual development is more urgently needed, and the spiritual value of painting will be highlighted in China. For us, the development of Chinese oil painting has just begun.
YANG Feiyun
Apr 29, 2019
Chinese Oil Painting Academy, Chinese National Academy of Arts
---
About the exhibition
Learning and Constantly Practicing: YOU Yong's Solo Oil Painting Exhibition
Curator: YANG Feiyun
Advisors: CHEN Danqing, ZHU Chunlin, SHI Lei, TANG Yu, HU Changyu
Special Thanks to: ZHOU Xiaofeng, FANG Xi, CHEN Zhongkang, ZHANG Butian, SHI Yijie, YANG Lujia, WU Buhua, LIU Qing
Exhibition Execution: WANG Shang, YANG Hongru, YUN Ze, LIU Qingkai, DONG Xuejian
Event planning: SUN Zhiyi, XU Donghai, CHEN Tongtong, LUO Wen, LI Wei
Exhibition Designer: ZANG Peng, Feifei
Organizer: Chinese Academy of Oil Painting, Chinese National Academy of Arts
Media Support: Dedao App, Didi Exclusive Services - LiCheng Cab, OnArt App
Courtesy of the artist, interview conducted by Zhang Yizhi and edited by Sue/CAFA ART INFO