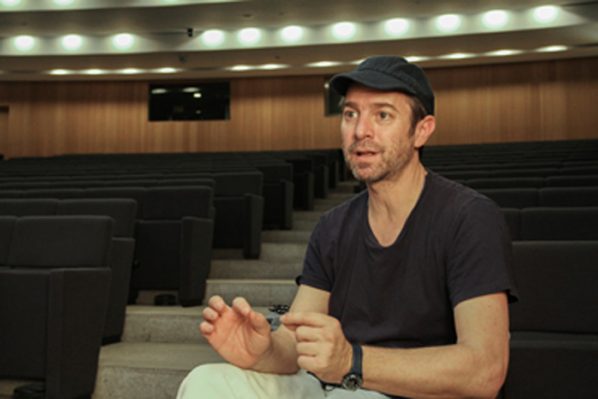 Born in 1973, Leandro Erlich now lives and works in Buenos Aires and Montevideo as an artist. Over the last twenty years, he has participated in various exhibitions around the world, and his works are in international private and public collections. Recently, his works have appeared in art exhibitions and events in Asian cities such as Seoul, Tokyo and Shanghai. He has had solo exhibitions in Mori Art Museum, Tokyo, Japan (2017) and HOW Art Museum (2018) Shanghai, China, which attracted numerous visitors to participate in.
Leandro announces himself as a conceptual artist working in the field between reality and perception. His works are full of imagination and behavior that he intends to break through the restrictions of reality by constantly constructing and deconstructing various scenes. During Leandro's art career, he has insisted on emphasizing public engagement and discussing topics related to the notion of "site-specific" through his artworks.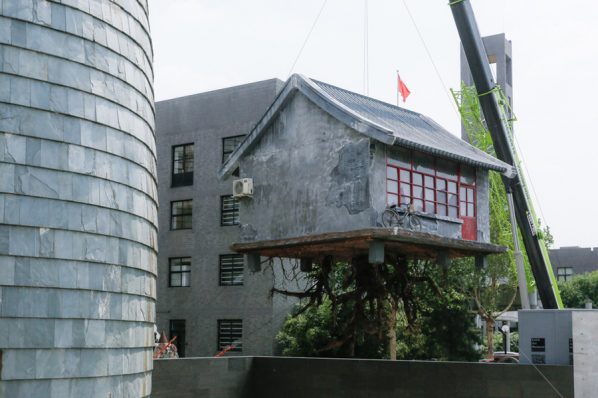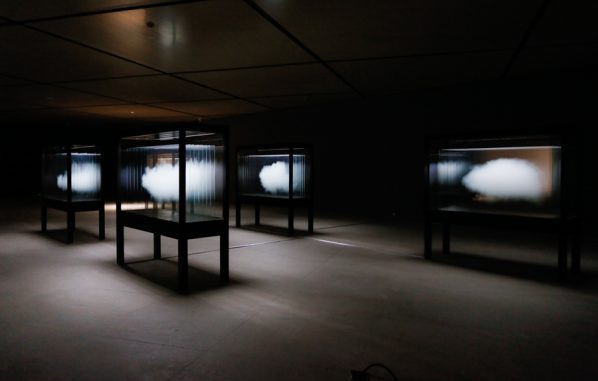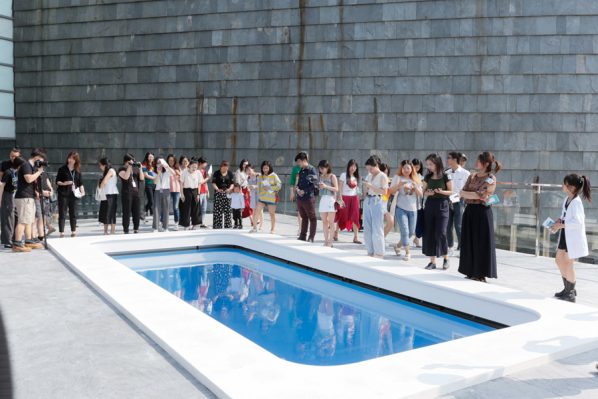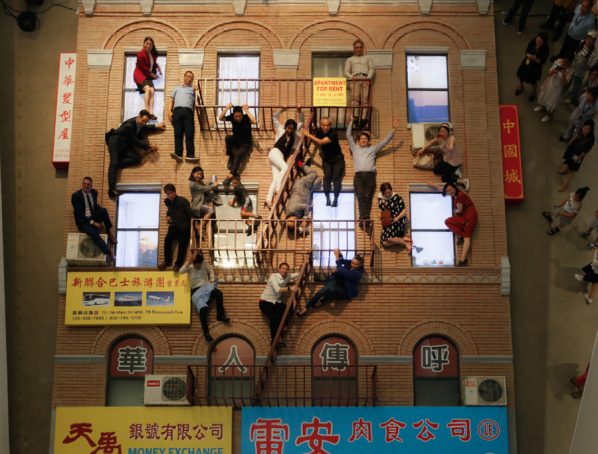 From July 11th 2019 through August 25th 2019, Leandro Erlich has been invited to present his 20 large-scale interactive installations created over the last 25 years at CAFA Art Museum in Beijing, China. The exhibition entitled as "Leandro Erlich: The Confines of the Great Void", as the largest solo exhibition ever in Leandro's art career, has occupied the entire space of CAFA Art Museum. It is also the first time that CAFA Art Museum has provided a non-Chinese artist with the whole exhibition space to present his works.
The exhibition opening commenced at 4:00 pm on 10th July 2019 in CAFA Art Museum. Inspired by Chinese cultural identities and elements, new versions of installations specifically developed for this exhibition were unveiled to the public in the opening ceremony.
On the occasion of the opening of "Leandro Erlich: The Confines of the Great Void", CAFA ART INFO specially invited artist Leandro Erlich to interpret his art creation while talking about the methodologies and concepts behind his artworks as the starting point.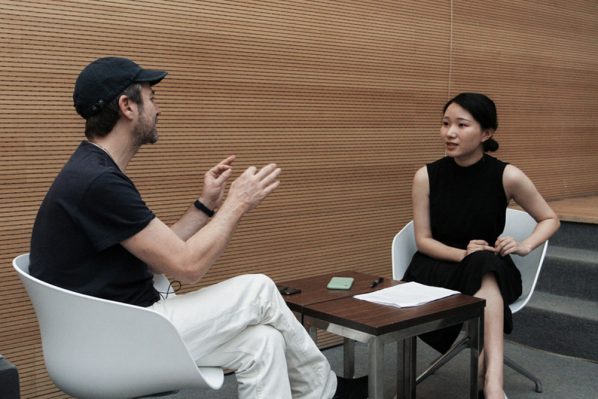 Interview conducted by Emily Weimeng Zhou/CAFA ART INFO
Interviewee: Leandro Erlich
Photo (View of interview and exhibition) by Hu Sichen/CAFA ART INFO
Courtesy of the organizer and the artist, edited by Emily Weimeng Zhou and Sue/CAFA ART INFO
CAFA ART INFO: I would like to start with a general question regarding your interest in the notion of "reality". In your previous interview, you mentioned that in your art creation, you would like to challenge the idea of "reality". You once said we always take reality for granted. Reality is actually something constructed by ourselves. Can you elaborate on it further? How did the idea start in terms of reconsidering reality that we are immersed in?
Leandro Erlich: One of my interests is to question the nature of our understanding of reality. As you said, I believe reality is also part of our construction. So what I would like to think is that my rebuilding of spaces that we can associate to our daily life. We can re-examine this context and place ourselves into a new situation that does not only make us consider what we are looking at in terms of art, but also it may evoke something in our life in those spaces that relate to the artworks.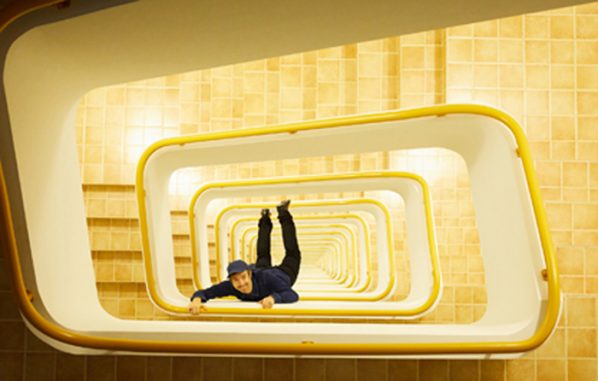 CAFA ART INFO: I notice that "interaction" and "participation" are significant elements in your works. Your works seem to invite spectators to go into or up to something, or to enter the world you construct. In this case, I wonder during the process of art creation, where do you place the audience? Do you regard the public as a crucial element to complete your works?
Leandro Erlich: Yes, absolutely. I would take audiences into consideration from the very beginning of constructing a particular program. Where would the viewers be? What would be the roles of viewers in this project? I think that interaction and participation are not any different from what we do in general in our daily life. We interact in the supermarket. We interact in the subway. All our life is a dynamic experience. In this way, I try to imagine some of my works to allow the audiences to be part of an experience, (which is) different but related to what is our life experience.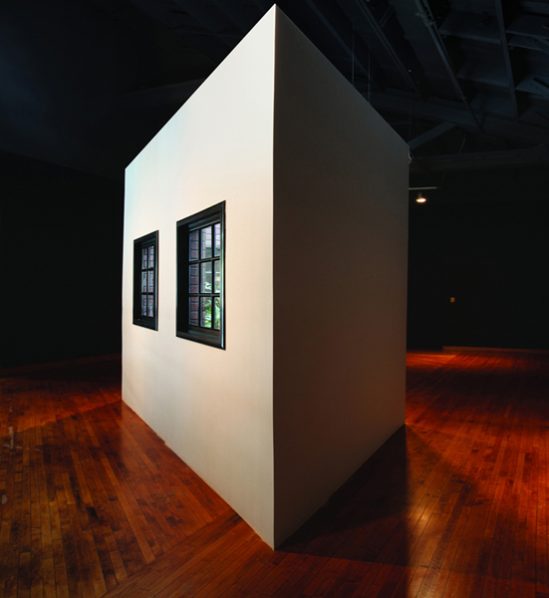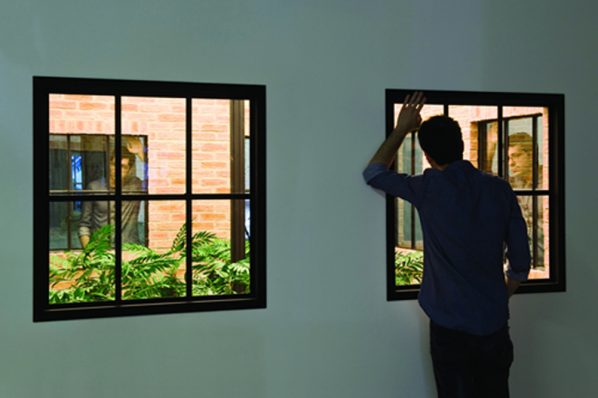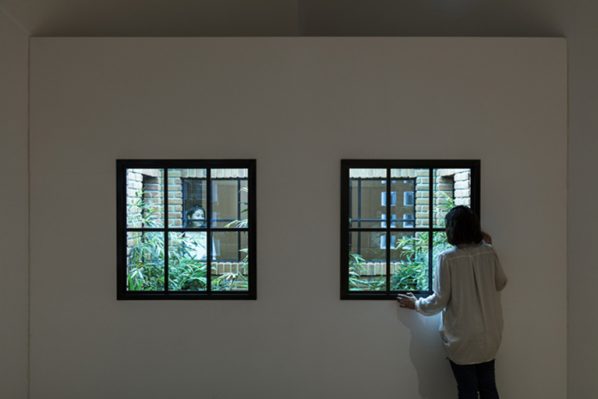 CAFA ART INFO: Do you mind diversified comments or feedback from audiences? Have you ever modified or developed your works based on some particular comments or feedback?
Leandro Erlich: I may have. I am not very aware of how much influence has been produced by a particular comment on my works. But I can tell you that my work sometimes is like a story that is hidden in the space. Thus viewers must transcend and participate in a very spontaneous way to discover this fiction. If audiences are not interested in taking that role, then for me, I must analyse why this didn't happen.
CAFA ART INFO: It seems that you expect audiences to make their own stories based on your works.
Leandro Erlich: Yes, absolutely.
CAFA ART INFO: I know that it is the 20th anniversary of your installation "The Swimming Pool" this year. It is one of your representative works. Can you tell us more about this work? What is the origin and inspiration for making this work? How has this installation been developed over the twenty years?
Leandro Erlich: The first time I created this work was during a fellowship programme for artists in 1999. It (The inspiration of this work) happened when I was granted a fellowship in Glassell School of Art in Houston. In this case, I created this work within the frame of this fellowship, which has since evolved. In 2001, I was representing Argentina in Venice Biennial by presenting this work, which was constructed as a temporary installation at that time. Later on, it was built as a permanent construction in the 21st Century Museum of Contemporary Art, Kanazawa in Japan. The work has changed in terms of making it technically better, but the concept itself and (the idea of) participation remain the same.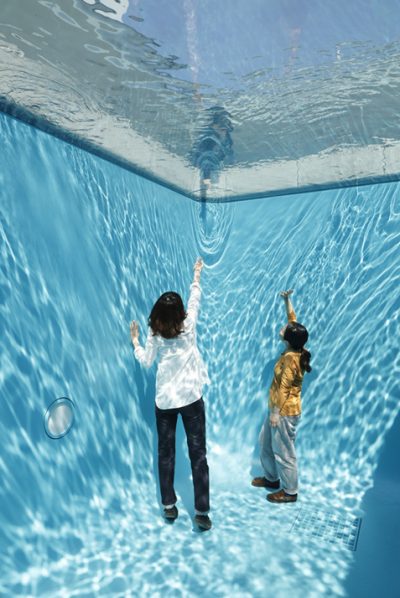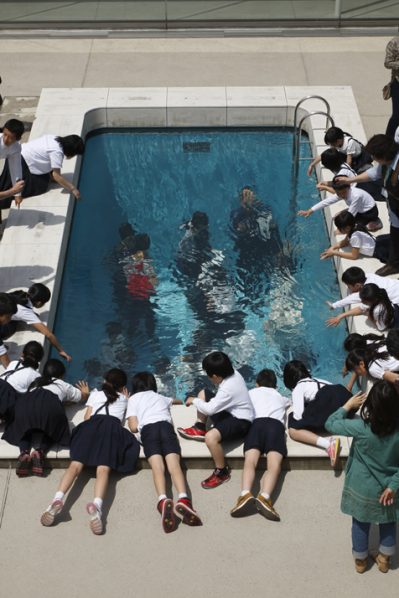 CAFA ART INFO: As is the case with many of your works, I can see for this work (the Swimming Pool) you would like to create from multiple perspectives. Spectators from outside might see a full-size swimming pool, while viewers who enter the inside of the installation could observe the outside world through the "water surface". What is your consideration in terms of constructing various perspectives, situations or moments within one piece of work?
Leandro Erlich: This is what happens in many works as audiences have multiple perspectives. In this particular case, what happens is that the work itself becomes a vessel for people to interact—not only with the work itself but also with other people. When viewers are looking at this work, they are also looking at other people. They become part of the work. It is fascinating to see someone is greeting someone else—they were waving hands to someone under the water. I think this is a very specific occasion in this work, which helps to create this interconnectivity between people.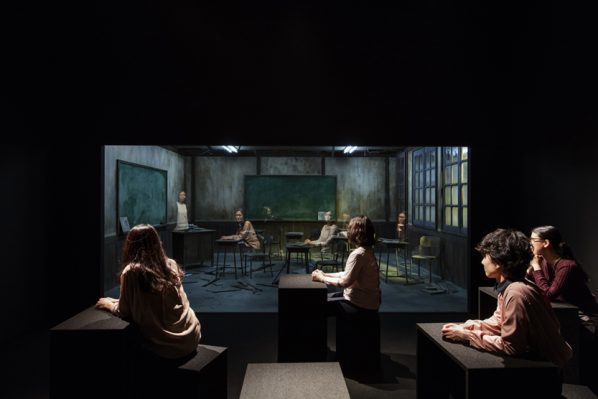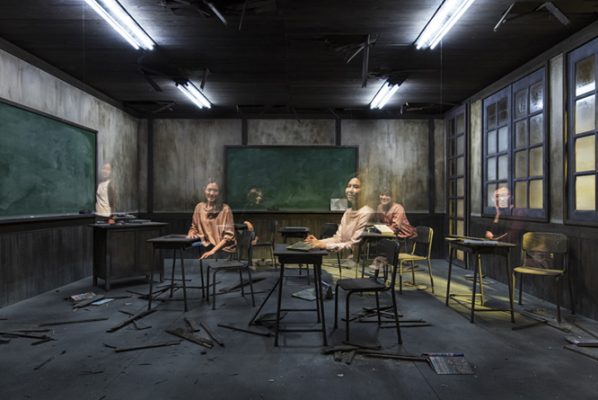 CAFA ART INFO: I think there is a hidden topic behind all questions we discussed just now, which is "site-specific". You have created many site-specific works apart from other media of artworks, such as "The Classroom" which you made specifically for the exhibition in the Mori Art Museum Japan, which reflects the social context of the falling birth-rate and the population decline. I have learned that you also create a new version of "Building (Batiment)" for this exhibition, which is inspired by the classic shop signs and outer firewalls in Chinatown. Can you talk more about this work?
Leandro Erlich: Sure. For the "Building" project, I have created this series of installations in several cities in the world. I have always been interested in looking for the local identity of architecture. When I come to Beijing, it is doubtless that I will confront different types of architecture. Many buildings in Beijing, on the one hand, could be very modern to echo the development of the 21st century, while others could be very traditional at the same time. By thinking about what would be interesting beyond the local identity, I am considering the nature of Chinese identity? I realized that the first time I have gone to China, it was in Chinatown. That was the closest experience (for me to encounter China when I was young).
I also learned that for the Chinese people who happen to travel aboard, they are very curious about Chinatowns. It is something that is familiar to them yet it is very different from the idea of "China" in their mind. So it is not really (about) where you are. Beijing is the heart of China. It is the cultural and political capital of this country. Nowadays, it is in the trend with the overcrossing culture, I am a foreigner, a westerner coming to China, and I am thinking of creating something that speaks about this encounter with different cultures— the western and Chinese cultures. I am trying to make something smarter than the archetypes which are just for tourists.
China is a huge country with different identities, but I think Beijing would be at the heart. It is where all Chinese histories and traditions would be associated. It would be interesting to see a transformed identity back to its pure origin.
CAFA ART INFO: I think it is also interesting to expect a response from the public in Beijing to this work.
Leandro Erlich: Exactly.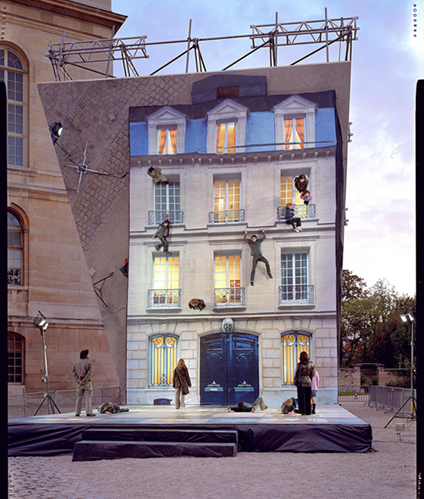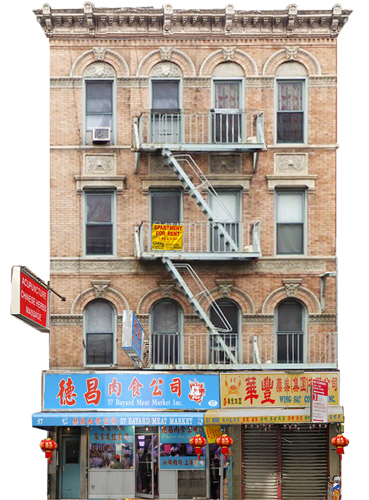 CAFA ART INFO: Let's go back to your own experience as an artist. You were born in Argentina, and you then took part in the artist residency programme in Glassell School of Art in Houston. You later went to New York. You have presented numerous public art or site-specific works in various cities, and recently you also held exhibitions in several Asian cities, such as Tokyo and Shanghai, and now you are in Beijing. You start with an Argentinian Artist, and I am curious about that at this moment, how do you identify yourself? Do you think that different cultures and experiences in various countries have somehow facilitated or promoted to your art creation?
Leandro Erlich: I am delighted to say that my experience was that in general, there is something in my works that is very accessible to a large number of audiences. Also, there is something that can be interesting in terms of intellectual, even philosophical readings on my works. So when audiences everywhere in the world encounter my artworks, their responses are positive in general. I think perception, a significant point in my art creation, is something common to all of us. It does not really matter what culture (you are immersed in). Different cultures have different beliefs and histories, but as a human, our life experience is not so different.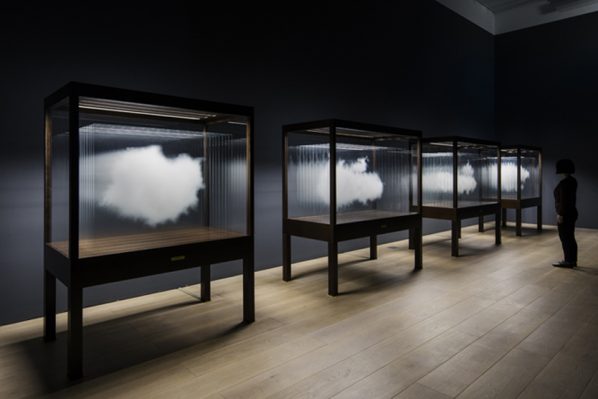 CAFA ART INFO: Let's go back to the exhibition itself in the last question. The identity of CAFAM is a university-based art museum. What does having a solo exhibition in such an art museum means to your art creation and art career? What do you expect through this exhibition?
Leandro Erlich: In my case, every time I make an exhibition, (I expect it to) open a dialogue. There is no doubt that I hope people would like my work and come to participate. I think CAFA would be the best place to start this exhibition. First of all, this is a university for students that are familiar or getting familiar with the art, but at the same time, it is not yet that popular for larger audiences who are not familiar with the art. It is something very specific.
I feel like maybe this exhibition will bring new audiences to CAFA, and at the same time, this is exactly my dream in terms of the expectation of an audience. These two types of audiences—those who are part of the art world and familiar with the discussions of contemporary art, as well as someone, I don't know, may have a restaurant, or maybe into some other business, could mix in my exhibition. This encounter happened in my work as an achievement that I would feel proud of.
This exhibition would be during the summer vacation; I hope many students and people could come to see my work. I am not sure if you know that this is the first time that CAFA Art Museum gives the whole museum for a non-Chinese artist to have a solo exhibition. It is my great honor and it is really amazing.
CAFA ART INFO: Yes, I have learned about that. I hope everything goes well with the exhibition. Thanks for your time. It was a really insightful conversation.
Leandro Erlich: Thank you.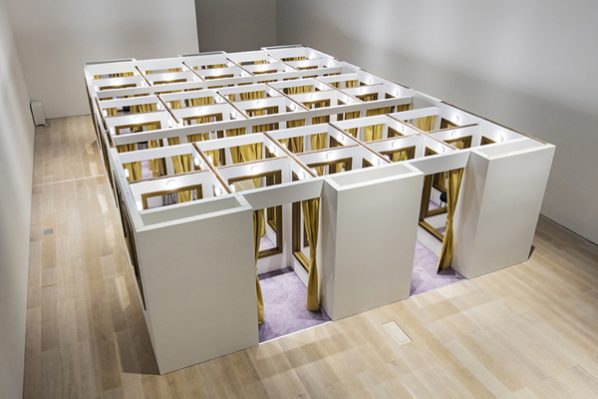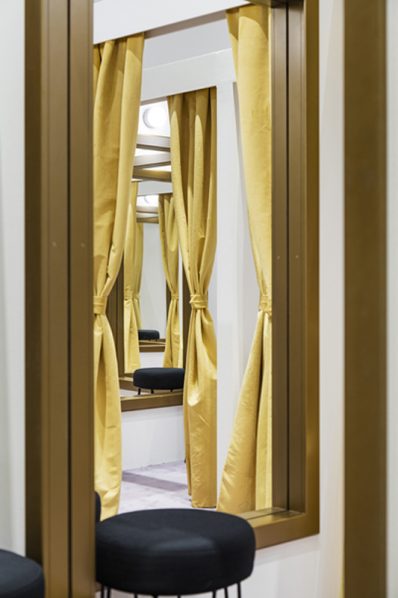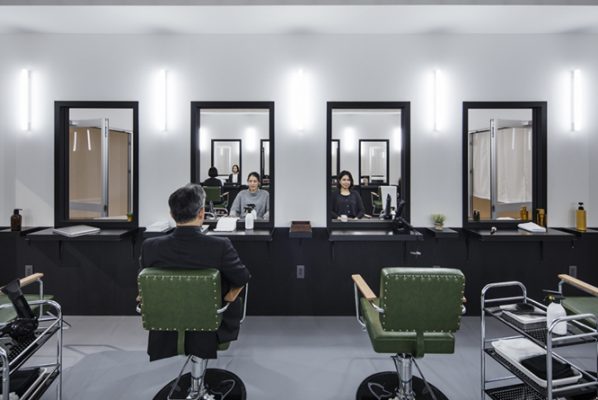 About the Exhibition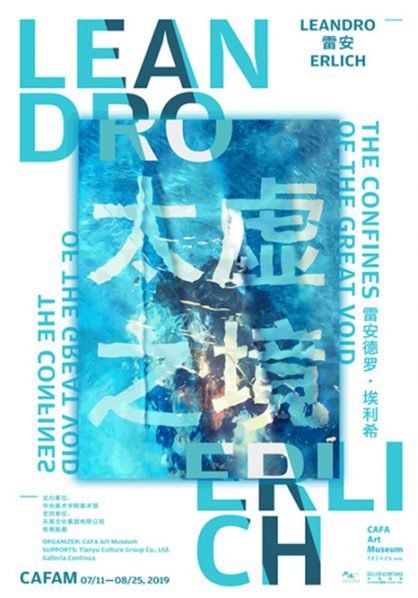 Leandro Erlich: The Confines of the Great Void
Opening: 16:00 July 10, 2019
Duration: July 11 – August 25, 2019
Venue: CAFA Art Museum
Organizer: CAFA Art Museum
Supports: Tianyu Culture Group Co., Ltd.
Galleria Continua
General Adviser: Fan Di'an
Art Director: Su Xinping
Curator: Andrés Duprat, Zhang Zikang
Academic Adviser: Wang Chunchen
Executive Curator: Gao Gao, Yi Yue
Curatorial Assistant: Li Zhiyuan