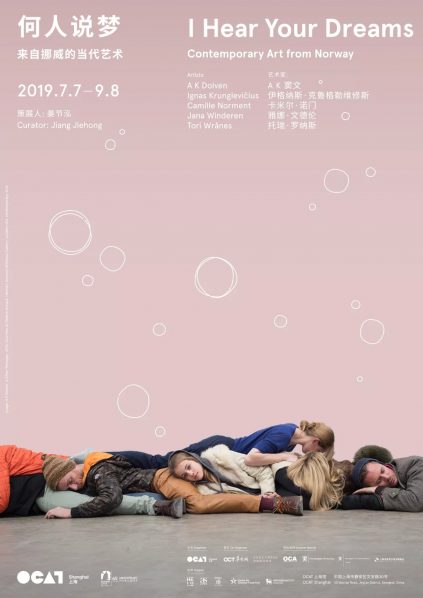 OCAT Shanghai is delighted to present "I hear your dreams", a group exhibition of Norwegian contemporary art, on view from July 7th to September 8, 2019. Curated by Jiang Jiehong, the exhibition invites five leading contemporary Norwegian artists who are actively engaged on the international stage including, Anne Katrine Dolven, Ignas Krunglevičius, Camille Norment, Jana Winderen, and Tori Wrånes. Over two years of curatorial research allows the curator Jiang Jiehong to further engage with contemporary Norwegian art. Having visited more than 20 outstanding artists studios, a line of thought for the narration of this exhibition emerged and became apparent gradually. Grounded on this narrative, the curator has eventually selected five artists and among them, seven works of art for this exhibition. Varying in artistic impetus and diversifying in creative language, these five artists share a certain commonality in the medium they adopt. The story that brings these artists' works together takes sound and time as its conduit and revolves around dreams, subconscious and memories.
Those who are awake all live in the same world. Those who are asleep live in their own worlds.
— Heraclitus (Ancient Greek)
How do we interpret dreams? The conception, imagination, and annotation of "dreams" are stretched out extensively throughout the long history of the human civilization while they have undergone ongoing transformations in the development of religion, culture, and philosophy of the East and West. Namely, from the mid-century image of the oracle in the West, to the visceral pessimistic objects in ancient Buddhist culture, to the reconstruction of self and reality under the influence of traditional Chinese Daoism. However, if we were to step out of the historical and cultural contexts, we would discover that the existence of "dreams" is marked by its "transcendence of time and space" (in reference to St. Jerome). It's an alternative universe that exists without forms and beyond the world of reality. The dreamers hence would be the laborers and collaborative makers of events in Heraclitus' universe, and of course, the artists are among them.
When a writer presents us his drama, or conceives us as his personal daydream and tells us so, we would feel great bliss.
— Sigmund Freud (Austrian)
The works of this exhibition are shown in both exhibition halls A and B. Stepping into Hall B, one finds A.K. Dolven's A Other Teenager, a 16 meters long video occupied by more than 20 overlapping dreamers in which a girl dressed in purple, Tale, sleeps in the opposite direction of the others. Meanwhile, all the dreamers, including Tale, stay still or move about in their subconscious. It's neither apparent how they have entered this state of being, nor does it seem necessary to intervene in their dreams. The cacophonous sound from the guitar played impromptu interrupts the formally harmonious and sacred visual image, the viewer subconsciously resigns from an orderly and formal world and immerses in the dreams of others'. Tori Wrånes' work Ancient Baby also provides the viewer with an irregular space in a timeless scene. Five babies dressed in otherworldly attires float in the exhibition space, their genders, age, identity, or even origin is unknown. Their singing and playing of musical instruments take away the various thoughts from reality. Using the curator's impression, "Here, time is no longer an accurate measurement, and far from it."
The most real things, are often the illusions I have created in my paintings.
— Eugène Delacroix (French)
At the entrance of Hall A, one finds Camille Norment's Triplight. Inspired by the notion of "glitches" in contemporary music, the light flickers intermittently from the Shure Microphone. The glowing light and skeletal shadow tell the social realities and contradictions of its time; Ignas Krunglevičius presents two works in this space, Signal to Noise Ratio and Hard Body Trade. The former presents a metal structure serving as a giant corridor in which the viewers can wander in a soundscape of mechanical repetitions; the latter adopt seemingly simulations of the real world imageries and digitally generated narratives to take the viewer away from human dreamscapes, so that they would enter the dreams of the machines. Jana Winderen's 31°14'37"N 121°28'2"E, created for this exhibition, takes the viewer into the dark places at the bottom of the ocean. As one stands on this cross point of latitude and longitude, one enters into a world of pure sound and listens to the subtle wailing of seals, codfish, killer whales and humpback whales in an endangered eco-system. At this point, are you still in a dream? Or have you grasped a glimpse of the real world from this oneiric experience? In Maurice Maeterlinck's words, "Every dream encapsulates partial conscience of certain scene or event of this eternal present, these things can be about the past, present or future."
This exhibition marks the first presentation of contemporary Norwegian art in China, on the occasion of the 65th Anniversary of the establishment of Sino-Norway diplomatic relations. Hereby, we extend our gratitude for the support from Royal Norwegian Embassy in Beijing, Consulate General of Royal Norwegian in Shanghai, OCA, and SICA.About the exhibitionCurator: Jiang Jiehong

Artists: A K Dolven, Ignas Krunglevičius, Camille Norment, Jana Winderen, Tori Wrånes

Exhibition Duration: July 7, 2019 to September 8, 2019

Venue: OCAT Shanghai, 30 Wen' an Road, Jing' an District, Shanghai

Organizer: OCAT Shanghai

Co-Organizer: OCT & SUHE CREEK

Special support: Royal Norwegian Embassy in Beijing, Consulate General of Royal Norwegian in Shanghai, OCA, and SICA

Schedule:

July 7, 2019

3:00-4:30pm Opening Forum

4:30-5:00pm News Conference and Opening Ceremony

5:00-5:30pm Curator & Artists' Tour

Courtesy of OCAT Shanghai.