Su Gaoli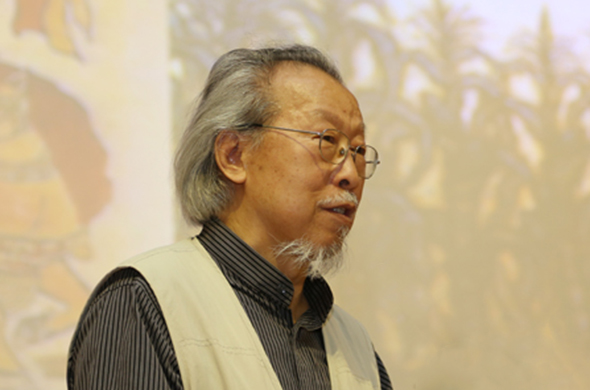 Su Gaoli is a professor of the Central Academy of Fine Arts (CAFA), a famous oil painter and art educator. He had taught for decades, imparting lectures, tirelessly teaching students all over the world, currently he is the teaching advisor at the School of City Design of CAFA, supporting the education of the school. Despite being elderly, Su Gaoli is still working hard, drawing and painting, accumulating many pieces with outstanding art features and pursuits.
Su Gaoli is one of the first generation of artists fostered during the early founding of the People's Republic of China, he has studied in CAFA and the affiliated school of CAFA, sent by the state to study further in Repin Academy of Fine Arts, Soviet Union. He has experienced the baptism of "ten years of turmoil", as well as the historical revolution in 1970s-1980s, he presented his new art during the new period. As an artist of the people, Su Gaoli has always stuck to his beliefs and adhered to the thought that art serves the people and the creative influence of realism.
[gallery link="file" orderby="title"]
Su Gaoli reflects nature, understanding life and experiencing the value of life, using his special way of "sketching", in recent decades. His works demonstrate clear features of the times, he has gone into nature and practiced the art of the time, with his painful and sincere soul, concerned about the changes of the world, transformation of the times and thoughts on labor, while expressing his sincere feelings of humanity, constantly searching for and combing through his own creative thoughts and expressive approach, art ideals and the pursuit of keeping up with the times. The works by Su Gaoli has clear themes, summarized and succinct structures, as well as bright and rich tones, and display his excellent technology and confidence, as well as his outstanding artistic characters when he paints common people and scenes.
Su Gaoli has worked in art and teaching for decades, has always closely connected his creations with society and the laborforce while always caring about the educational development of CAFA. He said he would like to donate his works to CAFA, which has happily accepted 103 pieces of his selected works and parts of the documentary, after discussions and planning, effectively enriching the collections of the academy. All the collections are within the valuable archives so we can study each individual case, meanwhile, it will play an important role in the teaching practices of CAFA. Today, "Donated Exhibition by Su Gaoli" is held to respect and thank his selfless dedicated spirit!
Pan Gongkai
March, 2012
About Su Gaoli
Su Gaoli is a famous oil painter and art educator, a professor of CAFA, and a member of the Chinese artists association.
1937 Born in Nanyangsheng, Village Pingding, Shanxi Province.
1954-1958 Studied in the High School Affiliated to CAFA, and sent to study in the Department of Oil Painting, CAFA.
1954 First experiencing real life with an artistic objective, he practiced in Maoling Village Changping County in Beijing, creations including watercolors "Basket", "Entrance of The Village" and some sketches.
1956 Practiced and sketched in Zhanggezhuang Changli County in Hebei Province, creations including watercolors "Village Road", "Animal Yard" and some sketches.
1957 Practiced and sketched in Beijing Twenty-seven Locomotive Rolling Wheel Plant, creations including watercolors "Plant", "Workshop" and some sketches. He returned home to sketch his hometown during the winter and summer vacations among the 4 years of study in high school, creations including a lot of sketches such as "Old Folk" and "Old Man and His Long Tabacco Pouch", etc.
1958 Taught art to the masses in Moshikou Village Shijingshan. The activity organized by the academy, not only study in the classroom but also always worked in the fruit trees team, as well as sketching, creations including watercolors "Scraping Barks" and some sketches.
1960-1966 Overseas studied in Soviet Union and graduated from Melnikov Studio of Repin Academy of Fine Arts.
1961 He went to a field trip of sketch in Aru Buka town off the Crimean Peninsula in southern Soviet Union in the summer, creations including "The town in Sunshine" and "The Shore of Black Sea", etc.
1962 He had experienced and sketched in Sochi in the southern Soviet Union, creations including "Mountain Road" and "Morning Mountain", etc.
1963 Copied Yongle Palace Mural in Ruicheng, Shanxi Province when he was back for an internship.
1964 Practiced and sketched in Beijing Twenty-seven Locomotive Rolling Wheel Plant, Hutoushan Village Dazhai of Jinyang County and his hometown for the preparatory work of his graduate creation, creations including "Workshop" and "Old Shepherd", etc.
1966 Completed sketching and practiced some detailed work according to the original size of his graduate creation, the large glass mosaics "Workers, Peasants, Soldiers, Intellectuals and Businessmen" (collected by Repin Academy of Fine Arts), instructed by A. Melnikov . He went back to China to teach in CAFA in July.
1967 Creations including "Liberation" and "Beautiful Home", etc., decorating the Guinea City Hall reconstructed by China.
1969 Decentralized to Dongcheng Village Ci County of Handan, Hebei Province to engage in "Movement" and participated in farm labor, then he was sent to Qiandong Village of Huolu County, Hebei Province to continue the "Movement" and work on the farm.
1973 Allowed to sketch landscape and portraits, completion of a number of small-size landscapes and portraits such as "Hebei People" and "Girl from Qiandong", etc. Then he was sent to create the International Peace Hospital for the Memorial of Bethune. He had practiced and sketched in the villages of Wutai Mountain and Tang County in Hebei Province, creations including "Sunny Village", "Wutai Mountain" and "Taihang Farmers", etc., creating "The Letter to the Central Committee of CPC from Bethune on his deathbed."
1974 Taught art to the masses from Qindu Town in Hu County. He had been to Yan'an to sketch, works including "President Mao's Former House in Phoenix Mountain" and "Caves for Beijing Educated Youths", etc., creating a gouache painting "Rural Mass Criticism". He completed ten avatar drawings and sketched "Sunrise" and "Fragrance from the Valley", etc., when he went back to his hometown on holidays.
1975 Created arts for Dazhai Exhibition Hall as a member of CAFA team, and counseled the masses to study art from Wujiaping Village, sketches included "The Cropland in Wujiaping" and "Elevated Aqueducts", etc. Then, he and Wen Lipeng were invited by People's Fine Arts Publishing House to Hui County in Henan Province, creating a series of paintings "Miss Shi on Taihang Mountain", as well as dozens of sketches such as "Chenjiayuan Reservoir" and "Helmet", etc. The more dangers we encounter, the harder we should push forward
1976 Completed an oil painting "The More Dangerous the situation We Encounter, the Harder We Move Forward", taking some heroic events during building the Red Flat Canal as a template, as well as dozens of creations such as "Red Flat Canal" and "New Bride".
1977 Completing successively two large-scale oil paintings including "Premier Zhou is Our Close Friend" (cooperation), "Chairman, Premier Zhou and Zhu De, Director of the Committee" (cooperation) , he went to Xiyang County, Zuoquan County, Lin County, Jiyuan County and so on (from Taihang Mountain to Wangwu Mountain) to experience life and to sketch, together with Wen Lipeng and Du Jian in the second half of the year, creations including "Houzhuang", "The Entrance of Matian Village", "Huangbeijiao Village", "The Old Militia", and so on.
1978 He observed and copied traditional murals in Dunhuang and then practiced and created works in Qinghai Province together with Wen Lipeng and Ma Changli, finishing dozens of works such as "Niuxin Mountain", "Baiyang Ditch" and "Pastoralists on a Plateau". He went to sketch in Nenjiang Forest Region in Heilongjiang Province with Feng Fasi and Zhan Jianjun in the fall, creations including "Black Land" and "Reclamation of Virgin Land", etc.
1979 Finished the large-scale oil painting "Indelible Memory" (cooperation), won an award at the National Art Exhibition and was collected by the National Art Museum of China. At the same time, he taught sketching in the postgraduate course within the Mural Studio, having started to study the issues when teaching sketching.
1980 Together with Gao Yaguang, Su Gaoli went to Datong, Taiyuan, Pingyao, Fenyang, Hongdong, Hejin, Jishan, Houma, and Ruicheng in Shanxi Province, and Xi'an, Xianyang and Lintong in Shanxi Province, as well as Luoyang in Henan Province, etc., to observe local traditional arts, and take some notes.
1981 Travelled with Wen Lipeng and Ma Changli to Jishou, Zhangjiajie, Fenghuang County in Hunan Province, Longsheng, Guilin, Liuzhou in Guangxi Province, he had finished dozens of works such as "Ferry on the Dongjiang River", "Phoenix City", "Zhangjiajie Forest", "Yangdi", etc.
1982 Travelled with Du Jian and Gao Yaguang to the Taihang Mountain District including Pingshan, She County, and Zanhuang, he accumulated the materials to prepare the large-scale oil painting "On the Taihang Mountain".
1984 He completed the large-scale oil painting "On the Taihang Mountain" (cooperation).
1985 Invited to give lectures in Qujing Region, and to sketch in Lunansani Ethnic Region, he finished "The Stone Wall with a word Zhong (Loyalty)", "Red Land", etc.
1986 He went to Urumqi, Xinjiang to give lectures in the art school organized by CAFA, and to sketch in the Nanshan(Southern Mountain) Region of Urumqi, finishing "The Kazakh People", "Jungle", and so on. And he went to his hometown and Xiyang County in Shanxi Province to create during the autumn, works including "Old Yard", "East Court", "Go Across Dingyuxiang", and so on.
1986 He had been the Deputy Director of the 2nd Studio of the Department of Oil Painting, putting all his time in to preside over the teaching of the studio.
1993 He was the Director of the Seminar Studio of the Department of Oil Painting, and he was too busy to go to rural areas to sketch, he only completed some easel paintings, such as a series of Paintings "My Taihang Mountain" and "Hometown", etc.
2000 "Su Gaoli's Exhibition of Oil Painting and Sketching" was held by the CAFA Art Museum.
Currently he serves as the teaching advisor of the School of City Design, CAFA.
Translated by Chen Peihua and edited by Sue Wang/CAFA ART INFO