Weng Naiqiang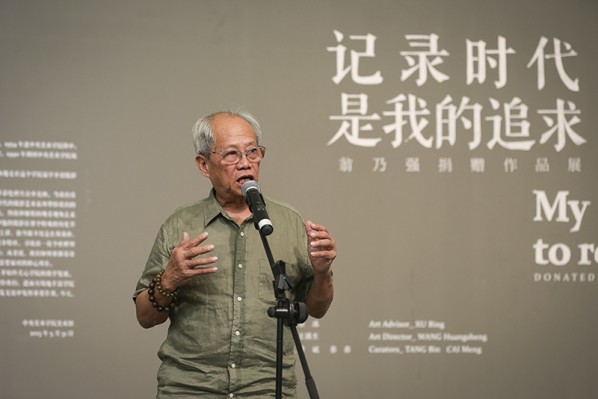 Born in Jakarta in 1963, Indonesia, a native of Longyan in Fujian Province, Weng Naiqiang is a renowned photographer, painter, major member of the April Film Society. He returned to China and studied in Yuying Middle School in 1951, and studied in the High School Affiliated with CAFA in 1954, from 1958 to 1963, he studied in the Wu Zuoren's Studio of the Department of Oil Painting, CAFA, was an apprentice of Ai Zhongxin, Wei Qimei, Lin Gang, Zhan Jianjun, Li Kuchan, etc. In 1964, he was assigned to the Japanese Edition of "People China" magazine, served as an art photographer, a former editor of the magazine, director of the Department of Art and Photography, and Director of the Journalist. He became a member of the Chinese Artists Association, member of the Chinese Photographers Association in 1980. In 1990, he was appointed the deputy professor and professor of the Printmaking Department of CAFA, organizing the photographic studio, and retired in 2003. He is Vice Chairman and Honorary Senior Fellow of China Overseas Chinese Photographic Society, Honorary Senior Fellow of Hong Kong International Phantom Society, Membership Accreditation Committee of World Chinese Photographic Society.
As a renowned photographer, Weng Naiqiang often appears at events outside the academy and overseas. A group of never-published colored photos he shot during the Cultural Revolution made their public debut in 2006. When seeing closely the works in a rigorous structure, full of color, surrounding it and wrapped by a very shocking, impacting visual way, the spectators feel the never-seen visual images, photographed faithfully during the Cultural Revolution by the artist; we find that, in a dramatically changing era of national visual narrative and public visual transformation, how did he, as a photographer, collect, select and record visual samples of the revolution with such courage, passion and an unique viewing angle, as well as how to find his photographic angle in the unique cultural and historical context.
In a sense, Weng Naiqiang has not only noted the memories with the use of simple and the plain language of image, but also created a visual paradigm of the particular time. In view of this, we hope that, starting from a photographic subject, around the character of photographic media, it becomes clear that an artist of distinctive personality transforms his personal perspective and way of viewing into the issues of a nation, society, academy, and family, in a particular historical era, generating a new visual experience; or, how to review the current meaning and value of the ideographic interactive art experience jointly created by image production of national consciousness in a particular period and image "debris" of individual experiences, also constituting the core of the exhibition, which is necessary to face.
Image Courtesy Weng Naiqiang
Translated by Chen Peihua and edited by Sue/CAFA ART INFO