Luo Erchun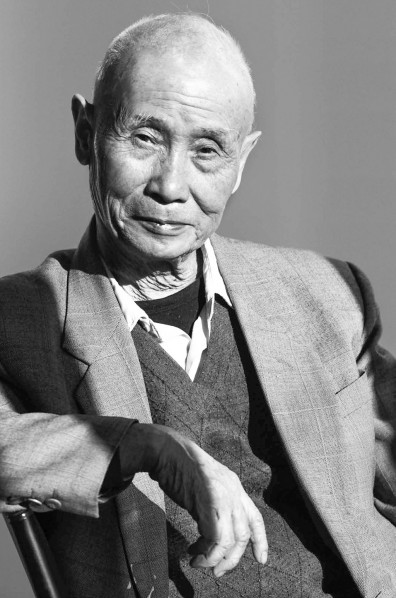 Luo Erchun was born in Xiangxiang, Hunan province in 1929. He studied in Suzhou Art School in the early years, learned art from Yan Wenliang. He had worked in People's Fine Arts Publishing House as an editor and creator, teacher at Beijing Art Normal University, Professor of Central Academy of Fine Arts, made an important contribution to Chinese art in the 20th century.
Commented by Wu Weishan
One of the characters of my painting is "fast". Some friends say I am "productive", actually because I draw quickly. The reason why I am used to draw quickly is because I was once an editor in the 1950s, when I had two months to go to the countryside to experience life, I would draw as many paintings as possible in the short time. My way to draw is to simplify the drawing steps, giving up outlining, never using thin oil color to sketch a basis, but using thick color to paint directly. I would like to keep the outline clear when I paint the background, synchronously drawing and thinking, never stopping my drawing, so that I save a lot of time, so it takes a short time to draw a painting, it seems to leave a huge workload on the canvas. This habit has always affected me, so it is impossible to draw slowly.
An Excerpt from Luo Erchun: My Life of Painting over the 50 Years
Luo Erchun's work is fresh and ethereal, full of symbolic meaning and expressive force, the significance is not only the object itself, but also feeling of artistic ontology behind the form through the object. People can feel the creation of works is a happening process of emotional vision, which achieves the unification of the visual image and self-spiritual direction. The independent exploration of spiritual value in his works enriches connotation of representational painting. In his works, schemata and spirit is unified, the objective and subjective, existence and ego, prototype and main body, logic and passion are all integrated, revealing the expressive demand for the inner spiritual value, which is the perfect embodiment of the contemporary nature of Luo Erchun's works.
An Excerpt from Gong Yunbiao: The Unique Coordinate in the History of Contemporary Chinese Oil Painting – On Luo Erchun's Art of Oil Painting
Luo Erchun avoids the smooth and rounded classical paintings, he especially dislikes the sweet greasy tune that is short of personality. He falls in love with the post-impressionism works which have an expressive style. He believes that art should "enter", showcase the inner psychological and feelings of the objects and the artist. Luo Erchun once said "home village" inspired him in the early period of creation. "Red Earth" depicts the red land of the hillside against his childhood home. From the "Red Earth" that is themed on his hometown, "Growth and Death" themed on Xishuangbanna, "Suburb of Ili" themed on Xinjiang, to the Tibetan "Plateau Grand Meeting" are all the reflections of the concept of home village of Luo Erchun.
An Excerpt from Guo Hongmei: Brilliant Color is Pure – On Luo Erchun's Art of Oil Painting
In the garden of oil painting in China, Comrade Luo Erchun's work is very personal. The feature of his paintings lies in the new composition, concise shape, bright and beautiful color, liberal calligraphy style, and these factors constitute a kind of warm and moist charm, giving a person the aesthetic feeling of happiness and joy. People may pay more attention to his effort of formal exploration, which is easy to detect. But people should also see the rich life interest in the brilliant formal factors in the painting. He deeply loves the life which is more important than his artistic exploration, and it is the reason why these works are touching.
An Excerpt from Ai Zhongxin: Know the Principle, and Change It (On the Art of Luo Erchun)
In Chinese contemporary art, Luo Erchun seems to be far away from all the schools or genres, and he always follows his own style.
An Excerpt from Michael Sullivan: About Luo Erchun's Art of Painting
As a painter Luo Erchun has a special liking for Chinese ink painting, and he also created a large number of Chinese paintings. It shows that he has a comprehensive artistic accomplishment. There is no doubt that he can get such achievements in the field of oil painting, which is inseparable with his national artistic culture, in his creation of painting, we can vaguely feel a kind of indescribable Chinese spirit and Chinese verve.
An Excerpt from Shao Dazhen: A Unique and Distinct Style (Review on Luo Erchun's Art)
One of the highlights of Mr. Luo Erchun's work is to use his lines to connect all the colorful things, all the scattered pieces again, to make them become a wonderful picture.
An Excerpt from Shang Hui: Impassioned and Calm – Conflict of Luo Erchun's Artistic Personality
The brushwork reveals the personality of the artist, while intuitive feeling and emotional catharsis are the characteristics of random actions, which also fully showcase the inspiration, psychological quality and artistic accomplishment of an artist. It seems that he uses the hasty and smooth brushworks to sing an ode to life, and also showcases a passionate, aloof and unyielding mind.
An Excerpt from Tao Yongbai: The Variation of Life Passion – Luo Erchun and His Art
Luo Erchun is introverted and not confident, he has never played the peacock, and even he is afraid to see his exhibition when it is crowded, however, the strong nostalgia and homesick feeling constantly inspires him, and the works are continuously born.
An Excerpt from Zhai Mo: The Colored Gallops in the Hidden Form – Understanding of Luo Erchun's Oil Painting
The memory of the hometown is the direct source of the change of color, when seen from "context", it can be traced back to the influence of Mr. Yan Wenliang.
An Excerpt from Jia Fangzhou: The Essence of Art and Artist - Luo Erchun in My Eyes and Luo Erchun's Art
Courtesy of the artist, translated by Chen Peihua and edited by Sue/CAFA ART INFO