Wu Jian'an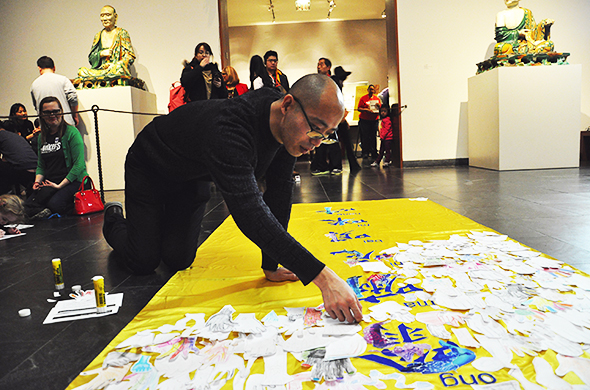 As an artist with an highly creative and philosophical thought process, over the years, Wu Jian'an has been thinking and exploring new ways, to bring the radical aesthetics and cultural attitude that is embodied in contemporary art to the endangered Chinese folk art tradition. Wu, with his unique approach, seeks to search and present how contemporary issues internally connect to Chinese and Western ancient mythology and history; traditional philosophical concepts and methods for creating images over generations. Wu's thinking and exploration, on the one hand, has facilitated the evolution of his personal style, not only creating a brand new mode of expression that is completely different from what's prevailing in Chinese contemporary art, but also produced a prospect that is highly distinct and inspirational. On the other hand, Wu has also endowed the ancient culture and traditions with a new vitality, which makes him an outstanding representative in the field of contemporary art, with a focus on the transformation and innovation of traditional resources.
                                –Fan Dian, President of the China Central Academy of Fine Arts (CAFA)
Wu Jian'an
Wu Jian'an was born in Beijing in 1980, while his family was originally rooted in Jinshan, Shanghai. Wu graduated with a bachelor degree in Advertising, from the Communication University of China in 2002. He received a master's degree from China Central Academy of Fine Arts (CAFA) in 2005 and has stayed in teaching since then. He is currently an associate professor and a graduate student supervisor in the Department of Experimental Art. He is also a member of the Experimental Art Committee of China Artists Association. Moreover, Wu works as a researcher at the Chinese Traditional Techniques Research and Preservation Center, at Prince Kung's Palace Museum, under the Ministry of Culture in China.
Exhibitions
2016
Ten Thousand Things:
Recent Works by Wu Jian'an
, Chambers Fine Art, Beijing, China
2015
Transformation: A Tale of Contemporary Art and Intangible Cultural Heritage,
Prince Kung's Palace Museum, Beijing, China
2015
Having Floods under Control
, Art Stage, Marina Bay Sands Expo and Convention Centre, Singapore
2015
The Change of Energy
, Shanghai Exhibition Center, ART021 Shanghai Contemporary Art Fair, Shanghai, China
2014
Transformation
, Chambers Fine Art, Beijing, China; Chambers Fine Art, New York, USA
2014
Faces
, Hong Kong Convention and Exhibition Centre, Hong Kong, China
2014
Having Floods under Control
, SCOPE Basel, Basel, Switzerland
2012
Seven Layered Shell
, Chambers Fine Art, New York, USA
2011
Seven Layered Shell
, Chambers Fine Art, Beijing, China
2011
Mountain Ranges
, Hong Kong Convention and Exhibition Centre, Hong Kong, China
2008
The Heaven of Nine Levels
, Chambers Fine Art, Beijing, China
2006
Daydreams
, Chambers Fine Art, New York, USA
2005
Search for Piyingxi (Shadow Play)
, Oil Painting Department Gallery, Central Academy of Fine Arts(CAFA), Beijing, China
Group Exhibitions and Art Projects
2016
Lunar New Year Festival: Year of the Monkey,
held in honor of the centennial of the Museum's Department of Asian Art, The Metropolitan Museum of Art, New York, USA
2016
Echo of Civilization: Crossing Dunhuang
, Empirical Art Museum of China, Beijing, China
2016
Mountains and Valleys: Multidimensional Chinese Landscape
, Huayu Art Gallery, Sanya, China
2016
Talking on Paper
, Pace Beijing, Beijing, China
2015
The Civil Power
, Beijing Minsheng Contemporary Art Museum, Beijing, China
2015
Up – Youth China Young Artists Exhibition 2015
, Beijing Times Art Museum, Beijing, China
2015
Hetero – Entity Myths Narration Imagination
, E Museum of Contemporary Art, Shenzhen, China
2015
The Carolyn Hsu and René Balcer Collection: Exploring Three Decades of Contemporary Chinese Art
, Museum of Fine Arts, Boston, USA
2014
COSMOS
, Shanghai 21st Century Minsheng Art Museum, Shanghai, China
2014
Crossing the Border
, Shanghai Gallery of Art, Shanghai, China
2014
Ten Years in One Inspection: CAFA Achievement Exhibition of Ten-Year Education on Experimental Art
, Central Academy of Fine Arts Art Museum, Beijing, China
2013
The 9th Shanghai Biennale, Zhongshan Park Project – City Memory: Zhangzhou
, Zhangzhou Bihu Exhibition Hall, Fujian, China
2013
Forward! Contemporary Art & Contemporary City
, Minsheng Art Museum, Shanghai, China
2013
The 6th Chengdu Biennale: Gravity
, Museum of Contemporary Art Chengdu, China
2013
A4 Young Artist Experimental Season, 2nd Round Exhibition
, A4 Contemporary Arts Center, Chengdu, China
2013
The 2nd Datong International Sculpture Biennale
, Heyang Art Museum, Shanxi Province, China
2013
The 8th International Ink Art Biennale of Shenzhen
, Guan Shan Yue Art Museum, Shenzhen, China
2013
Time Zone-Creation and Exploration of Contemporary Young College Teachers,
Art Museum of Nanjing University of the Arts, Nanjing, China
2013
Special Exhibition of 2013 CAFA Teaching Staff
, CAFA Art Museum, Beijing, China
2012
The First "CAFAM Future" Exhibition: Sub-Phenomena: Report on the State of Chinese Young Art Nomination
, CAFA Art Museum, Beijing, China
2012
"Boom!": 2012 CYAP (China Young Artists Project) Report Exhibition
, International Conference and Exhibition Center, Beijing, China
2012
Road Trip: Chinese Contemporary Public Art Exhibition
, Kassel, Germany
2012
I, Pencil
, PIFO New Art Gallery, Beijing, China
2012
Not Just Paper: The First Round of Sino-Japanese Paper Art Exhibition
, CAFA Art Museum, Beijing, China
2011
Landscape in Mind: Public Art from China
, The John F. Kennedy Center for the Performing Arts, Washington DC, USA
2011
1+1: A Cross-Strait Four-Region Artistic Exchange Project
, He Xiangning Art Museum, Shenzhen, China
2011
Start from the Horizon: Chinese Contemporary Sculpture Since 1978
, Sishang Art Museum, Beijing, China
2011
Print, Concept
, Today Art Museum, Beijing, China
2010
Modeling
, CAFA Art Museum, Beijing, China
2010
River Flows East
, The Collection Museum, Lincoln, England
2010
Beyond Mediations- the 2nd Mediations Biennale
, Zamek Culture Center, Poznan, Poland
2010
Get It Louder 2010 - Sharism,
Sanlitun Soho, Beijing, China
2010
Post Traditions: Enlarge The Carve
, Shanghai Duolun Museum of Modern Art, Shanghai, China
2009
Live and Let Live: Creators of Tomorrow—The 4th Fukuoka Asian Art Triennale
, Fukuoka Asian Art Museum, Fukuoka, Japan
2009
Always—As It Was
, Tang Gallery, Bangkok, Thailand
2008
Another Lonely Planet Revisited
, Chambers Fine Art, Beijing, China
2008
A+A' 2008—The 3rd A+A Exhibition
, Duolun Museum of Modern Art, Shanghai, China
2007
Net: Re-imagining Space, Time and Culture
, Chambers Fine Art, Beijing, China
2007
A+A' 2007—The 2nd A+A Exhibition
, Gallery of Central Academy of Fine Arts, Beijing; Sichuan University Museum, Chengdu; Chongqing Art Museum, Chongqing, China
2006
Coming from Daily Life: The 1st Academic Documentary of Experimental Art
, CAFA main exhibition hall, Beijing, China
2006
New Folk Movement: The Reconstruction of Public Life
, U Space Contemporary Art Space, Beijing, China
2006
Painting and Handcraft
, PIFO New Art Studios, Beijing, China
2005
Archaeology of the Future: The 2nd Triennial of Chinese Art
, Nanjing Museum, Nanjing, China
Courtesy of the artist, translated by Miao Yinan and edited by Sue/CAFA ART INFO