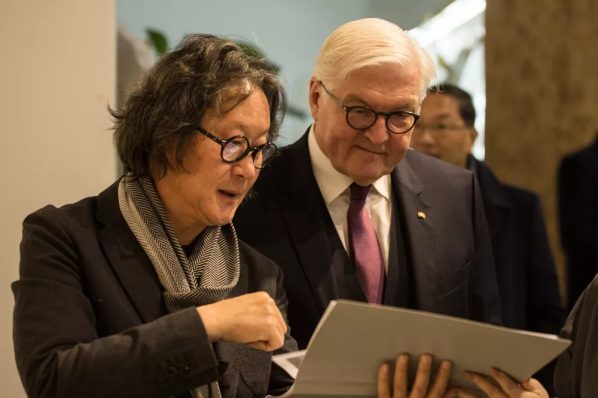 On the morning of December 10, 2018, German President Frank-Walter Steinmeier visited artist Xu Bing's studio in Beijing. This was the German President Frank-Walter Steinmeier's first state visit to China since he was sworn in as President. On the same day, he also met and talked with Chairman Xi Jinping and Premier Li Keqiang of the People's Republic of China. Although he was busy with national affairs, he did not forget art which he loves ardently.
They visited and talked in Professor Xu Bing's studio for an hour, and Professor Xu Bing showed President Steinmeier his representative works including Background Story, Square Word Calligraphy, American Silkworm Series, Phoenix Project and so on. Among them, the first piece of Background Story originated from Museum für Asiatische Kunst(Museum of East Asian Art), Berlin in 2004. Xu Bing refers to the history of the museum and its exhibits in this piece. He makes the spectator aware of the fact that there is a piece of museum history behind every work of art shown. The museum was founded in 1906, and 90% of the collection (5,400 works of art) was taken to the Soviet Union by the Red Army in 1945. This included all sculptures, all lacquer works and jade, the complete collection of early Chinese bronzes (with the exception of two), around 3,000 pieces of Japanese sword guards and important Chinese and Japanese paintings. Photographs of the lost works have been collected for publication. From these works, Xu Bing selected a number of paintings that inspired him for this installation. The most significant of these works is the hanging scroll Birthday Celebration in the Pine Pavilion by Dai Jin(1388-1462); further inspiration came from a mountain landscape by Kano Eitoku (1543-1590) and an anonymous Japanese painting on a six- piece folding screen. Inspired by these three landscape paintings lost during the World War II, Xu Bing took dry branches and fallen leaves as materials, by virtue of changes in light and shadow and he reproduced the space they used to exist, which conveyed the story behind the artworks. President Steinmeier expressed great interest in Xu Bing's rich artistic creations and details and he greatly praised his work as "unique and extraordinary."
Undoubtedly, Xu Bing is one of the most representative contemporary Chinese artists. Through decades of exploration, he has established a mature system of thoughts and methods, therefore he has a wide influence throughout the world while receiving numerous honors. From 2008 to 2014, Xu Bing served as the vice president of CAFA, where he is now a professor and the Director of the Academic Committee. In 1999, Xu Bing was awarded a MacArthur Fellowship in recognition of his "capacity in making important contributions to society, particularly in printmaking and calligraphy." In 2004, he won the first Artes Mundi Prize in Wales. In 2006, the Southern Graphics Council conferred on Xu Bing its lifetime achievement award in recognition of the fact that his "use of text, language and books has impacted on the dialogue of the print and art worlds in significant ways." In 2015, he was awarded the 2014 Department of State-Medal of Arts for his effort in promoting cultural understanding through his artworks. That April, he was appointed as an A.D. White Professor-at-large by Cornell University.
Xu Bing's work has been shown at the Museum of Modern Art, New York; The Metropolitan Museum of Art, New York; the Solomon R. Guggenheim Museum, New York; the Arthur M. Sackler Gallery, Washington, D.C.; Spencer Museum of Art, Lawrence, Kansas; the British Museum, London; the Victoria and Albert Museum, London; Museo Nacional Centro de Arte Reina Sofía, Spain; the Joan Miro Foundation, Spain; Museum of Contemporary Art Australia, Sydney; Art Gallery of New South Wales, Sydney; National Gallery of Canada, Ottawa; National Gallery of Prague, Czech Republic; and Museum Ludwig, Cologne. Additionally, Xu Bing has participated in the 45th, 51st and 56th Venice Biennales, the Biennale of Sydney, and the Johannesburg Biennale amongst other international exhibitions. Over the years, Xu Bing's work has appeared in major Art History textbooks such as Art Past, Art Present by David Wilkins (Pearson Prentice Hall, 1997), and Gardner's Art through the Ages: A Global History by Fred S. Kleiner (Wadsworth Publishing).
Text edited by Sue/CAFA ART INFO
Photo by Hu Sichen/CAFA ART INFO and Fang Chao/Xu Bing Studio